AIR & WATER

MONITORING NEWSLETTER
March 2013
No. 401
HOT TOPICS HOURS
"NOx Control for Gas Turbines" was Hot Topic Hour on Thursday, February 14, 2013
Thomas D. Martz, Senior Project Engineer Fossil Energy Research Corp., covered "Gas Turbine SCR Performance Optimization and Management." There are several common causes of diminished gas turbine SCR performance, including poor NH3/NOx distribution, flue gas bypass and catalyst deactivation. Fossil Energy Research Corp. (FERCo) has developed instrumentation and methodologies to help the gas turbine operator quickly identify and fix SCR performance problems. There are also practical steps the operator can take to monitor and manage SCR performance, such as monitoring catalyst activity and ammonia slip. Being proactive with SCR optimization and management can extend catalyst life and help the operator avoid unplanned and expensive outages due to NOx non-compliance. FERCo has developed a catalyst activity in-situ measuring device which can be very useful in the planning of catalyst replacement.
Stewart Bible, Senior Manager Process Engineering at Fuel Tech, Inc., offered "An Economical Alternative for HRSG SCR Reagent Supply." Fuel Tech's ULTRA™ process is a patented approach that converts urea to ammonia for use in new SCR systems and in retrofit applications for existing systems. The ULTRA technology offers a cost-effective solution for simplifying on-site ammonia generation for SCR applications of all types. Urea products are non-hazardous sources of ammonia, so their transport, storage and use are greatly simplified. Presently urea systems are competitive with alternatives. China has opted for this approach for several reasons including the lack of ammonia.
Robert (Bob) McGinty, Senior Manager Business Development SCR NOx Control Systems at Mitsubishi Power Systems Americas, Inc., reviewed fundamental SCR system design, catalyst selection, ammonia vaporizing and distribution technology, tempering air systems and maintenance concerns for reliable control of NOx from simple cycle and combined cycle gas turbine applications and for long life of the NOx control systems. Bob pointed out that while catalyst can be operated at high and low temperatures, the economics dictate medium temperatures even if tempering air is required. Mitsubishi offers to supply the SCR system in modules for substantial reduction in construction cost.
Kelly M. Flannery, Chief Thermal Engineer at Vogt Power International, covered three product lines for emissions control from combustion turbine exhaust: (1) Simple Cycle Exhaust Catalyst System, (2) Combined Cycle HRSG Installation with Catalyst and (3) Steam Injection for NOx Control. Vogt has over 500 HRSG installations. The company has considerable experience in adding HRSG and SCR to existing turbine installations.
Donald Wyatt of Yokogawa reviewed the history of tunable diode lasers for measuring ammonia slip and other gases. The company now has over 50 installations of ammonia slip monitors. These include coal-fired power plants with SNCR, gas turbines with SCR, and a number of installations on industrial boilers in refineries. The TDLS 200 operates in situ and can accurately measure both high and low levels of NH3. It is most frequently used as a control instrument due to its quick reaction time. However, it can also be used for regulatory measurement even though it achieves a wet gas value. Moisture can also be measured and simply deducted from the primary reading. Solids are not an obstacle. In a coal-fired power plant the accuracy has been proven despite the presence of substantial flyash. As long as a portion of the beam reaches the detector, accurate measurements will be achieved.
One of the most important uses of the TDLS 2000 is as a catalyst management tool. Increases in ammonia slip are proportional to decreases in catalyst activity. Catalyst replacement is one of the more costly aspects of NOx reduction. With the TDLS 2000, the utility can better manage the catalyst replacement cycle.
The advantages of TruePeak 200 vs. Straight Extractive or Dilution Extractive System
Yokogawa links are through a You Tube presentation
The entire February 14, 2013 recording can be heard at:
https://www4.gotomeeting.com/register/274689511 130 minutes -
You will need to enter your name and email address after clicking link to view recording.
Bios, Abstracts and Photos can be seen at:
BIOS, ABSTRACTS, PHOTOS - February 14, 2013.doc
The individual presentations are as follows:
"Monitoring and Controlling Boiler Water/Steam Cycle Chemistry" Hot Topic Hour, February 21, 2013
Safe, reliable and efficient operation of steam generating boilers and HRSGs requires the maintenance of physical and chemical conditions throughout the water/steam circuit that minimizes corrosion and deposit formation. This is especially true in the older plants that are prevalent in our electricity production network. Deposition of contaminants, scaling and corrosion are the cause of many forced outages resulting in lost power generation or product output costing billions of dollars per year. Frequent blow-downs required because of excessive contaminants in the water/steam also contribute to lost production. Inadequate cycle chemistry will cause boiler tube and turbine blade/disc failures and flow-accelerated corrosion (FAC) throughout the circuit. Three of the presentations addressed the challenges and provide solutions.
Joe Zimmerman, Director of Marketing and Power Industry Sales Manager at Chemtrac, Inc., explained that the adverse effects of particulate material in steam cycle waters are frequently seen throughout the power generation process. Steam cycle corrosion products (transient metal oxides) can lead to deposition and equipment failure. This presentation introduced basic technologies used for continuous detection of insoluble particles at very low concentrations. When such monitoring methods are utilized, real-time corrosion product transport measurement can be implemented as a potential parameter for controlling the power plant cycle.
On-line particle monitoring in contrast to turbidity measurement provides continuous tracking of insoluble metal oxides. The clear advantage over grab or composite samplers was illustrated by using a movie as an example. Rather than one frame or a synopsis you see the whole movie with the particle monitoring system. This provides valuable information relative to system performance and allows immediate action when an event occurs.
Greg Thomas, Key Account Manager for Nuclear Power at Hach Ultra Analytics, compared the long time standard amperometric technology to the new optical technology for measurement of low level dissolved oxygen (dO2) in steam cycle water. Optical instruments only require maintenance once per year vs. every six months for electrochemical. The optical instrument is not flow dependent. Both instruments can measure accurately to 1 ppm. For certain nuclear applications where measurements in parts per billion (ppb) is desirable, the electrochemical method is more accurate.
David M. Gray, Senior Product Manager at Mettler-Toledo Thornton, Inc., introduced us to intelligent sensor management. Intelligent digital sensors incorporate the measuring circuit and make the digital conversion computation and even include the memory and basis for predictive maintenance. Online analytical measurements of conductivity, pH, dissolved oxygen, sodium and silica incorporate digital sensors which provide improved performance, a wider range and predictive diagnostics. The digital conductivity sensor provides a 33 percent improvement in system accuracy.
The entire February 21, 2013 recording can be heard at:
Monitoring and Controlling Boiler Water and Steam Cycle Chemistry – 84 minutes
You will need to enter your name and email address after clicking link to view recording.
Bios, Abstracts and Photos can be seen at: BIOS, ABSTRACTS, PHOTOS - 2-21-13.htm
The individual presentations are as follows:
MARKETS
NOx Control Market Will Be $5.5 Billion in 2014
Sales of selective catalytic reduction (SCR) and selective non-catalytic reduction (SNCR) NOx control systems plus the associated catalyst will be $5.5 billion in 2014. This is the latest forecast in NOx Control World Markets published by the McIlvaine Company.
SCR Revenues
($ Millions)
| | |
| --- | --- |
| Industry | 2014 |
| Coal-Fired Power | 4,380 |
| Gas Turbines | 279 |
| Incinerators | 64 |
| Industrial Power | 125 |
| Other Industries | 93 |
| Total | 4,941 |
SCR system and catalyst revenues will exceed $4.9 billion. SNCR system revenues will exceed $600 million. These totals do not include the revenues for the sale of ammonia and urea. They also do not include SCR systems for mobile vehicles which are covered in another McIlvaine report.
Most of the expenditures will be by owners of coal-fired boilers. However, the percentage growth rate in the gas turbine segment will be higher than for coal. China will continue to be the largest purchaser of systems. It has held this lead for some time. But it is only recently that it also became the leading purchaser of replacement catalysts.
A strong segment in the industry is the treatment of existing catalyst for reuse. Cleaning, rejuvenation and regeneration are the three treatment options. Treatment is reducing the market for new catalyst. On the other hand, the rapid growth for systems has challenged catalyst manufacturers to keep up with demand. Many new catalyst manufacturing plants have been established in China.
The Chinese market for new systems has already exceeded that of the former leader (U.S.). China is committed to install SCR on most of its coal-fired power plants. The U.S. still has 40 percent of its capacity without SCR and will, therefore, remain an attractive market.
The cement industry will not be a major purchaser of SCR in 2014, but is likely to accelerate purchases in future years. The industry is already purchasing many SNCR systems.
The revenues are also expanding due to a new role for selective catalytic reduction. Purchasers are willing to pay more for catalyst which will reduce the conversion of SO2 to SO3. At the same time, they are also willing to pay more for catalyst which will oxidize mercury. Most suppliers are offering these options.
For more information on NOx Control World Markets, click on:
http://home.mcilvainecompany.com/index.php/component/content/article?id=48#n035
Coal-fired Power Plant Retirements will be Significant but Not a Dominant Factor in Future Capital Expenditures
Hundreds of coal-fired power plants have been or are going to be retired. The peak year will be 2015 when just fewer than 70 units are slated for retirement or switch to natural gas. McIlvaine tracks each retirement initiative along with upgrade expenditures at each plant in the "Utility Environmental Upgrade Tracking System."
Retirement 2015
| | | | | |
| --- | --- | --- | --- | --- |
| Plant Name | EPA unit id | State | Size MW | Plant Startup |
| Ashtabula | 7 | OH | 46 | 1972 |
| | 12 | OH | 680 | 1970 |
| B C Cobb | 4 | MI | 156 | 1956 |
| B C Cobb | 5 | MI | 156 | 1957 |
| Big Cajun 2 | 2B2 | LA | 559.1 | 1981 |
| Big Sandy | BSU2 | KY | 816 | 1969 |
| BL England | 2 | NJ | 163.2 | 1964 |
| Carbon | 1 | UT | 75 | 1954 |
| Carbon | 2 | UT | 113.6 | 1957 |
| Colbert | 1 | AL | 200 | 1954 |
| Colbert | 2 | AL | 200 | 1955 |
| Colbert | 3 | AL | 200 | 1955 |
| Colbert | 4 | AL | 200 | 1955 |
| E C Gaston | 1 | AL | 250 | 1960 |
| E C Gaston | 2 | AL | 272 | 1960 |
| E C Gaston | 3 | AL | 250 | 1961 |
| E C Gaston | 4 | AL | 250 | 1962 |
| Eastlake | 1 | OH | 123 | 1953 |
| Eastlake | 2 | OH | 123 | 1953 |
| Eastlake | 3 | OH | 123 | 1954 |
| Eastlake | 4 | OH | 208 | 1956 |
| Eastlake | 5 | OH | 680 | 1972 |
| Harbor Beach | 1 | MI | 108 | 1968 |
| Harllee Branch | 3 | GA | 544 | 1968 |
| Harllee Branch | 4 | GA | 544 | 1969 |
| Huntington Beach | 1 | CA | 217.6 | 1958 |
| Johnsonville | 1 | TN | 125 | 1951 |
| Johnsonville | 2 | TN | 125 | 1951 |
| Johnsonville | 3 | TN | 125 | 1952 |
| Johnsonville | 4 | TN | 125 | 1952 |
| Johnsonville | 5 | TN | 147 | 1952 |
| Johnsonville | 6 | TN | 147 | 1953 |
| Lake Shore | 18 | OH | 256 | 1962 |
| McManus | 1 | GA | 50 | 1952 |
| McManus | 2 | GA | 94 | 1959 |
| Miami Fort | 6 | OH | 168 | 1960 |
| New Castle | 2 | PA | 40.2 | 1947 |
| New Castle | 3 | PA | 98 | 1952 |
| New Castle | 4 | PA | 114 | 1958 |
| New Castle | 5 | PA | 136 | 1964 |
| North Branch | 1A | WV | 74 | 1992 |
| North Branch | 1B | WV | 74 | 1992 |
| Portland | 1 | PA | 161.5 | 1958 |
| Portland | 2 | PA | 233 | 1962 |
| Pulliam | 5 | WI | 50 | 1949 |
| Pulliam | 6 | WI | 63 | 1951 |
| Ratts | 1SG1 | IN | 116.5 | 1968 |
| Ratts | 2SG1 | IN | 166.5 | 1968 |
| Shawnee | 1 | KY | 175 | 1953 |
| Shawnee | 2 | KY | 175 | 1953 |
| Shawnee | 3 | KY | 175 | 1953 |
| Shawville | 1 | PA | 132.5 | 1954 |
| Shawville | 2 | PA | 132.5 | 1954 |
| Shawville | 3 | PA | 187.5 | 1959 |
| Shawville | 4 | PA | 187.5 | 1960 |
| Silver Lake | 3 | MN | 25 | 1962 |
| Silver Lake | 4 | MN | 54 | 1969 |
| Sunbury | 1A | PA | 75 | 1949 |
| Sunbury | 2A | PA | 75 | 1949 |
| Sunbury | 3 | PA | 103.5 | 1951 |
| Sunbury | 4 | PA | 156.2 | 1953 |
| Syl askin | 1 | MN | 58 | 1953 |
| Syl askin | 2 | MN | 58 | 1953 |
| Titus | 1 | PA | 75 | 1951 |
| Titus | 2 | PA | 75 | 1951 |
| Titus | 3 | PA | 75 | 1953 |
| W Beckjord | 3 | OH | 125 | 1954 |
| W Beckjord | 4 | OH | 163 | 1958 |
| W C Beckjord | 5 | OH | 240 | 1962 |
| W C Beckjord | 6 | OH | 434 | 1969 |
| Weston | 1 | WI | 60 | 1956 |
| Weston | 2 | WI | 81.6 | 1960 |
| Widows Creek | 6 | AL | 141 | 1954 |
| Yates | Y1BR | GA | 100 | 1950 |
| Yates | Y2BR | GA | 100 | 1950 |
| Yates | Y3BR | GA | 100 | 1953 |
| Yates | Y4BR | GA | 125 | 1957 |
| Yates | Y5BR | GA | 125 | 1958 |
| Yorktown | 3 | VA | 882 | 1974 |
The power plants planning to retire in 2015 are mostly more than 50 years old. Some will be 65 years old by the 2015 retirement date. Most are small with some as small as 25 MW. The average is less than 200 MW. The total capacity being retired in 2015 (the peak year) is less than five percent of the total coal-fired capacity in the U.S.
While all the power plants listed have announced plans to retire or switch to gas, there are still some potential routes whereby these plants could again burn coal. NRG Energy has committed to burning natural gas at one of the Big Cajun plants. But the best hedge may be to just use natural gas in the existing coal-fired boiler rather than build the gas turbine to replace it. It is an inefficient way to use natural gas, but if the gas use will only be for a few years, then it can be an attractive alternative.
Another option is to build the gas turbine but mothball the existing plant in case it is needed in the future. After the experience a decade ago where natural gas prices rose quickly to levels which made electricity generation from gas highly unprofitable, most utilities want to retain a balanced mix of fuel sources.
For more information on "Utility Environmental Upgrade Tracking System," click on:
http://home.mcilvainecompany.com/index.php?option=com_content&;view=article&id=72
The U.S. and Europe are Embarked on Hundreds of Projects to Automate and Control Coal-fired Power Plant
The U.S. and Europe face an unusual situation. They must utilize existing coal-fired power plants. At the same time they are embarked on reducing CO2 emissions. Some of the biggest and most immediate CO2 reductions will come from increasing the efficiency of the existing fleet. At the same time, due to the age of many of the plants, there are big savings to be made by upgrading the control systems McIlvaine is tracking the activities of these plants in Utility Environmental Upgrade Tracking System.
There are 2000 boiler units generating electricity in the two regions. Few new units will be added and few retired. This means that most of these units will be continually evaluating upgrade options. Regulatory requirements and cost reduction will be the two main drivers.
Investments are ranging from SCADA systems to more sophisticated optimization systems. Neuco, for example, has a suite of optimization systems which combine to lower emissions and improve efficiency.
The benefits of control have increased as the cost of compliance with environmental laws has risen. The most recent air toxic rules (MATS) are forcing U.S. utilities to utilize extensive activated carbon for mercury removal. Reagents are also required to remove HCl. Any improvement in efficiency not only reduces coal usage but the amount of reagents needed.
Controlling ammonia consumption not only reduces costs but also build-up on air preheaters. A number of companies such as Sick and Yokogawa are supplying ammonia slip measuring instruments. Fuel Tech, CISCO and others are supplying integrated systems.
Advanced Process Control is proving its merit. Yokogawa combines the Exasmoc multivariable model predictive control package and Exapilot operation efficiency improvement package to gain multiple benefits. By combining DCS, Exapilot and Exasmoc, the workload on the operators is reduced. There is also typically a reduction in the number of process alarms.
Siemens, Invensys, ABB and others are also supplying systems to make significant efficiency improvements.
For more information on: Utility Environmental Upgrade Tracking System, click on:
http://home.mcilvainecompany.com/index.php?option=com_content&;view=article&id=72
U.S. Water Utilities Are Embarked on Thousands of Capital Projects
The need to meet new environmental standards, the growing demand for water and the need to replace obsolete infrastructure are causing U.S. water utilities to embark on thousands of capital improvement projects. These projects are tracked in the McIlvaine North American Public Water Plants and People.
Growing demand is why Bay City, MI is planning a $60 million regional treatment plant. Arkansas City, KS is planning a new $12 million plant. Annapolis, MD is building a $35 million plant.
Some of the expenditures are to meet new regulations. Clay Center, KS, which has about 4300 residents, built a $10-million water treatment plant to clear the water of uranium that can occur naturally in underground aquifers.
The Kansas Dept. of Health and Environment (KDHE) said of the five communities with excessive uranium in their drinking water, only two — Timken, population 75 and a Garden City subdivision with about 860 residents — have not taken any action to comply with the federal regulations. KDHE said enforcement action is under consideration for those two communities.
Among the many upgrades, controls have some of the fastest payback. Many utilities are looking at adding:
Higher bandwidth (speed and polling rate) communications

Redundancy

Cyber Security – DHS, NERC/CIP

Disaster Recovery Control Center

Web reporting for internal and customer cities

Hydraulic modeling and planning data interface
Three classifications of SCADA systems are available: Commercial-off-the-shelf (COTS) System, Semi-Customer Large Scale (SCLS) System, and Distributed Control System (DCS).
East Palestine, OH is purchasing a System Communication and Data Acquisition (SCADA) system to monitor the water plant's distribution equipment, including the two lift stations. The system will allow the department to respond more quickly in the event of a water leak or equipment malfunction.
Now, only water levels in one of the plant's two storage tanks are monitored through a land-line telephone system. The current system is costing the village $400 to $450 a month in utility bills for that tank. The SCADA system would be completely web-based and cost roughly $200 a month in utility bills. The system will be cellular-based with seven cellular sites and three radio sites. It will cost about $61,000 and will monitor water levels and the overall operation of all water towers, each booster pump and the lift stations, and the information can be accessed online or through a smart phone. Currently, there is no way to monitor the stations except physically.
Suppliers are now offering improved systems with even faster ROI. Yokogawa Electric released CENTUM VP integrated production control system. Enhancements include a Field Control Station (FCS), with four times the processing performance, twice the application storage capacity and five times the control network throughput of the previous control station.
For more information on: North American Public Water Plants and People, click on:
http://home.mcilvainecompany.com/index.php/component/content/article?id=71#n67ei
Instrument and Control Market for Ultrapure Water Will Exceed $468 Million This Year
The electronics and power industries in Asia will make the most contribution toward generating $468 million in ultrapure instrument and control sales this year. This is the conclusion in Ultrapure Water World Market published by the McIlvaine Company.
Instruments and Controls for Ultrapure Water
($ Thousands)
| | |
| --- | --- |
| Industry | 2013 |
| Coal-fired Power | 70,516 |
| Electronics | 210,691 |
| Flat Panel | 84,059 |
| Gas Turbines | 4,574 |
| Industrial Power | 24,375 |
| Other Industries | 27,582 |
| Pharmaceutical | 46,789 |
SUMMARY TOTALS:
| | | | | | | | |
| --- | --- | --- | --- | --- | --- | --- | --- |
| 2010 | 2011 | 2012 | 2013 | 2014 | 2015 | 2016 | 2017 |
| 403,086 | 419,968 | 447,566 | 468,585 | 490,185 | 525,865 | 456,472 | 566,624 |
Control requirements for ultrapure water are demanding due to the need to integrate a number of purification processes. The need to reduce contamination to very low levels challenges the instrument suppliers.
In the semiconductor industry, ultrapure water takes the following path:
Pretreatment

Make-up

Polishing

Distribution Systems

Recovery

Reuse & Reclaim.
The steps to reuse and reclaim have developed over the last decade and add to the control complexity. For example, consider just the treatment of Copper CMP Wastewater. One of the turnkey solutions suppliers is Ovivo. Their process adds a catalyst to copper waste utilizing the oxidant present to form a strong oxidizer. The strong oxidizer breaks down the complexed copper and reduces the wastewater's organic concentration. Copper can then be precipitated as copper hydroxide and removed with the slurry particles. Ovivo's advanced oxidation process is notable for:
Lowest chemical consumption

Achieving stringent wastewater discharge requirements

Reducing not only copper, but also organics
Preventive maintenance requirements are often included in the automation system. The reverse osmosis system is maintenance prone. The filters need to be cleaned or replaced on a regular basis. The differential measurement can be used to determine at which point the filters need to be cleaned or replaced. Typically, a pressure switch is used in these applications; however, problems can arise from vibration and pressure surges in the system.
One semiconductor facility switched to a Yokogawa EJA transmitter which produced consistently accurate output, resulting in better process efficiency and less maintenance downtime.
Ultrapure water control and instrumentation requirements for coal-fired power plants have become more challenging with the advent of ultra-supercritical designs, the high pressures and high temperatures along with the increased water purity requirements.
For more information on Ultrapure Water World Markets, click on:
http://home.mcilvainecompany.com/index.php/component/content/article?id=71#n029
Sales of New Precipitator Systems Will Exceed $5.6 Billion in Asia in 2013
Sales of new precipitator systems will exceed $5.6 billion in Asia in 2013. This is the latest conclusion in "Electrostatic Precipitators World Markets" published by the McIlvaine Company as a continually updated comprehensive online analysis.
Asian New Precipitator System Sales
($ Millions)
| | |
| --- | --- |
| Industry | 2013 |
| Chemical | 30 |
| Incinerators | 170 |
| Industrial Power | 53 |
| Mining | 16 |
| Other Industries | 38 |
| Power - New | 4,448 |
| Power - Retrofit | 643 |
| Pulp & Paper | 55 |
| Refining | 15 |
| Steel | 55 |
| Stone | 172 |
| Total | 5,695 |
The Asian market will far exceed the rest of the world. This is due in large part to new precipitator sales to power plants in India and China. Replacement of existing precipitators with new precipitators will be relatively modest.
In contrast, the replacement market is a much bigger percentage of the revenue in the U.S. and Europe. One reason is the preference for fabric filters. This trend is also starting in Asia. Chinese power plants are already anticipating the need to install fabric filters to meet tough particulate regulations.
The aftermarket including repair parts, maintenance and services adds another $5 billion in yearly revenues. Until recently, the aftermarket in the U.S. and Europe was much bigger than in Asia. But this is starting to change for two reasons:
Tougher regulations are requiring more maintenance

The Asian installed basis now closer to the ROW
In the U.S. a number of power plant precipitators will be taken out of service and the entire facility retired. So, in a period when the U.S. will lose 40,000 MW of existing precipitators, China will add 400,000 MW.
For more information on: "Electrostatic Precipitators World Market," click on:
http://home.mcilvainecompany.com/index.php/component/content/article?id=48#no18
Smart Pumps Will Help Drive Pump Revenues to $46 Billion in 2017
Pump suppliers will experience rising sales resulting in just under $46 billion in revenue by 2017. This is the conclusion reached by the McIlvaine Company in "Pumps World Market."
Industrial Pump Revenues
($ Millions)
| | |
| --- | --- |
| World Region | 2017 |
| Africa | 1,830 |
| CIS | 2,039 |
| East Asia | 15,979 |
| Eastern Europe | 1,011 |
| Middle East | 2,451 |
| NAFTA | 8,721 |
| South & Central America | 2,925 |
| West Asia | 3,633 |
| Western Europe | 7,140 |
| Total | 45,729 |
The early pump companies were foundries. Completive edge and greater revenue were based around manufacturing skills. Today the pump industry is much more focused on providing solutions for customers. This can include purchased components and software. These auxiliaries are reflected in the revenues reported by the companies.
A significant part of the growth is due to the "smart pump" offerings. Smart pumps can be integrated directly into plant distributed control systems. They reduce maintenance and improve performance.
The Grundfos smart DDA pump comes as a package with:
Flow Control with selective fault diagnosis

Pressure monitoring

Flow measurement

Intuitive and self-explanatory menu

Click wheel (turn-and-push knob)

Big graphical LCD with four color "traffic light" concept

More than 25 languages
It has the ability to improve the dosing function for pH control, disinfection, or cleaning–in-place.
Pump company "smart" revenues can extend to retrofits on competitors pumps.
PumpSmart® from ITT is an intelligent flow system that works with any pump, utilizing smart VFD controller and proprietary control software to provide advanced process control, enhanced reliability through failure prevention, reduced life cycle costs and lower energy costs.
ITT also offers ProSmart® which is a multi-patented, low cost, wireless predictive condition monitoring system that provides continuous online monitoring, alerting operators to alarm conditions via email or telephone.
Four years ago Colfax Corp. developed an intelligent concept pump with the ability to monitor its performance, adjust to changing conditions and order its own replacement parts — all without human supervision. The TX2020 can operate by itself at a remote pumping location or be connected to a network of pumps managed at a central office.
TX2020 pump software includes a preventive maintenance calendar and, based on foreseen needs or detected problems, the ability to determine which parts need replacement and issue a purchase order for them. For marine applications the TX2020 can even provide a preprogrammed list of the service stations closest to the vessel, with full coordinates and contact details. The software also maintains precise records, in the form of an electronic log book operators can use to track performance trends over time.
These examples are part of a trend among pump suppliers to supply the "smart" auxiliaries.
For more information on "Pumps World Markets," click on:
http://home.mcilvainecompany.com/index.php/component/content/article?id=75
U.S. Cement Industry Will Spend $685 Million/yr. for Air Pollution Control in 2013-15
The promulgation of tough air toxic rules will cause the cement industry to spend $685 million/yr. for air pollution control equipment over each of the next three years. This is the conclusion reached by the McIlvaine Company in its "Cement Plant and Project Tracking System."
Average Annual Expenditures 2013-2015
($ Millions)
| | |
| --- | --- |
| Equipment Type | $ Millions/yr |
| Fabric Filter | 300 |
| Electrostatic Precipitator | 5 |
| SCR | 50 |
| SNCR | 30 |
| Scrubber | 250 |
| Thermal Oxidizer | 50 |
| Total | 685 |
The largest expenditures will be for fabric filters. They will be needed to provide better particulate and mercury capture. Substantial investments in scrubber systems will be made in order to meet the HCl limits. In addition to the above listed equipment, there will be substantial expenditures for activated carbon and continuous emissions monitoring systems.
After many rounds of litigation, the cement MACT was promulgated in December 2012. Existing kilns must comply by September 9, 2015. EPA estimates that mercury will be reduced by 93 percent, hydrochloric acid by 96 percent, particulate matter by 91 percent and total hydrocarbons by 82 percent.
Specific Limits
| | | | |
| --- | --- | --- | --- |
| Pollutant | Criteria | Existing | New |
| Mercury | Lbs/million ton of clinker averaged over 30 days | 55 | 21 |
| Total hydrocarbons | PPMV averaged over 30 days | 24 | 24 |
| Organic air toxics alternate to hydrocarbons | PPMV with stack test every 30 months | 12 | 12 |
| Particulate | Lbs/ton of clinker | 0.07 | 0.92 |
| Hydrochloric acid | PPMV averaged over 30 days | 3 | 3 |
Most of the kilns in the country will make the necessary expenditures rather than shut down. One reason is the improving market for cement. According to the latest forecast from the Portland Cement Association (PCA), there will be an 8.1 percent growth in cement consumption in 2013. The upward revisions reflect adjustments made in light of the recent fiscal cliff accord, recognition of stronger economic momentum and markedly more optimistic assessments regarding residential construction activity.
PCA also upwardly revised its long-range projections for 2015-2017. Annual growth during that period is expected to be as high as 9.2 percent. Cement consumption is dictated by the level of construction activity and by the prevailing cement intensity. While 2017 cement intensity levels remain well below the pre-recession averages and upside risks remain, these risks have been significantly reduced.
For more information "Cement Plant and Project Tracking System," click on:
http://home.mcilvainecompany.com/index.php/component/content/article?id=48#n201i
Boosting Air Pollution Export Sales
Overcoming language and knowledge barriers is necessary for successful export of air pollution control systems and products. This is the advice offered by McIlvaine in its "Air Pollution Management" service.
Several European nations along with Japan and the U.S. are funding programs to boost export of domestic air pollution control systems and components. One challenge is the lack of experience and knowledge and another is the fluency with English technical terms. The fact that the Asians in general incorrectly use denitration or dentrification instead of DeNOx to describe the reduction of NOx in the stack gases is testimony to the problem.
Before exporting countries can successfully communicate, it is necessary to precisely classify the products to be exported. In fact, there are no comprehensive and precise definitions and classifications for the latest air pollution control technologies. There was no agreement on ways to clean NOx catalyst until McIlvaine formed a committee of catalyst suppliers who agreed that there are really only three ways to treat existing catalyst for reuse:
| | | |
| --- | --- | --- |
| Descriptor | Chinese Descriptor | Definition |
| Cleaning Catalyst | 催化剂除灰 | A dry process that utilizes vacuum and compressed air to mechanically remove as much of the flyash accumulation as possible. |
| Regeneration Catalyst | 催化剂再生 | "Catalyst cleaning" followed by a wet chemical process to remove decay compounds plus re-impregnation of the catalytic compound(s). |
| Rejuvenation Catalyst | 催化剂复原 | "Catalyst cleaning" followed by a wet chemical process to remove some decay compounds with minimum removal of catalytic compound(s). There is no re-impregnation of the catalytic compound(s) |
These three methods have now been defined and precise translations created in Chinese.
There are a number of ways to reduce NOx. These have been summarized in the McIlvaine Global Decisions Orchard.
DeNOx Decisively Classified Options for Coal, Cement, Incineration

Option

*

Details

SCR

E

Ammonia injection followed by a catalytic reactor

A

High efficiency and accepted by regulatory authorities

D

Cost, catalyst plugging, space

SNCR

E

Urea injection in the furnace

A

Low cost, low maintenance, space

D

Low efficiency, ammonia slip

Ozone Oxidation

E

Ozone injection followed by scrubber

A

Little space if scrubber already in place

D

Ozone cost, efficiency

Hydrogen Peroxide

E

Chemical injection converts to NO2 followed by scrubbing

A

Low capital cost if scrubber already in place

D

Chemical cost

Catalytic
Filter

E

Fabric filter has embedded catalyst

A

Lower foot print with combination, lower capital and operating cost

D

Lack of experience

* E= explanation A=advantages D=disadvantages
The sequence of decision making for the specifier is unique. Here is the sequence recommended for decisions on monitoring ammonia slip from a gas turbine.
Ammonia Slip Monitor Selection for Gas Turbine SCR System
Decision Sequence

Decision Category

Decision Subject

Explanation

Level 1

Orientation

Specifier

Purchaser or A/E making the decisions for bid purposes

Level 2

Application

221112 Fossil Fuel 化石燃料Gas-fired
燃气

Also applicable for coal-fired power plants, incinerators and cement kilns

Level 3

Process

NOx Reduction

Can be used with both SCR and SNCR

Level 4

Location

SCR Outlet

Measure ammonia slip

Level 5

Pollutant

NH3

Ammonia which escapes SCR

Level 6

Product

CEM

Continuous emission monitor to measure ammonia after reaction with NOx

Level 7a

Type

In situ

Big differences between measuring in stack and taking a small sample and conditioning and treating it

Level 7b

Type

Extractive

Extract sample, condition and measure

Level 8a

Principle

Laser Spectroscopy
(TDL IR)

Advantages: Interference free, in situ or extractive

Disadvantages: Moisture interference, limited experience

Level 8b

Principle

Automated Wet Chemistry

Advantages: familiarity, quick set up and good for extractive periodic testing

Disadvantages: labor intensive, reagents

Level 8c

Principle

NOx Differential

Advantages: Tried and proven

Disadvantages: Poor sensitivity to high NOx levels

Level 8d

Principle

UV Photometry

Advantages: Tried and proven

Disadvantages: Strong interference from SO2

Level 8e

Principle

Ion Mobility

Advantages: Sensitive and interference free

Disadvantages: Not suited for corrosive gases, slow response

Level 8f

Principle

IR-Multi
Component

Advantages: Multiple species

Disadvantages: Cost
Exporting countries and companies need to promote the decisive classification of the products which they wish to sell. All decision making is a series of classifications. A clear presentation of the alternatives will facilitate better decision making. This will be one of the most cost effective ways to expand exports.
For more information on "Air Pollution Management," click on:
http://home.mcilvainecompany.com/index.php?option=com_content&;view=article&id=48#n5ab
Gas Turbine Inlet Filter Market to Exceed $400 Million This Year
The low price of natural gas has resulted in the construction of a number of gas turbine power plants. New construction plus the growing replacement market will boost gas turbine inlet air filter sales to over $400 million in 2013. This segment will account for 6 percent of the $7 billion air filter market. This is the conclusion reached by the McIlvaine Company in its "Air Filtration and Purification World Markets."
($ Millions)
| | |
| --- | --- |
| Continent | 2013 |
| Africa | 13 |
| America | 161 |
| Asia | 147 |
| Europe | 88 |
| Total | 409 |
The inlet air filter is necessary to protect the high speed elements within the gas turbine from excessive wear. As turbine performance has increased, so has the need to remove smaller and smaller particles. As a result, the HEPA range of filters is now frequently needed. Since these filters do not have the dirt holding capability of less efficient filters, it is typical to furnish pre-filters.
Static filters and pulsed filters are the two choices for final filtration. The highest efficiency is obtained either with microglass fibers or with membranes. The incentive to utilize high efficiency filters is expanded when the gas turbine in a locality with very tough emission standards. In California, some permits require the exhaust emissions to be cleaner than the ambient incoming air. So unless the air filter removes the particles, the unit will not be in compliance.
The filters are often supplied by companies who manufacture complete intake systems. Donaldson and Nederman will supply the filters, cooling devices and the housing. These other products substantially increase the revenue opportunity. The intake system purchases in 2012 will be in excess of $1 billion.
The total market for gas turbine systems in 2013 will be $56 billion. Over 70,000 MW of new turbines will be sold. The U.S. will purchase 16,000 MW, bringing its total installed base to over 300,000 MW.
Much of the new U.S. construction is for base loaded combined cycle plants. Much of the existing base is peaking turbines. This distinction is important because filter purchases are less for the peaking turbines. Since these turbines only operate a few weeks or months per year, filter replacement is less frequent.
The intake systems represent 2 percent of the total system expenditure. The combined purchases of new intake systems and filters plus replacement filters will be $1.3 billion.
For more information on "Air Filtration and Purification World Markets," click on:
http://home.mcilvainecompany.com/index.php?option=com_content&;view=article&id=48#n022
East Asia Will Spend $4.8 Billion on FGD This Year
Power plants in East Asia will spend $4.8 billion on flue gas desulfurization (FGD) this year. This will be 63 percent of the total worldwide expenditure. This is the conclusion reached in "FGD World Markets" published by the McIlvaine Company.
$ Millions)
| | |
| --- | --- |
| World Region | 2013 |
| Africa | 451 |
| CIS | 0 |
| East Asia | 4,846 |
| Eastern Europe | 343 |
| Middle East | 109 |
| NAFTA | 1,122 |
| South & Central America | 0 |
| West Asia | 108 |
| Western Europe | 626 |
| Total | 7,605 |
These forecasts do not include repair parts and upgrades nor do they include consumables such as lime and limestone. Total expenditures by the power plants for FGD will exceed $15 billion in 2013.
The forces shaping the market include:
Continued expansion of coal-fired capacity in India and China

Chinese program to fit both new and existing power plants with FGD

New air toxic rules in the U.S.

Limits on new coal-fired power plant construction in the U.S.

Low price of natural gas in North America

Aging fleet of FGD systems at existing power plants

Corrosion problems at existing units

New by-product opportunities

Increasing stringency of standards for FGD wastewater discharge

Performance of circulating fluid bed absorbers on SO3 capture

Need to remove mercury and prevent re-emission

Inclusion of FGD in power plant optimization

New FGD technology
China continues to spend more for new FGD systems than the rest of the world combined. It is also requiring existing power plants to upgrade to meet tougher standards. The new air toxic rules in the U.S. are leading older and smaller power plants to install dry sorbent injection systems. They reduce the hydrogen chloride to meet the new limits and also remove SO2. An alternative is the more capital intensive fluid bed absorber. It has the advantage of SO3 capture and uses less lime.
Several new FGD technologies hold promise. Neumann systems have made improvements to the double alkali system. Clear Edge has a catalytic filter which captures SO2, particulate and NOx. Hitachi has a system which produces both gypsum and hydrochloric acid.
The FGD system is both a major capital and operating cost to the operator. This cost can be minimized with some of the newer optimization and process control systems. Neuco uses neural networks to optimize the boiler efficiency, NOx generation as well as NOx, SO2, and mercury emissions.
Another trend is toward use of a main automation contractor to ensure synergy with the many FGD sub systems and components. Yokogawa supplied the FGD automation for the Turceni power plant, in Romania (330 MW x 7 units), Yokogawa provided its CENTUM VP Integrated Production Control System; field devices such as DPharp EJX Pressure/Differential Pressure Transmitters, pH analyzers and temperature transmitters; the Plant Resource Manager (PRM) integrated device management tool; and the Exaquantum Plant Information Management System.
For more information on "FGD World Markets," click on: http://home.mcilvainecompany.com/index.php?option=com_content&;view=article&id=48#n027
Desalination Flow Control and Treatment Revenues to Exceed $9 Billion by 2020
Desalination plant flow control and treatment expenditures are now just 1.5 percent of the $340-billion dollar flow control and treatment market. While the market as a whole will increase at 5.5 percent, the growth in the desalination sector will be nearly twice as high. These are the conclusions reached by the McIlvaine Company in "Air/Gas/Water/Fluid Treatment and Control: World Markets."
Cumulative desalination treatment capacity will double by 2020:
Year

Cumulative Capacity

Million m3/day

2005

40

2010

65

2015

100

2020

160
Flow control and treatment revenues will grow from $4 billion in 2013 to $9 billion/yr by 2020. The substantial revenue increases are a function of repairs and upgrades as well as new capacity. When the installed base is growing so rapidly, there is a corresponding growth in repair parts and consumables.
Another reason that the flow control and treatment revenues will grow rapidly is the increasing preference for reverse osmosis vs. thermal treatment. The filtration and pre-filtration steps represent a significant portion of the total expenditure when desalination is accomplished with RO.
There are substantial repair part revenues associated with the primary and energy recovery pumps. Valve part revenues are also significant. Dow Chemical benefits with hundreds of millions of dollars of revenue generated by replacement of existing RO modules. The company is also replacing alternative pre-treatment filters with UF. Chemical cleaning of the RO system is reduced. The result is a reduction in life cycle costs.
Upgrades to existing thermal systems will generate substantial revenues. Yokogawa Electric completed a project in 2012 to replace the control systems for the boilers, distillation unit and auxiliary facilities at the Shuwaikh seawater desalination plant. The Centum series integrated production control system which makes this plant operation more efficient and reliable. It replaced the aging control systems for three boilers, three distillation units and auxiliary facilities. The Yokogawa Centum series integrated production system controls all plant facilities. Also included were a Prosafe-RS safety instrumented system for the burner management systems on the boilers, a PRM integrated device management software package to monitor plant facilities and predict when maintenance is necessary.
At the Perth Seawater Desalination Plant at Kwinana, Australia Siemens automation technology provided the opportunity to greatly reduce the enormous quantity of copper cabling and connections normally required for a plant of this scale. The quantity of copper has been reduced by using intelligent communications and fiber-optic cable. Much less cable in the plant results in lower capital costs and improved reliability. Using a combination of leading-edge software, hardware and diagnostics, plant operators can predict maintenance needs more efficiently.
For more information on "Air/Gas/Water/Fluid Treatment and Control: World Markets":
http://home.mcilvainecompany.com/index.php?option=com_content&;view=article&id=71
INDUSTRY NEWS
BP to Spend More Than $300 Million to Reduce Emissions from Flares, Heaters, and Boilers
The U.S. EPA announced a settlement with BP that requires the company to spend more than $300 million to reduce more than 4000 tons of pollution from flares, heaters and boilers, catalytic crackers and other units at the Whiting refinery in Indiana. This agreement resolves a permit challenge from public interest groups and enforcement actions brought by EPA that were related to the company's expansion of the facility to accommodate tar sands.
According to EPA, the agreement will reduce emissions of volatile organic compounds by more than 3000 tons; nitrogen oxide by 328 tons; sulfur dioxide by 377 tons; and hazardous air pollutants by 170,000 pounds. These pollutants contribute to unhealthy levels of smog or fine particulates (or both) that trigger asthma attacks and other respiratory ailments, while hazardous air pollutants like benzene are known carcinogens.
The settlement breaks new ground by exposing flares as a major source of air pollution from refineries, and by establishing stringent but cost-effective requirements that will cut those emissions by more than ,000 tons. Refinery flares installed to burn waste gases from various pollutants were once thought to be a relatively insignificant source of emissions, accounting for several hundred tons of VOC emissions a year at most. Those low numbers were based on and outdated EPA methodology that estimated that only 1 to 2 percent of refinery gases sent to flares were released to the environment, with the rest destroyed during combustion. Based on a closer look at BP's flares, EPA estimates a loss rate closer to 15 percent which means actual releases of pollution were 7.5 to 15 times higher than reported.
Recent reports, including several studies by the Marathon refinery, indicate that these high loss rates are an industry-wide phenomenon. While there are multiple causes, it turns out that refinery gases that are flared often have much lower heat values than are needed for the efficient combustion of volatile organic pollutants.
The settlement addresses this problem in several ways that will reduce this pollution at a very low cost. BP has agreed to install compressors that should recapture about 90 percent of the gas that would otherwise be sent to flares — the recovered gas can be used to fuel the refinery's heaters and boilers, saving energy costs. The settlement also establishes a protocol to assure at least 98 percent destruction of pollutants sent to flares, e.g., through closer monitoring of heat values and by preventing the "oversteaming" of flares to control smoking (too much steam lowers the heat rate and interferes with combustion).
EUEC Was an Active Show for McIlvaine
The McIlvaine stand was busier than usual at EUEC this year. The following scene was not unusual.

Ed Deck and Dale Cathey of Yokogawa are talking with Ross Ardell and Bob McIlvaine. Yokogawa is involved with FGD controls in Romania, SCR ammonia slip monitors at AEP Clinch River. Just in the last few weeks the company has received control system orders for gas turbine combined cycle plants in Korea and Saudi Arabia.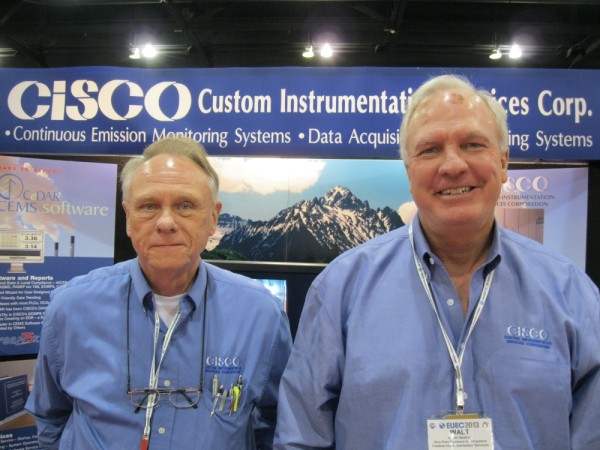 Pictured above, from left, Leonard H. Richter, V.P. Engineering and Walter Bastron, President.
Custom Instrumentation Services Corporation provides complete high quality CEMS and Data Acquisition and Handling Systems (DAHS) to monitor process gases, flow, and opacity for EPA regulatory compliance and process control.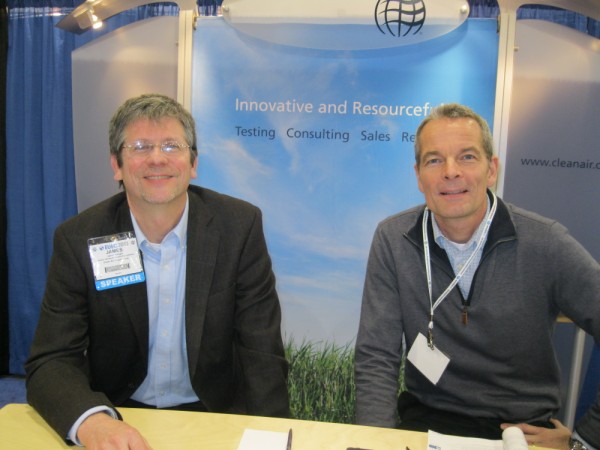 Pictured above, from left, Jim Wright, Business Leader, QSTI, Advanced Monitoring Solutions and Carl J. Kamme, Sales Director, Opsis AB.
Clean Air Engineering is a company built around a principle -- environmental responsibility and economic prosperity go hand in hand.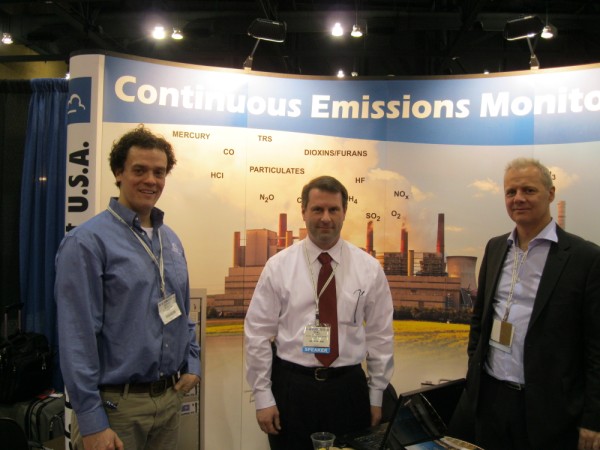 Pictured above, from left, Steve Kostal, Marketing Coordinator, Phillip J. McMaster, Regional Sales Manager and Jürgen Reinmann, Niederlassungsleiter / Branch Manager.
Altech is a world-wide instrument manufacturer and systems integrator providing Continuous Emissions Monitoring Systems (CEMS) and process monitoring systems featuring proprietary analyzers using NDIR, UV, Chemiluminescence, FID, FTIR, FTUV, Beta Attenuation, and Sorbent Trap technologies. Altech offers complete solutions for EPA compliance and process control for industrial, electric utility, ambient, and engine testing applications. Unique solutions for HCl, Mercury and PM monitoring will be on display.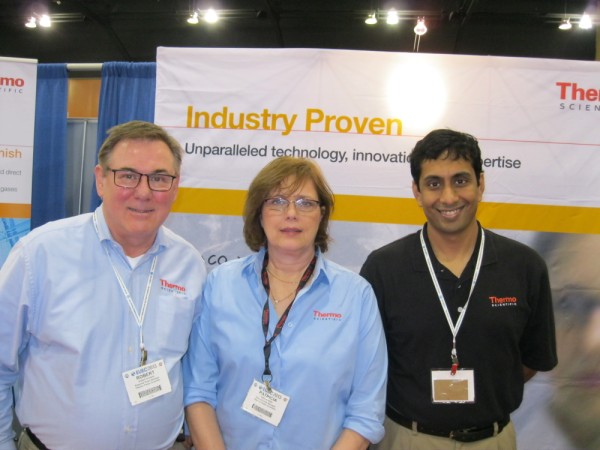 Pictured above, from left, Robert Kinsella, Regional Sales Manager, Thermo Scientific, Environmental and Process Instruments, Patricia A. Miller, Product Line Manager Service/Parts, Air Quality Instruments and Anand Mamidipudi, Product Line manager, Air Quality Monitoring Systems.
Thermo Scientific has offered air quality products and services since 1970. They offer a full range of air quality instruments and services to meet the growing needs of the environmental market. They are committed to being the global leader in environmental monitoring applications where market, knowledge, customer intimacy, application expertise, and instrument technology helping customers succeed in protecting people and the environment.
Instrumentation Limited of India Orders an Automation System Upgrade from Metso
Instrumentation Limited has signed an agreement with Metso to upgrade an automation system at the Parichha thermal power station located in Parichha (Jhansi), Uttar Pradesh, India. As a result of the upgrade, the plant will be able to improve process efficiency and ensure safer process operation with better data collection, improved control, minimized device failures and fewer unplanned shutdowns.
Metso will modernize the existing Metso-supplied control system which has reached the end of its life cycle. The delivery includes system software and hardware as well as site services. One of the major factors leading to the repeat order was Metso's professional and reliable service capabilities. Another factor was system compatibility, since existing I/O modules can be reused together with new ones.
Doosan Develops Integrated Monitoring & Control System for Taean Thermal Power Plant
Doosan Heavy Industries & Construction has commissioned an integrated monitoring and control system (IMCS) for 500-MW Taean Thermal Power Plant Unit 1 jointly with Korea Western Power Co. and the KEPCO Research Institute.
The development of the IMCS is one of the state-funded projects referred to as "projects for developing fundamental power technology," which the Ministry of Knowledge Economy and the Korea Institute of Energy Technology Evaluation and Planning have been implemented jointly since 2007. Doosan took charge of developing the control system, KEPCO Research Institute took part in inspection, and Korea Western Power Co. was responsible for the plant operation, including commissioning.
Notably, unlike conventional systems that control boilers, turbines and power generators separately, the integrated power plant control system for Taean Thermal Power Plant Unit 1 is able to control such facilities from a single control tower.
The system provides greater efficiency in operation and maintenance than conventional systems and is the first integrated system to be developed in the world.
Seungjoo Choe, Chief Technology Officer at Doosan, said, "The integrated control system is significant because it has been developed purely with local technology," adding, "Based on this success, we will continue to expand related projects for thermal power plants in Korea and overseas in the future."
Xylem Has $617,000-Contract for Climate Change Monitoring and Ecological Forecasting in the Caribbean
Xylem Inc. has been awarded a $617,000-contract from the Caribbean Community Climate Change Centre (CCCCC) for five marine monitoring buoys that will collect high-quality data for researchers studying climate change in the Caribbean Sea, including the waters of Barbados, Belize, the Dominican Republic, St. Lucia and Trinidad & Tobago.
The customized solar powered YSI EMM2000 buoys will measure, record and transmit in real-time meteorological and water quality data as the key components of a Coral Reef Early Warning System (CREWS).
Coral reefs play an extremely important role in the Caribbean economy for tourism, as well as food production and food security. The regions' reefs have been impacted by rising sea temperatures and pollution. Long-term monitoring of environmental conditions in the Caribbean will help researchers track the health of the reefs, among the oldest and most diverse ecosystems on the planet.
TRC Picks Up GE's Air Testing Business
TMS Solutions, Inc., Lowell, MA, has strengthened its air quality consulting practice through the acquisition of the Air Emissions Testing (AET) business of GE Power & Water and, as part of the transaction, has entered into a three-year master services agreement with GE. "The air testing business remains a core element in TRC's offerings and has been since our founding more than four decades ago," said Chris Vincze, TRC's Chairman and CEO. "The addition of GE's experts strengthens the most promising areas of our energy and environmental business."
An Independent Supplier is an Option for Gas Turbine Control Retrofits
The retrofit market for gas turbine (GT) and compressor control systems is substantial. Systems sold during the early 2000s are ready for an upgrade. These are still older systems equipped with analog controls or electromechanical governors.
"The average life cycle of many OEM controls are in a 10-15 10-year timeframe," said Clark Weaver, Manager of New Product Introduction, Wood Group GTS in an article appearing in Turbomachiney International.
The battle to serve this market is being waged by OEMs such as GE and Siemens, looking to persuade users to upgrade their original control systems. Independent suppliers, such as Wood Group GTS, Invensys, Tri-Sen, Young & Franklin and Emerson are offering users the option of switching to open architectures and newly-manufactured replacements.
OEMs are urging users to stay with their controls for the life of the turbine or compressor. The basic logic is that the hardware and controls are designed to work in harmony. As turbine and control engineers work together, OEMs say that their controls can be counted on to work best on their own machines.
Independents, on the other hand, argue that users of OEM systems may be deprived of software logic, have no alternative to expensive spares and support, and may be forced to comply with programmed life cycle management; whereas the open philosophy lets them support their units as they desire.
They also claim to provide users with functionality and upgrade options that the OEM either resists, charges more for, or doesn't provide. Users can modify control functionality, they say, particularly as it relates to operations criteria or auxiliary controls to improve flexibility or deal with site-specific issues that are hindering operations. This, they claim, can be achieved without jeopardizing turbine safety or critical control and protection logic.
Siemens Process Control System Expanded for Cement, Mining and Related Industries
The Siemens Industry Automation Division has added new functions to Version 8.0 of its Cemat process control system for the cement, mining and related industries. Certain functional details of previous versions, such as the maintenance and service management system, have also been further developed for Cemat V8.0. Innovational highlights are the additional operating modes for plants, device groups and individual units, as well as the monitoring of process values, such as accumulated pressure and flow rates. The user can also now put together curve groups very easily.
ON Line, Composite or Grab Samples for Natural Gas
A representative sample of a hydrocarbon project is necessary to ensure proper accounting for transactions and efficient product processing. The amount of hydrocarbon product that is transported between producers, processor, distributor and end-user is significant.
David Fish of Welker, writing in the July and August issues of Pipeline and Gas Journal, weighs the advantages of grab, composite and continuous monitoring. In the realm of gas sampling there are the continuous online analytical units — the calorimeter and the chromatograph. These units have their place in the past, present and will continue to have an important place in the future of gas sampling. It is their cost, power requirements and typical upkeep that precludes their use in thousands of locations. Online analysis is convenient though it is dependent on the accuracy of the analyzer, its correct calibration and the quality of the sample reaching it. It tends to be expensive to install and maintain. Economics, remote location and downtime for service dictate the use of spot or composite sampling techniques at a majority of sample points and installations. It is also important to point out that with online units there is no second or third chance at analysis, and no second opinion option, as is the case with a sample in a sample cylinder.
On the immediate horizon, a new technology is emerging. Energy meters are soon to be introduced as an online, instant Btu meter. They will not provide analysis in the manner of the existing GCs, but will provide immediate Btu values. This new technology will fill a current void in real-time billing and plant operations. Their value is in reduced costs compared to online GCs, reduced maintenance and calibration costs, and in providing real-time information for operations.
Interned Hosted SCADA an Answer for Water and Wastewater Utilities
In an Internet-hosted SCADA solution, equipment information from each remote site is transmitted via cellular modems to a central third-party SCADA software application. For a monthly fee, authorized utility personnel can monitor and control their equipment, change system set points, view active and historical alarms and create custom reports. Secure Internet clients provide customer access from any computer with an Internet connection. This allows utilities to adopt a complete SCADA system including mission-critical components like trending, alarm dialer, remote access and system redundancy that they could otherwise not afford using traditional server architecture. A working system can be up and running in a matter of days or weeks, not months or years.
Thelma Akwel of Trihedral and Ben Manlongat of Kennedy, writing in Water Online, provide an example of success for the hosted approach.
Hosted solutions eliminate the upfront hardware costs and software licensing fees required to install a traditional SCADA system. In addition, there is no need to maintain licensing support contracts, server computers, or an IT department.
In 2010, systems integrator Kennedy Industries, Inc., developed its own cloud-based SCADA system, KI Station Master (KISM), to meet the needs of the Michigan Dept. of Transportation (MDOT). MDOT was considering a SCADA system to monitor and control pump controllers at 160 stations across the state of Michigan. Due to the large number of sites that MDOT wanted to monitor, Kennedy Industries proposed KISM as an efficient way to meet MDOT's needs.
Kennedy selected VTScada software from Trihedral because of its built-in communication drivers for more than 100 different devices, making it easy to connect to any type of equipment. It also provides the capability to perform hosting by grouping all customer areas into a single realm, ensuring that different utilities are not able to see each other's private information.
The hosting process requires a PLC at each site to collect data that can be sent to the hosted SCADA application by the cellular modems. If a customer already has these devices in place, they are simply reused in the new system. If not, the utility is provided with a PLC that can communicate with its existing equipment.
Ultrasonic Flow Meters Now More Popular in Oil and Gas
Many companies are changing from DP and turbine meters to ultrasonic meters because of their marked advantages. Jesse Yoder, of Flow Research, Inc., writing in Pipeline & Gas Journal, points out that ultrasonic meters are nonintrusive, cause virtually no pressure drop, do not have moving parts, are highly reliable and are very accurate. Leading suppliers of ultrasonic flowmeters for custody transfer of natural gas are Emerson Daniel, Elster and SICK. KROHNE has also entered this field. These meters are widely used for pipeline measurement of natural gas.
Like turbine meters, they can accommodate the large sizes of gas pipelines, but they can more easily handle particles and impurities in the flowstream than turbine meters. The market for custody transfer of natural gas has become the fastest growing niche in flowmeters, with the possible exception of the market for multiphase meters.
One issue that has remained unresolved is how often ultrasonic flowmeters need to be recalibrated. Some companies look for a period of years, such as five years or seven years, as a guide. So far none of the standards bodies, such as AGA, the American Petroleum Institute (API), or the International Organization for Standardization (ISO) have adopted such a standard. While the number of years would be a convenient guide, there are also diagnostic tests that can be run that may provide a better guide to the need for recalibration of an ultrasonic flowmeter than a standard that is stated in terms of a number of years.
Coriollis flowmeters are the most accurate type of flowmeter made. However, they have an easier time measuring liquid flows than gas flows.
In the past few years, several Coriolis suppliers have begun making Coriolis meters for line sizes above six inches. These include Endress+Hauser, Micro Motion and KROHNE. In the meantime, GE Sensing has acquired Rheonik and is continuing to make large-size Coriolis meters. Currently, the largest Coriolis meters are made for 16-inch lines.
Because of their accuracy and reliability, these large-line size meters may begin to penetrate the market for measuring petroleum liquids. Most of them are designed for custody transfer applications. Coriolis meters are already displacing positive displacement meters for liquid petroleum applications involving downstream delivery of petroleum to tankers, ships, trains, planes and trucks. It remains to be seen though, how widely they will be used for upstream oil applications in the oil fields.
Wireless Sensor Networks Enhance Remote Condition Monitoring
The challenge of condition monitoring is complex when one considers that oil exploration interests tend to move to harsh areas, such as the deep water fields off West African coasts or the prolific fields in Angola and Nigeria. How to collect and transport data coming from these remote and even hazardous environments? Gianni Minetti, writing in Pipeline & Gas Journal analyzed the advantages of wireless sensor networks.
In many cases, wired infrastructures are already in place, and companies are unlikely to upgrade the network or add new data points because of their expensive costs. In a typical oil or gas facility, thousands of sensors and data points are needed to ensure a proper asset monitoring, with hundreds of kilometers of cables used to connect these devices — if one calculates that a new offshore platform has approximately 800 km of wiring and that cable costs alone may vary from US$120 to 6000 per meter, it is easy to understand why oil and gas companies are eager to protect their past investments and are not open to possible alternatives.
Wired process and sensor networks may prevent companies from successfully facing emerging challenges such as market demands or regulatory changes which require more performance and efficiency by increasing data collection frequency or installing additional data points (i.e., to monitor emissions or new security parameters).
Wireless sensor networks offer oil and gas companies immediate and measurable benefits, including improved performance, greater flexibility and reduced costs for installation and on-going maintenance. Wireless data acquisition and transmission allow companies to have deeper, more granular and accurate information from production assets, therefore enabling effective plant monitoring and supporting real-time decisions thanks to the possibility to feed all data directly into corporate ICT systems.
A wireless technology project can cost up to 50-70 percent less than the wired option — considering hardware/material costs, engineering, installation and global administration and management; in addition, several benefits are interesting to highlight: increased operational reliability and system uptime, increased operator and engineer productivity, improved asset utilization, personnel safety and many others.
Pipelines Turn Toward Automation Through Intelligent Technology
Pipeline operators are focused on ensuring that their systems provide safe and reliable delivery. Doing so has its challenges, many of which can be managed through the use of technology to solve critical pipeline integrity management issues. Bart Elliott and Edwin Anderson analyzed integrity automation in Pipeline & Gas Journal.
Automation through intelligent technology is becoming a foundational need. The quality and sustainability of pipeline integrity management programs are based on the ability to effectively manage business processes, documents and data associated with pipeline assets. Automation of the management process is becoming a foundational requirement for many utilities that are actively creating systems to accommodate the next level of integrity management. Through the use of applying intelligent technology to support pipeline integrity, pipeline companies and utilities can create a much more sustainable, easy to access and improved cost effectiveness of their integrity processes over time. For gas utilities this automation is as revolutionary as the technology support behind the smart grid in the electric industry.
Cone DP Meters Are Popular But Have Calibration Issues
The cone meter is a simple and robust generic differential pressure (DP) meter. It has been shown to be remarkably resistant to the effects of both asymmetric and swirling flow. The cone meter is often the meter of choice when there is a limited straight pipe length available for a flow meter. Therefore, cone DP meters are becoming increasingly popular gas flow meters. Casey Hodges and William Johansen, writing in Pipeline & Gas Journal, explored the calibration issues for DP meters.
Cone meters are generic DP meters and must be calibrated across an application's full Reynolds number range for the calibration to be valid for that application. This requirement means it is often inappropriate to calibrate a cone meter in a water flow facility if the application has high Reynolds numbers. Extrapolation of cone meter calibration data is not advisable. Each individual cone meter has a unique performance and must be individually calibrated.
Once calibrated, the cone meter's performance will stay constant until the meter's geometry is altered by adverse flow conditions. Periodic recalibration is only required if the operator suspects contamination or damage. It is not yet possible for industry to accurately know a cone meter's performance without calibrating the meter. However, a properly-calibrated cone meter can have a flow rate uncertainty of 0.5 percent.
Coriolis Mass Flow Meters Have Advantages for Bulk Measurement
Accurate measurement of liquids is important for all oil and gas industry production or consumption sites. This is especially true for bulk transfer devices where large volumes of products are being moved and must be monitored, including crude oil pipelines, depots, gasoline and jet fuel tank farms, refineries and even cruise line terminals. Andrew Verdone, writing in Pipeline & Gas Journal, analyzed the technology.
In the past, mass transfer was measured in batches with weigh scales or load cells. However, installation, calibration and maintenance activities of a scale or load cell are costly, difficult to do, time consuming and don't work for continuous processes. For these processes, such methods as orifice plates and magnetic flow tubes can measure volumetric flow, but additional instruments are needed to measure temperature and pressure to compensate for fluid density changes. Introducing additional instruments also introduces errors, which can result in an overall measurement error rate as high as 3 percent.
Now, several measurement standards are moving toward use of Coriolis mass flow meters, which can measure mass flow directly at the same time as they measure temperature and density. What's more, transfer measurement by mass is the most accurate method, since mass is independent of, and unaffected by, changing process fluid characteristics, including pressure, temperature, viscosity, conductivity and gravity.
Among the Coriolis devices available, the straight tube design is being hailed as the most accurate and easiest to install and maintain. Especially for measurement skids, widely used in the oil and gas industry, the straight tube Coriolis meter can be a factor in minimizing skid size.
OptoAcoustic Has Advantages in Gas Measurement
OptoAcoustic gas detection determines gas content via the measurement of acoustic pressure waves that are propagated as a gas is irradiated under an appropriately-tune light. Dr. Mourad Baraket, writing in Pipeline & Gas Journal, compares the optoacoustic detector to infrared and catalytic.
The OptoAcoustic sensor requires less frequent maintenance due essentially to its embedded self-diagnostics, false alarm rejection and temperature compensation algorithms.
Detectors for additional hydrocarbons such as ethane, ethylene, pentane, propylene hexane as well as liquid hydrocarbons are also available upon request.