Industrial Valves World Markets Update
<![if !supportLineBreakNewLine]>
<![endif]>
March 2019
McIlvaine Company
Achieving the Most Profit from Valve Sales
Management of valve companies continually analyze and predict future profitability. Unit margins have to be sufficient to exceed cost of goods sold by an amount sufficient to cover selling and administrative expense by the targeted operating margin. In 2018 Crane cost of goods sold was 64% of sales, gross profit was 36%. Income before taxes was 12%.
Category

Crane

Flowserve

IMI

Metso Flow

$

%

$

%

$

%

$

%

Net Sales

3345

100

3832

100

1907

100

720

100

Cost of Sales

2156

64

2644

69

Gross Profit

1189

36

1187

31

Selling and General Expense

721

22

943

25

Income before Tax

411

12

176

5

251 (OP}

13

117 (OP)

16

Taxes

76

2

51

1

Net Income

335

10

119

3
Flowserve COGS and selling and general expenses were higher than Crane. IMI income was 13% of sales
Metso income in their flow division was $117 million which is 16% of sales.
In 2018 the Flowserve income before taxes was 5% which is significantly lower than that of Crane. This is an example of how profitability per sales dollar can vary considerably company to company. Flowserve has a history of innovation which should result in high profit margins. The company has focused on oil and gas to a greater extent than Crane. Flowserve has suffered from the downturn in several of its key markets.
The net margins for Flowserve in the next several years should be much higher due to the expanding oil and gas market and the amount of infrastructure Flowserve has created to address it. So some of the expenses in 2018 and prior years will put Flowserve in a position to supply products with a Lower Total Cost of Ownership (LTCO) advantage.
Companies spend much more time and effort predicting various expenses than on analyzing profitable markets. Income is a direct result of profitable sales. The connection between the two needs to be quantified. This is being achieved with a new tool: Most Profitable Market (MPM).
The goal of valve companies is to maximize profits. Market forecasts should be the foundation of the business strategy. Instead they are usually treated as a peripheral tool. The reason is that market forecasts typically quantify the Total Available Market (TAM) which includes geographies and product requirements which cannot be served. The reports are customized at some expense to provide the Serviceable Obtainable Market (SOM) which reflects a market which can be served at some profit margin even if meager.
Management does not want to be chasing orders which have meager unit margins when there are opportunities with high margins. By creating the Most Profitable Market (MPM) forecast they create a very valuable foundation for the whole business program.
<![if !vml]>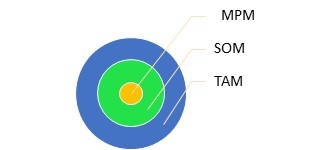 <![endif]>
The MPM is defined as the market which yields the highest profit given the resources and knowledge available.
This market is some fraction of the SOM. The MPM can further be defined as the market where the company has the lowest total cost of ownership (LTCO) at an attractive profit margin. The MPM is further restricted to those opportunities where Lowest Total Cost of Ownership Validation (LTCOV) can be demonstrated.
<![if !vml]>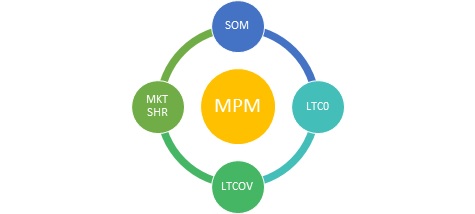 <![endif]>
The MPM is calculated based on the targeted market share. The biggest potential target in the U.S. oil and gas industry is light tight oil (LTO) extracted through hydraulic fracturing of shale. The 2018 forecast for Light Tight Oil production in 2023 by IEA was 7 million bl/d. The latest estimate by McIlvaine for light tight oil production is 15 million b/d.
U.S. Valve Sales in the Oil and Gas Industry in 2023

Liquid Source

mb/d

SOM Valve Sales 2023
$ millions

LTO ( hydraulic fracturing)

15

1852

Gulf of Mexico

1

123

Natural gas liquids

6

741

Alaska

0.3

37

Other

2

247

Total

24.3

3000
The $1.8 billion Light Tight Oil valve opportunity involves mostly critical and severe service applications. Cameron claims that its frac sand gate valves have three times the uptime of competitor designs. When you consider downtime, labor, and repair part costs the difference in total cost of ownership could be substantial. Prices can be raised to reflect the LTCO. Cameron has an easy route to LTCOV as a division of Schlumberger, one of the largest oil field suppliers.
Flowserve has been preparing for a big light tight oil market and the related oil and gas transport for more than a decade. In 2012 John Lenander, vice president of oil and gas valves (now President of Flow Control for Flowserve) said timing depends on the level of specialization, the amount of valves needed, and pipe size. For example, 10 valves for 200 miles of 42-inch pipe could be supplied in six to eight months. But 60 valves for 1,200 miles of 42-inch pipe would more likely be quoted with partial deliveries starting in six months, with everything completed in about a year.

"We've been putting a lot of additional resources into supply-chain management, project management and engineering," he said. At the time Flowserve also was expanding plant capacity. So by identifying the MPM market but being off in timing Flowserve likely depressed profit margins over last few years but could more than compensate in the next decade.

Valve companies will want to use the MPM tool to address both the current and future market. This iterative process starts with management establishing profit goals. MPM is then established to achieve these goals based on market penetration and unit margins. This is an interactive process which involves assessment of product capabilities in comparison to competitors. It involves analysis of the MPM for individual large customers. Chevron and ExxonMobil have announced very large investments in light tight oil recently. The valve company has to assess its ability to achieve LTCOV for its products with each of the major oil companies. This requires input from the sales people dealing with these companies. It also involves detailed process knowledge. With the completion of iterative process the MPM becomes the foundation of the company business program.

N028 Industrial Valves: World Market provides the Total Available Market. MPM will be derived from TAM. This report has details by valve type, industry and country. It also has TAM forecasts for the largest 200 purchasers. This detailed TAM information can be then used to construct the MPM. McIlvaine can work with valve suppliers to help them create the optimum MPM using the TAM information in the valve report but also the TAM information appearing in industry market reports such as N049 Oil, Gas, Shale and Refining Markets and Projects, Hydraulic Fracturing MPM, N6F World Cleanroom Markets, N027 FGD Market and Strategies and other market reports listed at http://home.mcilvainecompany.com/index.php/markets
The MPM for individual prospects can be created with use of N032 Industrial Plants and Projects, 62EI North American Municipal Wastewater Treatment Facilities and People Database, 67EI North American Public Water Plants and People, 42EI Utility Tracking System, 31I Renewable Energy Update and Projects, 80A World Cleanroom Projects, 59EI Gas Turbine and Reciprocating Engine Supplier Program, and 44I Coal Fired Power Plant Decisions
Forecasting Valve Purchases by each Major Owner
Most valves are purchased by large multi-plant companies. It is more important to predict the purchases by these companies than it is to forecast purchases by country. These forecasts are included in N028 Industrial Valves: World Market.
Sixteen companies home based in France and Germany each spend more than $50 million per year for valves. Five spend over $100 million per year.
Valve Purchases by Large Companies

Home Based in France and Germany - 2019

Company

Home

Industry

$ millions

Air Liquide

France

Chemical

84

EDF

France

Power

583

Engie

France

Oil & Gas

143

LaFarge Holcim

France

Stone

72

Sanofi

France

Pharma

50

Schlumberger

France

Oil & Gas

57

Total Refineries

France

Refinery

235

Total SA

France

Oil & Gas

339

BASF

Germany

Chemical

311

Covestro

Germany

Chemical

65

Evonik

Germany

Chemical

73

Heidelberg

Germany

Stone

36

Linde

Germany

Chemical

82

Merck

Germany

Pharma

50

Uniper

Germany

Power

51
The steel industry is a good example of both offshore ownership and centralized purchasing. The world steel industry will spend over $1.7 billion this year for valves, parts, and service. In the case of ArcelorMittal, the majority ownership is by an Indian individual but the decisions regarding valve purchases may be made in Luxembourg which is the company headquarters. ArcelorMittal is a major valve purchaser. Its valve purchases for steel and mining applications are just under $100 million per year of which $84 million is for steel applications.
<![if !vml]>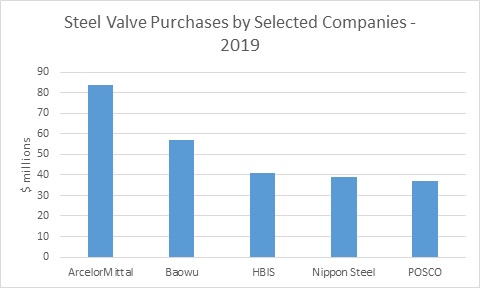 <![endif]>
Detailed Valve Market Share Forecasting
Detailed forecasting of market shares by valve type and industry are available. Valve forecasts are first segmented by control vs on/off and then by eight valve types and then by fifteen industries. This results in 240 forecasts for each supplier.
There are no authoritative sources for valve sales and certainly not for market shares. In fact since many valves are sold through distributors the supplier may not know how many of his valves are being purchased by a particular industry. However, it is well worthwhile to create approximate segmentations. A detailed analysis is much more valuable for decisions relative to R&D, sales, and manufacturing than a general forecast. Here is an example showing estimated 2018 Metso globe control valve sales.
Metso

Globe - $ mil

Industry

On/Off

Control

Total

Chemical

35

Electronics

Food

Iron & Steel

Metals

Mining

Oil & Gas

43

Other Electronics

Other Industries

Pharmaceutical

Power

40

Pulp & Paper

Refining

39

Wastewater

14

Water
Metso 2018 Globe Control Valve Sales and Market Shares for Selected Industries

Industry

Estimates of Metso 2018 Sales $ millions

World Valve Sales $ millions

% of total valve market

Chemical

35

1162

2.0

Power

40

1739

2.3

Refining

39

1606

2.4

Wastewater

14

789

1.7
Estimated Metso sales range between 1.7% to 2.3 % for control globe valves in selected industries. Market shares in some other industry/valve type categories are just a fraction of 1%. Metso is the 7th largest valve supplier. Its total market share is 1.4%. Its share in control valves is higher than in on off valves.
Similar forecasts are available for the valve types shown in the following chart.
| | | |
| --- | --- | --- |
| Valve Type | On/Off | Control |
| Ball | x | x |
| Butterfly | x | x |
| Check | x | x |
| Gate | x | x |
| Globe | x | x |
| Plug | x | x |
| Other | x | x |
| Safety Relief | x | x |
<![if !vml]>

<![endif]>
The accuracy of the forecasts and value are a function of the amount of effort needed to make the forecasts.
The output can be viewed as a range from a police sketch through a 240 piece puzzle. The least expensive is the police sketch. Some details are known but the rest have to be guesstimated. A victim is more likely to identify a perpetrator if shown a sketch that expands upon known details. The same is true of valve market analysis. The total market share estimate is best determined by aggregating the 240 components even if some of them are uncertain but minor.
The ideal output is the 240 piece puzzle where each of the components is known. This ideal is rarely achieved. One of the challenges is that each one of the 240 pieces is in turn something between a police sketch and a clear picture. The contours of the piece are created by drawing on knowledge of each industry, each purchaser in that industry, each process operated by each purchaser, valve type preferences, and other factors. For example there are component listings for power plants in the McIlvaine's 42EI Utility Tracking System.
| | |
| --- | --- |
| Knife Gate Valves supplier: | |
| | | | | | | | |
| --- | --- | --- | --- | --- | --- | --- | --- |
| startup | plant name | unit id | utility name | state | reagent | process | size MW |
| 2006 | Mitchell-AEP | 2 | American Electric Power | WV | limestone | wet | 816.3 |
| 2007 | Mitchell-AEP | 1 | American Electric Power | WV | limestone | wet | 816 |
| 2008 | Mountaineer | 1 | American Electric Power | WV | limestone | wet | 1300 |
Case histories and bidder specifications are provided in the valve intelligence system which is part of N028 Industrial Valves: World Market.
Since many valve supplier decisions rest on assumptions about the market and market share it is well worthwhile to invest in market share analyses even if it is only the equivalent of a police sketch. The more accurate analysis can be part of a program which also tracks purchases by each major prospect.
VALVE DISPLAYS AT OTC
A number of valves will be exhibited May 6-9 at the Offshore Technology Conference. There will be 2000 exhibiting Companies representing 40+ countries (including divisions and subsidiaries) and 23 international pavilions Exhibit net square feet is 500,000+ sq. ft., including outdoor exhibits Attendance is expected to be 60,000+ representing 100+ countries (includes exhibit personnel) There will be 350+ technical presentations, 22 topical breakfast and luncheons, and 11 panel sessions
ATV supplies a full range of valves to API 6A, 17D, 6D and 6DSS for offshore applications such as deep and ultradeep water, HPHT, HIPPS, highly sour services. High tech, high quality and State-Of-Art Manufacturing Equipment. Italy http://www.atvspa.com
Alco Valves Group, for almost 40 years, have manufactured and supplied an impressive range of valves to many of the leading names in the Oil and Gas industry both onshore and offshore; as well as supporting other markets such as petrochemicals, automotive, nuclear and defense. United States.
Asahi/America manufactures customized electric actuator and valve assemblies for the oil and gas industry. United States
http://www.asahi-america.com
AUMA, a leading company manufacturing electric actuators, actuator controls and manual gear operators for industrial valve application. AUMA is the specialist for electric part- and multi-turn actuators with more than 50 years experience in valve automation. The company manufactures it's products at two plants and supports the products from three service centers. Germany
http://www.auma.com
Control Flow, Inc., Design, Manufacture, Repair, Service of Pressure Control, Motion Compensation & Tensioner Equip for Drilling, Production, Geothermal & Offshore Pipe Laying industry. WesTech Tensioning/Pipe Handling Equip; Flocon Valves, Wellhead, Manifolds, BOPs; Mo-Comp Equip (OEM for Mo-Comp Equip ABB Vetco Gray Design Purchased 1998) & RETSCO Mo-Comp Products. United States
http://www.controlflow.com
Dixon Valve and Coupling Co., manufactures and supplies hose fittings and accessories spanning a range of industrial uses including products for fire protection, food processing, tankers, construction, chemical processing, petroleum, oilfields, refining and manufacturing. United States
http://www.dixonvalve.com
Dongsan Valve Co., Ltd., is one of the Korean leading manufacturers of industrial steel valves. The valves are supplied for a broad range of applications in the oil, gas, chemical, petrochemical and ship-building industries. The products include various types of valves in different materials. They are manufactured according to some internationally accepted standards such as API, ANSI, ASME, DIN BS, JIS and KS. Korea (South)
http://www.force-valves.com
ERREESSE Valves srl, production range includes very versatile top entry and side entry ball valves up to 72" supporting extreme temperatures and pressures, designed to handle severe service applications, whether they are corrosive with acid solutions or have higher cycle frequencies, they are an excellent choice for shutoff applications and processes in the Oil & Gas, LNG, Petrochemical Industries. Italy
http://www.erreesse-valves.com/
Frontier Valve International, is located in Edmonton, Alberta, Canada & is recognized internationally for high quality custom valves, ball valves, pig valves, inline chokes, debris catcher and more.
http://www.frontiervalve.com
IVI is a leading Indian manufacturers and Exporters of Block and Bleed Valves, High Pressure Needle Valves and Fittings, Instrumentation Valves, Valve Manifolds and Instrumentation Fittings. We are ISO 9001:2015 Certified and hold PED 2014/68/EU, ATEX 2014/34/EU, MSS-SP-99 and ASTM F-1387. India
http://www.ivimanifolds.com
YDF Valves, was established in year 1978 and specializes in the development of innovative design, through intensive R&D programs. YDF's main product lines include Ball, Gate, Globe, Check, Butterfly and Power Station valves, designed in accordance to standard of ASTM, ANSI, API, BS, JIS and DIN. China
http://www.ydfvalve.com
KCM Valve Co., Ltd, is one of oldest Chinese valve manufacturers found in 1983,KCM has more than 34 years' experience making all range of industrial valves. Especially for SS, DSS, SDSS, Exotic alloy valves, like ball valve, gate valve, globe valve, check valve, butterfly valves and plug valve. KCM is one of suppliers of Sinopec, CNPC, CNOOC, PEMEX, Petrofac etc. China http://www.kcmvalve.com

Leser GmbH & Co KG, with 950 employees and 130,000 safety valves produced per year, LESER is the largest manufacturer in Europe and is a leading company in its industry worldwide. Germany
http://www.leser.com
Master Flo Valve, established in 1979, Master Flo partners with customers around the world to design and manufacture surface and subsea choke valves, control valves, actuation and complete flow management solutions that lower costs and optimize production over the life of their field. Privately-owned, Master Flo is part of the Stream-Flo Group of Companies. United States
http://www.masterflo.com
Online Valves & Online Cables are stockists & distributors of pipeline valves, flanges, fittings, pipe, gaskets, stud bolts, hubs, clamps & all types of cables; for onshore & offshore, both topside and subsea applications. We offer fast track deliveries & considerable savings. We proudly exclusively represent KentIntrol in the USA; providing severe service control, surface chokes & subsea valves. United Kingdom
http://www.online-valves.com / online-cables.com / kentintrol.com
Parker Hannifin is the world's leading diversified manufacturer of motion and control technologies and systems, providing precision-engineered solutions to the offshore market. Together we can control your systems in deeper waters, at higher temperatures and pressures, in the harshest environments with industry leading efficiency and reliability. United States
http://www.parker.com/otc
PBM manufactures up to 12" reduced port, 150# class, nickel aluminum bronze for ballast valves. They are utilized for Bilge, Utility Seawater, Sea-Chest, Injection Water, Pump Skids, & Water Flood. PBM instrument, double block and bleed, & transmitter isolation valves feature no gauge ports, 2500# class, exotic alloys, & are API 607 Ed. qualified. United States
https://www.pbmvalve.com
PJ Valves Group offers the complete scope of valves and piping to suit every project's requirements. It can source an array of valves, pipes, fitting and flanges from its wide network of global stockists and manufacturers. This includes providing made-to-order product via third parties for its piping range or direct from its own manufacturing facilities for valves. United Kingdom
http://pjvalves.com
RR Valve, Inc designs and manufactures the industry's finest Reset Relief Valves. With over 17 years of continuous service to the Oil & Gas industry, RR Valve's products are field proven to be more reliable and cost effective than the competition. New fully automated solutions are available on multiple customizable platforms. United States
http://www.rrvalve.com
Sesto Valves Srl specializes in custom designed ball valve solutions for the chemical, petrochemical and energy industries. The philosophy is to make valves that fit your application, not the other way around. Sesto valves match materials and trims to maximize performance and reliability, with ready access to special coatings and exotic or super alloys. United States
https://www.sestovalves.com/
Shanghai Valve Factory Co., Ltd locates in Shanghai of China. The product has been widely used in Oil, Natural Gas, Chemical, Electrical Power, Steel, Construction, and Lab Industries etc. Including gate valve, globe valve, ball valve, butterfly valve, safety valve, self-control valve and fittings with ANSI, API, ASME, BS, JIS, DIN etc. United States
http://www.svf.com.cn
Shanxi Goodwill was found in 2004. In the past 10 years, the focus on manufacturing different types of open die, close die forging, qualified chemical & mechanical test, NDT, and fully precision CNC machining. The products cover from forged valve bodies, flanges, pipe fitting. United States
http://www.Goodwill-valve-fitting.com
SPX Flow is a leading global supplier of highly engineered flow components, process equipment and turn-key systems, along with the related after marked parts and services. Visit us at Booth 409 to view our hydraulic equipment, industrial pumps, valves, dehydration and aftermarket services. United States
http://www.spxflow.com
Suzhou Med Valves Co., Ltd, MED is one professional valve manufacturer with more than 20 years' experience and obtained ISO, CE, API 6D certificates. Our main product includes ASTM, ANSI, API, BS, DIN standard ball valve, gate valve, globe valve, check valve. MED equip with most advance CNC machines and full sets of in-house quality control system. China
http://www.medvalve.cn
Valvitalia is a global leading designer, manufacturer and supplier of all type of valves, actuators, fittings, MIJ's, gas systems, firefighting systems. Its products are installed in 109 Countries all over the world. Italy
http://www.valvitalia.com
Wenzhou Carol Valve Co., Ltd, are a high qualified manufacturer of valves-specializing in ball valves, gate valves, globe valves, swing check valves, available in a wide range of size and materials, and these valves are used widely in petroleum, chemical industry, electric station metallurgy, water supply and municipal engineering and certified O9001:2008,CE,ISO14001:2004,TS. China
http://www.crolbv.com
Wenzhou Kasin Valve Pipe Fitting Co. Ltd., Kasin-Jie Erdun is a Professional Manufacturer of RTJ Gaskets in China and certified by API(NO.6A-1913). Main Products are BX Series, RX Series, R Series, IX Series, and other Metallic Gaskets. China
http://www.kasinrtj.com
Zhejiang Fangdun Instrument Valve Co., Ltd, established in 1990's, a professional manufacturer of tube fittings and instrumentation valves with the brand FD-LOK. China
http://www.fd-lok.com

Zhejiang Victory Valve Co., Ltd, Victory Valve specializes in high pressure and precision valves. Ball valve conform to ANSI, DIN etc., and got ISO, API 6A,6D and API Q1 certificates. Victory has more than 100 sets of imported CNC, matching center and has material laboratory with imported equipment. Management is safety in production and offer high quality products and OTD. China
http://www.victoryvalve.cn
<![if !supportLineBreakNewLine]>
<![endif]>
Zhejiang Zhengqiu Valve Co. Ltd, over 20 years industrial valves for oilfield, gas, chemistry. API 6D & PED/97 and ISO9001 Approved. Also offering Oilfield Ball Valves, Thread End Check valve, Forged Steel high pressure Ball Valves, Flanged Ball Valves (Floating and Trunnion type), Metal seat ball valves. Size:1/2" to 42" Pressure:150LB to 2500LB. China
http://www.goodballvalves.com
INTELLIGENCE SYSTEM UPDATES
Here are selected entries to the intelligence system in the last month. All entries are displayed in the following link http://www.mcilvainecompany.com/valves/Subscriber/default.htm
Exxon Mobil Corp. plans to reduce the cost of pumping oil in the Permian to about $15 a barrel
The scale of Exxon's drilling means that it can spread its costs over such a big operation that the basin will become competitive with almost anywhere in the world, Staale Gjervik, president of XTO Energy, the supermajor's shale division, said in an interview with Bloomberg.

Black Sand recycles water
Black Sand's Permian mines are designed to maximize water usage throughout the frac sand manufacturing process. Two 1-million-gallon freshwater holding tanks feed the system in a closed-loop to wash and sort sand, which results in a continual source of used turbid water. Instead of routing the used, turbid water into settling ponds, our system captures it in a settling tank where solids are concentrated into a mud containing anywhere from 25 to 35 percent solids. Next, this mud is pumped at high pressures into filter press membranes where filter press technology squeezes water out of the solids. Thus, instead of losing water to evaporation and ground seepage, our system feeds this recovered water back into the holding tanks to be used again and again. In addition, our wet sand is stored in a specially-designed decant building while awaiting final processing in the dryers. This step helps prevent water evaporation while promoting efficient draining; as water drains from the sand, that water is funneled through a drainage system in the floor directly back into the holding tanks. And, by promoting better drainage before the drying process, we save energy because our sand requires less energy to be dried.
Lithium project in Chile is being fast tracked by Lithium Power International
LPI is fast-tracking the development of Maricunga and has submitted its Environmental Impact Assessment (EIA) Report in September 2018. This was followed by a Definitive Feasibility Study (DFS) submitted in 1Q19. The first lithium carbonate sample has been produced from Salar de Maricunga (Feb 18) at GEA facilities in Germany. The brine was concentrated at the pilot plant solar evaporation ponds at the Maricunga site for almost 12 months, and subsequently treated at the GEA lab in Duisburg, Germany, to purify it and precipitate lithium carbonate suitable for battery grade specification similar to those produced in Chile by Albemarle and SQM. The process route is based on conventional technology and comes with the know-how that enables the process to scale up to commercial production. The purity of the product is above 99.4%. The project has the potential for a multi-decade mine life in its currently defined resource to 200m depth, with the possibility for substantial resource expansion in an exploration target at 200-400m depth. Permitting and government approvals are expected by 3Q19, with the Chilean Nuclear Energy Commission Export licence (CCHEN) awarded in March 2018. Project financing is targeted in 2019 and the start of construction in 2020. The site contains a link to a complete investor presentation
Metso valves for lithium processing
In lithium production, valves face challenges, such as high temperatures, abrasive particles and significantly high acidity levels In typical flotation equipment, valves control the slurry feed and discharge, reagent addition and water flow. Knife gate valves are used extensively in this application. For more demanding valve installations, segment valves are a top choice. Due to the segment design, there are considerably fewer cavities in the valve compared to ball valves, for example. As fewer solid particles have a chance to settle within the valve's construction, the lifetime of these valves is longer The natural gas feed for the calcination process can be controlled with different valve solutions, ball valves are among the most typical ones. A mechanical filter press is one option for the dewatering service. The machine contains several valves: pinch valves are typically used in the slurry inlet feed, other valves used for water and air service are often butterfly valves.
IAC tip for locating misfiring pulse jet valve
A pulse valve should give off a loud sound similar to that of a gunshot. The valve should be exerting compressed air in the range of 80-90 psi in order to effectively clean the filters of excess dust in the collector. The pulse should also be short, as this reflects the released compressed air. Locating a misfiring valve in a larger system can be tricky as there may be hundreds of pulse valves. The trick to finding the problematic valve is very simple. Each pulse valve has a breather hole located at the top of the valve. The compressed air is released from the breather hole of the valve. If the valve is misfiring then it will not be exerting a sufficient amount of pressure from the breather. Cover all the breathers with tape and check them the next day. If any breathers still have the tape intact over the hole, this indicates that the valve is not operating correctly. If the pulse valve is indeed misfiring then the part may need to be rebuilt or replaced. Keeping all of the valves firing at the appropriate psi will reward you with optimum performance from your pulse-jet dust collector
Metso supplies life cycle equipment support services for frac sand plants
The program provides: 1. Scheduled equipment inspections with Metso-trained and certified technicians, plus parts and maintenance recommendations 2. Equipment Protection Plan (EPP), providing you an extended warranty on applicable equipment 3. Wear and spare parts supply, with guaranteed lead times and delivery plans 4. Metso Metrics Services
Automation for hot mix asphalt plants needed to make a high quality mix
"Systems control centers --- are designed specifically for the asphalt industry with an emphasis on rugged construction, operator comfort and logical integration of the plant controls" says Kenneth Cardy, president of Libra Systems. "These systems run and monitor all plant functions from a standard PC, including blending operations, plant motors, motor currents, mix and plant temperatures, material inventory, silo levels, energy usage and alarm status." The latest innovations in asphalt plant automation can be attributed to the demand for more mixes using more types of ingredients that need to be carefully blended together in the process. "A reliable controls system is an absolutely necessary component in producing high quality mix today," says Lien Gangte, controls engineer at Astec . "It is not sufficient by itself but without it quality becomes a dicey game at best." Since some of these mixes are being designed for government agencies that require strict compliance, automation systems assist the plant operator in keeping the plant running; and also for the company owner to combine all the ingredients and to ensure the mix meets the required specs.
Death of the field sales person
There is a requirement for field salespeople in some (but definitely not all) markets now – and there will always be circumstances where face-to-face selling is indispensable. What are on their way to extinction are environments where sales is essentially an outside activity. Even in engineer-to-order environments today (think JSG), only a tiny percentage of the total volume of activities required to originate and prosecute a sales opportunity are performed in the field. And those important field activities would simply not occur if it were not for the volume of work performed inside. The fact is, sales today is an inside endeavor, supported, in some cases, with discrete field activities. Today, customers are no longer isolated from their vendors. Vendors' organizations are as close as the nearest web browser. And fax machines, private lines, email and instant messaging have made it easier for customers to communicate with representatives in organization's head offices than it is to communicate with their salespeople.
China and India are leading cement producers
World cement production was 4.1 billion tons in 2017 with China producing 2.4 billion tons. India clinker capacity was 280 million tons but production fell 10 million tons from the previous year to 270 million tons. But this is still 3 x the U.S. production
Lafarge Holcim reports increased volume and benefits from digitalization in 3rd quarter 2018
CEO reported Excellent progress in volume of 5.1% and topline of 6.5% for Q3 2018 › Improving pricing trends › Better capacity utilization › Increasing benefit from alternative fuels and raw materials mitigating rising energy costs › First benefits on maintenance and efficiencies from digitalization of factories › Selected investments in Growth Plus markets
CFS provides water and wastewater design including frac sand plants
CFS provides solutions that meet current and expected future environmental requirements. From treatment plants to waterline restorations, CFS' experience includes project development from funding through construction of specific facilities. Specific Utility Services CFS offers include: Wastewater/Water Collection, Biosolids Management, Manhole/Sewer Rehabilitation, Sanitary Sewer Design, Lift Stations and Force Mains, Power Facilities, Facility Plans, Water Storage Reservoirs, Residuals Management, System Modeling, Master Planning, Pump Stations, Water Supply/Distribution, Hydrology/Hydraulics, Breach Hydrographs, Safety Inspections and Permitting.
Robust increases in Combust, flow, and Treat ( CFT) purchases by the frac sand industry are predicted
The U.S. manufactured frac sand combust, flow, and treat (cft) purchases increased 13% and contibuted most of the purchases of CFT products by the entire aggregate industry in 2018. Other sand and gravel accounted for 10 times the tonnage but the ratio of CFT purchases for manufactured sand is 20 x greater than other aggregate categories on a per ton basis. Use of sand per gallon of oil recovered has risen by an order of magnitude. This is one reason that continued growth for the manufactured frac sand CFT is predicted.
Wet Frac Sand Processing by Mclanahan
The flow sheet for wet processing typically begins with either a horizontal or inclined primary vibratory screen in either a two or three-deck design. While making the coarse-end separation required, the vibratory screen also provides the introduction point for the addition of water into the process. Water addition begins in the sluicing feedbox and continues with spray bars as the material crosses the screens. The introduction of water in this manner completely hydrates the sand. After exiting the screening process, hydrated sand in slurry form enters a sump and pump arrangement. The pumps used in this process are typically rubber lined due to the abrasive nature of silica sand. The sump and pump arrangement typically provides the slurry to a large-diameter hydrocyclone, the primary function of which is to provide feed material to a hydraulic classifier at an ideal density and in a manner that provides even distribution of the slurry into a stilling feed well.
Red Valve says its pinch valves for frac sand plants last 3 times longer than all metal valves
Red Valve products are used extensively in handling cement, sand and silica, due to the highly abrasive nature of these materials. Red Valve Pinch Valves feature a 100% full-port opening for maximum flow, wet or dry. The high-quality elastomer pinch sleeve can last up to three times longer than an all-metal valve, and it is the only replacement part. There are no crevices or dead spaces in a pinch valve where material can collect, and the flexibility of the sleeve allows it to close drop-tight.
Nucor is expanding DRI plant in LA
Nucor will take its Louisiana direct-reduced iron (DRI) plant offline for 60 days in 2019 as part of a $200mn investment designed to boost reliability following multiple unplanned outages in recent years. Planned improvements include $90mn in upgrades to the plant's raw materials handling and storage operation and an $85mn investment to repair and re-engineer the process gas heater at the facility. The two areas accounted for 90pc of the failures at the plant, Nucor chief executive John Ferriola said on an earnings call. The projects are expected to be completed by the end of 2019. Nucor will take the 2.5mn t/yr facility offline for 60 days in the second half of the year to complete some of the work.
Maximator high pressure pumps and valves used in mining and other industries
MAXIMATOR GmbH is a leading supplier of high-pressure, testing, hydraulic and pneumatic systems. It is part of Schmidt and Kranz HAZEMAG & EPR Bergbau und Bohrtechnik (mining and drilling equipment) as well as Fest Automatisierungstechnik (automation engineering). The compact, low-cost MAXIMATOR High-pressure Pumps are driven by air or noble gas pressures between 1 bar and 10 bar. There are numerous potential applications for MAXIMATOR Pumps in machine engineering, oil and gas industries, chemical and pharmaceutical industries, defence, mining and the construction industry as well as in aviation and aeronautics.---- The MAXIMATOR valves, fittings and tubing are suitable for different media and operating pressures up to 10,500 bar.
Detailed forecasting of market shares and even purchaser quotas with Metso as an example / Insights No. 84
Detailed forecasting of market shares by valve type and industry are available. Valve forecasts are first segmented by control vs on/off and then by eight valve types and then by fifteen industries. This results in 240 forecasts for each supplier. There are no authoritative sources for valve sales and certainly not for market shares. In fact since many valves are sold through distributors the supplier may not know how many of his valves are being purchased by a particular industry. However, it is well worthwhile to create approximate segmentations. A detailed analysis is much more valuable for decisions relative to R&D, sales, and manufacturing than a general forecast. Here is an example showing estimated 2018 Metso globe control valve sales. This shows that control globe valve market share for power can be determined and then the average market share applied to each purchaser. So in this case Metso has a 2% market share so they should generate revenue of $ 80,000 at J Power to meet their average