Novel Metric can be Used to Make Complex Mask Decisions
Premier Urges Congress to Provide Tax Incentives for U.S. PPE
NTU Opposes the US. Made Act
Supply Chain Security, Customer Service and Quality are Reasons to Buy From Premium PPE
Ten Million Fake Masks Seized by Federal Agents in Last Few Weeks
AAFA Members Have a Big Decision to Make
GS Medical Produces Masks in North Carolina
Tight Fit More Important Than a Second Mask to Prevent COVID-19 Spread
_____________________________________________________________________________
Novel Metric can be Used to Make Complex Mask Decisions
The new ASTM standards will force the U.S. to deal with a number of unanswered questions relative to masks.
Use
<![if !supportLists]> · <![endif]> Who should wear them?
<![if !supportLists]> · <![endif]> When should they wear them?
<![if !supportLists]> · <![endif]> How efficient and tight fitting should they be?
<![if !supportLists]> · <![endif]> How comfortable and attractive should they be?
<![if !supportLists]> · <![endif]> How to assure quality control?
Sourcing and Funding
<![if !supportLists]> · <![endif]> How important is U.S. based manufacture?
<![if !supportLists]> · <![endif]> How do we create a stockpile and plan for future pandemics?
<![if !supportLists]> · <![endif]> Are tariffs warranted?
<![if !supportLists]> · <![endif]> What about tax incentives?
<![if !supportLists]> · <![endif]> Is the promise of future vouchers for poor countries a way to create a long term market for American companies?
In general consumers resist paying higher prices. But they also want assurance that high performing products will be available when needed.
U.S mask suppliers are reluctant to invest if they can not be cost competitive with offshore products. Furthermore they are very reluctant to invest when the market will shrink in a year or so.
Arguments can be made that everyone should be wearing tight fitting masks. One course of action would be a combination of tax incentives for U.S. producers and a commitment to provide vouchers for poor countries to acquire masks from U.S. manufacturers when the U.S. market tails off.
Most American voters are not very altruistic. As a result only a fraction of 1% of the U.S. expenditures are for any kind of foreign aid. On the other hand many Americans donate funds for assistance in poor countries.
The decision making for masks is similar in many ways to one involving single use versus reusable surgical gowns. Cardinal Health contracted with the McIlvaine company to analyze the choices. A broader view of the analysis reveals three major factors.
<![if !supportLists]> · <![endif]> Life quality impacts (single use gown manufacture generates CO2 but reusable gowns create local water pollution issues)
<![if !supportLists]> · <![endif]> Tribal values (are the local hospital clients more important than those in countries most vulnerable to global warming)
<![if !supportLists]> · <![endif]> Present value depreciation of future benefits (global warming 50 years from now versus virus spread today)
These factors could not be quantified with standard sustainability metrics. So McIlvaine created a new approach to measure all harm and good. It is based on the impact on life quality and not quantity. The metric is Quality Enhanced Life Days and not Quality Adjusted Life Years, the present metric.
This metric can be applied to all the above use, sourcing and funding factors to identify the course of action which most improves life quality for Americans.
The Cardinal Health White Paper is shown at http://www.mcilvainecompany.com/SURS/subscriber/Text/White_Paper_8-17-09.pdf
A preliminary cost-benefit analysis for COVID PPE was prepared and discussed in one of our early webinars.
http://home.mcilvainecompany.com/images/Coronavirus_Mitigation_Cost.pd
McIlvaine has already applied this metric to a number of COVID decisions which are covered in Coronavirus Technology Solutions
1. McIlvaine Coronavirus Market Alert
... good. This was developed by McIlvaine and is called Quality Enhanced Life Days (QELD) . It was not only used for this contract but found receptivity in the ...
Terms matched: 1 - Score: 44 - 10 Nov 2020 - URL: http://www.mcilvainecompany.com/coronavirus/subscriber/Alerts/2020-11-09/Alert_20201109.html
2. McIlvaine Coronavirus Market Alert
... . Success is best measured by a new metric called Quality Enhanced Life Days (QELD) . Quality Adjusted Life Years (QALY) is used widely in healthcare and ...
Terms matched: 1 - Score: 29 - 26 Aug 2020 - URL: http://www.mcilvainecompany.com/coronavirus/subscriber/Alerts/2020-08-25/Alert_20200825.html
3. McIlvaine Coronavirus Market Alert
... the common metric which measures all harm and good called Quality Enhanced Life Days (QELD) . It is not an artificial mathematical formula it is simply the measurement of ...
Terms matched: 1 - Score: 12 - 27 Oct 2020 - URL: http://www.mcilvainecompany.com/coronavirus/subscriber/Alerts/2020-10-26/Alert_20201026.html
4. McIlvaine Coronavirus Market Alert
... on Quality Adjusted Life Years (QALY) McIlvaine uses Quality Enhanced Life Days (QELD) to take into account social costs and benefits. The World Health Organization estimates ...
Terms matched: 1 - Score: 7 - 21 Sep 2020 - URL: http://www.mcilvainecompany.com/coronavirus/subscriber/Alerts/2020-09-21/Alert_20200921.html
5. McIlvaine Coronavirus Market Alert
... as quantity .Success is best measured by a metric called Quality Enhanced Life Days (QELD) . The costs and benefits are affected by the following parameters Mask Performance How ...
Terms matched: 1 - Score: 6 - 4 Aug 2020 - URL: http://www.mcilvainecompany.com/coronavirus/subscriber/Alerts/2020-08-03/Alert_20200803.html
6. McIlvaine Coronavirus Market Alert
... device as a % of value Life Quality Cost Life Quality Costs as measured by QELD Net Value Percentage of total value remaining after reductions The following example was presented in ...
Terms matched: 1 - Score: 5 - 15 Sep 2020 - URL: http://www.mcilvainecompany.com/coronavirus/subscriber/Alerts/2020-09-14/Alert_20200914.html
Premier Urges Congress to Provide Tax Incentives for U.S. PPE
Last week Premier Inc sent a letter to House and Senate leaders calling on Congress to provide additional financial support and to enact healthcare supply chain reforms that will advance health systems' and other providers' critical work during the pandemic. Specifically, it urged Congress to:
Ensure the financial viability of front-line healthcare providers by adding $35 billion to the Provider Relief Fund, extending the current moratorium on the 2 percent Medicare sequestration cuts and designating funds to reduce or eliminate repayment of the Accelerated and Advance Payment Program loans.

Leverage tax incentives to further incentivize onshoring of manufacturing; and

Continue federal investment in COVID-19 testing, vaccination efforts, medical supplies and disease surveillance.
Leveraging tax incentives to further incentivize onshoring of manufacturing. The nation learned that dependence on a few countries for critical emergency supplies created deadly vulnerabilities for America. The response has been a concerted effort during the pandemic to counter this trend of overreliance on offshore manufacturing. Manufacturers of PPE and other medical supplies have been able to stand up and ramp up onshore manufacturing capabilities during COVID-19. To sustain this progress and better insulate our nation from future supply chain disruptions, however, manufacturers need assurances of longer-term purchasing and the recognition of the capital requirements needed to expand domestic capacity in order to offer long-term, competitive prices.
As a promising avenue to incentivize domestic manufacturing capacity for the long-term, Premier recommends offering federal tax incentives to domestic manufacturers of critical medical supplies and drugs. Rebuilding America's manufacturing base will also help create high paying jobs, support innovation, and enhance national security. Specifically, Premier proposes providing a 30 percent tax incentive for manufacturers of critical supplies and drugs for at least five years. At the end of this period, the Administration and Congress would assess the ongoing need for the incentive and whether any adjustments are needed.
Finally, Premier strongly supports continued federal investment in COVID-19 testing, vaccination efforts, medical supplies and disease surveillance. Tying this all together is the urgent need to modernize our nation's public health data infrastructure to enable automated and standardized data collection and sharing in near real-time. This will ensure a resilient supply chain and robust syndromic identification and tracking to respond to the COVID-19 pandemic and future public health emergencies.
Premier, Inc. is a leading healthcare improvement company, uniting an alliance of more than 4,100 U.S. hospitals and health systems and approximately 200,000 other providers and organizations to transform healthcare. With integrated data and analytics, collaboratives, supply chain solutions, and consulting and other services, Premier enables better care and outcomes at a lower cost. Premier plays a critical role in the rapidly evolving healthcare industry, collaborating with members to co-develop long-term innovations that reinvent and improve the way care is delivered to patients nationwide
NTU Opposes the US. Made Act
With board members such as Steve Forbes and a half century of activity National Taxpayers Union (NTU) makes a case against protectionism relative to masks. The US MADE Act would require the Department of Health and Human Services (HHS) to purchase certain personal protective equipment (PPE) and other medical supplies domestically. These items include but are not limited to sanitizing supplies and ancillary medical supplies such as disinfecting wipes, privacy curtains, beds and bedding, testing swabs, gauze and bandages, tent, tarpaulins, covers, or bags. While there are legitimate concerns with the Strategic National Stockpile of PPE and other medical supplies, NTU believes it makes no sense during a pandemic and economic downturn to require that these items solely be purchased domestically.
"Although the costs of such protectionist measures are often difficult to calculate, it can be said with certainty that requiring the government to purchase domestic PPE would increase costs at the taxpayer's expense. It is estimated that U.S. import taxes now cost the average American household $555 per year. Unless we address the costs associated with these protectionist policies, elected officials will have no reservations enacting such policies that benefit the politically connected at the expense of taxpayers at large. In addition to the costs, what makes this policy so misguided is the fact that there is little evidence to support the claim that the United States is dependent on foreign suppliers. In fact, more than 60 percent of medical supplies are made in the United States. China accounts for only 2.1 percent, leaving non-China imports at 37 percent""
"Founded in 1969, National Taxpayers Union (NTU) is the "Voice of America's Taxpayers." Our mission: to achieve favorable policy outcomes using the most effective pro-taxpayer team on Capitol Hill and in the states. Our lobbying skills, media savvy, policy expertise, and reputation for advancing pragmatic solutions are unrivaled"
Supply Chain Security, Customer Service and Quality are Reasons to Buy From Premium PPE
Premium-PPE is one of the few companies that make three-ply masks in America. Now that factory workers are required to wear these masks at all times, it's important to have them on-hand. As Brent Dillie, Commercial Director of Premium-PPE says, if factories don't have them on hand, it could shut down operations.

When the pandemic hit, manufacturers and distributors were making panic buys direct from Asia or through fly-by-night importers in the US. In many cases, companies shelled out a 100-percent down payment and never received the product; or it was delayed; or poor quality.

Premium-PPE is not only making American masks, but the company offers peace of mind with supply chain security.

The company makes masks at its facilities in Virginia Beach, Virginia. The company keeps about one million in stock and ships them same day. Another benefit: When you call the company, you get a live person. Customer service, how novel.

The company is made up of mostly local hires, machine operators who work on three stage machines that join the three fibrous layers, cut the masks and then add the ear loops.

According to Dillie, the root of the nation's PPE problem started years ago, when mask and other safety equipment manufacturing was driven overseas. Dillie says that "COVID was the point that all of the off-shoring came back to really bite us as a country." He says we need US mask makers so we can ramp up production immediately in an emergency.

"Aside from the patriotic aspect of buying American, it comes down to business continuity and cost-benefit decisions. Businesses and our government have made these masks a requirement for operating. Businesses who can't secure this product are literally shutting down production. According to Dillie, the risk of relying on importing masks, primarily from China, is just too great. Dillie asks, "Can you risk your business continuity and workforce on US-China relations, an outbreak in China that causes their government to ban exports, or difficulties of international shipping, customs and importation?"
"Finally, when shopping around, here is what you should look for to make sure your doors stay open:
Shoot for Bacterial Filtration Efficiency (BFE) of 95% or above -- when suppliers go cheap on materials, mask efficacy plummets.

Make sure the ear loops are ultrasonically welded, not sewn -- this will prevent ear loops from falling off.

Check for quality control.

Every mask at Premium PPE is hand tested.
<![if !supportLineBreakNewLine]>
<![endif]>

Ten Million Fake Masks Seized by Federal Agents in Last Few Weeks

Federal agents have seized more than 10 million fake 3M brand N95 masks in recent weeks, the result of an ongoing investigation into counterfeits sold in at least five states to hospitals, medical facilities and government agencies.
The most recent seizures occurred Wednesday when Homeland Security agents intercepted hundreds of thousands of counterfeit 3M masks in an East Coast warehouse that were set to be distributed, officials said.
Investigators also notified about 6,000 potential victims in at least 12 states including hospitals, medical facilities and others who may have unknowingly purchased knockoffs, urging them to stop using the medical-grade masks. Officials encouraged medical workers and companies to go to 3Ms website for tips on how to spot fakes.
"Not only do they give a false sense of security, how dangerous is the exposed individual without any protective gear? They have no utility whatsoever," Homeland Security Secretary Ali Mayorkas said of the fake masks.
The masks do not come through 3M's regular distributors, they come from outside the normal supply chain, officials said. But hospitals and medical groups have increasingly gone around normal purchasing routines during mask shortages in the global pandemic, officials said. They said the scams are taking advantage of the panic over masks.
Homeland Security officials would not say which states the phony masks were sent to but said criminal charges would be forthcoming.
<![if !vml]>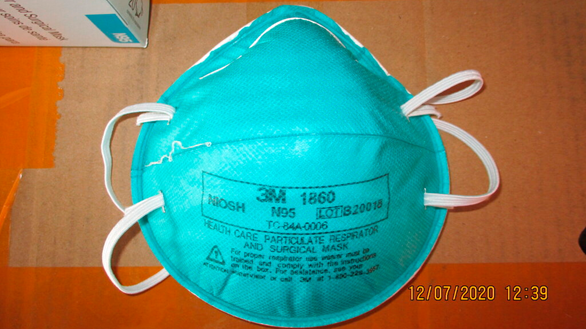 <![endif]>
This December 2020 image provided by U.S. Immigration and Customs Enforcement (ICE) shows a counterfeit N95 surgical mask that was seized by ICE and U.S. Customs and Border Protection. ICE via AP
The phony masks are not tested to see whether they meet strict N95 standards and could put frontline medical workers at risk if they are used while treating patients with COVID-19.
Nearly a year into the pandemic, fraud remains a major problem as scammers seek to exploit hospitals and desperate Americans. Federal investigators say they have seen an increase in phony websites purporting to sell vaccines as well as fake medicine produced overseas and scams involving personal protective equipment. The schemes deliver phony products, unlike earlier in the pandemic when fraudsters focused more on fleecing customers.
3M, based in Maplewood, Minnesota, is among the largest global producers of the N95 mask, which has been approved by the U.S. National Institute for Occupational Safety and Health. It is considered the gold standard in protection against the coronavirus. The company delivered some two billion N95 masks in 2020 as the pandemic intensified, but in the earlier months, when masks were in short supply, fraudsters took advantage.
So far during the pandemic Homeland Security Investigations has used its 7,000 agents, along with border officials, the Food and Drug Administration and the FBI, to investigate the scams, seizing $33 million in phony products and arresting more than 200 people. The effort is based at the National Intellectual Property Rights Coordination Center, a government watchdog aimed at enforcing international trade laws and combating intellectual property theft.
Over the past two weeks, federal agents have executed search warrants and seized masks in five different states, and more action is expected. But phony masks have already made it to front-line workers in other cases.
3M has been dealing with increasing instances of fraud. Over the past year there has been more than 1,250 raids by law enforcement resulting in the seizure of millions of fake masks. The company has filed more than a dozen lawsuits over reports of fraud, counterfeiting and price gouging.

AAFA Members Have a Big Decision to Make
The American Apparel and Footwear Association members have a big decision to make. Do they exit a $10 to $ 20 billion market or do they make tight fitting efficient masks?
AAFA is the public policy and political voice of the apparel and footwear industry, its management and shareholders, its nearly four million U.S. workers, and its contribution of more than $400 billion in annual U.S. retail sales.
AAFA members are key decision makers who make up the apparel, footwear, accessory, and retail supply chain—from manufacturers and retailers to textile suppliers, testing labs, and more.
A membership directory is displayed at
https://www.aafaglobal.org/AAFA/Directories/Membership_Directory.aspx
Back in July AAFA requested that the administration institute federal face mask guidelines to assist retail stores as the country continued efforts to safely reopen. Versions of the letter were also sent to the heads of the National Governors Association, National Association of Counties, and the U.S. Conference of Mayors. Concurrently, AAFA requested that the Director of the Department of Homeland Security's Cybersecurity and Infrastructure Security Agency (CISA) consider updates to its Essential Critical Infrastructure Workforce advisory to include "facilities that practice safe re-open protocols."

"Simply put, a national face mask usage standard would protect retail employees and customers across the country, as well as remove any confusion amongst U.S. consumers regarding their local facemask requirements," said Steve Lamar, president and CEO of the American Apparel & Footwear Association. "Over the past few months, businesses have been working hard to implement safety measures to protect their workers and their customers. However, with differing standards throughout the country, our members are facing situations where their employees need to educate customers on what is required to enter their stores, or even turn customers away.

"One simple, consistent standard at the federal level, mandated and enforced at the state and local level, would go a long way in addressing this confusion and keeping the economy open.

AAFA has polled its membership to identify companies with the ability to produce face masks, for both small and large orders, both medical and non-medical, to help businesses and communities provide masks to their stakeholders. this includes dozens of companies including Hanes

Download the list now [pdf]
The directory provides brief descriptions of their products. However, none of the descriptions address particulate efficiency or resistance. We have been reporting on Hanes in previous Alerts but it would appear that most of these companies do not have masks which will meet the ASTM standards.
The default assumption is that any mask not meeting the ASTM minimum will not be salable in the future. So these companies will be challenged to either discontinue mask sales or make masks which comply.
At least one of the companies has run into past problems. Renfro Corp. is citing a case of mistaken identity in the aftermath of Tennessee lawmakers putting a halt to distributing Renfro-made face masks. In mid-April, the longtime hosiery specialist switched gears to help fill an urgent need for the general public.
"We went from the sock industry to making masks," Harold "Stonie" Stone, senior vice president of corporate marketing, said May 7 when 18 boxes of masks were given to Mount Airy and Surry County officials (1,728 masks in that shipment).
"These were made in Cleveland, Tennessee, and assembled and packaged in Mount Airy," Jonah Buelin, supply chain senior vice president, said that day. The Cleveland plant is about 30 miles west of Chattanooga on the south end of the state. It was a Nashville TV station that aired a report that caused problems for Renfro.
Renfro had been awarded an $8.2 million contract to make 5 million masks to be distributed to county health departments in Tennessee from the Cleveland facility, according to WTVF-TV Channel 5. Then the state announced it had stopped distribution of the masks.
AAFA represents a $400 billion/yr industry. Mask sales are projected by McIlvaine at $10 billion to $20 billion in the U.S. So the masks represent 2% to 5% of the total market. This is too big for the AAFA members to ignore.
GS Medical Produces Masks in North Carolina
GS Medical corporation is an American company founded by Dr. Gajendra Singh, a nationally known physician for his work for social justice, affordable care and philanthropy. He started a manufacturing plant in Thomasville, North Carolina to provide both general community and medical masks. Currently it exclusively makes disposable, three layer masks.

The company states that it is very stringent about quality control and work atmosphere.

The masks have the following characteristics.
Adhere to strict national and international standard guidelines
Minimal human touch to the masks produced
Filters Dust & Pollen
Made with Polypropylene with 3 layers of protection
Outer non-woven fabric for anti-bacterial layer
Middle filtration layer of melt-blown fabric
Soft inner layer absorbs the mist you breathe out
Eco-friendly and adjustable nose clip for a proper fit
Disposable and maintenance-free
Strict minimal particle contamination in manufacturing area
Protective covering for all employees working for mask manufacturing
Same day shipping available
Tight Fit More Important Than a Second Mask to Prevent COVID-19 Spread

The Centers for Disease Control and Prevention says you should double up on wearing masks.

University of North Carolina researchers put that idea to the test, running trials to see how much extra protection, if any, double-masking would provide. On Friday morning, they released their findings.

In a briefing, they shared their research on the effectiveness of masks overall, the importance of mask fit, and the extra benefits of double-masking.
<![if !vml]>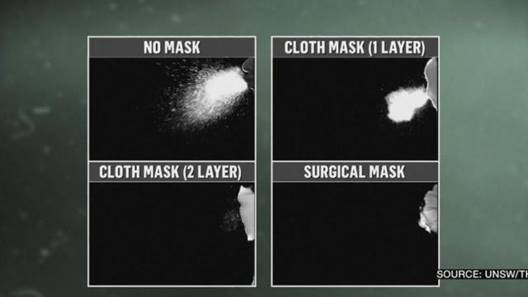 <![endif]>
"You really need to address fit and make sure whatever you're wearing is tight to your face," said Dr. Phillip Clapp, assistant professor in the Department of Pediatrics.

According to Clapp, simply ensuring a single mask is fitted can increase effectiveness by 20%. A mask that isn't fitted allows air and aerosols to pass through any gaps, which decreases protection against COVID. The tests indicated that double-masking provides increased protection, provided the masks are fitted.
"With double-masking, we saw a 15% increase [in protection], just by double-masking procedure or surgical masks," said Clapp. Furthermore, double-masking can provide extra protection, depending on how the wearer layers their masks.
For example, layering a cloth mask on top of a surgical mask showed a roughly 40% increase in efficiency. However, layering a surgical mask on top of a cloth mask didn't provide similar protection.

Mask frames, which help ensure a good tight fit, also provided extra benefits.

However, even double-masking doesn't compare to wearing an N-95 mask.
But wearing two surgical masks and adding a frame or brace around the face to prevent leaks and create a good fit, reached 97% effectiveness in one test.
In short, extra layers do provide extra protection – but it's very important to make sure your mask fits, or else the leakage will allow aerosols through.
Finally, Dr. Emily Sickbert-Bennett, director of infection prevention at UNC, addressed the most important kind of 'double-masking.'
"The most important 'double-masking' is when you and the person you are with are both wearing a mask," she said.