Filters, Masks and Media Production to Best Deal with COVID
Filter Media Background Information in Previous Alerts
Nanofiber Media
Recent Overview
Lines required to make nanofiber media for 20% of world needs.
NXTNANO
Inovenso
Elmarco
Elmarco says High Efficiency Media Cost is Nominal
Nanofiber China
Ahlstrom-Munksjö
Meltblown
Armbrust American (see interview)
Reicofil (see webinar with Markus Mueller)
Meltblown Prices
W+D/BICMA
Meltblown Germany
Mondi
Berry
Meltblown capacity
INDA
Europe
3M ramp up
April Market Estimates
Berry
Virus Transmitted on Dust Particles
_____________________________________________________________________________
<![if !supportLineBreakNewLine]>
<![endif]>
Filters, Masks and Media Production to Best Deal with COVID
As of September 15 there have been 31 million cases of Coronavirus and 1 million deaths. The healthcare, economic, and life quality cost of each death have been estimated by McIlvaine as $20 million each. So the cost is $20 trillion.
The same set of costs for each of the 30 million cases which do not end in death is estimated at $0.5 million. This is a cost to date of $15 trillion.
Air pollution both indoor and outdoor is estimated to kill as many as 7 million people per year. But many of these people are older. EPA has used $10 million for each death based on Quality Adjusted Life Years (QALY) McIlvaine uses Quality Enhanced Life Days (QELD) to take into account social costs and benefits.
The World Health Organization estimates that worldwide, annual influenza epidemics result in about 3-5 million cases of severe illness and about 250,000 to 500,000 deaths per year. Approximately 1 billion people per year are infected.
An efficient mask program for 3 billion people at $100/person/yr would cost $300 billion/yr. Upgrading HVAC systems could cost $200/person/yr or $600 billion/yr. Wearing masks has significant life quality costs but filters have none.
If everyone wore efficient masks 50 percent of the lives could be saved. 500,000 lives could be saved in 2021 for a benefit of $10 trillion. The Director of the CDC last week favorably compared masks to vaccines.
Value of Filter and Mask Use - $ billions

Mask

2021

2022

2023

2024

Coronavirus

Lives Saved

10,000

5,000

1,000

200

Coronavirus

Cases Avoided

6,000

3,000

600

120

Coronavirus

Mask Benefits

16,000

8,000

1600

320

Coronavirus

Mask Life Quality Cost

-500

-500

-500

-500

Coronavirus

Mask Net

15,500

7,500

1,100

-60

Influenza

Mask Net

100

100

100

100

Air Pollution

Mask Net

150

150

150

150

Total

Mask Net

15,250

7,750

1,350

190

Air Filter

Coronavirus

Air Filter Net

2,000

1,000

750

200

Air Pollution

Air Filter Net

1,000

1,000

1,000

1.000

Influenza

Air Filter Net

500

500

500

500

Total

Air Filter Net

3,500

2,500

2,250

1,700
There will be a $15.5 trillion value in using high efficiency masks next year. This is based on the entire world population properly wearing masks.

<![if !vml]>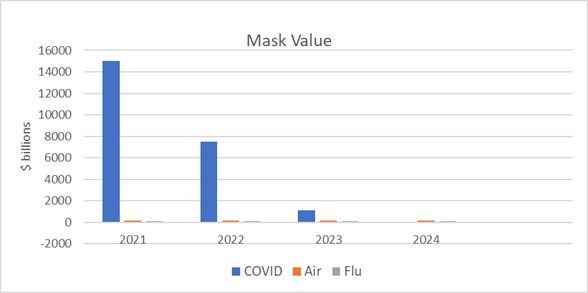 <![endif]>
The value would decrease in future years. Assuming vaccines reduce the value substantially there could be a negative value in 2024. One reason is the substantial life quality costs of wearing a mask continuously. But this can be an opportunity for more expensive, comfortable and fashionable masks. Fashion over rides comfort as witnessed by the popularity of hoodies
When air pollution and influenza benefits are added there is a net benefit through 2024 and beyond. The total in 2024 is only $190 billion. Since the world population is 7.8 billion this is only $24 per person. This is a relatively small benefit compared to $1900 per person in 2021.
<![if !vml]>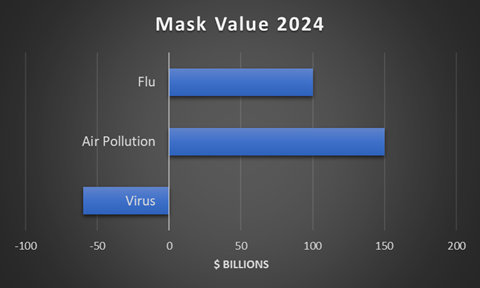 <![endif]>
The installation of efficient air filters does not have the same immediate value but there is little life quality reduction. In fact people can think of clean air the way they do bottled water.
In 2021 the filters would have a $2 trillion value which is substantial but much less than the $15 trillion of the high efficiency masks.
<![if !vml]>
<![endif]>
Given limited supply capacity for media the emphasis should initially be on the mask media. High efficiency air filter investments can be segmented over time and eventually generate the $1.7 trillion/yr benefit.
Some of the meltblown and nanofiber media used for masks in 2021 and 2022 can be used for high efficiency air filters in subsequent years.
This scenario does not consider a concerted effort by the filtration industry to convince people of the benefits of masks and filters. It does not take into account innovations to make masks more comfortable.
Because of the extraordinary benefits of masks next year, there needs to be an incentive for companies to produce the requisite number of high efficiency masks. Governments are buying and distributing masks. If they are willing to commit to a standard price for 2021 which is high enough to justify production investments with a short payback period the industry would make the investment.
The air pollution and flu benefits should justify a market continuing at a high level. However if mask making machinery is depreciated over two years, the investment will be profitable. Another way to increased profits and revenue is to switch to manufacture of higher quality, more comfortable and attractive masks. In future years when air pollution is a larger percentage of the risk valved masks can become an attractive option. It should be customary for people to have multiple masks of different designs. They can switch types depending on the circumstances.
The media manufacturers can switch back and forth between mask and other media. So there is little risk of over expansion.
The value of filters remains substantial even if with a greatly reduced COVID threat.
If the filtration industry can make this case to the public and to governments it can be the solution to the COVID and other health problems.
Filter Media Background Information in Previous Alerts
There will be a great deal of pressure on filter media suppliers and the manufacturers of media manufacturing lines to deliver at unprecedented rates the necessary products outlined in the Masks and Filters to Mitigate COVID program described in the previous article. To validate the ability of the industry to achieve the goals it is necessary to understand resin, fiber, media, mask and filter parameters. It is necessary to understand details such as roll widths, production rates, number of layers etc.
It is also necessary to determine present production in various countries this includes present uses as well as the ability to convert to masks and filters.
Here are excerpts from previous Alerts with information relative to nanofiber and meltblown use in masks. It relates production capacity per manufacturing line to m2 and tons of media produced.
The information is separated into two categories : nanofiber and meltblown
The excerpts are chronological. The end of the meltblown section has estimates from March Alerts
Nanofiber Media
Recent Overview
This graph was used to compare mask production needs to other products where non wovens using meltblown or nanofibers could be used.
<![if !vml]>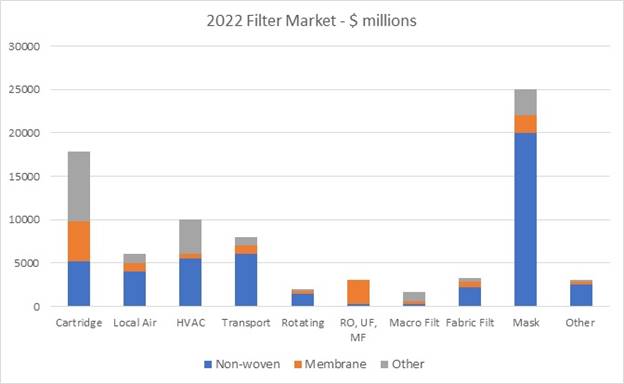 <![endif]>
Lines required to make nanofiber media for 20% of world needs.
There are very few MERV 16 or HEPA filters in HVAC systems. So most of the revenues will come from new lines rather than existing. The media is a higher percent of the finished product than in masks. So roughly there would be 40 new lines required.
| | | | |
| --- | --- | --- | --- |
| Product | Existing Media Lines | Additional Required | Total |
| Mask | 10 | 68 | 78 |
| Rotating Equipment | 14 | 2 | 16 |
| HVAC High Efficiency Filters | 5 | 40 | 45 |
| Fabric Filters | 8 | 2 | 10 |
| Microfiltration | 1 | 1 | 2 |
| Total | 38 | 113 | 151 |
NXTNANO
Interview with Andy McDowell
Bob: Can you give us some idea of the production of one line?
Andy: If we are making masks and working 24-7 it is 86,000 m2/day. If we are making HVAC media it is about 30% more.
Bob: How many masks can be produced per m2?
Andy: About 40 surgical grade masks or 30 N95 grade masks.
Bob: How many HVAC filters can be produced per m2?
Andy: It varies but a rule of thumb would be 1 filter/m2.
Inovenso
Inovenso Inc. has produced more than 350+ devices around the world.
The company offers a wide range of electrospinning machine options in three main categories; Laboratory Scale, Semi-Industrial and Industrial Scale Nanofiber production machines. Inovenso is currently manufacturing needle-based, hybrid, single-nozzle and multi-nozzle electrospinning devices and their accessories.
Three sizes are available for mask production in two efficiency ranges.
<![if !vml]>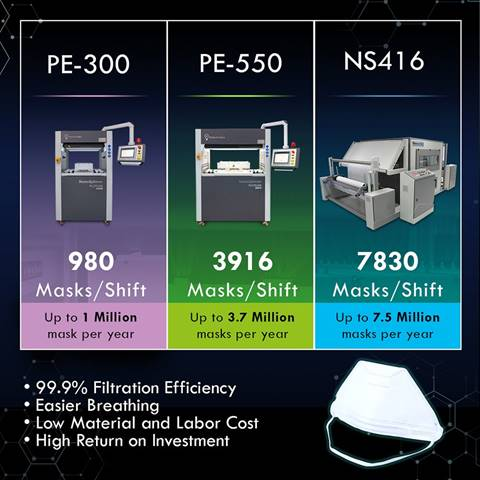 <![endif]>
Construction
Outer layer: PET Spunbond 35 g/m2
Inner layer: Nanofibers layer of polymer PVDF 0.6/0.8 g/m2
Outer layer: PET Spunbond 35 g/m2
Comes with a 300 to 1000mm width rolls
With the NS4 and 24,000 masks per day x 30 masks/m2= 800 m2/dy
Elmarco
There are now around 250 Elmarco Nanospider nanofiber nonwoven units in commercial operation worldwide and the company, headquartered in Liberec, Czech Republic, has recently released a reference product for air filtration.
The Nanospider is currently suitable for the production of fine filters in grades F7-F9 and E10-E12, with the ability to handle even finer aerosol grades under development. Here is an HVAC media example
1,6 m wide line producing PA6 nanofiber layer as part of three-layer composite used for HVAC applications. Final pleated gradient filtration media designed to withstand tested per ISO16890 protocol. Nanospider™ production line configured for low basis weight coating at high linear speed.
· Complete production line, 1.6 m coating width
· Full set of peripherals, incl. polymer preparation, AC unit, waste air treatment
· Roll-to-roll in 24/7 operation, three shifts a day
· Linear speed of substrate 20 m/min 1.6 x 60 x 24= 46,000 m2/dy
· Polyamide 6 (Nylon 6) nanofibers coated onto synthetic substrate
· Final media tested per ISO16890 / IPA vapor exposure
Elmarco says High Efficiency Media Cost is Nominal

One of our topics for the webinar next week on masks will be the cost of higher efficiency. Elmarco can supply lines which can incorporate nanofiber media and scrim at only $0.020 per mask.
<![if !vml]>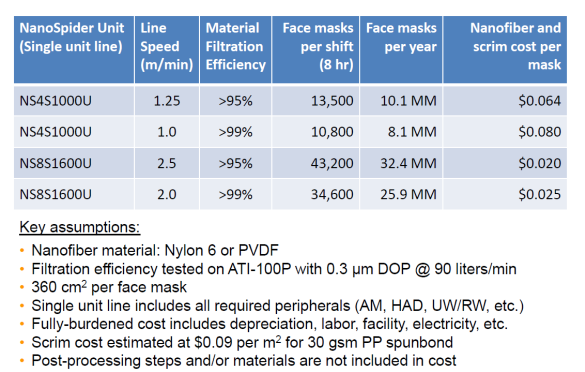 <![endif]>
Nanofiber China
Zhejiang Zhaohui Filtration Technology Co., Ltd. (Zhaohui Filtration) claims to have successfully developed new materials instead of melt blown cloth.
The company has received orders of more than 400,000 square meters and delivered about 100,000 square meters to customers.
Sun Chenglei explained that in terms of price, the ex-factory price of the company's membrane materials is the same as that of the melt blown cloth, which is also 250000 yuan /ton. According to the price of meltblown cloth before the epidemic, the membrane material does not have a price advantage. However, after the outbreak, due to the obvious increase in the price of melt blown cloth in the market, it is said that the price in some areas has increased to 500000 yuan /ton ~ 600000 yuan /ton, so in this case, the application of film covered materials in the field of masks also has commercial value.
In terms of product performance, the mask made of this material can be sterilized by simple high temperature, cooking, alcohol spraying and repeatedly used for more than 10 times. According to Sun Chenglei, according to a company with a scale of 100 people, at present, there are two disposable masks on the market, one for one worker every day, and the cost for ten days is 2000 yuan. Even if the price of a mask made of new materials is twice that of a disposable mask, the cost of ten days is 400 yuan. Besides, the current price is the same as that of melt blown cloth..
What is the probability of a daily production of 40000-60000 square meters? The company says, 'If we can make 1.5 million masks according to 60000 square meters, the new material can realize 10 times of repeated use of masks, equivalent to 15 million masks per day".
Ahlstrom-Munksjö
Ahlstrom-Munksjö is supplying facemask material from its plant in Tampere to Teho Filter for the assembly of masks. The filtration efficiency of the face mask material of 88% has been verified by VTT Technical Research Centre of Finland. It is substantially higher than the roughly 20-40% efficiency of masks made from cloth; the company claims. The filtration efficiency of a mechanical filter media remains intact over time compared to electrostatically charged materials the efficiency of which may decrease in humid conditions, Ahlstrom-Munksjö adds.---------in Tampere, where its plant is capable of producing material for more than 10 million masks in the short-term and has the ability to increase capacity to about 30 million masks per month.
Meltblown
Armbrust American (see interview)
Lloyd has set up a mask manufacturing facility in Austin and is gearing up to produce up to 1.6 Billion highly efficient masks per year. He already has seven manufacturing lines in place and believes that within a few months he could expand to meet the goal.
Each fully-automated assembly line can eventually produce 120 masks per minute but is presently running at 90 masks per minute ( 100 masks /m x 1440 m/dy=140,000 masks per day x 365= 52.5 million masks per year per line = 30 lines needed for 1.6 billion masks per year.

Vertically integrated factory takes raw US-Made Polypropylene and transforms it into surgical and N95 masks.
Reicofil (see webinar with Markus Mueller)
Reicofil delivered a plant in June to Berry Global Group. The contract was for a meltblown line for the production of highly efficient filter material for FFP2 (N95) and FFP3 (N99) respirators.
The 1.6 m wide Reicofil meltblown line is equipped with a technology for electrostatic charging and provides high-quality filter material that guarantees a high degree of separation, low pressure loss and a high storage capacity. The plant will bring an additional annual capacity of 550 tonnes of N95 material respectively 365 tonnes of N99 material to the market, which will serve the EMEIA economic area. The plant will be installed in France.
Meltblown Prices
In China prices have been wildy fluctuating - For the best quality output suppliers could charge up to 400,000 yuan per tonne, but for the lower-end offcuts, just 1,000 yuan. On April 15, the Yangzhong government cracked down on the chaotic meltblown market, banning 867 companies from producing the fabric.
W+D/BICMA
The new AUXILIUM FM has a speed of up to 150 m/min (492 ft/min) and is able to produce up to 1 million high quality face masks per day. Adding to the manufacturing throughput efficiency is a unique lower-cost mask design capability for an expensive component of the mask, which maximizes the capabilities of lowest cost per piece mass production. There are also different options available for mask stacking and automation, which make this mask machine best suited for Industry 4.0 manufacturing.
The new mask line produces and laminates three fabrics (spunbond, meltblown, thermo-bonded nonwovens and others). It utilizes W+D/BICMA's technology in automatic unwinding and splicing for nonwoven webs, cutting and positioning devices for the metal nose bar, and heat and ultrasonic edge welding.
Meltblown Germany
Europe will Increase Meltblown Production from 17 tons per day in March to 51 tons per day in December
Europe will increase meltblown production by 34 tons per day in the next 7 months. Compare this to Sinopec who built 10 lines for 18 tpd production in just 4 months. This would give Europe capacity to produce 50 million surgical masks or 15-20 million N95 masks per day. There are 741 million people in Europe. If 500 million people need a new mask every five days, then Europe needs to produce 100 million masks per day. Assume that high efficiency masks will be needed. In this case Europe will only be able to supply 20% of its needs by year end.
Around 50 German companies have secured a place on the scheme to produce ten million specialized N95 masks and 40 million operating room standard masks a week from August.
EDANA estimates that Europe is set to triple its output of meltblown between March and the end of the year, from 500 tons a month to 1,500 ton
Mondi
Mondi will Build Meltblown Line and Mask Fabrication Facility for 1 Million Masks per Day-----The production lines will produce meltblown nonwoven fabric and surgical masks.
Berry
Berry Building 400 tpy Meltblown Facility in South America. The investment will bring more than 400 metric tons of Meltex™ meltblown nonwoven material to the region, which will enable production of more than 500 million surgical-grade masks per year.The new asset will be operational in the March 2021
Meltblown capacity
N95 masks utilize more meltblown media than do surgical masks. Over the weekend we benefited from subscriber feedback and revised the ratio of meltblown media per mask.
<![if !supportLineBreakNewLine]>
<![endif]>
Mask Production per ton per day of Meltblown Production

Mask type

# of masks per ton per day

Surgical

1 million

N95

0.2 million (corrected to 350,000)
We went back to the basics and learned that the weight of meltblown media can vary from less than 20 grams/m2 in some medical masks to well over 80 grams/m2 for N99 efficiency. For a typical 50 in2 (0.03 m2) and 30 gram/m2 mask 1 ton of meltblown will produce 1 million masks with 0.9 grams of meltblown each. Our original 5 to 1 ratio was based on the Sinopec either or situation where 50% more tons can be converted when making medical mask media.
These numbers show that we need somewhere between 800 and 2285 tons of meltblowns or equivalent per day to make people safe. We are far from that production level now. Sinopec has constructed 18 tpy of meltblown capacity for face masks. This makes it # 1 with 3M at 15 tpy This would be impressive if it were not for the huge need before us.
Another way to look at it is in terms of total non wovens production. Adding 2285 tpd to the existing 40,000 tpd of all non wovens is not that much of an expansion.
There are many discrepancies in data being reported from different sources. Also it is necessary to single out production and not use.
The daily alerts are filled with relevant information as follows
Meltblown Production in tons per day

Sector

Total

Face

Mask

Filter and Other

U.S. April 15 up 23% (but maybe only face mask)

750?

10

741?

U. S Jan 1

680

2

675

3M April 1 2020 (includes U.S. import)

15

3M June 1 U.S. only

5

China and Taiwan Mask Import to U.S. Jan 1 80% including 3M

5

China Jan 1

146

30

China Government Controlled Jan 1

42

42?

Sinopec April 1

18

18

China April 1

300

150

China Government Controlled Including Sinopec April 1

75

75?
INDA
INDA has worked diligently to identify supplies of the much-needed nonwoven material needed to deliver the filtration performance of these medical/surgical masks and respirators. That material is known as meltblown, a polypropylene mat of fine fibers of fixed diameter, pore size and pore density, electrostatically charged to capture the fine particles of bacteria and viruses. Rousse says " We have successfully pulled into the supply chain incremental tonnage from mothballed machines, pilot lines, and manufacturers producing meltblown for other industries. But it is not enough.
For the U.S. to become self-sufficient in this area, new investment is needed in meltblown manufacturing and that will not be done by the private sector without incentives and without alleviating the risk of China and Taiwan restoring their position as the dominant suppliers of U.S. demand for medical and surgical face masks.
The market for monolithic meltblown (as opposed to meltblown in a composite with spunbond nonwoven, as is used in surgical gowns) is a very specialized and small part of overall nonwoven production in North America. The estimated 2019 U.S. capacity of meltblown is 250,000 tonnes (metric tons). This represents just 4.8% of the 5.2 million tonnes of overall North American nonwoven capacity.
In North America, there are an estimated 75 monolithic meltblown lines in a market with more than 850 nonwoven lines. Of the estimated 2019 meltblown production, 34% was directed towards filtration media (including facemask media and other filtration media), 20% to wipes, 16% to absorbent hygiene, 13% transportation, 8% sorbents, 5% medical/surgical, and 4% apparel. It is estimated that of the monolithic meltblown capacity, prior to the crisis, 78% was used internally by the producing companies (i.e., vertically integrated).
There are 17 companies that have monolithic meltblown lines. Not all of these companies are capable of making meltblown to medical/surgical facemask media specifications, nor are some of the lines configured to be able to sell to the market, as vertically integrated meltblown lines feed the next process, not put fabric in roll form for shipment. Some of the sorbent meltblown producers that use the material internally have or are working on being able to produce facemask media for the market and smaller pilot lines are or will be providing meltblown to the market.
Additionally, within the 1.48 million tonne spunlaid (melted resin) market are spunbond-meltblown composite lines that include meltblown beams. This spunmelt capacity was estimated at 482,000 tonnes in 2019. There are approximately 50 multi-beam lines with meltblown beams in North America. Some of these producers have the capability to produce just meltblown, and at least one is, but the economics of running meltblown only on an SMS line are very poor. A handful of the lines have multiple meltblown beams. There are eight companies with these types of lines in the U.S. and two (3M and Halyard Health) consume all of their material internally for either facemask media or protective medical apparel.
Brad Kalil of INDA reports that there were eight companies operating 44 composite spunmelt (SMS) lines in the USA, which were already operating to 92% capacity before the new demand arose. SMS lines are a substantial investment decision, and at present, only one new line will start operations in 2021.
A further seventeen companies are operating spunbond lines and at 91% capacity. While one new spunbond line began operating in 2018, two older ones closed down and a third in 2019. A new spunbond line is scheduled to start operations later this year, or in early 2021.
There are a further 24 companies operating 79 specialized meltblown lines, but only eight of the companies are dealing with the consumer market. Some 21 of these lines only began operating in 2018 and three to four have been added this year, in addition to five pilot lines switching to consumer production.
Around 45% of this output is for filter media, which requires finer fibres and electrostatic charging, while the remainder is for applications including transportation and wipes and a range of other niche applications.
Output has already increased by 23% in response to the pandemic, and INDA estimates there is still an estimated 18% of unused capacity. The organization is in dialogue with manufacturers of sorbent products for oil containment applications as one potential source of new materials.
Europe
European Capacity Small Compared to China--Meltblown production has emerged as an acute bottleneck because Europe has so far relied heavily on Asian suppliers. Assembling and installing the highly specialized meltblowing machines normally takes over a year. Lead times are now being cut to a few months. Textiles lobby group Euratex has set up with the EU an online exchange where companies post offers and requests for services and materials. That shows 32 companies are in need of various mask materials, nine of which are specifically asking for air filter material.
EDANA, an association of mainly European non-woven fabric makers, says meltblown capacity in Europe is limited, while output in Asia is much larger. In China, the No. 1 producer, companies controlled by the central government are expected to reach production of over 70 tonnes of meltblown per day, or more than 25,000 tonnes per year, including new production lines of Sinopec and China National Petroleum Corp, state media Xinhua reported on March 30. That is up from a current daily supply of 42.5 tonnes. According to EDANA , production of overall non-wovens in Europe was 2.8 million tonnes in 2019 but meltblown was only a fraction of that.

3M ramp up
At 350,000 N95 masks per ton of melt blown 3M is using 15 tons of melt blown per day(March Alert). Sinopec is the number producer of melt blown mask media at 18 tpd.
Masks per year

Masks per day

Meltblown

tons per day

2 billion Worldwide

5.4 million

15

600 million in U.S

1.6 million

5
3M, as the largest maker of N95s, kicked into high gear to make as many as possible in China.
----by January, 3M had maxed out its N95 manufacturing in Shanghai. Weeks later, its mask factories in South Dakota and Nebraska were also running 24/7. The company added equipment in Aberdeen, S.D., to increase capacity.
By the end of June, 3M's two U.S. plants should be making 50 million N95s a month. Until then, 3M arranged for its factory in China to export more here.
3M agreed to import 166.5 million masks from China by July. That would help infuse the U.S. with extra supplies until 3M's South Dakota and Nebraska production rates were high enough.
April Market Estimates
At present meltblown media is used in most surgical and N95 masks. Meltblown media is also used in air filters where the demand is rising rapidly due to COVID. Together these uses account for a large portion of the total.
<![if !vml]>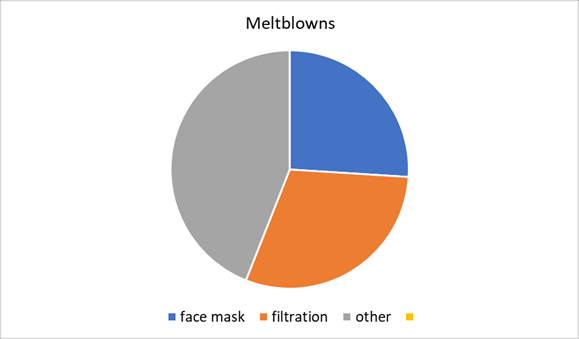 <![endif]>
Face masks presently account for just over one fourth of the meltblown market. Filtration is a large application and incudes liquid filtration, gas filtration, cartridge filters, and air filtration for HVAC and cleanrooms where high efficiency is required. COVID will increase the need for meltblowns for air filters in nursing homes, apartment buildings, restaurants, meat processing plants and many other establishments where people congregate. So facemask and filtration demands will compete for the limited supply. Cummins/Dupont are using filter media normally used in engine filters for facemasks. The filtration segment also includes oil adsorbents.
The "other" segment includes medical fabrics such as disposable gowns, drapes and sterilization wraps. Reusable gowns are an option which would reduce meltblown demand. Meltblown fabrics are used frequently in feminine sanitary napkins, diaper top sheets and disposable adult incontinence products.
Also included in the "other" segment are disposable industrial apparel, thermal insulation and substrates for synthetic leather. Meltblown fabrics are sometimes used in battery separators and as insulation in capacitors.
If half of the world's 8 billion people should be wearing N95 masks and these masks are reused five times then 800 million masks need to be produced each day.
N95 masks utilize more meltblown media than do surgical masks.
Mask Production per ton per day of

Meltblown Production

Mask Type

Number of masks

per ton per day

Surgical

1 million

N95

0.2 million
World meltblown capacity was 1000 tons per day in January of this year and has increased as much as 10 percent over the last six months.
<![if !supportLineBreakNewLine]>
<![endif]>
Segment

Tons per day Meltblown

Potential # of Surgical Masks per day

Potential # of

N95 Masks per day

Meltblown world capacity as of Jan 2020

1000

1 billion

200 million

Sinopec (either or)

18

18 million

3.6 million

3M 2019

15

3 million

3M 2020

30

6 million

3M 2021

60

12 million

*China 2020-April

200

200 million

?

China-2020 Jan

3

600,000

World needs -100% N95

4,000

800 million

World needs -100% surgical

800

800 million
*Includes non meltblown media
Mask production has grown by triple digits in the last six months but is not nearly enough to supply each individual around the world who congregates with others each day.
<![if !supportLineBreakNewLine]>
<![endif]>
<![if !vml]>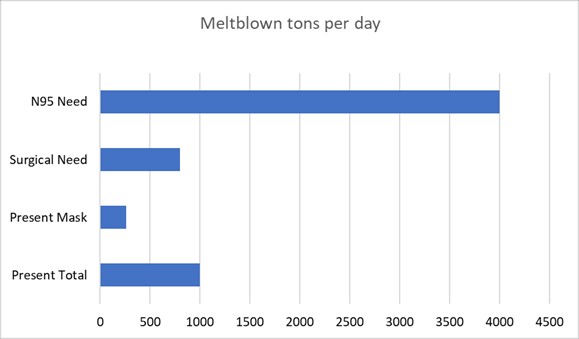 <![endif]>
The production of melt blown media to fulfill the needs of each person using N95 masks and replacing them after five uses would be 4000 tons per day. This is four times the meltblown production at the start of 2020 and more than 15 times the present meltblown capacity devoted to masks. However the total is small compared to the 41,000 tons per day of non wovens produced for all applications. So with less than 10 percent increase in total non wovens production the media for N95 masks for everyone who ventures outside each day could be achieved.
Berry
Berry Installing New Meltblown Line in Berlin--Berry Global Group, Inc. announced the continued expansion of its global Meltex™ meltblown capacity, with the addition of another asset to support the growing global face mask demand.
The new asset is expected to be operational in October 2020 and will be placed in Europe at Berry's existing production facility in Berlin, Germany and will incorporate Berry's patented charging technology post installation. The new line will focus on the production of highly efficient filter material for premium FFP2 (N95) and FFP3 (N99) grade filter media.
Virus Transmitted on Dust Particles
It's really shocking to most virologists and epidemiologists that airborne dust, rather than expiratory droplets, can carry influenza virus capable of infecting animals," says Professor William Ristenpart of the Department of Chemical Engineering at the University of California Davis (UC Davis).
Prof. Ristenpart is one of the authors of the new study, along with scientists at UC Davis and the Icahn School of Medicine at Mount Sinai, NY. The findings appear in the journal Nature Communications.
"The implicit assumption is always that airborne transmission occurs because of respiratory droplets emitted by coughing, sneezing, or talking," he adds.
"Transmission via dust opens up whole new areas of investigation and has profound implications for how we interpret laboratory experiments, as well as epidemiological investigations of outbreaks."
Experiments found that the influenza virus remained viable on materials, such as paper tissues and on guinea pigs' bodies, for long enough to become airborne on dust particles. They showed that these particles could then transmit the infection to new hosts.
In their experiments, they found that the influenza virus remained viable on materials such as paper tissues and the bodies of guinea pigs for long enough to become airborne on dust particles. They showed that these particles could then transmit the infection to new hosts.
In April, Medical News Today reported on a study that took place in hospitals during the COVID-19 outbreak in China. It found that the highest levels of airborne viral RNA were in rooms where healthcare workers removed personal protective equipment.
This hints that removing contaminated clothing might aerosolize the virus, the authors of the new study write.
"In light of our experiments, we conclude that the contribution of aerosolized fomites to respiratory virus transmission in both humans and animal models requires further scientific consideration and rigorous investigation."