Valve Acquisitions and Market Shares
August 2022
Acquisitions
<![if !supportLists]> · <![endif]> Recent Acquisitions
<![if !supportLists]> · <![endif]> Harbour Group Acquires Specialty Valve Group, LLC
<![if !supportLists]> · <![endif]> IR Acquired Indian Pump, Filter and Systems Companies
<![if !supportLists]> · <![endif]> HIG-United Flow Technology buys Shape to add to Southwest Valve
Market Share
<![if !supportLists]> · <![endif]> Kitz Projecting Valve Sales of Over $ 900 Million in 2022
<![if !supportLists]> · <![endif]> Emerson is the World Market Leader in Valves with a 5% Share

_________________________________________________________________________
<![if !supportLineBreakNewLine]>
<![endif]>
Acquisitions
Recent Acquisitions
The McIlvaine valve acquisition database with data as far back as 2004 will be posted soon in the report. Here are some of the more recent additions.
<![if !supportLineBreakNewLine]>
<![endif]>
Acquirer

Acquired

Driver

Rationale

IDEX

KZV Valve

Application

Provides entrée to agricultural applications

ITT

Habonim

Application

Cryogenic applications

Allied

Great Lakes Process

Distribution

Coverage of 13 States in the Mid-West

Wynchurch

Ladish

Product

Complementary to Smith and AIT

Neles

Flowrox

Application

Mining and metals and also pumps

Floworks

SemiTorr

Distribution

This ClearLake backed group now has 40 global locations

Severn

ValvTechnologies

Product

Metal-seated, zero-leakage isolation valve solutions for

demanding applications

Fairbanks Morse

Hunt Valve

Product

Valves for naval applications. So it adds new products as well as new applications

United Valve

Global Service

Service

Repair and modification services on rising/rotating metallic plug valves and other tapered plug valve designs

Baker Hughes

Q12 Elements

Solutions

Detect, characterize, locate, and size defects that can compromise pipeline integrity

EGC Holding

Slade Inc

Components

Fluid sealing solutions

IMI

PBM

Applications

Pharmaceutical and biotechnology

Hunt Valve

Pima Valve

Product

Severe-duty bronze marine valves.

VAG

RTS

Markets

Brazil-based manufacturer of valve solutions used in water,

wastewater, and other industries
Harbour Group Acquires Specialty Valve Group, LLC
Marshall Excelsior Company (together with subsidiaries, "MEC"), a Harbour Group company, has acquired Specialty Valve Group, LLC ("SVG"),
SVG, based in Houston and founded in 2010, is the exclusive distributor of Xanik products in the U.S. Xanik, based in Mexico City, is a leading manufacturer of specialty valves used in severe service applications and, since this past February, has been owned by MEC.
IR Acquired Indian Pump, Filter and Systems Companies
Ingersoll Rand Inc., has entered into agreements to acquire Holtec Gas Systems LLC, Shanghai Hanye Air Purifying Technology Co., Ltd, and Hydro Prokav Pumps (India) Private Limited for a combined cash purchase price of approximately $35 million.
Holtec and Hanye expand Ingersoll Rand's air treatment capabilities and enhance the breadth of solutions provided for the larger compressor ecosystem. They will both join the Industrial Technologies and Services segment.
Based in Saint Charles, Missouri, Holtec is an internationally recognized nitrogen generator manufacturer, and the recipient of the 2022 President's "E" Award. Holtec offers expertly designed onsite nitrogen generation systems for industrial, food & beverage and manufacturing applications and has annual revenue of approximately $10 million.
Based in Shanghai, China, Hanye is an OEM supplier of air treatment products with several unique patents in China around desiccant and refrigerated compressed air dryers and air filters. Hanye has annual revenue of approximately $4 million.
Based in Coimbatore, India, Hydro Prokav manufactures and sells progressive cavity pumps with more than 80% of its approximately $6 million in annual revenue coming from aftermarket parts. Hydro Prokav expands Ingersoll Rand's presence in progressive cavity pumps and serves as a complementary addition to the recent Seepex acquisition to further penetrate the growing market in India and southeast Asia. Hydro Prokav will join the Precision and Science Technologies segment.
"Through the use of Ingersoll Rand Execution Excellence (IRX), we continue to execute on our robust M&A funnel. The acquisitions of Holtec, Hanye and Hydro Prokav demonstrate our commitment to finding highly adjacent bolt-ons which add products, capabilities and technologies that enhance the quality of our overall portfolio while expanding our addressable market," remarked Vicente Reynal, chairman and chief executive officer of Ingersoll Rand. "All three of these acquisitions are directly aligned with our stated M&A strategy, and we see meaningful opportunity to drive incremental synergies across our global businesses to generate shareholder value."

The acquisitions of Holtec and Hydro Prokav are expected to be completed during the third quarter of 2022. The acquisition of Hanye is expected to be completed during the fourth quarter of 2022.
HIG-United Flow Technology Buys Shape to Add to Southwest Valve
H.I.G. Capital, a leading global alternative investment firm with $50 billion of equity capital under management, announce that its portfolio company, United Flow Technologies ("UFT"), a platform established to invest in the municipal and industrial water and wastewater market, has completed the acquisitions of Shape, Inc., Engineered Equipment Solutions ("EES"), Newman Regency Group and Southwest Valve & Equipment. UFT has completed seven acquisitions since its formation in July 2021.
These acquisitions represent four leading providers of best-in-class products and value-added services to the municipal water and wastewater markets throughout the United States, and accelerate UFT's strategic entry into new territories, product categories and OEM partnerships.
As part of the transactions, UFT will partner with the leadership teams of each business to support their growth initiatives within an integrated and operationally cohesive UFT, with each business' leadership team and brand remaining in place. Additionally, each of the key principals from each acquired company will become shareholders of UFT. Terms of the transactions were not disclosed.
Founded in 1979 and headquartered in Pleasanton, CA, Shape is a provider of pumps and process equipment to the municipal water and wastewater markets. Shape provides industry-leading products and repair services to its customers via multiple offices throughout California. For more information, visit
Founded in 2003 and headquartered in State Center, IA, EES is a provider of process equipment products and services to the municipal water and wastewater markets. EES offers high quality, innovative solutions to its customers via multiple offices across Iowa, Colorado and Nebraska..
Founded in 1999 and headquartered in Stafford, TX, Newman Regency is a provider of process equipment products and services to the municipal water and wastewater markets. Newman Regency provides market-leading products from top-tier manufacturers to its customers via multiple offices across Texas and Oklahoma..
Founded in 2001 and headquartered in Fresno, CA, Southwest Valve is a provider of flow control products and services to the municipal water and wastewater markets. Southwest Valve offers its customers the most up-to-date sustainable custom manufacturing solutions via multiple offices across California, Nevada, Arizona and New Mexico.
United Flow Technologies is a platform established in July 2021 to invest in the municipal and industrial water and wastewater market. UFT partners with leading equipment providers to provide world class products, efficient solutions, and valuable services to municipalities and industrial customers across the United States.
H.I.G. is a leading global alternative assets investment firm with $50 billion of equity capital under management. Based in Miami, and with offices in New York, Boston, Chicago, Dallas, Los Angeles, San Francisco, and Atlanta in the U.S., as well as international affiliate offices in London, Hamburg, Madrid, Milan, Paris, Bogotá, Rio de Janeiro and São Paulo, H.I.G. specializes in providing both debt and equity capital to small and mid-sized companies, utilizing a flexible and operationally focused/ value-added approach:
<![if !supportLists]> 1. <![endif]> H.I.G.'s equity funds invest in management buyouts, recapitalizations and corporate carve-outs of both profitable as well as underperforming manufacturing and service businesses.
<![if !supportLists]> 2. <![endif]> H.I.G.'s debt funds invest in senior, unitranche and junior debt financing to companies across the size spectrum, both on a primary (direct origination) basis, as well as in the secondary markets. H.I.G. is also a leading CLO manager, through its WhiteHorse family of vehicles, and manages a publicly traded BDC, WhiteHorse Finance.
<![if !supportLists]> 3. <![endif]> H.I.G.'s real estate funds invest in value-added properties, which can benefit from improved asset management practices.
<![if !supportLists]> 4. <![endif]> H.I.G. Infrastructure focuses on making value-add and core plus investments in the infrastructure sector.
<![if !supportLineBreakNewLine]>
<![endif]>
Since its founding in 1993, H.I.G. has invested in and managed more than 300 companies worldwide. The firm's current portfolio includes more than 100 companies with combined sales in excess of $30 billion.

Market Share
Kitz Projecting Valve Sales of Over $ 900 Million in 2022
Kitz is projecting 2022 fiscal year sales of 158 billion yen, and operating income of 11 billion yen. Valve sales are forecast at 123 billion yen. Brass bar manufacturing accounts for most of the other sales revenue.
The valve segment includes fittings and some industrial water purifiers.
The company is an integrated manufacturer with its own foundries and manufacturing plants in various locations around the world.
It has an 80% market share for bronze and brass valves in the Japanese market. It claims a 50% share of the market for stainless valves in Japan.
It is active in building heating and cooling, oil and gas including LNG and refining and petrochemicals.

Emerson is the World Market Leader in Valves with a 5% Share
Emerson is the world's largest valve supplier with a market share exceeding 5%. It has a 12% market share in severe service valves but only a 1% share for general purpose valves.
<![if !vml]>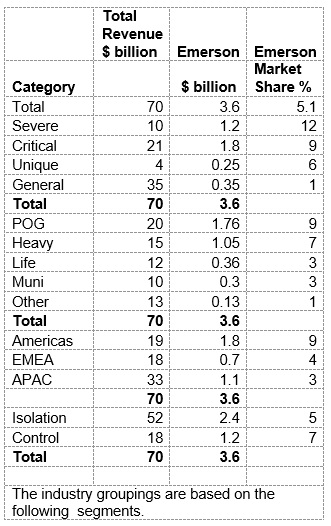 <![endif]>
<![if !vml]>

<![endif]>
Acquisitions which boost total EBITDA % rather than just EBITDA revenue should be pursued. McIlvaine is continually updating an acquisition database along with market shares.