UTILITY E-ALERT
#1522– June 4, 2021
Table of Contents
COAL – U.S.
<![if !supportLists]> · <![endif]> PSEG Power Becomes 100% Coal-Free on Long-Term Path to Net-Zero Carbon Emissions
COAL – WORLD
<![if !supportLists]> · <![endif]> World's Coal Producers Now Planning More Than 400 New Mines
<![if !supportLists]> · <![endif]> Aspire Awards Ovoot Coking Coal FEED Contract to Sedgman
CO2
<![if !supportLists]> · <![endif]> Navigator Announces Momentum Building Larger Carbon Capture Project
<![if !supportLists]> · <![endif]> Bechtel and Drax Partner to Explore Global Opportunities for New Build Bioenergy With Carbon Capture and Storage (BECCS)
GAS TURBINE
<![if !supportLists]> · <![endif]> NorthWestern Energy to Build a New 175-Megawatt Natural Gas Plant
<![if !supportLists]> · <![endif]> Abu Dhabi National Oil Company (ADNOC) Announced That it Will Advance a World-Scale "Blue" Ammonia Production Facility i Ruwais, Abu Dhabi, in the United Arab Emirates (UAE)
<![if !supportLists]> · <![endif]> Mitsubishi Power Developing 40 MW Turbine Fueled With Ammonia
<![if !supportLists]> · <![endif]> Parker Coalescer Filter Solves Gas Turbine Inlet Fog Problems
<![if !supportLists]> · <![endif]> The Value of Condition Monitoring and Predictive Maintenance for Cycling GTCC Plants
<![if !supportLists]> · <![endif]> Parker Launches New Gas Turbine Inlet Filter
<![if !supportLists]> · <![endif]> Gas Turbine Intake Filter Lowest Total Cost of Ownership Validation ( LTCOV)
<![if !supportLists]> · <![endif]> Mitsubishi Power Aero Delivers Vital Power Project to Mexico
<![if !supportLists]> · <![endif]> Sulzer Speed Control Solution Minimizes Boiler Feedwater Pump Efficiency Loss
NUCLEAR
<![if !supportLists]> · <![endif]> Matching Nuclear Pumps to the Task is Critical
<![if !supportLists]> · <![endif]> Williams Announces Additional Work at Indian Point
BUSINESS
<![if !supportLists]> · <![endif]> Flowserve Monitors Conditions at UK Power Plant and Solves Boiler Feedwater Pump Problems Before They are Magnified
<![if !supportLists]> · <![endif]> Donaldson Sales to the Stationary Power Industry Are Around $130 Million/Yr
<![if !supportLists]> · <![endif]> DSUA Will Be in Live Event in September
<![if !supportLists]> · <![endif]> Nederman 2020 Results Were Impacted by Coronavirus
<![if !supportLists]> · <![endif]> Global Energy Investment is Set to Rebound by Around 10% in 2021
<![if !supportLists]> · <![endif]> Ingersoll Rand Has Multiple Pump Blower and Compressor Companies With Power Plant Products
___________________________________________
COAL – U.S.
PSEG Power Becomes 100% Coal-Free on Long-Term Path to Net-Zero Carbon Emissions
PSEG Power has retired its Bridgeport Harbor Station Unit 3 power plant, effective May 31, marking the completion of the company's long-term coal exit strategy as the company pursues a path to net-zero carbon emissions. BHS 3 was the last remaining coal-fired power plant in PSEG Power's generation fleet.
Originally designed to be fueled with either oil or coal when placed in service in 1968, Unit 3 was converted to a full-time coal unit in 2002. BHS 3 provided 400-megawatts of peaking capacity to southern Connecticut, operating only when called upon during times of peak energy demand, such as extreme heat or extreme cold. In conjunction with the opening of Bridgeport Harbor Station Unit 5 (BHS 5), a highly efficient 485-megawatt natural gas power plant, in June 2019, Unit 3 was scheduled for retirement in mid-2021.
"The retirement of Bridgeport Harbor Station Unit 3 marks the end of an era for the City of Bridgeport and the citizens who relied on its power," PSEG Chairman, President and CEO Ralph Izzo said. "I'm grateful to the generations of employees who operated this unit safely and reliably for more than 50 years, and to the entire Bridgeport community for their support."
"For PSEG, the retirement of BHS 3 marks the end of our company's coal era, reflecting a nationwide trend toward the use of cleaner fuels to generate the electricity we need to power our lives. Newer, more economic and highly efficient power plants like BHS 5 will play a critical role in shrinking our carbon footprint as we address the challenges of climate change and help set Connecticut on a path toward its cleaner energy future," Izzo said.
BHS 3 did not ease quietly into retirement. After being called upon to operate for just two days in 2020, and not at all in 2019, the unit ran for nearly two uninterrupted months to supply additional power to the grid during a stretch of unusually cold weather in January and February of 2021.
"That remarkable run, even as the unit was just weeks from retiring permanently, reflects the readiness and determination of the entire Bridgeport Harbor 3 team, with support from BHS 5, New Haven and the entire PSEG Fossil organization," Izzo said. "The team should be proud of its performance during this stretch, during which it maintained all safety and environmental standards without a single forced outage, injury or COVID 19-related issue."
BHS 3 also was instrumental in providing electrical generating capability for the Bridgeport region during Superstorm Sandy in 2012 and during the prolonged and extreme cold weather during the polar vortex in the winter of 2014.
Bridgeport Harbor Station was originally owned and operated by United Illuminating Co. and began providing energy to the industrial factories and businesses in southwestern Connecticut in 1957. In 1999, Bridgeport Harbor Station was purchased by WISVEST, which owned and operated the station until it was purchased by PSEG Power Connecticut in 2002.
As the nation transitions to new generation technologies, the long and important history of BHS 3 illustrates how critical coal generation has been over the decades in powering lives and fueling the economy.
In addition to its exit from coal, PSEG Power's remaining fossil generation units – including BHS 5 – are part of the company's ongoing Strategic Alternatives process to explore divestiture options for PSEG Power's fossil and Solar Source assets. The company expects this process to be completed by the end of 2021. Following this process, PSEG Power's fleet will consist almost entirely of carbon-free energy, including nuclear plants in New Jersey and Pennsylvania and new investments in offshore wind generation.
COAL – WORLD
World's Coal Producers Now Planning More Than 400 New Mines
The world's coal producers are currently planning as many as 432 new mine projects with 2.28 billion tons of annual output capacity, research published on Thursday showed, putting targets for slowing global climate change at risk.
China, Australia, India, and Russia account for more than three quarters of the new projects, according to a study by U.S. think-tank Global Energy Monitor. China alone is now building another 452 million tons of annual production capacity, it said.
"While the IEA (International Energy Agency) has just called for a giant leap toward net zero emissions, coal producers' plans to expand capacity 30% by 2030 would be a leap backward," said Ryan Driskell Tate, Global Energy Monitor research analyst and lead author of the report.
The report said four Chinese provinces and regions alone - Inner Mongolia, Xinjiang, Shaanxi and Shanxi - account for nearly a quarter of all the proposed new coal mine capacity.
China has pledged to bring its emissions to a peak by 2030 and to net zero by 2060. President Xi Jinping said earlier this year that the country would start to cut coal production, but not until 2026.
Global Energy Monitor said the new projects not only jeopardize efforts to combat global warming but could risk saddling companies with as much as $91 billion in stranded assets.
"Demand for coal is plummeting and financing for new coal projects is drying up," said Driskell Tate. "New mines and expansions of existing mines will be producing coal for a world in which coal is unviable economically, and untenable for the environment."
Aspire Awards Ovoot Coking Coal FEED Contract to Sedgman
Aspire Mining Ltd is focused on the development of metallurgical coal assets in Mongolia, principally the wholly owned Ovoot Coking Coal Project (OCCP). The company has provided an update regarding the coal handling and preparation plant (CHPP) required to establish operations at the OCCP.
<![if !supportLists]> · <![endif]> Contract for preparation of a FEED study on CHPP infrastructure to support commencement of operations at the OCCP has been awarded to CIMIC Group's minerals processing company, Sedgman Pty Limited.<![if !supportLineBreakNewLine]>
<![endif]>
<![if !supportLists]> · <![endif]> Sedgman is the leading provider of integrated minerals processing solutions with experience delivering world class processing solutions. Sedgman is an industry leader in the fields of design, construction, commissioning, and operations of minerals processing facilities, and has provided technical input and various studies supporting the economics of the OCCP from discovery of the deposit in 2010.
Following a thorough tendering process, which evaluated proposals from numerous reputable firms, the company has advised that Sedgman has been selected to prepare a FEED study on CHPP infrastructure to support commencement of operations at the OCCP. Sedgman is a wholly owned subsidiary of CIMIC.
A global leader in the design, construction, and operation of minerals processing facilities, Sedgman also has Mongolian specific experience. Sedgman plans to draw from this experience and engage local Mongolian subcontractor(s) to deliver the FEED Study with appropriate consideration of in country requirements.
Sedgman Managing Director, Grant Fraser, said: "Sedgman appreciated the opportunity to work with Aspire and is focused on delivering value through progressing an innovative solution for the project."
"This study is a great opportunity to work with one of our longstanding clients to support the future development of the OCCP."
The FEED Study will be conducted in a phased approach, over a period of approximately five months. Stage 1 will comprise trade-off analyses to identify the most appropriate concepts and technologies which will take approximately 8 weeks. Stage 2 will then focus on the agreed path and will produce accurate estimates of capital and operating costs and designs to enable tendering for construction. The work will be completed under schedule of rates arrangement, with total cost of AUS$600 000 estimated.
The intended CHPP infrastructure to be investigated will be based on existing modular designs and will enable low impact processing of approximately 1.5 million tpy of run-of-mine (ROM) coal, with capability for later expansion. Important criteria for the design include low energy and water consumption, and stringent dust control.
CO2
Navigator Announces Momentum Building Larger Carbon Capture Project
Navigator CO2 Ventures ("Navigator") announced the successful conclusion of the non-binding open season of its carbon capture pipeline system ("CCS"). The proposed CCS project seeks to provide biorefineries and other industrial participants a long-term, economic path to materially reduce their carbon footprint by capturing and transporting CO2 through 1,200 miles of pipeline across five Midwest states to a permanent sequestration site. Based on extensive feedback from potential customers representing diverse emissions sources, and in an effort to provide a holistic solution for multiple industries, Navigator is actively looking to expand the capacity of the pipeline and proceed with multiple sequestration sites, creating an injection capacity of up to 12 million metric tonnes per year.
Navigator previously announced its partnership with BlackRock Global Energy & Power Infrastructure Fund to develop the CCS in Nebraska, Iowa, South Dakota, Minnesota, and Illinois; Valero Energy Corporation is the anchor customer. The proposed system plans to transport liquefied carbon dioxide through the pipeline to a sequestration site. At full capacity, the CCS will have the ability to capture and store enough CO2 to be the equivalent of removing approximately 2.6 million cars from the road per year or planting 550 million trees per year or eliminating carbon footprint of Kansas City 1.5 times over. According to the International Energy Agency, carbon capture and storage projects have the ability to reduce global CO2 emissions by almost one fifth and lower the cost of addressing climate change by 70%.
Navigator will use the information received during the non-binding open season to continue working with interested shippers on binding commercial agreements. The framework of these agreements will form the basis to launch the binding open season, expected early June 2021. This CCS project is one of the first large-scale, commercially viable, carbon pipelines to be developed in the United States. Plans are underway to further expand the scope of the project as needed to accommodate future incremental customer demand. Navigator anticipates the CCS project to begin operations in-phases beginning in late 2024.
For more information regarding the open season, please contact Laura McGlothlin, Chief Commercial Officer, at lmcglothlin@navigatorco2.com or visit www.navigatorco2.com
Bechtel and Drax Partner to Explore Global Opportunities for New Build Bioenergy With Carbon Capture and Storage (BECCS)
Bechtel has entered into a partnership with renewable energy company Drax to identify opportunities to construct new Bioenergy with Carbon Capture and Storage (BECCS) power plants around the world.
<![if !supportLists]> · <![endif]>Bechtel, a world leader in engineering, construction and project management has entered into a strategic partnership with renewable energy company Drax, to explore options and locations to construct new Bioenergy with Carbon Capture and Storage (BECCS) plants globally.
<![if !supportLists]> · <![endif]> Scaling up BECCS sustainably over the coming decades will be critical to delivering the Paris Agreement climate targets and keeping the world on a pathway of limiting warming to 1.5 degrees.
<![if !supportLists]> · <![endif]> The companies will also work together to identify how the design of a new build BECCS plant can be optimized using the latest technology and best practice in engineering design.
Drax is the largest decarbonization project in Europe having converted its power station near Selby in North Yorkshire to use sustainable biomass instead of coal.
By deploying BECCs' vital negative emissions technology, Drax aims to go further, by becoming a carbon negative company by 2030.
Analysis by independent experts including the United Nations Intergovernmental Panel on Climate Change and International Energy Agency has identified that BECCS and other technologies that can remove emissions from the atmosphere will need to be developed at a global scale over the coming years to limit climate change to 1.5 degrees of warming.
Bechtel will focus its study on strategically important regions for new build BECCS plants, including North America and Western Europe, as well as reviewing how to optimize the design of a BECCS plant using state-of-the-art engineering to maximize efficiency, performance, and cost.
Jamie Cochrane, Bechtel Manager of Energy Transition said: "Technological advancements have created new opportunities to improve how we bring power to communities worldwide. We are resolved to work with our customers on projects that deliver effective ways to contribute to a clean energy future. Tackling the big global challenges related to climate change is key to meeting aggressive environmental targets and we are proud to partner with Drax to optimize design and explore locations for the new generation of BECCS facilities."
Jason Shipstone, Drax Group Chief Innovation Officer, said: "Negative emissions technologies such as BECCS are crucial in tackling the global climate crisis and at Drax we're planning to retrofit this to our UK power station, demonstrating global climate leadership in the transformation of a former coal-fired power station."
"We're interested in potential opportunities for exporting BECCS overseas, where Drax could help other countries take positive action to address the climate crisis and meet the Paris climate commitments by using innovative carbon capture technology to permanently remove CO2 from the atmosphere."
Negative emissions technologies remove more carbon dioxide from the atmosphere than they emit and are widely accepted by the world's leading authorities on climate change as being essential in the fight against climate change.
GAS TURBINE
NorthWestern Energy to Build a New 175-Megawatt Natural Gas Plant
NorthWestern Energy submitted an application to the Montana Public Service Commission last week to build a new 175-megawatt natural gas-fired power plant and move forward with Montana's first utility-scale battery project.
NorthWestern's application asks for commission approval to recover $54 million for the natural gas-fired power plant in the supply rates paid by its 700,000-plus customers in Montana. The company argues that the natural gas-fired power plant it proposes is the best and cheapest option for a new high-capacity resource that could be online by January 2024.
The total cost of the plant, factoring in land, construction costs, property taxes and capitalized interest incurred during construction, is expected to top $286 million, and NorthWestern is seeking a 10% return on equity for the project, for an overall rate of return of 7%.
The company is also seeking to enter a 20-year agreement with Beartooth Energy Storage, LLC, for a 50-megawatt energy storage project near Billings. Beartooth would build and own the facility, and NorthWestern would control its charging and discharging functions.
The idea behind that project is to direct excess electrons on the grid to the battery when supply is high and demand and energy prices are down, and release electricity back onto transmission lines when demand surges and intermittent energy sources fall off. NorthWestern says this will keep the company from having to make more expensive market purchases for energy.
The company argues the acquisitions are in the public's best interest because they'll provide customers with reliable, cost-effective service and protect them from risks associated with volatility and unreliable service when demand for energy peaks. It says the portfolio it landed on through this process is the "least risk, most diverse, and most flexible option at a cost-effective price in comparison to the other evaluated portfolios."
According to its calculations, the average residential customer in Montana who consumes about 750 kilowatt-hours of electricity per month, would see their monthly bill increase by $6.64 if the PSC approves the application.
NorthWestern Energy spokesperson Jo Dee Black said the fuel portion of the equation, the price of natural gas, is evaluated through a different process that's not reflected in the application before the PSC.
Alan Olson, executive director of the Montana Petroleum Association, said natural gas is plentiful, and that's part of the reason it's been so cheap recently. He also said there's some uncertainty about the country's energy future that makes natural gas-fired power plants, like the one NorthWestern is proposing, particularly attractive to the oil refineries his group represents.
A natural gas-fired power plant will introduce certainty to not just NorthWestern's portfolio, but to the Pacific Northwest's energy-thirsty grid more broadly, he said.
"The climate agenda, even before President Biden [entered office], is going to create some serious concerns on the ability to generate electricity," Olson said. "You look at the recent retirement of Colstrip Units 1 and 2. You look at the closure of the Boardman [coal-fired power plant] in Oregon and the upcoming closure of the Centralia Power Plant in Washington state. That's going to create a lot of unknowns and potential problems because we're losing that baseload generation. … We're going to need natural gas generation to firm up the resource as more and more renewable resources come online."
According to the U.S. Energy Information Association's 2021 Annual Energy Outlook, natural gas consumption in the U.S. is expected to fall slightly in the near term and then climb steadily for three more decades.
A new natural gas-fired power plant has been on NorthWestern's forecast for a while. In its 2019 Electricity Supply Resource Procurement Plan, it indicated its interest in a natural gas-fired power plant and outlined the capacity and transmission ceiling it bumps up against when demand on the grid is high.
The company says the battery storage and natural gas-fired power plant are good complements to the wind and solar resources it's acquired in recent years. It also plans to secure 100 megawatts of capacity from primarily hydroelectric resources per a five-year agreement it signed with Powerex Corp. That agreement is not part of the application before the PSC, but it is referenced in the document as part of the overall portfolio the company is pursuing.
In the application, NorthWestern touched on the electricity challenges Texas faced during an unusually long cold snap this February that wreaked havoc on electricity demand and supply for millions of Texans and led to a fervor of political commentary on the country's energy dynamics.
"Recent events in Texas have tragically demonstrated the risk and consequences of over-reliance on generation in the market to meet customers' need for electric capacity especially at times of peak demand," NorthWestern Energy CEO Robert Rowe said in the application.
Rowe also notes that most of the company's recent acquisitions and agreements involve hydro, wind, or solar energy, and that its last acquisition of a thermal asset, like a coal-fired power plant or a natural gas plant, was 10 years ago when it brought the Dave Gates Generating Station online. That facility is a 150-megawatt natural gas-fired power plant located near Anaconda that's owned by NorthWestern.
Several executives supplying testimony in the document echo Olson's statement that there's a need for more capacity in the Pacific Northwest generally, and that NorthWestern is an outlier among regional utility companies in its dependence on market purchases for power. While virtually all utility companies purchase energy from the grid at some point, NorthWestern does so more often than most utilities, Black said. During periods of peak demand, about 40-50% of the company's energy comes from market purchases.
Colstrip's coal-fired power plant is by far the company's largest existing capacity resource, providing up to 222 megawatts of energy. Second is the Dave Gates Generating Station, followed by the Judith Gap Wind Station with 135 megawatts.
THE LAUREL GENERATING STATION PROPOSAL
If the application is approved by the PSC, the Laurel Generating Station natural gas-fired power plant would be built by Burns & McDonnell Engineering Company, operated by Caterpillar Power Generation Systems, LLC, and owned by NorthWestern Energy. At peak construction, between 250 and 300 jobs would be created, Black said. Once built, about 10 workers would be required to run the plant.
The plant itself would use 18 reciprocating internal combustion engine, or RICE, units. Black said there's a fair bit of flexibility created by this model. The units could be turned off when wind and solar energy production is up and toggled back on as those resources fall off and demand spikes.
The company said it landed on the Laurel location due to its proximity to both natural gas and uncongested transmission lines. It anticipates using a similar process it already employs to acquire natural gas for customers to procure supply for their plant. It will use a combination of daily, monthly and fixed-price natural gas purchases to mitigate market volatility. If the plant is approved, a new pipeline to service the Laurel Generating Station would need to be constructed.
The application also includes plans for carbon offsets, as required by a law passed by the Montana Legislature in 2007. To meet that need, NorthWestern would make a one-time investment of $327,000 in a carbon offset plan focused on carbon reduction and absorption to be implemented by nonprofit, The Climate Trust, which acquires and manages carbon offset programs. Investment preference would be given to Montana-based projects.
THE BIDDING PROCESS
As part of the request-for-proposal process the company launched last January, 21 bidders offered more than 180 proposals to contribute capacity to NorthWestern. Most of those proposals were for energy storage systems — batteries — or a battery storage system paired with a solar project.
Monica Tranel, a former staff attorney for the PSC and Montana Consumer Counsel, who has worked in the energy industry for 20 years, said she's glad that NorthWestern is pursuing energy storage, but doesn't think a natural gas-fired power plant is in Montana's best interest.
"I think those resources have significant risk in terms of carbon emission pricing, cost of gas and stranded costs," she said. "I would hope that … careful thought is given to long-term ownership and the potential stranded costs [so] those risks aren't offloaded to customers."
She said she'd rather see more investment in renewable energy projects like wind, solar and hydroelectric — "not just the typical run-of-the-mill hydro, but both pumped hydro at the large level like the Gordon Butte project, but also micro pumped storage all over Montana."
The Gordon Butte project was first proposed more than a decade ago. If built, it would create a large energy storage system in Meagher County. It would pull energy from the grid when supply exceeds demand, to pump water to a reservoir on Gordon Butte, a geographic feature near Martinsdale. When demand for energy trends upward, the water would be released through turbines into a lower reservoir, generating up to 400 megawatts of electricity.
Black said NorthWestern couldn't offer comment on the project proposals it received that it decided not to move forward with but said that the RFP did give the company a good sampling of the proposals that are out there and the technology that's being developed.
Even if all three projects it is planning to move forward with are given a green light, she said NorthWestern anticipates that it will need to secure additional capacity in the not-too-distant future.
"Now we have an idea what's out there. It's exciting. The energy industry is transitioning," she said, "We're looking forward to working with some technology we haven't worked with before and meeting our customers' desires and needs while continuing to provide service that's reliable and affordable."
In addition to Gordon Butte, bids came in for several other high-capacity projects, according to reporting by the Billings Gazette. Those include proposals from NextEra, which is developing a 750-megawatt wind farm for a three-county area in eastern Montana; Broadview Solar II, a 300-megawatt solar farm planned west of Billings; and Mitsubishi Power America, which proposed building a green hydrogen production and storage facility that would incorporate solar power, a gas-fired peaking power plant, and a combined cycle gas generator.
The future of Colstrip is still one of the big unknowns hanging over the company's future. In a recent call with NorthWestern shareholders Rowe said that without some key pieces of legislation passing this session, the company doesn't plan to acquire additional shares in Colstrip.
There's also some question as to whether renewable energy advocates will intervene on the application and ask for a more careful consideration of projects that NorthWestern opted not to pursue.
"The application certainly brings up questions about resource selection," NW Energy Coalition senior policy associate Diego Rivas wrote in an email to Montana Free Press. "The NW Energy Coalition will be digging through the filing to determine if a 175 MW gas-fired power plant is the right option to meet customers' needs. Serious questions remain regarding the risk of gas, including price spikes of the volatile commodity, the ability to transport gas to the plant during critical peak times due to lack of pipeline transmission availability, and potential carbon regulation. While NorthWestern may have some capacity needs, the utility has not been aggressive at addressing demand through energy efficiency and conservation, or looking to demand response, all of which address capacity issues at a fraction of the cost."
The Public Service Commission has 270 days to evaluate the application. That process includes opportunities for public comment.
Abu Dhabi National Oil Company (ADNOC) Announced That it Will Advance a World-Scale "Blue" Ammonia Production Facility i Ruwais, Abu Dhabi, in the United Arab Emirates (UAE)
ADNOC is an early pioneer in the emerging hydrogen market, driving the UAE's leadership in creating local and international hydrogen value chains, while contributing to economic growth and diversification in the UAE. The facility, which has moved to the design phase, will be developed at the new TA'ZIZ industrial ecosystem and chemicals hub in Ruwais.
Blue ammonia is made from nitrogen and "blue" hydrogen derived from natural gas feedstocks, with the carbon dioxide by-product from hydrogen production captured and stored. Ammonia can be used as a low-carbon fuel across a wide range of industrial applications, including transportation, power generation and industries including steel, cement, and fertilizer production. The facility's capacity will be 1,000,000 tons per year.
In recent months, ADNOC has signed a number of agreements to explore hydrogen supply opportunities with customers in key demand centers including the Ministry of Economy, Trade and Industry of Japan and Korea's GS Energy. This builds on the mandate given to ADNOC from the Supreme Petroleum Council in November 2020, to explore opportunities in hydrogen and hydrogen carrier fuels such as blue ammonia, with the ambition to position the UAE as a hydrogen leader. ADNOC is already a major producer of hydrogen and ammonia, with over 300,000 tons of hydrogen produced per annum at the Ruwais Industrial Complex.
His Excellency Dr. Sultan Ahmed Al Jaber, UAE Minister of Industry and Advanced Technology and ADNOC Managing Director and Group CEO, said: "This is a significant milestone in the development of our blue hydrogen and ammonia business, building on the UAE's strong position as a producer of competitive, low carbon natural gas and our leadership role in carbon capture and underground storage. As we collectively navigate the global energy transition, we believe hydrogen, and its carrier fuels, such as ammonia, offer promise and potential as zero carbon energy sources.
"The development also signals that the TA'ZIZ industrial ecosystem is moving ahead at speed in Ruwais. With TA'ZIZ as a key catalyst, we are well placed to further strengthen our position as a leading destination for local and international investment, leveraging technology to further grow the UAE's advanced manufacturing and industrial base''.
The project will build on the UAE's position as a major producer and reserves holder of natural gas and leadership in Carbon Capture Utilization and Storage (CCUS). CCUS is the use of advanced technology to prevent CO2 from entering the atmosphere after it is expended as a by-product of industrial processes. ADNOC today operates, Al Reyadah, the world's first fully commercial CO2 facility for the iron and steel industry, and the first commercial-scale carbon capture, utilization, and storage facility in the Middle East. Each year, Al Reyadah captures up to 800,000 tons of CO2 from local UAE steel production.
Design contracts have been awarded for the initial Front-End Engineering and Design (Pre-FEED) work for the ammonia project and the six additional TA'ZIZ chemicals projects to Wood. In parallel, ADNOC will undertake a feasibility study on the supply of blue hydrogen to the project from its operations in Ruwais. The final investment decision for the project is expected in 2022, and start-up is targeted for 2025.
Since its launch in November 2020, TA'ZIZ has made significant progress. Development activities at the site have moved forward, with land and marine surveys already completed. Considerable interest has been received from local and international investors in opportunities across the entire ecosystem and value chain, and agreements with the first phase of investors are nearing finalization.
Mitsubishi Power Developing 40 MW Turbine Fueled With Ammonia
Mitsubishi Power, a subsidiary of Mitsubishi Heavy Industries (MHI) Group, has commenced development of a 40-megawatt (MW) class gas turbine that is fueled by 100% ammonia (NH3). The project was started in response to the increasing global focus on decarbonization. As firing of ammonia produces no carbon dioxide (CO2), carbon-free power generation is achieved. Going forward, after combustion and other testing, Mitsubishi Power is targeting commercialization in or around 2025. When achieved, it will mark the world's first commercialized gas turbine to make exclusive use of ammonia as fuel in a system of this scale, and will aid in the promotion of decarbonization of small to medium-scale power stations for industrial applications, on remote islands, etc.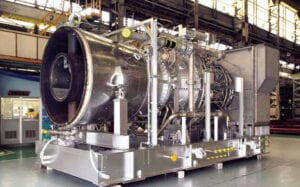 MHI is working to commercialize a gas turbine system that combines selective catalytic reduction (SCR) with a newly developed combustor that reduces NOx emissions, for installation in the Company's H-25 Series gas turbines (Source: MHI)
Mitsubishi Power is working to reduce environmental impact through the development of high-efficiency power generation technologies. Until now, the Company has pursued technological developments enabling a transition from natural gas fuel used in gas turbine combined cycle (GTCC) systems, which currently emit the lowest amount of CO2 among thermal power generation systems, to hydrogen, which emits no CO2. In tandem with pursuing active use of ammonia, the Company has also been developing a system in which the waste heat from a gas turbine reconverts ammonia into hydrogen and nitrogen for use in hydrogen gas turbines. This development is carried out as part of a program by Japan's New Energy and Industrial Technology Development Organization (NEDO) "Technology Development Project for Building a Hydrogen-based Society: JPNP14026."
Developing a method for directly combusting ammonia will further expand Mitsubishi Power's lineup of carbon-free power generation systems. A challenge needing to be addressed with direct combustion of ammonia is the production of nitrogen oxide (NOx) caused by oxidation resulting from the combustion of the nitrogen component of the fuel. Mitsubishi Power is aiming to resolve this issue through commercialization of a gas turbine system that combines selective catalytic reduction (SCR) with a newly developed combustor that reduces NOx emissions, for installation in the Company's H-25 Series gas turbines (output: 40 MW class), which has a rich operational track record spanning the globe.
Ammonia, which is a compound consisting of hydrogen and nitrogen, is a highly efficient hydrogen carrier, and it can also be directly combusted as fuel. In recent years, attention has begun to focus on ammonia from two perspectives: achieving carbon neutrality through transition to a hydrogen society, and minimizing environmental impact caused by existing energy modes. Expectations are held that early introduction of ammonia-based power generation equipment at power companies and independent power providers (IPPs) will promote ammonia's future use as a carbon-free fuel.
Going forward, Mitsubishi Power will work to advance the energy transition as a member of MHI Group. By prioritizing its resources into expanding its gas turbine power generation and other efficient, environmentally friendly generation technologies, the Company will contribute to the stable supply of power, indispensable to global economic development, and the protection of the environment through the promotion decarbonization.
Parker Coalescer Filter Solves Gas Turbine Inlet Fog Problems
Parker says that coalescers on the market today exhibit problems such as:
They require frequent replacement, resulting in extensive downtime.

They are very difficult to clean and do not return to their original efficiency and pressure loss.

Often the dust and sand deposits become so great, they increase the pressure loss across the coalescer. When that happens, it triggers a pressure release mechanism, and the coalescer pops up. This allows air to pass through without being coalesced—removing the protection against fine droplets.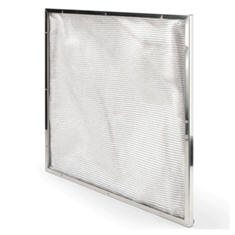 Whether the trouble stems from dust, fog or sand, power plants operating in harsh environments need an effective solution with coalescers to protect both the life of the high-efficiency filters and the performance of the gas turbine. The clearcurrent TS1000 coalescer panel filter from Parker, for example, uses a new technology to provide fine mist/fog removal effectiveness combined with significantly low dust removal efficiency.
Unlike traditional coalescers, the TS1000 coalescer panel uses 100 percent synthetic high-performance woven mesh that catches small liquid droplets, combines them with larger ones, then drops them out of the airstream while allowing bypass of sand and dust particles.

"The clearcurrent TS1000 has excellent fine mist/fog removal effectiveness with significantly low dust removal efficiency ... It provides superb performance during the fog season with low risk of clogging during a sand storm. In the end, it requires much less attention from the operator and helps reduce the maintenance to a minimum."
— Tim Nicholas, Powergen Market Manager, Parker Hannifin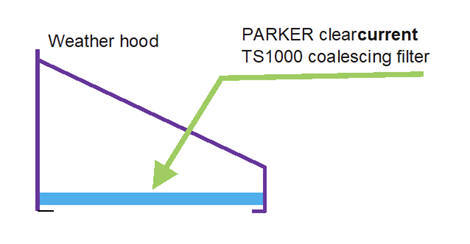 Other features and benefits include:
Coalesces 99% of water droplets down to 10 microns.

Pressure drop remains steady and not affected by dust deposits.

Can be easily cleaned in place, dramatically decreasing maintenance time.

Excellent service life performance.
Three comprehensive field tests were conducted to demonstrate the effectiveness of the TS1000 over competitive coalescers. The results showed the clearcurrent TS1000 coalescer panel filter went about three times longer than other products tested before needing to be cleaned, and when it did need cleaning, the work was quicker and extended the life of the coalescer for up to 12 months.
The clearcurrent TS1000 coalescer panel filter helps maintain gas turbine inlet air quality, whether the harsh environment produces dust, fog or sand. Not only does it improve the overall coalescing performance, but it also delivers low pressure drop, requires low maintenance and extends service life to achieve better gas turbine operation.
http://blog.parker.com/new-coalescer-technology-improves-performance-and-protects-gas-turbines
The Value of Condition Monitoring and Predictive Maintenance for Cycling GTCC Plants
Gas turbines will always be needed because more renewable energy sources, such as wind and solar, are not capable of producing energy 100% of the time. The challenge, however, is to develop flexible operations that can quickly respond to rapid changes in the grid. When more power is demanded, however, the industry most frequently turns to gas turbines to fill the void. The ongoing need to turn off the engines and start them up again presents its own set of challenges.
"These engines are designed to operate continuously at certain ranges. When they don't run continuously, they are less efficient, and emissions increase. Turning them off and on is hard on the various moving components and causes more wear and tear on such things as start systems, fuel control valves, actuators, and the like. Since cycling is a harder mode of operation, there is a greater need to monitor components with sensors that can watch trending performance, efficiency decreases, and filter life" says Evan Berry, global account manager, Parker Hannifin
Gas turbines are only as good as their individual components. Today there is a greater understanding of the value of keeping components in prime condition and monitoring their performance in order to conduct maintenance before catastrophic failures occur. Yet, it's not merely about preventing failures and scheduling maintenance during non-peak times. As a result, there has been a transformative shift from preventative maintenance to predictive maintenance. So instead of scheduling maintenance at predetermined times, regardless of remaining component life, today's savvy maintenance managers are using sophisticated sensors and analytics to accurately measure service life and predict when worn components or contaminated fluids are at a point of adversely affecting turbine performance.
In recent years there have been major strides made in developing more sophisticated, remote condition monitoring and fault diagnostic systems. Some of the more critical areas of focus for monitoring include:
<![if !supportLists]> · <![endif]> Blade integrity
<![if !supportLists]> · <![endif]> Vibration analysis
<![if !supportLists]> · <![endif]> Proper filtration
http://blog.parker.com/challenged-by-gas-turbine-inefficiency-consider-ways-to-increase-output
Parker Launches New Gas Turbine Inlet Filter
The Gas Turbine Filtration Division of Parker Hannifin Corporation has announced the launch of its clearcurrent ASSURE filters for high-performance gas turbines
.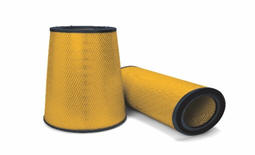 The Clearcurrent ASSURE Cartridge. (Image source: Parker Hannifin)
Leveraging decades of filtration engineering experience and direct feedback from customers, Parker designed every detail of the new clearcurrent ASSURE filters to ensure they support predictable, reliable, and optimized gas turbine performance. All components within the latest advanced gas turbines must be able to withstand the harsh environments and multiple contaminates that these systems are continuously exposed to.
Tim Nicholas, power generation market manager, Gas Turbine Filtration Division, commented, "The efficiency we see from today's advanced gas turbines, such as the H-class, is far superior to that of previous machines. The precise engineering involved to achieve these output levels requires a conditioned, consistent and reliable air flow through the inlet house, and our new line of filters helps to protect turbine health and performance."
Parker's new clearcurrent ASSURE filters feature durable hydrophobic and oleophobic properties, which remove problematic contaminants carried through to the turbine in liquid forms. Their unique design provides effective filtration across a range of models including high-performance self-cleaning units. Construction practices and materials are selected for extended service life to enable longer maintenance intervals and reduced lifetime cost while sustaining performance.
"The lower efficiency of legacy turbines means that particles adhering to the blades have less impact on performance. However, to maintain the efficiency of the advanced performance turbines entering the market today, internal components need better protection from sticky particles in the inlet airflow which can impact aerodynamic and thermal performance. Our clearcurrent ASSURE filters are designed with housing materials and filtration media that is precision-engineered to set a new benchmark in protecting these incredible machines," Nicholas added.
The measured and consistent performance of the clearcurrent ASSURE filters through all filtration stages, equates to predictable differential pressure. This is essential to avoid sudden pressure spikes that lead to unplanned turbine outage or damage to the system. They are designed to an exact fit in the inlet house to prevent them being bypassed, significantly reducing the risk of accelerated degradation of turbine components and helping to optimise maintenance over the life of the system.
http://blog.parker.com/new-coalescer-technology-improves-performance-and-protects-gas-turbines
Gas Turbine Intake Filter Lowest Total Cost of Ownership Validation ( LTCOV)
McIlvaine is now offering a program to help suppliers validate to customers that they have the lowest total cost of ownership product. It is explained at http://home.mcilvainecompany.com/index.php/47-news/1655-nr2643
To support the effort, we are providing links to the background knowledge. One analysis is on intake filters. It is part of a larger system on all gas turbine flow and treat. Here is the link to Gas Turbine And Combined Cycle Decisions (mcilvainecompany.com)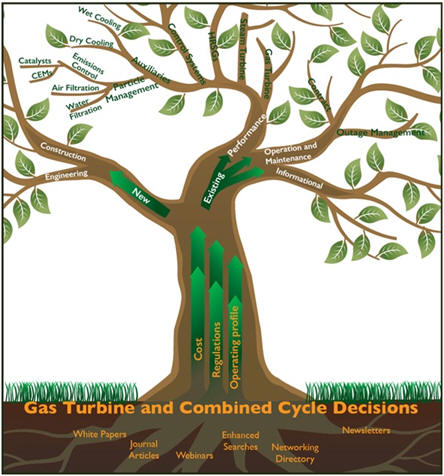 You can click on any primary or secondary locator.
Gas Turbine Intake Filter Child Web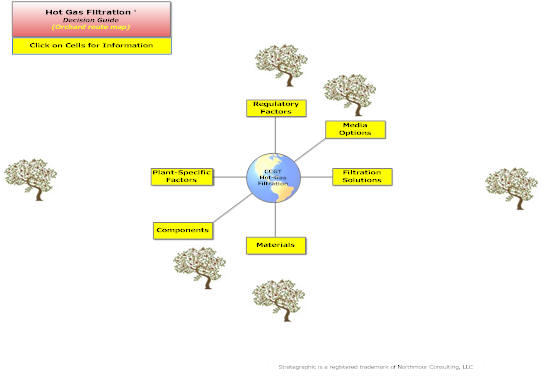 Go to Decision Guides and click under gas turbine air treatment for a website devoted just to the intake filters.
Click on filters and media on the left side for a complete route map. This provides the process variables and competitive options on which a total cost of ownership validation can be created
Click on Title to see the latest entries.
This site provides background data which a supplier can reference in his content marketing program to validate that his product has the lowest total cost of ownership based on the turbine type, environmental conditions, method of operation and other factors which impact filter life and performance.
Site Specific Factors Impacting LTCO for Intake Filter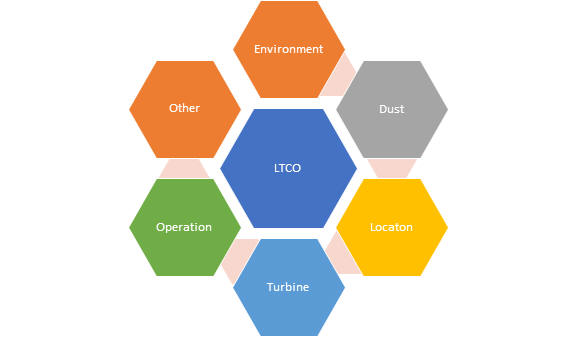 The market is a function not only of units but pricing. To the extent the supplier can persuade the customer of a larger cost of ownership differential the greater the price he can charge. So the market forecasts have to take into account the higher potential pricing and margins as well as market share.
McIlvaine can provide the forecasts needed to guide the marketing initiative and assist with white papers, webinars, and other venues needed for Lowest Total Cost of Ownership Validation.
Mitsubishi Power Aero Delivers Vital Power Project to Mexico
Mitsubishi Power Aero LLC and Mitsubishi Power de Mexico, both subsidiaries of Mitsubishi Power Americas, Inc., executed a fast-track, turnkey contract to install and commission five 30-megawatt FT8® MOBILEPAC® aero-derivative, dual-fuel gas turbines for CFEnergia SA de CV (CFEN), a subsidiary of Mexico's Federal Electricity Commission (CFE). The project, located in Mexicali, Baja California, delivers critical power in time for peak season. A sixth gas turbine will be added later to expand capacity and support next summer's requirements.
The additional power from these units offers peace of mind and energy security to the people and industries in Mexicali. Additionally, as Mexico works toward integrating intermittent renewable energy generation, these gas turbines will play an important role in supplying flexible, reliable, and mobile energy to bolster grid reliability and resilience.
Mitsubishi Power Aero President and CEO Raul Pereda noted, "We are pleased that we were able to deliver critical power for CFEnergia on such a tight timeline. The FT8® MOBILEPAC units are essential assets for Mexico. A compact footprint, minimal site prep, and no permanent foundations give CFE the flexibility to relocate them to other locations to support demand. With the addition of the MOBILEPAC units, CFE operates one of the largest FT8 fleets in the world, an expansion spurred by reliable operational performance and Mitsubishi Power Aero's strong aftermarket service and support."
Sulzer Speed Control Solution Minimizes Boiler Feedwater Pump Efficiency Loss
A gas-fired, cogeneration plant located within a refinery in Germany used a boiler feedwater pump to provide 1,000 m3/h (4,400 USGPM) of water, with a head of 1,355 m (4,450 ft). The pump was set up at a fixed speed operating at 2,980 rpm and required a 4.1 MW (5,500 hp) motor to power it. Since the original installation of the pump, the customer's production cycle had changed significantly, and the pump needed to run on partial load due to changes in power demand.
In order to meet the required variable flow of between 500 m3/h (2,200 USGPM) and 1,000 m3/h (4,400 USGPM), the power plant was using a valve at the discharge to throttle the flow. This meant that the generated head was being throttled and the energy and cost for creating it was wasted. This incurred inefficiency could be avoided. In order to improve the efficiency of the feed pump, it was necessary to modify its operating range by configuring a speed control mechanism.
Initially, the customer considered two more conventional options: a variable frequency drive and a hydro dynamic speed coupling. However, both of these alternatives had a number of disadvantages: chiefly the size, inconvenience, and cost of installation for the medium voltage variable speed drive (VSD) and the inherent efficiency losses of the coupling. These two options did have advantages though, the VSD offered good energy efficiency and the coupling was compact and relatively easy to fit, sitting between the main motor and pump.
Sulzer proposed the use of an innovative third option, one that was developed for the renewable power industry and delivered the benefits of both alternatives and none of the negatives. The variable speed electro-mechanical drive (CONTRON®) offered a compact, convenient solution that could be installed between the motor and pump and was extremely energy efficient, even more so than the large VSD.
For this particular application, the combination of a variable speed drive and a mechanical geared assembly would prove to be the ideal solution. The CONTRON® electro-mechanical drive train allows the main motor to remain mounted in line with the pump but uses a planetary gear arrangement driven by a high power servo motor and variable speed drive system as an override that takes over progressively as the required operating speed drops.
The real headline here is that the addition of the CONTRON® makes the entire power transmission system supplying motive power to the pump up to 95% efficient.
Savings:
Original arrangement:
Shaft power at low operating point with fixed speed arrangement
1,700m @ 500m3/h at 71.0% efficiency
(5,580 ft @ 2,200 USGPM at 71.0%)
Power: 2,944 kW (3,950 hp)
Electro-mechanical drive:
Shaft power at low operating point with controlled speed
1,143m @ 500m3/h at 75.8% efficiency
(3,750 ft @ 2,200 USGPM at 75.8%)
Power: 1,854 kW (2,485 hp)
The new arrangement provided a power saving of 1,090 kW which translates into a considerable saving every year that has been estimated between €218,000 ($237,000) and €436,000 ($475,000) depending on the annual operating hours. Furthermore, the initial installation costs are lower than those for a variable speed drive and the overall efficiency is higher.
As with all control technologies there are both advantages and constraints that must be considered when implementing this type of system. The overall footprint of the solution can be a major factor, especially on retrofit situations. In this case, the electro-mechanical drivetrain enables the main drive motor to be connected directly to the grid, removing the need for bulky speed control equipment.
However, this solution does have limitations and can currently only be used with equipment drawing up to 20 MW (26,800 hp) of power and with a maximum speed of 14,500 rpm. Nevertheless, these constraints still allow for a considerable amount of equipment to benefit from the latest innovation in speed control for large scale pumps.
https://empoweringpumps.com/sulzer-optimizing-gas-turbine-performance-through-planned-maintenance-and-repairs/
Market and TCO Factors

Market

Better drive

Does not impact pump market revenues

TCO Factor

Lower cost of operation

Reduces electricity costs

LTCO

Sulzer has unique offering

Increases TCO differential to competitors

Pump profits

Sulzer can charge more

Should increase pump prov fits
NUCLEAR
Matching Nuclear Pumps to the Task is Critical
At POWER-GEN+ on April 29 there was a presentation "Repair, Replace, Re-Engineer: What's the Solution for Optimizing your Pumping System?" The session featured Loyal Fischer, USA regional director of retrofits and nuclear power for KSB SupremeServ.
KSB has about 5,000 pumps and 150,000 values in use at approximately 200 nuclear power plants around the world. The KSB SupremeServ unit is opening a new facility and training center at Port Arthur, Texas this year.
Most common pumps and systems issues are due to not being ideally matched for the job, causing high-power consumption and pump wear. Oversized pumps, too small low-cost pumps, system upgrades where your pumps no longer have the correct performance, can all be contributing factors to costly issues, outages, and diminished performance.
Williams Industrial Services Group Inc., a construction and maintenance services company, announced that, with the recent transfer in ownership of the Indian Point Energy Center ("IPEC") in Buchanan, New York to Holtec International ("Holtec"), the company has been granted an expansion of its nuclear decommissioning scope with Holtec from two units to five. Williams will provide supervision and skilled craft labor from the local union halls near IPEC to support both Holtec and its subsidiary, Comprehensive Decommissioning International ("CDI"), across a wide array of activities. Williams' work is expected to begin in the third quarter of 2021.
"We are pleased to announce this increase in scope with our longstanding partners, Holtec and CDI," said Kelly Powers, President, Operations & Business Development of Williams. "We believe we were awarded this additional, important decommissioning work as a result of our unwavering commitment to meet and exceed customer expectations on a daily basis in safety, quality, and overall value. We're honored to serve Holtec and CDI over the coming decade and are dedicated to completing this project in a professional manner that leverages our expertise and helps ensure a safe and efficient decommissioning for the people of New York."
BUSINESS
Flowserve Monitors Conditions at UK Power Plant and Solves Boiler Feedwater Pump Problems Before They are Magnified
RedRaven is a complete end-to-end solution says Francesco Gasparri, Global IoT Commercial Manager, Marketing & Technology for Flowserve. "We are no longer talking only about sensors, or only about predictive analytics, or only about remote monitoring. Many companies can do this, but they are focused only on one aspect," Gasparri explains. "Flowserve supports our customers, and we can define for them the best technology to get data from the field. Then we build a secure network to transfer the data to the Flowserve cloud-based platform. Then we add our expertise of 200 years of experience."
Flowserve has created a monitoring center which includes a team of specialists to support customers in understanding the information they collect so they can take valuable and informed actions. Before its official launch, RedRaven was tested in the field for the past two years and has many examples of its success.
"At a small power plant in the United Kingdom, we deployed our newest wireless system to collect data," Gasparri explains. "My colleague went on-site and in 20 minutes, the wireless sensors transferred data on our Cloud platform. We started monitoring the pumps and on December 23rd, just before Christmas, we saw a sudden increase in the vibrations on the pump. We immediately informed the customer, and they realized that they were operating the boiler at an increased temperature to normal operating conditions, and this caused the higher-than-expected temperatures in the pump. The system was able to collect these changes in the behavior of the pump. We recommended that the customer switch off this pump and utilize the standby pump. This allowed the customer to operate the power plant without any trouble during the Christmas break. No permanent damage has occurred in this episode. Without our demonstration kit with RedRaven technology, they wouldn't have been able to detect the problem and they would have continued to operate the same pump until a major failure occurred."
Flowserve's RedRaven technology includes these features:
<![if !supportLists]> · <![endif]> Predict equipment behavior. Respond to problems quickly and minimize disruptions and downtime. Use trend analysis data to make informed decisions about plant-wide reliability improvements.
<![if !supportLists]> · <![endif]> Refocus maintenance efforts. Focus on those assets that require attention, therefore avoiding unplanned downtime and optimizing maintenance efforts so you spend less time evaluating healthy equipment.
<![if !supportLists]> · <![endif]> Enhance equipment efficiency. By knowing where all your assets are on their respective pump operating curve, you can optimize for maximum efficiency.
<![if !supportLists]> · <![endif]> Reduce costs. Reduce total cost of ownership by easily recognizing when to schedule equipment maintenance and reducing spare part inventories.
<![if !supportLists]> · <![endif]> Improve safety. By alerting technicians to a problem and what the failure mode might be, the RedRaven platform helps them respond to performance issues quickly, limiting the time they spend in hazardous environments.
RedRaven sensors are certified to be installed in any area of a refinery or chemical plant—even in areas that are classified as potentially highly explosive. A signal can be sent with a wireless, fully encrypted transmission at more than a one-mile distance in a plant. With exceptional cybersecurity protocols, data can be communicated to a user's home with trends and alerts built-in.
With 30-minute data intervals, batteries of the remote devices can last for four years. However, if a problem exists, data can be transmitted every five minutes, depending on the severity of the issue.
The predictive analytics are based on engineered algorithms to model the behavior of the pump. As soon as the system is installed, it will start to analyze the predictive data.
https://empoweringpumps.com/flowserves-redraven-collects-wisdom-knowledge-clarity/
Market and TCO Factors

Market

Solutions

Expands pump market revenues

Market

Pump life

Lengthens and reduces market

Market

Pump repairs

Less repair reducing market

Market

Net

Slight increase in pump supplier revenues

TCO Factor

More reliable generation

Provides value to electricity customers

TCO Factor

Lower cost of operation

Reduces electricity costs

LTCO

Sulzer has unique offering

Increases TCO differential to competitors

Pump profits

Sulzer can charge more

Should increase pump profits
Donaldson Sales to the Stationary Power Industry Are Around $130 Million/Yr
Donaldson reported third-quarter revenue and earnings above expectations. Sales increased 22% year-over-year, to $765 million, well ahead of the consensus estimate of $708 million. Excluding the 4% favorable impact from foreign exchange, revenue increased 17% compared to the prior-year quarter. Engine products revenue increased 26% year over-year, driven by continued strength in off-road and aftermarket, coupled with a strong recovery in on-road business. Industrial products revenue increased 12% year-over-year and 8% sequentially from the second quarter, driven by growth in industrial filtration and special applications, partly offset by a decline in gas turbines business.
On a geographic basis, revenue growth was led by strength in Latin America, particularly with increased demand for on-road and off-road products. Adjusted EPS of $0.66 were ahead of the consensus estimate of $0.58. Guidance. Management raised revenue and earnings guidance for full-year fiscal 2021. Revenue is now expected to increase 9%-11% year-over-year, up from prior guidance of 5%-8%. The revenue guidance, which includes a foreign-currency tailwind of approximately 3%, translates to a range of $2.81 billion to $2.86 billion, above the consensus estimate (before the release) of $2.75 billion. Engine sales are now projected to increase 12%-14% (previously 8%-12%) for the full year, and industrial sales are expected to be up 3%-5% (previously down 2% to up 2%). Considering the revised revenue guidance for fiscal 2021, fourth-quarter revenue is now expected to be around $759 million at the midpoint, implying growth of 23% year-over year. The consensus estimate heading into the release incorporated fourth-quarter revenue of $723 million. For the balance of the year, in the engine segment, growth in the off-road business is expected to be driven by increased demand for construction and agriculture equipment, coupled with heightened mining activity. On-road sales growth should be led by improvement in global heavy-duty truck production rates and improved global equipment utilization is expected to drive growth in the aftermarket business.
Management expects a decline in the aerospace and defense business due to softer demand in the commercial aerospace market. For the industrial segment, increased demand for industrial dust collection products is expected to drive growth in Donaldson's industrial filtration business. Donaldson also expects slight improvement in the gas turbines business, but softer market demand for disk drive products is anticipated to weigh on the special applications business
Sales in 2020 included $100 million for gas turbines. The company sells PTFE media for power plant dust collectors and sells the smaller collectors for coal dust, but this was likely well less than $30 million.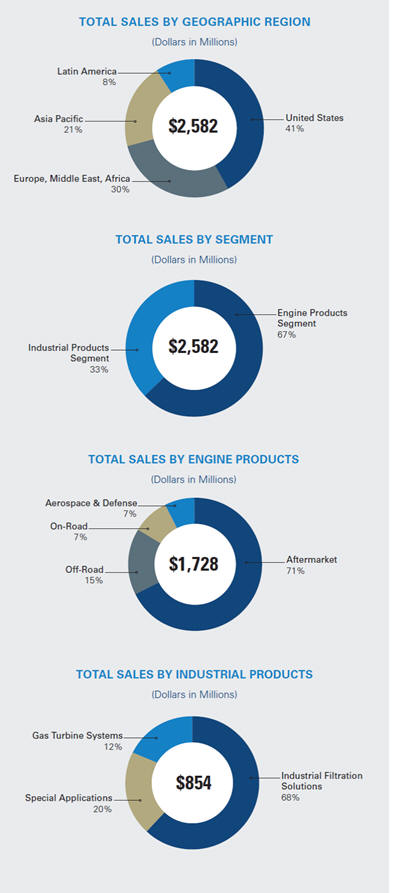 DSUA is participating in the 2021 EnviroSummit, which will be in Charlotte, NC from September 14-17 and DSUA will have speaking slots allotted in for this venue. More details to come very soon in an email blast! This will be a chance for folks from DSUA to get together in person in 2021!
First off, thank you to everyone who has presented, (Matthew Wilson and James Manni II of TVA as well as Guisu Liu of Reaction Analytic Solutions and Sean Dooley of Nol-Tec Systems, Inc.), participated, attended, and even watched the recordings! Our May webinar has some excellent content as we learned about how TVA is using drones to help make internal inspections faster and safer and then we learned about how the use of CFD modeling has been used to optimize DSI performance and reduce the operating costs. We wanted to share some quick analytics from the May webinar:
If you'd like to watch any of the 2020 or 2021 DSUA webinars you can find the recordings here at the following link. If you have any questions for the presenters after watching the recordings, please send them to DSUA or reach out to us for presenter contact information and we will get you in touch. Virtual Conference – Dry Scrubber Users Association
Don't forget to check out our Platinum sponsor "podcasts" for additional information:
Whether you are an end user or equipment designer or a technical expert a have something interesting to share with the industry regarding dry scrubbing technologies (circulating dry scrubbers, spray dryer absorbers, dry sorbent injection) and are interested in presenting on a webinar please submit an abstract to DSUA immediately for consideration (Contact Us – Dry Scrubber Users Association). Please note that any end users that present/co-present will receive a one (1) year DSUA membership which includes access to DSUA archives.
Speaking of DSUA archives, you can get access to PDF copies of the PowerPoint presentations from the 2020 and 2021 webinars but also all the DSUA presentations from our annual conference dating back to 2008. This represents over a decade of knowledge and information contained in > 300 presentations. If you'd like to purchase a DSUA membership the cost is $350 for one (1) calendar year. You can purchase a DSUA membership through our Shopify page (Dry Scrubber Users Association – Dry Scrubbers Users Association (myshopify.com)) or if you'd like to send a check we can provide you all the necessary information to utilize that payment method. If you would like more information about the archives in order to make a decision just let us know!
I am very proud that we were able to maintain a good operating margin during the year despite the large decline in volume. Nederman's organization demonstrated an excellent ability to rapidly adjust and adapt its business to a new and unpredictable reality, where at times, it has been impossible to gain physical access to our customers' plants, even to undertake service work.
After a strong start during the first months of 2020, demand declined dramatically. Nederman reacted rapidly to the new situation that emerged in the wake of the COVID-19 pandemic. In the spring, we implemented significant cost cutting, which entailed that, after successive improvements, we achieved an adjusted operating margin of 10.0 percent (10.4) for the final quarter of the year and 8.0 percent (8.1) for the full year. In the long term, we have higher ambitions for our profitability, but the outcome for 2020 must be viewed in light of a significant decline in sales compared with our original ambitions for the year and negative currency effects. During 2020, we also worked consistently to strengthen our cash flow, which led to continued improvements, a fact that became particularly apparent in the fourth quarter of the year. As we enter 2021, all improvement activities have been completed, meaning that the cost effectiveness in the Group is higher than ever before.
The restrictions and lockdowns that were in force for long periods in 2020 impacted the different areas of our operations to varying degrees. The division most affected by the COVID-19 restrictions was Nederman Process Technology. Its operations are characterized by large systems, which represent the type of investments that were postponed to a significant extent. Despite this, the division remained profitable in 2020 and we are now seeing certain signs of improvement in some specific market segments.
Nederman Extraction & Filtration Technology has a base of product sales and is not as dependent on sales of systems as Nederman Process Technology. The fourth quarter of the year was somewhat stronger than anticipated, despite negative currency effects.
Nederman Duct & Filter Technology also had a positive end to the year. During 2020, the division strengthened its operations through efficiency enhancements in production, leading to stronger margins and cash flow. Disruptions to raw materials supplies were very limited in 2020. However, the steel price has now begun to rise since the beginning of the year.
In 2020, Nederman Monitoring & Control continued its intensive development work and its integration with other divisions became increasingly stronger, demonstrated, for example, by the sale of 50 Insight systems during the year. Some projects in Asia and the US were delayed due to lockdowns, but the general trend in 2020 was positive, with steadily growing interest in the division's digital solutions.
Nederman is taking a cautious approach into 2021. In principle, we anticipate that the entire first six months will be dominated by continued lockdowns and restrictions. If the vaccination programmes that are now being initiated throughout the world have the expected effect on the global spread of infection, we anticipate a cautious recovery in the second half of 2021. However, our assessment is that it will take time before we return to pre-pandemic levels. Nederman will monitor developments carefully and will be very thorough in our assessments, so that we can accelerate our operations at the right time.
The successful work that we conducted during 2020 to protect our profitability meant that, despite everything, we are in a strong position, with good opportunities to further advance our positions, not least by launching new products and continuing the development of our digital offering. The problems with poor air quality in the world remain extensive, leading to a large number of people dying prematurely every year. The underlying need for Nederman's products is therefore very large and we will continue our work to develop new and improved solutions, and work to increase knowledge of this situation, which, over time, is much deadlier than the COVID-19 pandemic."
In 2021, annual global energy investment is set to rise to USD 1.9 trillion, rebounding nearly 10% from 2020 and bringing the total volume of investment back towards pre-crisis levels. However, the composition has shifted towards power and end-use sectors – and away from traditional fuel production. These are conclusions in a new IEA report.
Prospects for investment have improved markedly along with economic growth, although there are significant country-by-country variations. Global energy demand is set to increase by 4.6% in 2021, more than offsetting the 4% contraction in 2020, according to the latest IEA estimates. While many energy companies remain in a fragile financial state, there are signs developers are using the window provided by accommodative monetary policy and government backing to plan infrastructure developments and investments in new projects.
The anticipated upswing in investments in 2021 is a mixture of a cyclical response to recovery and a structural shift in capital flows towards cleaner technologies. But despite an urgent need to shift to a more sustainable energy pathway, global carbon dioxide (CO2) emissions are again on the rise, following the largest-ever annual decline in 2020.
After staying flat in 2020, global power sector investment is set to increase by around 5% in 2021 to more than USD 820 billion. Renewables dominate investment in new power generation and are expected to account for 70% of 2021's total of USD 530 billion spent on all new generation capacity. Investment in grids and storage makes up the remainder. Thanks to rapid technology improvements and costs reductions, a dollar spent on wind and solar photovoltaic (PV) deployment today results in four times more electricity than a dollar spent on the same technologies ten years ago.
Renewable investment has thrived in markets with well-established supply chains where lower costs are accompanied by regulatory frameworks that provide cash flow visibility — and where lenders and financiers that understand these sectors as well are seeking sustainable projects to support. Demand from the corporate sector for clean electricity to meet sustainability targets has also played a role.
Much of the spending resilience in 2020 was concentrated in a handful of markets, most notably the People's Republic of China, which saw a remarkable year for wind power investment, as well as the United States and Europe. For the sixth consecutive year, capital spending in the power sector in 2020 was higher than for oil and gas supply.
Electrification was also a major driver of investment spending by final consumers. Electric vehicle sales continue to surge along with a proliferation of new model offerings by automakers, supported by fuel economy targets and zero-emissions-vehicle mandates.
In economies where governments have more fiscal space and are able to borrow at low rates, recovery strategies offer a major opportunity to boost investment in infrastructure, efficiency, and clean energy technologies. In the case of infrastructure, after declining for the fourth consecutive year in 2020, spending on electricity grids is expected to rise in 2021, led by China and Europe. Proposed infrastructure spending in the United States, if approved, would add to this momentum.
Spending on energy efficiency improvements is set to increase in 2021 by nearly 10% in response to renewed economic growth and initial effects of recovery programs. However, against a backdrop of relatively low fuel prices, growth is heavily concentrated in markets and sectors with clear government policies, such as the buildings sector in Europe. Policies and stimulus spending are spurring projects in new areas such as low-carbon hydrogen and carbon capture utilization and storage (CCUS).
Yet, despite these encouraging signs, stimulus spending on clean energy technologies is falling well short of what is needed to ensure a sustainable recovery from the Covid-19 crisis. Many developing countries lack the means to pursue expansive recovery strategies, and early signs of inflation in some economies has led to questions about how long the current environment of low interest rates will last.
Over the last year, there has been a proliferation of commitments by governments, companies, and financial institutions to achieve net zero emissions by 2050 or soon thereafter. The financial community in many advanced economies has rallied around sustainable finance, launching funds and initiatives to channel the growing appetite from capital markets and to comply with new disclosure rules. Sustainable debt issuance has risen rapidly, reaching a record USD 600 billion in 2020, and the mainstreaming of green bonds is increasingly accompanied by new types of securities and performance-based instruments to support more complex transitions.
Clean energy companies have performed well on financial markets, with renewable power companies outperforming both listed fossil fuel companies and public equity market indices in recent years, and with lower volatility. Valuations remain high after a particularly strong run-up in prices in the second half of 2020, even though there was some pullback in early 2021.
Even if spending on clean energy is set to rise in 2021 by around 7%, financial flows have grown more rapidly than actual capital expenditures. There is a shortage of high-quality clean energy projects. This is compounded by inadequate channels to guide available funds in the right direction and a lack of intermediaries capable of matching surplus capital with the sustainability needs of companies and consumers.
The USD 750 billion that is expected to be spent on clean energy technologies and efficiency worldwide in 2021 remains far below what is required in climate-driven scenarios. Clean energy investment would need to double in the 2020s to maintain temperatures well below a 2°C rise and more than triple in order to keep the door open for a 1.5°C stabilization. Moving to a climate-aligned energy pathway hinges on a broad range of government actions, including attention to the financial architecture that can accelerate direct investments in market-ready solutions and promote innovation in early-stage technologies. As emphasized in the new IEA Roadmap to Net Zero by 2050, policies need to drive a historic surge in clean energy investment this decade.
The rising share of renewables in new power generation investment has been accompanied by a sharp drop in approvals for new coal-fired power plants, which are some 80% below where they were five years ago. However, there was a slight increase in go-aheads for new coal-fired projects in 2020. This was largely due to China, where the government lowered restrictions on building new plants, giving a green light for construction in more provinces. Cambodia, Indonesia, and Pakistan were other countries where coal-fired final investment decisions (FIDs) picked up in 2020. Those three countries together approved almost 5 gigawatts (GW) of new coal capacity in total. In India, the amount approved dropped below 1 GW, its lowest level in a decade.
China's coal-fired FIDs in 2020 were about 25% their 2010 level, India's less than 5%. FIDs for gas-fired power plants edged down globally in 2020 but were still more than double those of coal (50 GW versus 20 GW). A large reduction in FIDs for new gas-fired capacity in the United States more than offset growth in parts of Asia (outside China and India.
The Industrial revenues and EBITA in the first quarter were improved over the previous year.
Other acquisitions are shown below.
This Utility E-Alert is part of the Utility Tracking System. The system allows you to instantly retrieve project details, profiles of each coal-fired power plant worldwide, the right contacts at the OEM and A/E firms and summaries of all the scheduled FGD and SCR projects. You need a user name and password to access this system. If you have forgotten your user name or password or are not sure whether you are eligible to access this system, please send email to editor@mcilvainecompany.com. *** The Utility E-Alert is for the exclusive use of the registered subscriber to whom it is electronically delivered. Unauthorized distribution is prohibited. ***