UTILITY E-ALERT
#1510– March 12, 2021
Table of Contents
COAL – U.S.
Dustbuster™ SCR Catalyst Has Proven Performance in Over 11,000 MW of Coal-Fired Power Units Since 2016
Comanche 3, Xcel Energy's State-Of-The-Art Coal-Fired Power Plant, Has Been Plagued By Valve And Other Problems
Charah Solutions Has Pond Closure Contract From S. E. Utility
New Plans Among Plant Owners Moves Four Corners Power Plant to Seasonal Operations
U.S. Judge Clears Entergy Plan to Shutter Coal Plants in Redfield, Newark
Lawmakers Try New Ways to Block Coal Plant Closures
COAL – WORLD
Mitsubishi supporting kVukng Aug 2 Coal Plant
Hungary Confirms Coal Exit by 2025
Alberta First Nations Groups Call For Federal Review of Proposed Mine
Australian State Upgrades Pollution Standards as Oldest Plant Set to Close
Japanese Utilities Accelerate Coal Exit Plans
Chinese Utility to Shut 3000 MW of Coal Units as Renewables Focus Grows
GEOTHERMAL
Geothermal Project Moves Forth With New Drilling Partner
GAS TURBINE
MRC is Leading Supplier of Valves, Pipe, Fittings, and Automation to the Energy Industry
C3, and Baker Hughes Collaborate on AI Project for Petronas Gas Turbines
Fluence Makes Water From the Red Sea Ultrapure for Egyptian Power Plant
Fluence Supplies Containerized UPW Systems for Israel Electric GTTC Plants
Brazos Electric Operating ZLD Systems Supplied by Aquatech
Schneider Electric, Black & Veatch Microgrid Demonstrates Resilience Readiness at Marine Corps Air Station Miramar
VELO3D Selected for its 3D-Printed Aftermarket Part Solutions for Gas Turbines in Aviation and Energy
Canada's Newest Hydro Project Starts Generating Clean Energy to Power Thousands of Homes
XENDEE, Idaho National Laboratory and ACEP Partner to Develop Renewable Marine Hydrokinetic Framework to Power Remote Alaskan Communities
NUCLEAR
Nalco Ecolab Offers Consulting and Engineering Solutions for Nuclear Power Plant Water Treatment
BUSINESS
Crane Projects 2021 Sales of Over $3 Billion
Babcock & Wilcox 2020 Revenues Down 34%
Hillenbrand Completes Sale of Abel Pumps to IDEX Corporation
From Sales Leads to Leadership
IEA Predicts Solar Will Overtake Coal in Indian Power Generation
____________________________________________________
COAL – U.S.
Dustbuster™ SCR Catalyst Has Proven Performance in Over 11,000 MW of Coal-Fired Power Units Since 2016
In making the announcement last year, Mike Mattes, President & CEO of Cormetech said, "Demand continues to be strong as utilities worldwide recognize the benefits of DustBuster™ and are looking to improve their coal-fired generation SCR performance and meet new environmental emission standards in an economical way. DustBuster™ is our most innovative Coal SCR catalyst technology to date and solves many of the issues associated with plate style SCR catalyst. Specifically, it has superior pluggage resistance, can be regenerated more effectively to new catalyst performance, will not corrode, or delaminate, is 100% recyclable and made in the USA. Additionally, its SO2 conversion percentage does not increase over time due to iron in the metal mesh being exposed to flue gas."
DustBuster™ utilizes 100% catalyst material and is often used in conjunction with Honeycomb catalyst on a layer to maximize life and minimize pluggage in problem areas of the SCR. A key feature associated with all of Cormetech's SCR catalyst, including DustBuster™, is its ability to be efficiently re-used through Cormetech's proprietary cleaning technology and then regenerated or recycled to extend SCR catalyst life. As a result, the need to landfill the spent honeycomb type catalyst can be completely eliminated, significantly reducing a utility's overall compliance costs, and eliminating an environmental legacy.
Cormetech's DustBuster™ SCR catalyst consists of optimized channel geometries, up to 11mm hydraulic pitch, that facilitate the flow of ash-laden flue gas through catalytic surfaces resulting in extremely low pluggage in an innovative honeycomb SCR catalyst platform which delivers higher DeNOx potential and very low SO2 conversion percentage. DustBuster's uniform single continuous extruded element and extra-large hydraulic diameter rectangular openings with larger aspect ratios prevent dust build-up and catalyst pluggage inside the reactor.
Comanche 3, Xcel Energy's State-Of-The-Art Coal-Fired Power Plant, Has Been Plagued By Valve And Other Problems
Comanche 3, Xcel Energy's state-of-the-art coal-fired power plant, has been plagued by operational, equipment and financial problems leading to more than 700 days of unplanned shutdowns since the plant went online in 2010, according to a report by the Colorado Public Utilities Commission.
The report by the PUC staff found that the cost of electricity from the plant — $66.25 for each megawatt-hour (MWh) — was 45% more than forecast and the annual operating costs were 44% higher than projected at $34.8 million a year.
The PUC undertook the assessment after two mechanical failures led to the unit being closed for all of 2020 and parts of 2021 – a total of 373 days.
"What we are doing is a bit of public and private review of the utility's performance," former PUC Chairman Jeffrey Ackermann said in approving the study in October.
"We are closely reviewing the Colorado Public Utilities Commission's report on Comanche Unit 3 in Pueblo. Meanwhile, we are committed to the continued safe and reliable operation of the plant through its proposed early retirement in 2040," Xcel said in a statement.
The utility — Colorado's largest electricity provider with 1.5 million customers — said it continues to look for new ways to learn and improve the way it runs its generation fleet.
The first incident started on January 13, 2020 when a loud noise and vibrations began to come from a low-pressure turbine. The plant was down until June 2 for repairs, costing $4.2 million, and inspections.
When the unit was started up again there was a failure in a six-way valve that led to a loss of lubricating oil used to keep elements of the turbine from overheating. It is considered a "system critical to the operation and well-being of the turbine," the report said.
The report said that the design of the valve, maintenance and inadequate communication between the control room and operations staff all played a role in the failure.
"The company acknowledged that the six-way transfer valve was never dismantled and inspected since the plant went commercial in 2010," the report said, nor can it get a replacement valve since it is obsolete.
"The company knows it cannot get replacement parts," the report said. "The company has no policy with regard to the use of obsolete equipment in the power plant."
The cost of the June incident was $20.4 million, and Xcel had to buy $14.4 million in replacement power, though subtracting the amount it would have cost to run Comanche 3 it brought the cost of the power purchases down to $9.5 million.
"During September and December of 2020, having Comanche 3 offline actually saved customers money," the PUC report said, raising the prospect of using the unit for "month- or season-specific operations."
Xcel said in the statement that after 2030 it is proposing to run Comanche 3 at a significantly reduced capacity as a backup to renewable energy generation that is not enough to meet demand and noted that the plant performed well during the recent arctic cold snap.
The 2020 failures at the $1.3 billion plant, one of the last coal-fired power plants built in the West, were only the latest and most dramatic in a long litany of problems since the unit went into service May 14, 2010 – about six months behind schedule.
Comanche 3 boasts advanced supercritical pulverized coal technology and top-of-the line pollution controls.
Nevertheless, the PUC report outlines several dozen unplanned outages over the life of the plant adding up to more than 335 days of unplanned shutdowns between 2012 and 2019.
In part because of the generating problems, the cost of Comanche 3 electricity has been relatively expensive. It costs Comanche 3 $66.25 to generate each MWh. The average cost of wind projects bid in Xcel's 2017 solicitation was $19.30 a MWh.
"Even on a good day, Comanche 3 is more expensive than renewable energy," Anna McDevitt, senior campaign representative for the Sierra Club's Beyond Coal campaign, said in a statement. "I hope this is the last time that Xcel Energy wastes millions of customer dollars to fix outdated coal-energy technology."
Xcel said that it will close Comanche 3 in 2040 – about 30 years earlier than initially planned – as part of its Clean Energy Plan, which is aimed at producing zero-carbon electricity by 2050.
Because of its early retirement, Xcel will likely seek to have customers pay off the unamortized portion of the plant
.
Xcel's investment in the plant, which is shared with Intermountain Rural Electric Association and Holy Cross Energy, was $885 million in 2010. This amount is paid off over time through rates paid by customers. The report said that assuming historic trends, there will still be $460 million left in base rates in 2030, and $320 million in 2040 to be recovered.
Charah Solutions Has Pond Closure Contract From S. E. Utility
Charah® Solutions, Inc., a leading provider of mission-critical environmental services and byproduct sales to the power generation industry, today it has been awarded two long-term ash pond closure contracts, both closure by removal, by a Southeastern utility.
As part of this contract, Charah Solutions will complete dewatering, ash excavation and ash relocation into existing and newly constructed lined landfill cells, as well as subsequent site closure work at two different sites.
The first project's scope includes the clean closure excavation of approximately 16.5 million cubic yards of ash from two ponds, construction of three new onsite coal combustion residuals (CCR) lined landfills (122 acres in total), landfill operation and maintenance (O&M) of production ash through station retirement, and subsequent closure of the three new CCR lined landfills. This project is scheduled to begin March 2021 and take approximately 16 years to complete.
The second project's scope includes clean closure excavation of approximately 5.5 million cubic yards of ponded ash, construction of a new 43-acre onsite CCR lined landfill, dam decommissioning, landfill O&M of production ash, and subsequent closure of one existing CCR lined landfill and the new 43-acre landfill. This project is scheduled to begin March 2021 and take approximately 8 years to complete. At both sites, Landfill O&M services will include operations of silos, CCR material loading and hauling, CCR material placement in the landfill and overall landfill management operations such as erosion and sediment control, active landfill maintenance, landfill cover placement and stabilization, record keeping and dust control.
New Plans Among Plant Owners Moves Four Corners Power Plant to Seasonal Operations
PNM, the wholly-owned New Mexico utility subsidiary of PNM Resources has enhanced its plan to exit the coal-fired Four Corners Power Plant with additional plans for seasonal operations at the plant beginning in the fall of 2023.
"The combination of these plans with our planned exit from Four Corners demonstrates the comprehensive approach within our ESG strategy to do what's right for customers, employees, communities and the environment," said Pat Vincent-Collawn, PNM Resources' chairman, president, and CEO.
"Our accelerated exit from coal and utilization of securitization financing provides customer savings and financial support to communities, including the Navajo Nation, and now the plan for seasonal operations achieves environmental benefits while preserving the community's jobs and royalty payments. I'm proud of our team who continued to collaborate with all of the parties to address the overall needs of each of the owners and achieve these additional benefits."
In November 2020, PNM announced it had reached an agreement to transfer its 13 percent plant ownership to the Navajo Transitional Energy Corporation (NTEC) at the end of 2024, unlocking the potential for PNM to realize significant savings for its customers through the replacement of this capacity with cleaner energy resources. The exit agreement also allows PNM to fully exit coal in support of its industry-leading goal of emissions-free energy by 2040, five years ahead of the carbon-free mandate included in New Mexico's Energy Transition Act.
Following the announcement, PNM continued to negotiate on the future operation of the plant with NTEC and the other plant owners to achieve the owners' individual reliability needs and sustainability goals, in consideration with a just energy transition for the Navajo Nation. The collaborative solution for seasonal operations ensures the plant will be available to serve each owners' customer needs during times of peak energy use while minimizing operations during periods of low demand. This approach results in an estimated annual 20 to 25 percent reduction in carbon emissions at the plant and retains jobs and royalty payments for the Navajo Nation.
The Four Corners Power Plant has been an important resource for reliable electricity for nearly 60 years, particularly for areas of high summer demand across the western United States. The installation of selective catalytic reduction (SCR) equipment at the plant in 2018 has reduced annual nitrogen oxide emissions by 88 percent. The plant is also a critical piece of the Navajo Nation economy.
PNM currently has a 13 percent ownership stake in the 1,540-megawatt plant. These 200 megawatts comprise less than 10 percent of PNM's total energy portfolio and reflect the last of PNM's remaining coal-fired generation capacity following the approved retirement of the coal-fired San Juan Generating Station in 2022.
PNM filed with the New Mexico Public Regulation Commission (NMPRC) in January 2021 for abandonment and securitization of its share of the Four Corners Power Plant. The Hearing Examiner in the case recently directed PNM to amend its filing with supplemental testimony by March 15, 2021. In its amended filing, PNM will include information pertaining to the new agreement for seasonal operations and its environmental benefits. In accordance with the Hearing Examiner's order, the nine-month review period for the proceeding will be reset with the amended filing.
PNM's regulatory proceeding for the abandonment and securitization of the Four Corners Power Plant is separate from the NMPRC docket for approval of PNM's merger with Avangrid. PNM Resources continues to anticipate receiving all required federal and state approvals and closing the merger in the second half of 2021.
U.S. Judge Clears Entergy Plan to Shutter Coal Plants in Redfield, Newark
A federal judge in Little Rock on Thursday cleared the way for Entergy Arkansas, the state's largest electric utility, to close coal-fired power plants in Jefferson and Independence counties under a schedule worked out in a settlement with environmental groups.
Entergy will close the 1980-era White Bluff and Independence plants, in Redfield and Newark, respectively, by 2030. The closings, as well as plans to close a natural-gas fired plant on Lake Catherine, were part of a settlement Entergy embraced to resolve a Clean Air Act lawsuit by the Sierra Club and the National Parks Conservation Association.
U.S. District Judge Kristine Baker finalized the settlement with her formal approval Thursday, and the plaintiffs said the action concluded years of litigation over air emissions between the utility and the environmentalists. It also thwarted the efforts of Arkansas Attorney General Leslie Rutledge, a candidate for governor, who intervened in the legal proceeding in December 2018.
"With today's action by the federal court, closure of the two coal plants can proceed with certainty, which will save Arkansas electric ratepayers $2 billion through the avoided investment of commonly-used pollution controls that would have been required to continue operating the plants" under Clean Air regulations, the Sierra Club said in a news release. "The original settlement resolves several claims by environmental groups alleging Entergy illegally modified the White Bluff and Independence coal plants without permits and increased emissions, in violation of the Clean Air Act."
The environmental groups added that the deal will improve air quality in national parks, wilderness areas, and wildlife refuges across Arkansas and the region. "These plants rank sixth (White Bluff) and 12th (Independence) in harmful sulfur dioxide and nitrogen oxide emissions out of the hundreds of power plants across the United States," the release said.
The settlement "turbocharges" the growth of renewable energy generation in Arkansas, with Entergy agreeing to bring 800 megawatts of affordable renewable energy to the Arkansas Public Service Commission for approval no later than 2027, a process that is already underway. Settlement documents are available online.
"The settlement finalized today shows that our agreement to close massive polluting power plants is a win, win, win for Arkansans," Sierra Club Arkansas Chapter Director Glen Hooks said in a statement. "The agreement will save utility customers up to $2 billion, reduce and eventually eliminate air pollution from two of the dirtiest coal plants in the country, and boost our economy with new renewable energy investments."
Hooks called the Independence and White Bluff generators "two of the largest unscrubbed coal plants in the nation." He urged Entergy Arkansas CEO Laura Landreaux to close the plants quicker, to spare suffering by Arkansans with asthma and breathing ailments.
Stephanie Kodish, Clean Air and climate programs director and counsel for the National Parks Conservation Association, said the judge's decision will mitigate the pollution of "public lands like the Buffalo National River and Caney Creek Wilderness" and aid the fight against climate change. "Now is the time to transition to clean energy in a just and equitable manner to combat the climate crisis and provide a safer future for people and our parks."
Kurt Castleberry, director of resource planning and market operations for Entergy Arkansas, called the final ruling "an affirmation of our plans for the future." The utility, he said, will "move forward with implementing measures to comply with the Arkansas State Implementation Plan that the U.S. Environmental Protection Agency approved in 2018." That plan was created to replace older, less-efficient generating plants with newer, more efficient generation resources, Castleberry said. "Entergy Arkansas' priority is to do that in a way that is economically beneficial to the company's stakeholders, while continuing to provide safe, clean and reliable electricity."
The investor-owned utility said the settlement deal "is consistent with Entergy Arkansas' plan to cease using coal to generate electricity at its White Bluff power plant by the end of 2028 and Independence power plant by the end of 2030." It also allows for Lake Catherine 4 natural gas generator to retire by the end of 2027.
Castleberry called Entergy Arkansas' plan "a key step in Entergy Corporation's ongoing strategy to transform the company's generation portfolio to better meet customers' needs today and in the future with cleaner, highly efficient resources of electricity." Renewable energy options under the deal may include solar, geothermal, run-of-the-river hydroelectric and wind power," he said.
Entergy operates one of the cleanest large-scale generating fleets in the country, the company said, "and we recently announced we are taking another significant step toward a lower carbon future with a commitment to achieve net-zero carbon emissions by 2050."
Attorneys George Hays of Bellevue, Washington, and Naomi Melver of Seattle represented Sierra Club in the case; Earthjustice, a San Francisco-based nonprofit, represented the NPCA.
Randy Eminger of Bella Vista, director of the pro-coal Energy Policy Network, which promotes the Wyoming coal burned in the two plants, said that "sue-and-settle" litigation shouldn't determine states' energy policy, which he said would be the effect of the judge's ruling.
He noted that Sierra Club and the NPCA first sued in 2015 over regional haze standards under the Obama administration. However, he said, a turnabout under the Trump administration led the Environmental Protection Agency to accept a relaxed plan to address regional haze proposed by the state of Arkansas.
The environmentalists sued again, holding that efficiency upgrades implemented at the Independence and White Bluff plants in 2009 triggered a "new source review" under federal environmental rules.
"Within 48 hours, Entergy had a stipulation agreement to shut down White Bluff in 2028 and Independence in 2030," Eminger said. "These are the sort of things we have a Public Service Commission to address. "It's a sad day when a federal judge is deciding the energy mix of the state of Arkansas, and I fear that the sue-and-settle trend of setting policy will continue."
Lawmakers Try New Ways to Block Coal Plant Closures
Wyoming lawmakers are considering a suite of bills to help keep aging coal-fired power plants in the state in operation, including one measure that would allow the state to possibly take over ownership of a coal plant.
House Bill 259 – Public Utilities-Regulatory Amendments would allow "the Wyoming Energy Authority, any other instrumentality of the state, a cooperative electric utility or a municipal utility" to purchase a coal-fired power plant otherwise slated for early retirement. HB 259, and several other legislative measures, would expand the state's authority to deny proposed coal unit retirements, force the sale of a coal unit to keep it running and require more stringent grid reliability analysis by utilities wishing to retire coal plants or install renewable energy generation.
HB 248 – Electricity Production Standard, would require that power served to Wyoming customers meet a minimum portfolio standard of 95%, ramping up to 100%, coming from fossil fuels, nuclear, geothermal and hydrogen power sources.
"We basically mandate the grid can't go down," rep. Dan Zwonitzer (R-Cheyenne), told fellow members of the house minerals business and economic development committee. Zwonitzer is sponsor of HB 259 and HB 258 – public utilities-reliability and transparency requirements. "so we're saying you have to have reliable power at all times. The No. 1 source of reliable, dispatchable power is Wyoming coal."
In draft legislation, intermittent power, such as solar and wind, do not meet the definition of reliable, dispatchable power.
Language in the suite of proposed coal power bills, Zwonitzer said, allows for non-fossil fuel sources of generation, but with strict assurances that other power generation sources — namely solar and wind — will not pose a threat to power reliability or costs to Wyoming ratepayers.
To enforce myriad new measures in the suite of legislation, non-compliance in some instances could result in revocation of a public utility's "certificate of convenience and necessity" — essentially, authorization to serve power to Wyoming customers. Such an action might have "unworkable," consequences for the state Wyoming Public Service Commission chairman Chris Petrie told lawmakers
.
Critics of the sweeping new mandates say the premise of keeping aging coal-fired power units online while increasing the state's reliance on fossil fuel power generation for the sake of achieving the lowest-cost most-reliable electricity is based on false assumptions. relying more, not less, on coal will only put Wyoming ratepayers at risk of higher costs and less reliable power, they say.
More than a decade of advancing policies, renewable energy technology advances and market forces beyond Wyoming's control make aging coal-fired power more of a risk to Wyoming ratepayers, said Shannon Anderson, staff attorney for the Sheridan-based Landowner Advocacy Group Powder River Basin Resource Council. She noted Wyoming's largest public utilities also operate in several other states, which means Wyoming has limited authority to impose a regulatory regime to ensure it is predominantly powered by coal well into the future.
"This kind of shotgun legislation is really too fast and too much, and it needs a lot more thought and deliberation," Anderson told Wyofile. "Legislators are coming from a place where they just really believe these coal plants are necessary for Wyoming, and if that is what you believe, it's really easy to ignore the problems with these bills."
Wyoming is already primarily served by coal-fired power generation, and it relies on other states in the western power grid to purchase Wyoming-based coal-fired power. As those states continue to rely less on coal, the state would be taking a huge risk on behalf of Wyoming ratepayers if it were to mandate coal as its primary source of power generation, Anderson said.
Rocky Mountain Power vice president of government affairs Jon Cox told lawmakers that affordable and reliable power has always been a primary driver for the public utility RMP and its parent company, PacifiCorp, prioritize reliability and affordability in plans to gradually shift from coal to more renewable power sources, he said.
"The issue of reliability is at the core of what our business is, and we should be talking about it," Cox said. "I would welcome the conversation on ways that we can improve our reliability rate today in the state of Wyoming, which is 99.98%, not 100%."
COAL – WORLD
Mitsubishi supporting kVukng Aug 2 Coal Plant
Mitsubishi Corporation is pulling out from a US$2 billion power plant project in Vietnam last week, but a smaller project backed by both Tokyo and Hanoi still looks to be going ahead.
Mitsubishi holds a 40 percent stake in the 1.2-gigawatt Vung Ang 2 coal-fired power plant in Ha Tinh province, with the rest being held by South Korean state-run utility Korea Electric Power Corporation (Kepco) and Japanese company Chugoku Electric Power, according to the Netherlands-based finance watcher NGO BankTrack. Loans totaling US$1.7 billion have been extended to the project by the state-owned Japan Bank for International Cooperation (JBIC) and state-run Export-Import Bank of Korea, alongside other private institutions.
As one of the world's fastest growing economies – even amid a global recession caused by the Covid-19 pandemic – Vietnam's electricity demand has risen by about 12 percent per year in recent years.
More than half of its energy needs are met by coal-fired power stations at present, though the country is a signatory to the Paris climate agreement and has pledged to reduce its dependence on coal to 27 percent by 2030, while raising the share of non-hydroelectric renewable sources in its energy mix.
JBIC's decision to finance Vung Ang 2 through a US$636 million loan "was made by taking into account Japanese government policy as well as the energy policies in the partner country [of Vietnam]", said spokesman for the bank, adding that JBIC had been "promoting the energy transition from coal to gas and/or renewable energy through direct dialogue with the Vietnamese government which we will continue to strengthen."
Hungary Confirms Coal Exit by 2025
Hungary's Secretary of State for European Union Affairs, Attila Steiner, has confirmed the 884 MW RWE-owned Matra lignite plant, the country's last, will be closed by 2025. The expansion of the 50-year-old plant had been mooted over the last decade but was blocked after a court ruling set aside the environmental permit for a new 500 MW unit. The government told the Powering Past Coal summit it now plans to increase solar capacity to 6,000 MW and use European Union funds to retrain workers affected by the closure of the Matra plant. Hungary had previously been planning on the Matra plant operating until 2029, at which point some of the units would have been 60 years old.
Alberta First Nations Groups Call For Federal Review of Proposed Mine
Two of Alberta's largest First Nations, the Siksika and Kainai, have called on the federal government to require an environmental review of the proposed Tent Mountain metallurgical coal project. The First Nations groups note the company is proposing to mine just below the 5,000 tonnes a day set as a threshold which would trigger a federal review. They also object to the draft terms of environmental review by the Alberta Energy Regulator which do not identify impacts on treaty rights as an issue to be assessed. The First Nations also want the cumulative impact of the project and four other nearby proposed mines to be assessed. Canada's Minister for Environment is considering the request for a federal review of the project.
Australian State Upgrades Pollution Standards as Oldest Plant Set to Close
In response to public pressure, the Victorian Environment Protection Agency (EPA) has introduced limits on mercury emissions and lowered the allowable levels of sulfur dioxide and PM2.5 fine particle pollution for the state's three brown coal-fired power plants. The EPA has also approved two of the plants being exempt from pollution standards during start-up and shutdowns for up to 88 hours per year.
The 47-year-old Yallourn power plant has been granted an exemption for up to 600 hours a year "due to the frequency of its start-ups and shutdowns because of its age." From July 2021 the new licenses require the three power station owners to rehabilitate ash dumps and provide real-time air monitoring data. However, the EPA has set no restrictions on greenhouse gas emissions despite the plants being among the dirtiest in the world. Days after the new license conditions were revealed, EnergyAustralia announced it will close the Yallourn plant by mid-2028.
Japanese Utilities Accelerate Coal Exit Plans
Sojitz, a major Japanese trading house, has announced it will accelerate its exit from thermal coal by halving its investments in projects by 2025 and eliminating them entirely by 2030. The company said it would exit from all metallurgical coal projects by 2050. Previously the company said it would cut its thermal coal exposure in half by 2030.
Another Japanese trading company, Maurbeni, has also announced it plans to accelerate its exit from coal-fired power plants. The company currently has about 2,600 MW of coal capacity and is aiming to cut that to 1,500 MW by 2025 and 1,300 MW by 2030. While the company has ruled out investing in any further coal-fired power plants, it said it will continue to invest in new gas projects.
Chinese Utility to Shut 3000 MW of Coal Units as Renewables Focus Grows
China Huadian Corporation, China's third largest power utility, aims to close 3,000 MW of coal plant capacity in the next five years. The utility, which has about 108,000 MW of coal and gas capacity, said it plans to add 75,000 MW of new renewable capacity over the 2021–2025 period to ensure greenhouse gas emissions from its portfolio of power projects peak by 2025. The company's statement to Reuters news agency did not identify which coal units would close. China's power utilities are under pressure to meet President Xi Jinping's goal of domestic greenhouse gas emissions peaking before 2030 and to be carbon-neutral by 2060.
GEOTHERMAL
Geothermal Project Moves Forth With New Drilling Partner
Alberta No. 1

, located south of Grande Prairie and set to become the first commercial-scale geothermal facility in the province, has a new drilling provider.
The No. 1 Geothermal Limited Partnership entered into an agreement with the Calgary-based

Akita Drilling

for the exploration well of the geothermal project, according to Alberta No. 1.
"We have always stewarded Alberta No. 1 as a geothermal project 'built in Alberta by Albertans,'" said Catherine Hickson, Alberta No. 1 CEO.
In 2019 Terrapin and Municipal District of Greenview council announced the intention to develop a geothermal energy facility in the Gold Creek area.
The Edmonton-based company Terrapin Geothermics developed Alberta No. 1, which is partly funded by Natural Resources Canada's emerging renewable power program.
The project is budgeted at $90 million and is projected for completion in the first quarter of 2024, according to Hickson.
Alberta No. 1 is expected to produce at least five megawatts electric (MWe) net of electricity and 300 terajoules of thermal energy per year for local industry, Hickson said.
This energy is expected to benefit the forestry, manufacturing, and agriculture industries.
Alberta No. 1 is further expected to create more than 300 direct and indirect jobs, according to Hickson.
GAS TURBINE
MRC is Leading Supplier of Valves, Pipe, Fittings, and Automation to the Energy Industry
MRC Global is the largest distributor of pipe, valves, and fittings (PVF) and other infrastructure products and services to the energy industry, based on sales. Through approximately 230 service locations worldwide, approximately 2,600 employees and with 100 years of history, MRC Global provides innovative supply chain solutions and technical product expertise to customers globally across diversified end-markets including the upstream production, midstream pipeline, gas utility and downstream and industrial. MRC Global manages a complex network of over 200,000 SKUs and over 10,000 suppliers simplifying the supply chain for approximately 12,000 customers.
ValveWatch® is an automated, online valve monitoring system for critical valves and actuators brought to you exclusively by MRC Global. Users can remotely monitor a valve or actuator's performance and correct degradation before it effects safe and reliable operation.
Benefits & Key Features
<![if !supportLists]> · <![endif]> Continuous online proof testing
<![if !supportLists]> · <![endif]> Gives each valve an IP address and the ability to communicate with external systems
<![if !supportLists]> · <![endif]> Automated data acquisition and analysis processes
<![if !supportLists]> · <![endif]> Margin analysis, making full cycle and partial stroke testing meaningful
<![if !supportLists]> · <![endif]> Achieve the lowest possible PFD and highest levels of safety
<![if !supportLists]> · <![endif]> Intrinsically Safe
<![if !supportLists]> · <![endif]> Simple product design for easy installation and maintenance
<![if !supportLists]> · <![endif]> User-friendly software interface and IOT connectivity
<![if !supportLists]> · <![endif]> Expert analysts or training available
Neles Sales Down 13% in 2020
Since the 1950s, Neles has been a forerunner in developing flow control solutions. Over the years, Neles has systematically expanded its offering to new customer segments and developed its services strategy and capabilities to become the most reliable partner for their customers. In 2020, Neles became an independent stock-listed company. After the partial demerger of Metso's Minerals business and Flow Control business, which was renamed Neles, Neles became the successor of Metso on the Helsinki Stock Exchange in July. Although Neles' business operations were already independent from the minerals business, the project to separate Neles from Metso's infrastructure and to build its own systems, processes and identity was a year-long journey directly involving dozens of people and indirectly impacting many more.
Market activity was mixed in 2020. Pulp and Paper investment projects remained active throughout 2020. Chemicals and Oil & Gas project activity was strong in the first half of the year. The activity decreased during the second half of the year but remained at a satisfactory level. Travel restrictions and lockdown measures associated with the Covid-19 pandemic led to cancelations and postponements of customers' planned site work and maintenance shutdowns. From the second quarter, this decreased both orders received and sales for Services and MRO-driven businesses. In 2020, orders received decreased by 13% (decrease in comparable currencies 9%) to EUR 590 million (EUR 681 million). The decline in orders was due to a slowdown in the Services and MRO-driven businesses. Currency exchange rate changes had a negative impact of 4% in 2020 on orders received. The order backlog as of December 31, 2020 was EUR 270 million (December 31, 2019: EUR 280 million). In 2020, sales decreased by 13% (decrease in comparable currencies 9%) to EUR 576 million (EUR 660 million). The decline in sales was due to slowdowns in Services and MRO-driven businesses, while project sales were at a high level, peaking in the fourth quarter. Currency exchange rate changes had a negative impact of 4% in 2020 on sales. The currency exchange rate impacts came mainly from the Brazilian real, US dollar, Singapore dollar, South African rand, and Chilean peso.
For over 60 years, Neles™ has been working to help future-proof business and protect assets in many sectors of the power generation market—from new emerging technologies, such as bioenergy, waste-to-energy, and geothermal plants to other power plant areas like gas and steam turbines.
Neles™ comprehensive valve offering provide for each type of gas turbine an ideal solution with butterfly valves for blow off application, blade air cooling application and for fuel gas trip valves application.
Neles butterfly valves provide high capacity with less pressure loss.
On the fuel gas control valves application, Neles® control valves provide the highest rangeability and control accuracy.
All valves are capable of very fast stroking in case of trip situation.
https://www.neles.com/investors/reports/annualreport2020/
C3, and Baker Hughes Collaborate on AI Project for Petronas Gas Turbines
C3 AI and BakerHughes announced an artificial intelligence (AI) collaboration with PETRONAS, a global energy and solutions company from Malaysia, to apply BakerHughesC3.ai (BHC3) technology across PETRONAS's strategic digital transformation programs.
As the custodian of Malaysia's national oil and gas resources, PETRONAS runs an extensive digital transformation program across energy operations to extract value from data. The adoption of AI as part of its overall program for improved oil and gas productivity, asset integrity, and safety supports PETRONAS's commitment to provide clean, efficient energy solutions by harnessing the power of technology.
PETRONAS will work with energy technology, data science, and AI experts at Baker Hughes and C3 AI to collaborate on projects focused on improved reliability of energy assets in critical operations. Utilizing Microsoft Azure, PETRONAS will deploy the BHC3 Reliability application to further improve maintenance programs for gas turbines and, in a separate project, improve the reliability of control valves by detecting anomalous conditions, preventing downtime.
"PETRONAS addresses the energy demands of today by leveraging the power of digital as an accelerator, technology as a differentiator, and data as an asset," said PETRONAS Project Delivery and Technology Senior Vice President Samsudin Miskon. "PETRONAS, I committed to accelerated digital transformation that delivers productivity, efficiency, visibility, safety, and performance. The predictive intelligence of AI is critical to meeting these needs, and this is only possible with AI that drives outcomes at pace and scale."
"This program continues the strong relationship between Baker Hughes and PETRONAS to drive productivity and efficiency for cleaner, safer energy," said Uwem Ukpong, executive vice president of regions, alliances & enterprise sales at Baker Hughes. "AI will play a critical role in digital transformation programs that bridge today's demand for energy with tomorrow's energy transition. We are thrilled to work with PETRONAS as it leads in digital transformation and deploys the full power of enterprise AI."
"PETRONAS' selection of BHC3 technology from Baker Hughes and C3 AI showcases the acceleration of digital transformation programs that deliver strategically on the promise for cleaner energy," said C3 AI President and CTO Ed Abbo. "The deep energy technology expertise of Baker Hughes, together with the AI technology C3 AI has developed over the past 10 years, facilitates leaders' adoption of AI as the transformative digital technology for the energy industry."
"For the energy industry, this is a time of significant transformation," said Andrea Della Mattea, President for Microsoft in Asia Pacific. "Benefitting from the power of the cloud and AI solutions, Baker Hughes, C3 AI, and PETRONAS are helping to increase worker safety, reduce emissions through equipment maintenance, and are taking an important step forward in the transition of the energy industry.
Fluence Makes Water From the Red Sea Ultrapure for Egyptian Power Plant
When an Egyptian power plant planned to expand its generation capacity, it needed a source of ultrapure water, and it needed it quickly. In order to use low-quality feed water from the Red Sea, Fluence designed a three-train demineralization system featuring ultrafiltration and reverse osmosis. The first train was delivered in four months, with the second and third following two months later.
Fluence Supplies Containerized UPW Systems for Israel Electric GTTC Plants
When the Israel Electric Company (IEC) decided to convert some of its inland open-cycle gas turbines to combined-cycle power generation, it needed a high-quality source of ultrapure water (UPW) to use as makeup water for its heat-recovery steam generator (HRSG) and for nitrogen oxide emission reduction. Selected through an international tender process, Fluence successfully designed, manufactured, and supplied containerized UPW systems for several remotely situated combined-cycle power stations. More than 15 production modules were provided, fitted in 40-foot shipping containers. Their compact design allows for ease of installation, operation, and maintenance, while meeting this major power customer's demanding engineering standards.
Brazos Electric Operating ZLD Systems Supplied by Aquatech
Brazos Electric is the largest generation and transmission cooperative in Texas and is responsible for generating and transporting wholesale electricity to its 16 member-owner distribution cooperatives and two municipal systems. After many years of purchasing a major portion of their electric needs directly from independent power producers and experiencing significant growth in electric demand, Brazos Electric decided to begin a major capital generation expansion program.
Their first power plant under this program would be the first unit Brazos Electric had built in the last 11 years. Brazos Electric's main concerns were with capital cost, schedule, plant reliability and job site safety during construction. Based upon Fluor 's proposal to successfully address the key issues, Brazos Electric contracted with Fluor to design, build and commission this 620-megawatt, natural gas-fired, combined cycle power plant. As a result of Fluor's outstanding performance on Unit 1, Brazos Electric felt confident when they awarded Fluor the Jack Unit 2 expansion project in 2008. The new 620 megawatt gas-fired, combined cycle expansion provides reliable electricity with low emissions to serve growing demand required by Brazos Electric's member utilities.
Fluor Enterprises contracted Aquatech for the water treatment on the first Brazos on Unit 1 and when they were awarded the Unit 2 expansion, Aquatech received the contract for additional water treatment as well.
Scope of Service
For this expansion, flow rates were increased from our Unit 1 equipment. We delivered for Unit 2 a Raw Water Make up System that included the following Make up Clarifier, 4,000 GPM (909 m³/hr.), Gravity Filter, 4,000 GPM (909 m³/hr.). And a Zero Liquid Discharge System that included the following: Zero Liquid Discharge Clarifier, 350 GPM (79 m³/hr.), Zero Liquid Discharge Gravity Filter, 350 GPM (79 m³/hr.), Weak Acid Cation, 2 x 270 GPM (2 x 61 m³/hr.), HERO™, 2 x 251 GPM (2 x 57 m³/hr.), and a Forced Circulation Crystallizer, 30 GPM (7 m³/hr.).
350 gpm ZLD clarifier
350 gpm ZLD gravity filter
270 gpm x 2 WAC
251 gpm x 2 HERO
30 gpm Forced circulation crystallizer
ZLD dewatering system
Schneider Electric, Black & Veatch Microgrid Demonstrates Resilience Readiness at Marine Corps Air Station Miramar
Schneider Electric

and

Black & Veatch

announced the completion of a microgrid system they jointly designed and constructed for the

Marine Corps Air Station

(MCAS) Miramar, in San Diego, California. The microgrid is online, fully operational and has been proven to provide 100 percent capability — even in the event of power outages — across the facility's more than 100 mission critical buildings, including its entire flight line.
MCAS Miramar conducted its first full-scale Energy Resilience Readiness Exercise to assess resilience and reliability of the microgrid system, and whether it could keep operations up and running at full operational loads. During a full-day simulated power outage, the microgrid system completely disconnected from the grid and all operations were successfully carried out throughout its critical buildings and flight line. Similarly, the microgrid performed as designed twice in the fall of 2020, as it dispatched in support of the local utility, San Diego Gas & Electric (SDG&E) when it was struggling to fulfill peak loads. During Public Safety Power Shutoffs in California, the operation of the Miramar microgrid allowed SDG&E to maintain electrical service to thousands of homes that would have otherwise been curtailed.
In addition to the buildout of a new diesel and natural gas power plant, this project also includes construction of an advanced Energy and Water Operations Center (EWOC). The microgrid is operated directly out of the air station's EWOC, where plant managers have direct visibility of the integrated microgrid control system, which utilizes Schneider Electric's SCADA software and a certified network to connect field devices into the system. The applications that form the advanced microgrid control system, such as real-time monitoring and optimization, provide economic generation and load balance while maintaining system stability through load/frequency and voltage/VAR controls.
In 2016, Black & Veatch and Schneider Electric were selected to construct a microgrid at MCAS Miramar, bringing together an industry-leading portfolio of expertise, equipment, and service to develop and operate a state-of-the-art microgrid. The system provides power to critical base loads, while cutting energy costs by using renewables and natural gas to lessen the base load, reduce energy demand and peak shave. In February 2019, Schneider Electric announced the expansion of the microgrid project at MCAS Miramar to further boost resilience. Supported by a $5 million California Energy Commission (CEC) Electric Program Investment Charge (EPIC) grant, the next phase of the project will add an energy storage system and integrate demand side management.
VELO3D Selected for its 3D-Printed Aftermarket Part Solutions for Gas Turbines in Aviation and Energy
VELO3D

has announced that

Chromalloy, a manufacturing and repair solutions provider for gas turbine engine manufacturers and operators worldwide, recently selected the VELO3D Sapphire® system as their additive manufacturing (AM) solution to significantly impact the economics of future Maintenance, Repair & Operations (MRO) projects in Chromalloy's aviation and energy markets.
Chromalloy is installing the VELO3D Sapphire® in its manufacturing and repair services environment. This industrial AM technology is increasingly being adopted by manufacturers as a solution to offset the high costs of low-volume, direct-part replacement for conventionally produced parts when demand and long-term forecasting are uncertain.
VELO3D will qualify Chromalloy's machine for 3D printing nickel-based superalloys, including Hastelloy®X, which is known for its strength and durability characteristics in high temperature environments. VELO3D is renowned for enabling geometric freedom through its patented SupportFree process. The capability to produce practically unlimited geometries eliminates the need to redesign legacy parts in order to produce them with AM. This tremendously reduces the barrier of transitioning legacy parts, produced historically by casting, welding, or brazing, to additive manufacturing.
All Sapphire machines come standard with VELO3D 's highly automated, user-friendly Flow™ pre-print software and Assure™ quality assurance and control system.
RECIPROCATING ENGINES
Wärtsilä's 200 MW Power Plant to Provide Critical Grid Balancing and Back-Up Power to the National Grid in Colombia
Wärtsilä's 200 MW flexible baseload power plant project in Córdoba Province in Colombia proceeds despite the challenges posed by the Covid-19 pandemic. The engineering, procurement, and construction (EPC) contract was placed in June 2020 by Termotesorito, a joint-venture enterprise between private utility companies Celsia and Proelectrica, and the natural gas provider Canacol. The order is valued at approximately EUR 100 million. For contractual reasons Wärtsilä announced the sale earlier with limited information in a press release in July 2020.
The El Tesorito plant will operate with eleven Wärtsilä 50SG engines fueled by natural gas from nearby gas wells. When operational, the flexibility of the fast-starting Wärtsilä solution will provide critical grid balancing capability as Colombia incorporates increasing levels of intermittent energy from renewable sources, such as solar and wind. It will also provide back-up power for the system in case of shortage.
Engineering of the power plant is completed. All engines and generators have been tested at the factory and are ready for delivery, and auxiliary equipment are being manufactured. The construction project is scheduled to commence in April 2021.
HYDROPOWER
Canada's Newest Hydro Project Starts Generating Clean Energy to Power Thousands of Homes
Renewable electricity has started being produced at Keeyask Generating Station in Manitoba, Canada, six-months ahead of the project's control schedule. A further six units will be added in the coming months. When completed, the plant will produce an average of 4,400-gigawatt-hours of electricity per year. That's enough electricity to power 400,000 homes.
"This accomplishment is the result of a massive, coordinated team effort between Manitoba Hydro, our Keeyask Cree Nation partners, contractors, trade unions, and every person that has worked on our project. We should all be proud of what we have achieved on our Keeyask Project. It has taken hard work, perseverance and overcoming multiple challenges from all involved to reach this milestone," said Manitoba Hydro.
The Keeyask mega-project has been running ahead of its control schedule by working year-round through sub-arctic winters (down to -40º C), and more recently the pandemic. The Bechtel, Barnard and EllisDon Joint Venture team have been employing innovative logistics measures and tools, including placing extreme cold weather concrete during the winter months. The electricity generated at Keeyask will not only power homes and businesses in Manitoba, but also allow Manitoba Hydro to meet its export commitments in both Canada and the United States.
"This is a significant milestone in this iconic renewable project. Producing electricity six-months ahead of schedule while navigating the challenges of COVID-19 is a tremendous accomplishment and testament to the dedication of each and every member of the Keeyask team," said Kelvin Sims, Bechtel's Infrastructure general manager, Americas.
The Keeyask Generation Project is a collaborative effort being undertaken by the Keeyask Hydropower Limited Partnership—a partnership between Manitoba Hydro and four partner First Nations: Tataskweyak Cree Nation, War Lake First Nation; York Factory First Nation and Fox Lake Cree Nation. The generating station is located on the Nelson River approximately 30 kilometers west of Gillam, in the Split Lake Resource Management Area and within the ancestral homeland of the four partner First Nations.
Keeyask is one of several renewable and clean power projects that Bechtel is supporting to help customers on their path to net-zero emissions.
XENDEE, Idaho National Laboratory and ACEP Partner to Develop Renewable Marine Hydrokinetic Framework to Power Remote Alaskan Communities
XENDEE Corporation, Idaho National Laboratory (INL), and the Alaska Center for Energy and Power (ACEP) have been granted funding to assess the viability of tidal, wave, and river/ocean current technologies for powering remote Alaskan Communities as well as generate a framework for their integration in modeling platforms. This project, launched in part with seed money from the U.S. Department of Energy's Water Power Technologies Office, is intended to tap into regional sources of energy to reduce costs and dependency on imported fossil fuels as well as to enhance local resilience and sustainability.
"Several grid-islanded Alaskan communities have the potential to harness significant hydrokinetic power," said Thomas Mosier, Energy Systems Group Lead at Idaho National Laboratory. "The implementation of Microgrids in these areas would diversify local energy profiles with the potential in many communities to keep costs flat while reducing environmental impact and the dependence on diesel."
The project team will first generate a database of grid-islanded communities that are strong candidates for this type of technology and currently have a heavy reliance on diesel burning generators for power generation. The project team will then assess the strategy and integration methods related to implementing marine hydrokinetic technologies in an islanded grid facing arctic weather conditions.
"The decision framework that will be developed for this effort will provide a systematic basis for recommending potential microgrid configurations," said Shiloh Elliott, Modeling and Simulation Scientist at Idaho National Laboratory. "Those configurations will utilize local reliable energy sources to increase community power resilience and diversify power profiles to isolated and vulnerable Alaskan communities."
Finally, the project team will be enhancing XENDEE, the Microgrid decision support platform of choice, to include capabilities for marine hydrokinetic technologies.
"The introduction of marine hydrokinetic technologies to the XENDEE software platform offers a quick and reliable way for Microgrid designers to experiment with new DER technologies and test the viability and bankability of Microgrid projects before breaking ground," said Michael Stadler CTO of XENDEE. "In fact, with the new technologies integrated, our team will be able to easily examine the use of other technologies as well, such as hydropower or wind energy to supplement the islanded communities."
NUCLEAR
Nalco Ecolab Offers Consulting and Engineering Solutions for Nuclear Power Plant Water Treatment
<![if !vml]>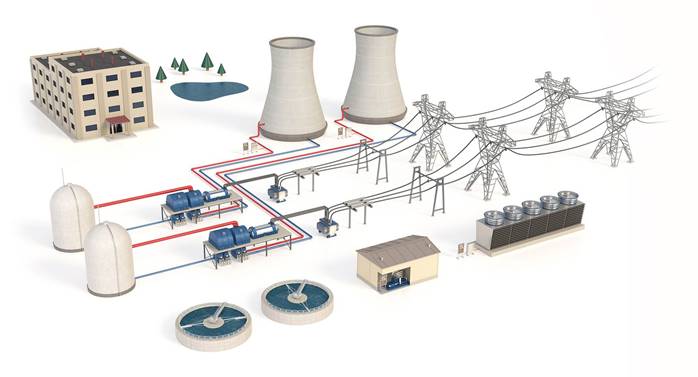 <![endif]>
CHEMStaff offers strategic consulting and engineering services for the global nuclear power industry with core expertise in Chemistry, Engineering, Environmental, and Health Physics Programs.
Products and services incorporate deep power plant knowledge and process implementation ability. With consultants located throughout the U.S., and with over 800 years of power plant experience, they collaborate with to develop industry-leading solutions to challenging issues.
BUSINESS
Crane Projects 2021 Sales of Over $3 Billion
Crane Co. CR at its annual investor day communicated that solid recovery in markets, organic growth investments, and mergers and acquisitions will be important for its prospects. It also revised key projections upward for 2021.

Talking about end markets, the company believes that its Aerospace and Electronics segment will benefit from growth in power conversion, electrification, thermal management, sensing and space markets. The Fluid Handling segment's performance will get a boost from improvements in general industrial, chemical, and pharmaceutical markets. The Payment and Merchandising Technologies will gain from a recovery in the security, productivity, and automation business.

Investments in organic growth too are priorities for the company. Important areas of investment include product development, technology, innovation, commercial excellence, and localization.

Regarding the projections for 2021, net sales are now expected to be $3,080 million, marking a rise from $3,055 million mentioned previously. On a year-over-year basis, the revised sales projection reflects growth of 5% (or 2-4% organically) as compared with the earlier expectation of an increase of 4% (or 1-3% organically).

On a segmental basis, organic sales of Fluid Handling are expected to grow 0.5% from the previous year, while the same for Payment and Merchandising Technologies is likely to advance 6%. Organic sales for Aerospace and Electronics are expected to decline 8% and that for Engineered Materials is expected to increase 20%.
Crane Fluid Handling supplies a wide range of isolation and control valves to the power industry including triple offset butterfly valves.
Babcock & Wilcox 2020 Revenues Down 34%
Consolidated revenues in 2020 were $566.3 million, down 34% compared to 2019. Revenues in all segments were adversely impacted by COVID-19, including the postponement and delay of several projects. The GAAP operating loss in 2020 was $1.7 million, inclusive of an insurance loss recovery of $26.0 million offset by restructuring and settlement costs and advisory fees of $24.7 million, compared to an operating loss of $29.4 million in 2019. The improvement in operating loss was primarily due to the insurance loss recovery, the positive impact of cost savings initiatives and a lower level of losses on the EPC loss contracts, partially offset by the divestiture of Loibl and the impacts of COVID-19 on revenue in all three segments. Adjusted EBITDA improved to $45.1 million compared to $45.0 million in 2019. Total bookings in 2020 were $645.0 million, and backlog on December 31, 2020 was $535.0 million, a 21.3% increase compared to December 31, 2019.
Babcock & Wilcox Renewable segment revenues were $156.2 million in 2020, a decrease of 24.0% compared to $205.6 million in 2019, primarily due to the advanced completion of activities on the European EPC loss contracts in the prior year as well as new anticipated projects and parts orders being deferred due to COVID-19 and the divestiture of Loibl, a materials handling business in Germany that generated revenues of approximately $14.3 million in 2019, partially offset by a higher level of activities on two operations and maintenance contracts in the U.K. which followed the turnover of the EPC loss contracts to the customers. Adjusted EBITDA improved to $25.0 million compared to $1.6 million in the prior year, primarily due to the loss recovery of $26.0 million recognized in 2020 under an October 10, 2020 settlement agreement with an insurer in connection with five of the six European EPC loss contracts, as well as lower costs related to the loss contracts. In 2020, the segment recorded $3.7 million in net losses as compared to $6.9 million of equivalent losses recorded in 2019, inclusive of warranty expense. The Adjusted EBITDA improvement was also partially offset by the divestiture of Loibl and lower volume, as described above. The segment adjusted gross profit was $58.8 million in 2020, an improvement of $28.8 million compared to $30.0 million in 2019.
Babcock & Wilcox Environmental segment revenues were $108.0 million in 2020, a decrease of 60.8% compared to $275.6 million in 2019, primarily due to the completion of large construction projects in 2019 and a lower level of activity due to the postponement of new projects by several customers as a result of COVID-19. Adjusted EBITDA declined to $3.5 million compared to $12.5 million in the prior year, primarily attributable to the impacts of lower volume, partially offset by a lower percentage of overhead being allocated to the segment. Adjusted gross profit was $23.5 million in 2020, compared to $48.4 million in the prior year. On December 31, 2020, the B&W Environmental segment had two significant loss contracts, with net losses of $1.3 million and $5.6 million in 2020 and 2019, respectively. As of December 31, 2020, the first contract was approximately 100% complete with only warranty obligations remaining and the second contract was approximately 99% complete with final completion expected in the first quarter of 2021.
Babcock & Wilcox Thermal segment revenues were $305.0 million in 2020, a decrease of 25.6% compared to $409.7 million in the prior year, primarily due to the adverse impacts of COVID-19 resulting in lower parts, construction, package boilers and international service orders, as well as the completion of large construction projects in the prior year. Adjusted EBITDA in 2020 declined to $35.4 million compared to $51.4 million in the prior year, primarily due to lower volume and a higher percentage of overhead being allocated to the segment that was previously allocated to other segments, partially offset by favorable product mix and a full period of cost savings, and restructuring initiatives benefiting 2020; adjusted EBITDA margin was 11.6% for the year compared to 12.5% in 2019. Gross profit margin in the segment was 29.9% in 2020, compared to 22.3% in the prior year; adjusted gross profit in the segment in 2020 was $91.2 million, which was flat compared to the prior year primarily due to favorable product mix and the effects of a full period of cost savings and restructuring initiatives benefiting 2020, offset by lower volume.
COVID-19 Impact - The global COVID-19 pandemic has disrupted business operations, trade, commerce, financial and credit markets, and daily life throughout the world. The company's business has been, and continues to be, adversely impacted by the measures taken and restrictions imposed in the countries in which it operates and by local governments and others to control the spread of this virus. These measures and restrictions have varied widely and have been subject to significant changes from time to time depending on the changes in the severity of the virus in these countries and localities. These restrictions, including travel and curtailment of other activity, negatively impact the company's ability to conduct business. The volatility and variability of the virus has limited the company's ability to forecast the impact of the virus on its customers and its business.
The continuing resurgence of COVID-19, including at least one new strain thereof, has resulted in the reimposition of certain restrictions and may lead to other restrictions being implemented in response to efforts to reduce the spread of the virus. These varying and changing events have caused many of the projects the company had anticipated would begin in 2020 to be delayed into 2021 and beyond. Many customers and projects require B&W's employees to travel to customer and project worksites. Certain customers and significant projects are located in areas where travel restrictions have been imposed, certain customers have closed or reduced on-site activities, and timelines for completion of certain projects have, as noted above, been extended into 2021 and beyond. Additionally, out of concern for the company's employees, even where restrictions permit employees to return to its offices and worksites, the company has incurred additional costs to protect its employees as well as advising those who are uncomfortable returning to worksites due to the pandemic that they are not required to do so for an indefinite period of time.
The resulting uncertainty concerning, among other things, the spread and economic impact of the virus has also caused significant volatility and, at times, illiquidity in global equity and credit markets. The full extent of the COVID-19 impact on the company's operational and financial performance will depend on future developments, including the ultimate duration and spread of the pandemic and related actions taken by the U.S. government, state and local government officials, and international governments to prevent disease spread, as well as the availability and effectiveness of COVID-19 vaccinations in the U.S. and abroad, all of which are uncertain, out of the company's control, and cannot be predicted.
Hillenbrand Completes Sale of Abel Pumps to IDEX Corporation
Hillenbrand, Inc. announced that it has completed the sale of Abel Pumps, L.P., and certain of its affiliates (ABEL) to IDEX Corporation. The sale closed in accordance with the terms of the Share and Interest Purchase and Transfer Agreement with IDEX that was announced on January 11, 2021, resulting in cash proceeds to Hillenbrand of approximately $103.5 million.
"The ABEL divestiture is an important step in our strategy to streamline our portfolio, increase financial flexibility, and accelerate growth," said Joe Raver, President and CEO of Hillenbrand. "The completion of the ABEL sale will help drive shareholder value and strengthen our key business platforms."
Consistent with its current capital allocation priorities, Hillenbrand intends to use proceeds from the sale to reduce leverage and reinvest in organic growth opportunities.
From Sales Leads to Leadership
Over the last decade companies have progressively moved away from a reactive sales strategy based on sales leads, advertising, and input from sales representatives. The pandemic has accelerated a trend toward a proactive strategy with sales leadership rather than sales leads.
During the last year companies have not received sales leads at exhibitions. Their sales representatives have not been able to make personal calls.
One option has been to rely more on third party sales leads. These leads are also being supplied to competitors. This lessens the value. Furthermore, in the ever changing digital environment, sales activity has accelerated to the point that by the time a sales lead can be pursued it is too late.
Instead of paying for third party sales leads, a collaboration sales strategy can be employed. This strategy is based on information sharing at the local sales level as well as on a national or global level. In the air, water and energy flow and treat markets every supplier fits one of the following categories.
| | |
| --- | --- |
| Collaborator Classification | Ramifications |
| Sister division | The ideal group for collaboration |
| Unrelated products | Good if customers are the same |
| Complementary products | Very good from several perspectives |
| Supplier | Lots of leverage but minor downsides |
| OEM customer | Problems with alienation of other OEMS |
The program can be implemented top-down or bottoms-up or a combination of both. The top down approach includes weekly sharing of project information. The bottoms up approach encourages contact at the local sales level and a policy guided by this experience.
Companies with sales representatives and distributors are already collaborating. The problem is that the coordination is being done by the rep and not by the companies.
A trial was conducted for a large company with multiple divisions. All the sales people in the Colorado area were provided with project information and asked to contact the others for further insights. The participants found considerable benefit.
The advantage of collaborating with companies supplying unrelated products is the avoidance of any conflicts of interest.
Knowledge of the processes within a customer's operation are important. Suppliers of complimentary products can strengthen the process knowledge.
Sharing with suppliers is good but only to the extent the supplier is willing to jeopardize the relationship with other OEM customers.
Sharing sales activity with OEM customers is ideal except to the extent it could harm relationships with other OEMS.
McIlvaine has implemented a program to assist collaboration in various industries. The program for power plants is already in place. A program for the pharmaceutical industry will be launched soon.
Here is an example of the weekly Utility E Alert. Project information is supplemented by specific activity of potential collaborators.
http://www.mcilvainecompany.com/utilityalert/subscriber/UtilityE-Alert/2021/UTILITY%20E-ALERT%201509/utility_ealert_1509.htm
The system also has details on tens of thousands of fossil, nuclear, biomass and geothermal, and hydro plants around the world. Coal and biomass firing is covered in the Utility Tracking System.
http://home.mcilvainecompany.com/index.php/databases/42ei-utility-tracking-system
The gas turbine and reciprocating engine projects and markets are found in
http://home.mcilvainecompany.com/index.php/markets/air/gas-turbine-and-reciprocating-engine-supplier-program
Bob McIlvaine can answer your questions at rmcilvaine@mcilvainecompany.com cell 847 226 2391.
IEA Predicts Solar Will Overtake Coal in Indian Power Generation
Prior to the global pandemic, India's energy demand was projected to increase by almost 50% between 2019 and 2030, but growth over this period is now closer to 35% in the STEPS, and 25% in the Delayed Recovery Scenario. The latter would put some of India's hard-won gains in the fight against energy poverty at risk, as lower-income households are forced to fall back on more polluting and inefficient sources of energy. It would also extend the slump in energy investment, which we estimate to have fallen by some 15% in India in 2020. Even though the pandemic and its aftermath could temporarily suppress emissions, as coal and oil bear the brunt of the reduction in demand, it does not move India any closer to its long-term sustainable development goals.
Covid-19 will leave lasting scars
An expanding economy, population, urbanization, and industrialization mean that India sees the largest increase in energy demand of any country, across all of our scenarios to 2040. India's economic growth has historically been driven mainly by the services sector rather than the more energy-intensive industrial sector, and the rate at which India has urbanized has also been slower than in other comparable countries. But even at a relatively modest assumed urbanization rate, India's sheer size means that 270 million people are still set to be added to India's urban population over the next two decades. This leads to rapid growth in the building stock and other infrastructure. The resulting surge in demand for a range of construction materials, notably steel and cement, highlights the pivot in global manufacturing towards India. In the STEPS, as India develops and modernizes, its rate of energy demand growth is three times the global average.
India's size and dynamism will keep it at the heart of the global energy system
Solar power is set for explosive growth in India, matching coal's share in the Indian power generation mix within two decades in the STEPS – or even sooner in the Sustainable Development Scenario. As things stand, solar accounts for less than 4% of India's electricity generation, and coal close to 70%. By 2040, they converge in the low 30%s in the STEPS, and this switch is even more rapid in other scenarios. This dramatic turnaround is driven by India's policy ambitions, notably the target to reach 450 GW of renewable capacity by 2030, and the extraordinary cost-competitiveness of solar, which out-competes existing coal-fired power by 2030 even when paired with battery storage. The rise of utility-scale renewable projects is underpinned by some innovative regulatory approaches that encourage pairing solar with other generation technologies, and with storage, to offer "round the clock" supply. Keeping up momentum behind investments in renewables also means tackling risks relating to delayed payments to generators, land acquisition, and regulatory and contract uncertainty. However, the projections in the STEPS do not come close to exhausting the scope for solar to meet India's energy needs, especially for other applications such as rooftop solar, solar thermal heating, and water pumps.
Coal's hold over India's power sector is loosening, with industry accounting for most of the increase in coal demand to 2040 in the STEPS.
Once the coal-fired power plants currently under construction are completed over the next few years, there is no net growth at all in India's coal fleet. Coal-fired generation was most exposed to the dip in electricity consumption in 2020. It picks up slightly in the STEPS as demand recovers since renewables do not cover all of the projected increase in electricity demand. However, coal suppliers looking for growth increasingly have to turn to India's industrial consumers rather than the power sector. The share of coal in the overall energy mix steadily declines in the STEPS, from 44% in 2019 to 34% in 2040, and more rapidly in other scenarios
https://www.iea.org/reports/india-energy-outlook-2021
ACCESSING ALL THE PROJECTS AND INFORMATION ONLINE
This Utility E-Alert is part of the Utility Tracking System. The system allows you to instantly retrieve project details, profiles of each coal-fired power plant worldwide, the right contacts at the OEM and A/E firms and summaries of all the scheduled FGD and SCR projects. You need a user name and password to access this system. If you have forgotten your user name or password or are not sure whether you are eligible to access this system, please send email to editor@mcilvainecompany.com. *** The Utility E-Alert is for the exclusive use of the registered subscriber to whom it is electronically delivered. Unauthorized distribution is prohibited. ***
© 2021 McIlvaine Company