INDUSTRIAL IoT & REMOTE O+M NEWSLETTER
June 2022
No. 511
Table of Contents
MARKETS
<![if !supportLists]> · <![endif]> AWE Knowledge Ebbs and Flows When it Should be Advancing
<![if !supportLists]> · <![endif]> Acquisition Tracking in AWE Markets
APPLICATIONS
<![if !supportLists]> · <![endif]> B&W Online Monitoring System Optimizes Cooling Tower and Heat Exchanger Operation
<![if !supportLists]> · <![endif]> B&W Provides Systems For In-Furnace Processes Measurement
<![if !supportLists]> · <![endif]> Siemens Acquires Senseye - Predictive Maintenance and Asset Intelligence for Industrial Companies
<![if !supportLists]> · <![endif]> ABB Boosts Orders 20% in 2021
<![if !supportLists]> · <![endif]> ABB Predicting Increased Profitability in the Energy Sector
<![if !supportLists]> · <![endif]> Baker Hughes Collaborates With C3 AI, Accenture, and Microsoft on Industrial Asset Management Solutions
<![if !supportLists]> · <![endif]> Valmet Will Supply Automation For UK WTE Plant
<![if !supportLists]> · <![endif]> B&W Targeting Up to $120 Million in EBITA For Fiscal 2022
ACQUISITIONS
<![if !supportLists]> · <![endif]> Ametek Is Shaped By 80 Acquisitions
<![if !supportLists]> · <![endif]> Ametek Bought Magnetrol and Two Other Companies Last Year
<![if !supportLists]> · <![endif]> Ametek Magnetrol is a Leader in Hot Market Niches Such as SMR and Hydrogen
<![if !supportLists]> · <![endif]> CD&R Buys Pumps and Flow Control Businesses of Roper
<![if !supportLists]> · <![endif]> Nitto Buys Bend
<![if !supportLists]> · <![endif]> Dover Buys Malema, a Flow Measurement Company With $45 Million In Revenue
AWE Knowledge Ebbs and Flows When it Should be Advancing
There is a strong argument to be made that AWE knowledge needs to be organized into an "Internet of Wisdom." Consider:
<![if !supportLists]> · <![endif]> AWE intelligence gathering ebbs and flows depending on regulations and government funding
<![if !supportLists]> · <![endif]> Those who develop the technologies retire and decisions are made by people without the experience
<![if !supportLists]> · <![endif]> New process developments receive the attention of top management whereas most AWE decisions are made by those with more to lose by making the wrong decisions than by failing to make one which is an improvement
<![if !supportLists]> · <![endif]> There has to be strong evidence to sway a purchaser to pick a new and better AWE product
The history of lime FGD is an example of the failure to benefit from experience.
McIlvaine was president of Environeering which was partnering with Combustion Engineering (CE). CE was devoting a huge amount of research in the mid-sixties to the SO2 problem. Environeering had successful lime scrubbers in a number of applications. But CE decided that by adding limestone to the coal one would eliminate the need for a lime kiln. The 125-MW demo at Union Electric quickly proved that gypsum deposits would eliminate this option.
There was tremendous pressure to solve the SO2 problem quickly. The time it would take to build additional lime kilns and coordinate this approach was substantial.
On the other hand, if you just grind limestone and use it rather than lime in the scrubber you can solve the problem.
What was overlooked was the need for sophisticated chemistry control. There was also no consideration that the efficiency requirements might change from 80% to 98%.
Limestone FGD is still the choice even with the 98% efficiency requirements. However, many studies show that the extra cost of the lime is offset by capital cost, operational and product sales benefits. The National Lime Association paid both McIlvaine Company and Sargent & Lundy to conduct studies showing the advantages of lime. However, at the time these studies appeared, the industry was committed to limestone.
Over the years there has been a huge investment to overcome some of the problems caused by limestone. Even so, it is likely that a regional plan using lime is a better choice.
The Utility E-Alert last week covered an order in India for Ducon using Ventri-Rod technology. India is the first country to make this option an alternative to spray towers. Ventri-Rod is a label created by Bob Mcilvaine in 1966 to convey the fact that two parallel pipes form a venturi-like orifice. It has taken more than 50 years for this technology to become an acceptable alternative despite cost and design flexibility advantages.
However, 50 years is not the 130 years since the Austrians invented venturi scrubbers for town gasifiers. Then, as soon as oil and natural gas eliminated gasifiers, the world forgot about the invention.
It can be argued that the spray towers used today are a result of solving mistakes rather than progress.
The first commercial FGD scrubbers were mobile with ping pong balls and marbles. The utilities managed to melt the plastic balls and shatter the glass ones. So many plants just took out the balls and operated the vessels as spray towers.
The transfer of Ventri-Rod technology resembles the flight of a pinball and includes Environeering, Combustion Engineering, Riley, Ashland Oil, and finally Ducon A few years ago, Andritz introduced similar technology but was seemingly unaware of commercial installations at Duck Creek and elsewhere.
Huge amounts of money have been spent to make spray towers perform better. As a result, they are reliable and meet the requirements. They maintain laminar flow for long distances and are in contact with uniformly falling drops. However, as was found with the venturi approach, tearing droplets apart with turbulence greatly extends the mass transfer area.
This is an example that once a technology becomes standard, it is optimized and the chance for a better technology is diminished.
An" Internet of Wisdom" will ensure that valuable technology is not lost, and that important knowledge is not overlooked.
Acquisition Tracking in AWE Markets
McIlvaine has been tracking acquisitions for more than 20 years in
<![if !supportLists]> · <![endif]> Air Filtration
<![if !supportLists]> · <![endif]> Fabric Filters
<![if !supportLists]> · <![endif]> Scrubbers and Absorbers
<![if !supportLists]> · <![endif]> Electrostatic Precipitators
<![if !supportLists]> · <![endif]> Flue Gas Desulfurization
<![if !supportLists]> · <![endif]> DeNOx
<![if !supportLists]> · <![endif]> Sedimentation and Centrifugation
<![if !supportLists]> · <![endif]> Liquid Microfiltration
<![if !supportLists]> · <![endif]> Liquid Cartridges
<![if !supportLists]> · <![endif]> Crossflow Membranes
<![if !supportLists]> · <![endif]> IIoT and Remote O&M
<![if !supportLists]> · <![endif]> Cleanrooms
<![if !supportLists]> · <![endif]> Pumps
<![if !supportLists]> · <![endif]> Valves
In each of these market reports we will be adding a tab labeled "Acquisitions" with periodic updates. A database will link to the analysis as per the following example for fabric filters.
Fabric Filter Acquisitions 2002 - Present
Yr

Mo

Acquirer

Acquired

Subject

2022

4

CECO

Index Water

New Market

2022

2

Micronics

National Filter Media

Filter Elements

All

All

Searches back to 2002 online and to 1976 in printed version.

2016

7

Micronics

Midwesco

Aeropulse, Southern, CPE
CECO Environmental Acquires Index Water - April 2022
CECO Environmental Corp., announced the acquisition of substantially all of the assets of Index Water, expanding its water treatment solutions portfolio serving the Middle East region. Terms of the deal were not disclosed.
CECO's deep experience in high-efficiency, processing, separation, and filtration solutions is further enhanced with the addition of Index Water's intellectual property, technologies, and other assets that support systems including process and potable water treatment, ultrafiltration, desalination, and demineralization technologies, in addition to effluent and sewage water treatment including biological and reuse technologies.
Over the last three years, CECO has been aggressively expanding its presence in the produced water, process and potable water, effluent and sewage and wastewater treatment markets. Through organic innovation and acquisition, CECO has quickly become a technology leader in liquid coalescing, de-aeration, ferrate-based advanced oxidation, dissolved gas flotation, reverse osmosis, and several other produced and process water technologies.
Micronics Engineered Filtration Group Announces Strategic Acquisition of
National Filter Media (NFM) February 2022
The Micronics Engineered Filtration Group announced the acquisition of filtration industry leader, National Filter Media ("NFM").
The strategic acquisition of National Filter Media significantly expands Micronics' portfolio of engineered filtration solutions to better serve customers' advanced filtration needs.
"I am excited to welcome NFM and FilterFab to the Micronics family of trusted wet and dry filtration brands! I am very much looking forward to working with our talented new NFM and FilterFab teammates as we bring our combined talents and capabilities to our valued global customers," said Chris Cummins, President, and CEO of the Micronics Engineered Filtration Group. Mr. Cummins will head up the newly combined company going forward.
"Together, we bring over 400 years of combined expertise to the marketplace. I am fully confident that we will offer our global customers an unparalleled combination of problem-solving along with filter media, advanced filtration equipment, filtration services, and aftermarket parts," Mr. Cummins added.
With the addition of National Filter Media, The Micronics Engineered Filtration Group now combines strong, trusted wet and dry filtration brand names including Micronics, Southern Filter Media ("SFM"), C.P. Environmental ("CPE"), United Process Control ("UPC"), AeroPulse, National Filter Media ("NFM"), FilterFab, Midwesco Filter Resources ("Midwesco"), and Fabricated Filters.
Added filter media that the Micronics Engineered Filtration Group will now manufacture in-house with the addition of NFM include Belt Press Dewatering Belts, Pressure Leaf Filter Media, Horizontal Vacuum Belt Filter Media, Rotary Vacuum Drum Filter Media, Rotary Vacuum Belt Filter Media, Rotary Vacuum Disc Filter Media, and Vacuum Pan/Table Filter Media.
________________
The fabric filter database has acquisitions going back more than 20 year on line and 42 years with the older printed versions.
To understand the Micronics-NFM significance it is good to see the past acquisitions such as.
Micronics Dry Filtration Group Acquires Certain Assets of
Midwesco Filter Resources - July 2016
The Micronics Engineered Filtration group — consisting of leading wet and dry engineered filtration companies including Micronics, Inc., Southern Filter Media (SFM), C.P. Environmental (CPE), United Process Control (UPC) and AeroPulse — is pleased to announce the acquisition of certain filter media production equipment and product inventory assets of Midwesco Filter Resources (MFRI)/
From 1978 through 2012, both CPE and UPC supported MFRI's customers with industry-leading baghouse services including: inspections, field maintenance, mechanical repair/rebuild services, changeouts, troubleshooting and baghouse parts and accessories. CPE and UPC's expert service crews executed some of the largest bag installation, maintenance, and service projects — under the Midwesco name — for a host of customers across North America. Their service crews and sales professionals have extensive experience servicing the utility, coal-fired power plants, industrial boilers, steel, energy-from-waste, cement, lime, coatings, chemicals, and food, to name a few industries served.
"Our dry filtration companies have provided products and services for many of Midwesco's customers for many years, whether through our services at CPE and UPC or with high-quality filter bags outsourced to SFM by Midwesco," according to Don Eldert, President, Micronics Dry Filtration Group & Executive VP, Micronics Filtration Holdings, Inc. "These purchases further underscore the commitment of the Micronics Engineered Filtration family of companies to continuing the legacy of providing industrial baghouse/dust collector customers across North America with unrivaled dry filtration product and service offerings," said Mr. Eldert.
In 2014 and 2015, CPE, UPC, AeroPulse and SFM all joined the Micronics Engineered Filtration family and collectively strengthened its dry filtration offerings to better serve customers' pollution control needs.
SFM has designed and produced high-quality filter bags for baghouses in North America since 1973. SFM produces high-temperature felts, fiberglass, polyester, and polypropylene filter media in a variety of finishes including ePTFE membrane, all in a state-of-the-art bag manufacturing facility.
Over the last 30+ years, SFM has produced thousands of bags of MFRI to ensure that MFRI could meet the delivery and quality expectations of their customers. SFM continued to support MFRI's production needs up until the day they closed their doors (in June 2016); SFM recently shipped the last orders they received from MFRI.
____________________
Other useful data: The searchable database also has hundreds of technical, articles and news about orders from the companies now part of Micronics.
The only time that much of the data on revenues, employees, and market value is provided is at the time of an acquisition. So 20 year old information still has value but is difficult to find.
The BHA Example: The fabric filter industry has been built by small companies. When Choppy Reinfrank called McIlvaine 40 some years ago he proposed the novel idea of creating a third party company to sell bags directly. Success seemed implausible. 20 some years later he sold BHA to GE for $240 million. The company then became part of Clarcor and now with the Clarcor acquisition by Parker it is part of a multibillion dollar operation.
The basis for BHA success was use of computers to help owners decide when they needed to replace bags and to be able to provide bags for any design. The personal knowledge and high level contacts also were important. BHA executives dealt directly with top management at Cemex and other large bag purchasers. Regular training courses were conducted for personnel at cement and other user companies.
With new condition monitoring software this approach can be expanded to supply bags as needed and to provide remote O&M. The knowledge of the early efforts is very valuable in pursuing this IIoT and Remote O&M opportunity.
APPLICATIONS
B&W Online Monitoring System Optimizes Cooling Tower and Heat Exchanger Operation
B&W SPIG is committed to continually help customers optimize their plant performance. This led B&W engineers to develop the UNICO online monitoring system. This unique global service monitors and analyzes critical performance data on Cooling Towers and Air Cooled Heat Exchangers in operation. This patented continuous monitoring system is suitable to analyze and process many parameters and equipment condition. B&W SPIG's UNICO online monitoring system assures cooling plant efficiency, reduction of maintenance costs, timely site expert action and avoids unexpected failures.
The system is based on a network of localized smart units that collect data and converts them into digital form, sending them to a supervisory system using wireless technology. The supervisory system validates and integrates the data in a single database. The system processes the acquired information to check process parameters variability and equipment reliability. It also detects potential problems, generates alarms, and determines counteractions that prevent loss of plant performance.
The unique UNICO online monitoring system can yield direct improvements to the plant in the following areas:
<![if !supportLists]> · <![endif]> production output
<![if !supportLists]> · <![endif]> avoidance or reduction of the number of unscheduled shutdowns
<![if !supportLists]> · <![endif]> reduction of secondary damage resulting from the failure of any one component of the cooling system
<![if !supportLists]> · <![endif]> enhancement of spare parts inventory control
<![if !supportLists]> · <![endif]> maximum utilization of the investment with the overall resulting improvement in health and safety standards
Customers can also benefit from the following:
<![if !supportLists]> · <![endif]> continuous vibration monitoring
<![if !supportLists]> · <![endif]> gear box oil temperature diagnoses
<![if !supportLists]> · <![endif]> ambient temperature monitoring
With the acquired data, early planning can be secured for onsite expert actions, technical support, preventive maintenance, and quick and simple installation. Having real-time access and control of your cooling plant's operating condition, maintenance costs can be reduced, and equipment performance is optimized.
B&W Provides Systems For In-Furnace Processes Measurement
Since 1946, Babcock & Wilcox (B&W) has supplied state-of-the-art technology that allows plant operators to accurately view and monitor internal furnace and process applications. B&W was the first company to provide industrial viewing systems and remain committed to meeting the needs of customers for reliable products and services.
Diamond Electronics monitoring products include high definition visible and infrared light cameras (fixed and portable), process gas temperature measuring pyrometers, temperature measurement software, and site service and in-house repair services.
B&W provides service, parts and troubleshooting for all Diamond Electronics components and systems from the facility located in Lancaster, Ohio, USA.
Siemens Acquires Senseye - Predictive Maintenance and Asset Intelligence for Industrial Companies
Siemens is further expanding its portfolio in the field of innovative predictive maintenance and asset intelligence with the acquisition of Senseye. The global industrial analytics software company is headquartered in Southampton, in the UK. Senseye is a leading provider of outcome-oriented predictive maintenance solutions for manufacturing and industrial companies. Senseye's predictive maintenance solution enables a reduction in unplanned machine downtimes by up to 50%, increased maintenance staff productivity by up to 30%.
Furthermore, Senseye solutions support an improvement in corporate sustainability through increased asset lifetime and waste reduction. Since June 1, 2022, Senseye is a 100 percent subsidiary of Siemens Holdings plc in the UK. The company is assigned organizationally to Siemens Digital Industries and part of the Customer Services Business Unit.
"Senseye's AI based solutions complement our digital services portfolio driving efficient and scalable predictive maintenance. This will allow us to offer highly flexible solutions to help our customers across many industries to determine the future condition of their machinery and hence, increase their overall equipment effectiveness," says Margherita Adragna, CEO of Customer Services for Digital Industries, Siemens AG.
Simon Kampa, CEO of Senseye, adds: "Together we can multiply the full potential of Senseye's innovative predictive technology and deep expertise. Siemens' global presence and extensive industrial knowledge will ensure that our current and future customers benefit from innovative, seamlessly integrated Industry 4.0 solutions to drive measurable business outcomes."
Since its inception in 2014, Senseye has focused on scalable and sustainable asset intelligence Software-as-a-Service ("SaaS") solutions. Senseye uses state-of-the-art, purpose-built machine learning and artificial intelligence to provide a globally-scalable solution that enables predictive maintenance, helping to reduce unplanned downtime and improve sustainability. It integrates seamlessly with existing and new infrastructure investments, using machine, maintenance, and maintenance operator behavior data to understand the future health of machinery and what requires human attention. The solution is designed for maintenance operators and requires no previous background in data science or traditional condition monitoring.
ABB Boosts Orders 20% in 2021
In 2021 ABB experienced a 20% increase in orders and an 11% increase in revenues. EBITA increased by 42%.
| | | | |
| --- | --- | --- | --- |
| $ in millions, unless otherwise indicated | FY 2021 | FY 2020 | US$ |
| Orders | 31,868 | 26,512 | +20% |
| Order backlog (end December) | 16,607 | 14,303 | +16% |
| Revenues | 28,945 | 26,134 | +11% |
| Income from operations | 5,718 | 1,593 | +259% |
| Operational EBITA (1) | 4,122 | 2,899 | +42% |
ABB Predicting Increased Profitability in the Energy Sector
ABB is raising long-term profitability by enabling industrial customers to manage the energy transition to a more sustainable future. This will be done through integrating its leading automation systems, industry-specific anchor products, sensing equipment, and sophisticated digital solutions.
One of the biggest challenges facing industry today is the shift of approximately 30 percent of energy from fossil fuels to low-carbon sources by 2050, while meeting the increasing demand for a broad variety of products to satisfy consumer requirements. Process Automation supports industries that address a wide range of essential needs — from supplying energy, water, and basic materials, to manufacturing goods and transporting them to market. Its customers include, among others, the hydrocarbon sector, chemicals, mining, metals and minerals, cement, pulp and paper, power generation, and marine and ports. These sectors are taking great steps to improve energy and resource efficiency while reducing harmful emissions.
Delivering on its strong organic strategy for its digital business, Process Automation today already generates approximately $500 million in orders from industrial software and digital services and expects continued double-digit growth in this area. The digital offering is centered around value pillars that capture the biggest value creation potentials to be achieved for customers through advanced analytics and artificial intelligence. The suite of solutions helps customers across industries predict maintenance, optimize energy, improve cybersecurity, and increase operational efficiency.
"We are at the heart of some of the most important shifts in society at this very moment," said Peter Terwiesch, President of the business area Process Automation. "We can make a real difference through our product and systems portfolio, all aligned with ABB's purpose to transform industries to address the world's energy challenges through leading technology. Apart from becoming more sustainable, our technology also helps our customers to continually improve productivity and run safer operations, which is very important, given that they operate some of the most essential and complex infrastructures on the planet."
At the core of such operations, orchestrating the production process and optimizing energy management, is ABB's automation system offering. Its Distributed Control System (DCS) has been the number one player in its field for the last 22 consecutive years according to an independent report. ABB has maintained a leading share of around 20 percent in 2021 in a market worth more than $14 billion and has built the largest DCS installed base and service business in the industry. The services provided to customers throughout the long system lifecycle, often decades, keep assets updated with latest technology, and the intimacy with customers' operations allows ABB to continually improve production efficiency.
Alongside its comprehensive portfolio, the business area is presenting its financials and how it has already lifted the profitability of all its divisions to double-digit margins through exiting non-core activities, tightening project selectivity, and strengthening execution. The business area now aims to improve further through pricing, bolt-on acquisitions, and continuous strict cost management.
ABB is currently planning to exit its Turbocharging division, now called Accelleron, which is part of the business area. Without this division, the business area would have achieved revenues of $5.5 billion, an operating margin of 11.1 percent in 2021, net working capital of below zero, and a return on capital employed (ROCE) of ~20 percent, with about 20,000 employees in four divisions worldwide.
Baker Hughes Collaborates With C3 AI, Accenture, and Microsoft on Industrial Asset Management Solutions
Energy technology company Baker Hughes is collaborating with C3 AI, Accenture, and Microsoft on industrial asset management (IAM) solutions for clients in the energy and industrial sectors.
The collaboration will focus on creating and deploying Baker Hughes IAM solutions that use digital technologies to help improve the safety, efficiency, and emissions profile of industrial machines, field equipment, and other physical assets. Applying their individual strengths, the four companies will collaborate on Baker Hughes IAM capabilities that help optimize plant equipment, operational processes, and business operations through improved uptime, increased operational flexibility, capital planning, and energy efficiency management.
The solutions will be designed for industries including oil and gas; renewable energy and thermal power generation; metals and mining; chemicals; and pulp and paper.
Baker Hughes, C3 AI, Accenture, and Microsoft will also explore collaborating on solutions that help achieve net-zero carbon emissions and decarbonize energy and industrial sectors, including emissions management.
"This collaboration accelerates our growth strategy to provide differentiated IAM solutions that enhance our customer's industrial operations by optimizing the performance of industrial equipment and processes," said Lorenzo Simonelli, Baker Hughes chairman and CEO. "IAM connects industrial data to domain-specific insights for improved efficiencies and lowered energy use and emissions. We see this as an important step to support the industry's net-zero targets."
Baker Hughes, C3 AI, Accenture, and Microsoft have a history of strategic collaboration, and each company brings specific expertise to accelerate IAM solution development for energy and industrial applications. Baker Hughes will provide domain-specific digital expertise and technology for industrial customers, including leading condition-monitoring software for mission critical machinery, industrial asset strategy advisors, proven machine and equipment edge sensor and related controls capabilities, enterprise AI capabilities from the BakerHughesC3.ai alliance for oil and gas and industrial applications, and proprietary original equipment manufacturer (OEM) analytics. Baker Hughes' IAM portfolio also includes the recent acquisition of ARMS Reliability and a strategic alliance with Augury.
C3 AI will provide a flexible artificial intelligence (AI) application development platform that complements Baker Hughes technologies as well as extensive experience developing and deploying applications at scale for a wide range of equipment used across industries.
Accenture will help drive product innovation, design and development and provide strategic support and systems integration at scale, drawing on its experience to transform asset management across industries to help improve profitability and reduce risk.
Microsoft will provide secure cloud infrastructure for big data, advanced Microsoft Azure services including AI, Internet of Things (IoT), high performance computing (HPC) as well as modern work and business applications.
"This is an important effort, and we're excited to participate in providing the core Enterprise AI technology," said C3 AI Chairman and CEO Thomas M. Siebel. "Enterprise AI software is critical for increasing performance and ROI from industrial assets management solutions."
"Through this unique collaboration, we are helping companies embed intelligence across their operations to increase performance and safety, advance decarbonization goals, and drive greater innovation and competitiveness," said Julie Sweet, chair and CEO of Accenture.
Valmet Will Supply Automation For UK WTE Plant
Valmet will supply automation to the new Slough Multifuel energy-from-waste plant close to London, UK. The order was placed by Hitachi Zosen Inova AG (HZI), the engineering, procurement, and construction contractor for the facility.
This is the seventeenth time that HZI has chosen Valmet's automation technology for its energy-from-waste plant projects. The plant is owned by a joint venture between a UK energy company SSE Thermal, and Copenhagen Infrastructure III K/S, a fund managed by Copenhagen Infrastructure Partners (CIP).
The order was included in Valmet's orders received of the first quarter 2022. The value of the order will not be disclosed. The deliveries will take place from early September 2022 to January 2023. The automation system will be taken over by the end customer in late November 2024.
"We benefit from the experience gained in Valmet's latest UK projects and can implement it in the Slough project. Valmet has been proactive in supporting, answering, and giving ideas to the project," says Aristeidis Charitos, Technical Project Manager, Slough Project, HZI.
"The current global semiconductor chip shortage is a burden for all our projects. Due to the fact that Valmet DNA Automation System offers three different models of process stations, Valmet is able to deliver the solution within the project time schedule," says Adrian Hiemann, DCS System Engineer, Slough Project, HZI.
"The end customer has been satisfied with our Valmet DNA system at the Ferrybridge 1 and 2 energy-from-waste plants delivered in 2012 and 2016. HZI has been our customer since 2008. The cooperation was good this time as well, and we were able to fulfill the technical requirements. For Valmet, this project is important as it continues and expands our market share on the UK energy-from-waste market," says Rene Neubert, Sales Director, Automation, Valmet, Austria.
After starting full operation in 2024, the Slough Multifuel plant will process around 480,000 tons of residual waste from the Greater London Area per year and will cover the annual power consumption equivalent to approximately 100,000 households.
Valmet's delivery consists of a Valmet DNA Automation System, a protection system, integrated controls for 11 kV distribution, large screens, an extensive operator interface for the control room, an electrical control system, 3,200 hardwired signals as well as more than 7,300 links and data points.
"Together, we have a tremendous opportunity to deliver cloud-based technologies across customers' industrial operations that enable them to reduce costs and increase efficiencies while advancing their net zero goals," said Judson Althoff, Microsoft's executive vice president and Chief Commercial Officer.
B&W Targeting Up to $120 Million in EBITA For Fiscal 2022
Babcock & Wilcox is making the transition from reliance on coal-fired power generation to a range of energy technologies.
One of the biggest opportunities is in the conversion of biomass to power, liquid fuels, or plastics using biomass and then sequestering the CO2. McIlvaine believes that this is the only practical carbon negative option. Direct separation involves capturing 400 ppm of CO2 from 1 million ppm of air and is therefore very expensive. CO2 from fossil fuel combustion is over 120,000 ppm of CO2. With B&W oxycombustion the CO2 increases to over 700,000 ppm.
The recent B&W order for a 200 MW biomass combustor with oxycombustion is part of a biomass to liquid fuels project. The oxycombustion technology benefited from DOE funding for a pilot demo at an Illinois power plant.
Management provided the following summary of the progress B&W has made.
<![if !vml]>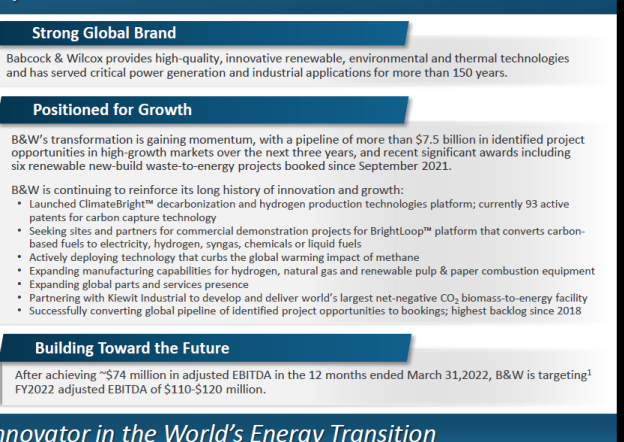 <![endif]>
Here are the 12 month financials.
| | |
| --- | --- |
| ($ in Millions) | Twelve Months Ended March 31, 2022 |
| | |
| Revenue | $ 759.2 |
| Operating Income (loss) | $ 20.5 |
| Net Income (loss) | $ 38.3 |
| Net Income (loss) attributable to stockholders of common stock | $ 25.3 |
| Adjusted EBITA | $ 74.0 |
| EBITA Margin % | 9.8% |
B&W has survived despite very high obstacles. For decades it competed with Combustion Engineering to dominate coal-fired power in the world. Combustion Engineering moved from owner to owner as coal-fired power profits shrank. European boiler makers also did not survive although Babcock Contractors became part of Doosan.
The only supplier to have remained healthy is Mitsubishi. McIlvaine is compiling a database of acquisitions as shown in the next article.
The B&W acquisition history shows that the most recent round of acquisitions and divestitures has left the company in a position to capitalize on its basic strength which is the combustion of solid fuels at large scale.
AMETEK has acquired 80 companies, including 18 in the last 5 years. A total of 37 acquisitions came from private equity firms. It has also divested 2 assets. Many of these acquisitions are companies with leadership in niche markets where there is growing potential for IIoT and Remote O&M. The knowledge of these applications by Ametek companies will be valuable to the IIOT and Remote O&M system providers who will also be potential clients and collaborators. One such company is Magnetrol who supplies level control in tough applications where solid fuels are converted to hydrogen, liquids, or syngas.
AMETEK completed three acquisitions in 2021 – Magnetrol International, Crank Software and EGS Automation (EGS). Approximately $270 million was deployed on these acquisitions which have combined annual sales of approximately $120 million.

"We are pleased to welcome the Magnetrol, Crank Software and EGS teams to AMETEK," commented David A. Zapico, AMETEK Chairman and Chief Executive Officer. "Each of these businesses provide AMETEK with unique capabilities which strategically expand our presence in attractive growth areas. We continue to strengthen our portfolio through the acquisition of market-leading businesses with innovative, advanced technology solutions. We are pleased with this recent acquisition activity and continue to manage an active deal pipeline with exciting opportunities for growth."

Magnetrol and Crank Software join AMETEK as part of its Electronic Instruments Group (EIG) – a leader in advanced analytical, monitoring, testing, calibrating, and display instruments. EGS Automation joins AMETEK's Electromechanical Group (EMG) – a differentiated supplier of thermal management systems, and automation and engineered solutions.
Headquartered in Aurora, Illinois, Magnetrol is a leading provider of level and flow control solutions for challenging process applications across a diverse set of end markets including medical, pharmaceutical, oil and gas, food, and beverage, and general industrial. Magnetrol's portfolio of mission-critical products are designed to optimize processes, maximize yields, and ensure safety.
"Magnetrol is an excellent acquisition for AMETEK and nicely complements our Sensors, Test and Calibration (STC) business," added Mr. Zapico. "Combined, Magnetrol and STC become an industry leading, differentiated sensor platform with a broad range of level and flow measurement solutions."

Headquartered in Ottawa, Canada, Crank Software is a leading provider of embedded graphical user interface (GUI) software and services. Storyboard – the company's flagship offering – is a premier, innovative solution that enables the design and development of customized user experiences in a wide range of embedded products. Crank Software also offers a unique and customizable set of professional services that takes customers from concept to completion in their GUI design and development cycle.

"Crank Software is an exciting acquisition for AMETEK and an excellent addition to our growing portfolio of software solutions," continued Mr. Zapico. "Their award-winning Storyboard platform and service capabilities are positioned well to capitalize on the accelerating demand for smart, digitally enabled devices across a variety of end markets."

Headquartered in Donaueschingen, Germany, EGS is an automation solutions provider that designs and manufactures highly engineered, customized robotic solutions used in critical applications for the medical, food and beverage, and general industrial markets.

"EGS nicely complements our AMETEK Dunkermotoren business with highly customizable engineering design and automation capabilities," commented Mr. Zapico. "The combination of EGS and Dunkermotoren provides a broader suite of automation solutions and expands our presence in this attractive market."
AMETEK is a leading global manufacturer of electronic instruments and electro- mechanical devices with annual sales in 2020 of more than $4.5 billion. The AMETEK Growth Model integrates the Four Growth Strategies — Operational Excellence, New Product Development, Global and Market Expansion, and Strategic Acquisitions — with a disciplined focus on cash generation and capital deployment. AMETEK's objective is double-digit percentage growth in earnings per share over the business cycle and a superior return on total capital. The common stock of AMETEK is a component of the S&P 500.
Magnetrol is a market leader in level measurement of condensed liquids in tanks used in various solid fuels to liquids and gases processes. It is also a market leader in a number of other niche applications.
Eight articles in the IIoT Newsletter provide insights on the Magnetrol niche market pursuit.
The October 2018 issue has analysis of the magazine advertising by IIoT companies for that year. Magnetrol ran full page level control ads in Processing Magazine. It ran full page ads in Pipeline and Gas Journal and PTQ Quarterly.
The IIoT Newsletter continues with "One revelation from an analysis would be the substantial amount of advertising by Magnetrol on level control measurement. These five pages of advertisements appear in a number of industry-focused magazines and reveal a multi-industry marketing approach. The large investment in advertising is an indicator of the "pull" rather than "push" marketing approach. This further indicates a company selling based on lowest total cost of ownership. It also indicates a company which seeks to understand the processes and industries where its product is used.
This advertising leads to the website where the use of level controls in various specific industries and processes is discussed. The following link is to the Magnetrol brochure on coal-fired boilers. It has good process flow diagrams to accompany the product descriptions for each application.
Some of the advertisements are general and reference a number of products. DuPont for example has a full page advertisement with coverage of EDV scrubbers, sulfur recovery processes and several other products. (This group is now part of Wynnchurch). By contrast, the A-T advertisement is only on one type of lining for one type of valve.
The advertising and exhibition activity can be a function of initiatives to gain market share rather than just keep it. Therefore, tracking this activity over time is useful. For example, one chemical company had the largest stand at WEFTEC a few years ago and did not have a stand this year.
One of the newsletters references an article in the McIlvaine intelligence system from 1999 but is still relevant.
When it comes to low flow measurement of air and gases, the inherent benefits of thermal dispersion technology are worth reviewing, according to the author. One type of sensor is frequently referred to as an insertion sensor and is appropriate for low velocity measurement in pipes and ducts. This sensor is the type discussed in this article.
McIlvaine identifiers: 330 FLOW MEASUREMENT, C MAGNETROL, 489 SENSORS
The importance of creating an Internet of Wisdom around flow measurement technology was illustrated in 1990 when EPA promulgated a rule for power plant stack flow measurement without the understanding of comparative strengths and weaknesses of ultrasonic, thermal, and pressure differential approaches.
There was consensus that immediate changes had to be made. McIlvaine conducted three multi hour webinars with utilities, suppliers, EPA, and state agencies. These discussions resulted in a workable change to the rule.
Roper Technologies Inc. has agreed to sell a majority stake in its industrial businesses, including its entire Process Technologies segment and the industrial businesses within its Measurement & Analytical Solutions segment, to affiliates of private investment firm Clayton, Dubilier & Rice LLC (CD&R). Roper will receive total upfront, pre-tax cash proceeds of approximately US$2.6 billion while retaining a 49% minority interest in a new standalone entity.
The transaction includes the Cornell, FMI, and Roper Pump businesses, as well as Alpha, AMOT, CCC, Dynisco, FTI, Hansen, Hardy, Logitech, Metrix, PAC, Struers, Technolog, Uson and Viatran. Together, these businesses generated approximately US$940 million of revenue and US$260 million of EBITDA in 2021.
"This is the final step in Roper's divestiture strategy to reduce the cyclicality and asset intensity of our enterprise," said Neil Hunn, Roper Technologies' president and CEO. "Selling a majority interest in these industrial businesses will provide Roper with significant upfront cash, while maintaining the ability to receive additional cash proceeds from the future exit of our minority interest."
"We are excited to partner with CD&R given their track record of successful corporate partnerships. Operating as a standalone entity will enable these businesses to build on their niche-leading strategies and continue creating value for their customers and shareholders," added Hunn.
John Stroup, operating advisor to CD&R Funds, will lead the standalone entity when the transaction closes.
Nitto develops new products and services by strategically devoting resources to Nitto's three focus domains: Information Interface, Next-generation Mobility, and Human Life. The acquisition of Bend will also accelerate innovation in these domains.
The flexible sensor developed by Bend simultaneously measures "bend," "stretch" and "force" at high accuracy, in addition to having excellent flexibility and durability. The flexible sensor is expected to meet the evolving technical demands in various fields, including automation in the automotive field and remote monitoring in the digital healthcare field. Through this acquisition, Nitto aims to create new businesses by combining Nitto's global foundation and core technologies, such as adhesive technology and flexible printed circuit technology, with Bend's sensor device technology. Besides expected applications in the ever-changing automotive and healthcare fields, Nitto also anticipates these technologies to be utilized in fields such as sports and robotics. Furthermore, Nitto considers building a platform to accumulate sensor-acquired data and deploying services utilizing the acquired data.
Dover announced that it has entered into a definitive agreement to acquire Malema Engineering Corporation ("Malema"), a designer and manufacturer of high-precision, mission-critical flow-measurement and control instruments serving customers in the biopharmaceutical, semiconductor, and industrial sectors. Malema will become part of the PSG business unit within Dover's Pumps & Process Solutions segment.
Malema's products will expand Dover's biopharma single-use production offering, which already includes Quattroflow pumps, CPC connectors, and em-tec flowmeters. Based in Boca Raton, FL, and with facilities in San Jose, CA, Singapore, South Korea, and India, Malema expects to generate approximately $40-45 million in revenue during the full year 2022 and has a robust growth outlook.
Over the past four decades, Malema has cultivated a loyal base of blue-chip customers, OEMs, and end-users with substantial aftermarket and recurring revenue streams. Malema's first-of-its-kind single-use flow sensor using Coriolis technology offers superior flow-measurement performance and accuracy versus alternative technologies, reducing the potential for measurement error and eliminating the need for calibration in time-sensitive and contamination-intolerant environments.
Speaking about the market opportunity for Malema, PSG's President, Karl Buscher, said, "We see a tremendous long-term growth opportunity in the bioprocessing industry driven by a strong and growing pipeline of effective novel biologic drugs, biosimilars, protein therapies, non-COVID mRNA vaccines, as well as budding cell & gene therapies. Additionally, the growing adoption of more efficient single-use production processes supports a robust outlook for our offerings of single-use components to end-customers. We believe that pairing Malema's technology with our existing portfolio of single-use pumps for biopharma processing will greatly enhance the accuracy and value proposition of our solutions to our customers."
"We are methodically building out our biopharma platform through proactive capacity additions, new product development, and opportunistic acquisitions of highly-attractive niche component technologies," said Richard J. Tobin, President, and Chief Executive Officer of Dover. "Malema represents a strategic and highly-complementary flow-control and sensing technology and further strengthens our sensor portfolio with new proprietary technology. In addition to attractive biopharma applications, we expect strong growth in the semiconductor space on the capacity expansion and re-shoring tailwinds."
The purchase price is comprised of $225 million in cash at closing, subject to customary purchase price adjustments, and up to $50 million in contingent consideration dependent on the achievement of certain financial objectives over a two-year period. The transaction is expected to close in the second quarter and is subject to the satisfaction of customary closing conditions, including applicable regulatory approvals.
Dover is a diversified global manufacturer and solutions provider with annual revenue of approximately $8 billion. We deliver innovative equipment and components, consumable supplies, aftermarket parts, software and digital solutions, and support services through five operating segments: Engineered Products, Clean Energy & Fueling, Imaging & Identification, Pumps & Process Solutions, and Climate & Sustainability Technologies. Dover combines global scale with operational agility to lead the markets we serve. Recognized for our entrepreneurial approach for over 65 years, our team of over 25,000 employees takes an ownership mindset, collaborating with customers to redefine what's possible. Headquartered in Downers Grove, Illinois, Dover trades on the New York Stock Exchange under "DOV."
PSG is a global pump solution expert and leading manufacturer of pumps, systems, and related flow-control technology for the safe and efficient transfer of critical and valuable fluids and materials. Headquartered in Oakbrook Terrace, IL, PSG is comprised of several world-class brands, including Abaque®, All-Flo®, Almatec®, Blackmer®, Ebsray®, em-tec®, Griswold®, Hydro Systems™, Mouvex®, Neptune™, Quantex™, Quattroflow®, and Wilden®. PSG products are manufactured in three continents – North America, Europe, and Asia – in state-of-the-art facilities that practice lean manufacturing and are ISO-certified. PSG is part of the Pumps & Process Solutions segment of Dover Corporation.