AWE MANAGEMENT
The "Air, Water, Energy, Management" Newsletter
June 2022
No. 529
Table of Contents
MARKETS
<![if !supportLists]> · <![endif]> Sea Change in the Pump and Valve Markets
<![if !supportLists]> · <![endif]> Fabric Filter Market Changing Faster Than Any Time Since 1960
INDUSTRY NEWS
<![if !supportLists]> · <![endif]> Andritz Orders Up 50% in First Quarter
<![if !supportLists]> · <![endif]> Carlyle Creates Platform to Capture Opportunities from the Energy Transition
ACQUISITIONS
<![if !supportLists]> · <![endif]> Xylem Acquires 15 Companies In Last Decade
<![if !supportLists]> · <![endif]> Evoqua Water Technologies to Acquire Smith Engineering, Inc.
<![if !supportLists]> · <![endif]> Flowtech Water Solutions is Purchased by PumpServ
<![if !supportLists]> · <![endif]> DESMI Acquired by One Equity
<![if !supportLists]> · <![endif]> Bonomi Buys Ghibson Italia and AWS
<![if !supportLists]> · <![endif]> CD&R Buys Pumps and Flow Control Businesses of Roper
<![if !supportLists]> · <![endif]> Nitto Buys Bend
<![if !supportLists]> · <![endif]> Dover Buys Malema, a Flow Measurement Company With $45 Million in Revenue
<![if !supportLists]> · <![endif]> John Cockerill Integrating the "Cooling" Activities of Hamon
<![if !supportLists]> · <![endif]> Schenk Process Sells Mining Business to Sandvik
<![if !supportLists]> · <![endif]> Donaldson Buys Biotech Company, Purilogics
<![if !supportLists]> · <![endif]> CWS Buys STAX a Benelux Cleanroom Distributor
<![if !supportLists]> · <![endif]> MDI Modular Devices Buys Cardiac Services Mobile
<![if !supportLists]> · <![endif]> AirCare Automaton, FFU Controls Supplier, acquired by FAIX Capital
<![if !supportLists]> · <![endif]> G-CON Buys Pasteurop
<![if !supportLists]> · <![endif]> Elis expands in Mexico with Acquisition of Garment Leaser
<![if !supportLists]> · <![endif]> Asgard-Angstrom buys UK Cleanroom Supplier SEL
<![if !supportLists]> · <![endif]> Neenah and SWM Merge

MARKETS
Sea Change in the Pump and Valve Markets
Digital technology is creating a sea change in the markets and profit potential for pump and valve suppliers. It will create the fairest of winds for those who adapt. For those who do not it will be a Tsunami.
The total combined pump and valve market is over $200 billion per year. The performance needs include severe, critical, unique, and general service. All except general can be considered high performance. The revenues in high performance applications are over $80 billion per year.
The sea change is taking place in all segments but is critical to the high performance products.
Here is the evolution which makes this sea change so important.
<![if !supportLists]> · <![endif]> High performance products are sold by demonstrating lowest total cost of ownership (LTCO).
<![if !supportLists]> · <![endif]> The supplier must understand the customer's needs in order to develop an LTCO product.
<![if !supportLists]> · <![endif]> Digital technology such as condition and performance monitoring provides evidence of LTCO.
<![if !supportLists]> · <![endif]> Purchasers have avoided new and better products previously due to challenges in determining LTCO.
<![if !supportLists]> · <![endif]> The supplier who can validate LTCO can now easily reach new markets and customers.
<![if !supportLists]> · <![endif]> Digital technology pinpoints product weaknesses and provides a guide for product improvement.
<![if !supportLists]> · <![endif]> With the expanded market the supplier can afford the R&D for product improvement.
<![if !supportLists]> · <![endif]> The supplier develops unique knowledge about the role his product can play in lowering customer TCO.
This knowledge allows the supplier to become a solutions provider who with 24-7 access can help minimize TCO over the life of the plant.
The tsunami for those suppliers who don't adapt includes usurpation of the LTCO role by the digital systems integrators. They can reduce the pump or valve supplier role to just delivery of specified hardware.
There is one major hurdle to catching the fair winds. While vast amounts of digital evidence is now available, the organization and access to it is at best 50% vast.
McIlvaine is working with the media as well as suppliers serving the pump and valve industry to assist them in organizing predicate and disputed evidence relative to valve and pump choices. .
This organization of knowledge can be considered an Industrial Internet of Wisdom (IIoW) which is integral to IIoT. More detailed information is found at
Industrial Valves: World Market Report
Industrial IoT and Remote O&M Report
Bob McIlvaine can answer your questions at 847-226-2391 rmcilvaine@mcilvainecompany.com
Fabric Filter Market Changing Faster Than Any Time Since 1960
In the 1960s pulse cleaned bags rapidly obsolesced shaker bags. New high temperature fabrics were introduced which allowed greater penetration into the power and other markets dominated by precipitators.
The 2020s is going to be equally dynamic in terms of the products, applications, and geographies.
Products: Previously the element designs were primarily bags and cartridges. The cartridges were pleated and mostly cellulose. They were applicable only to light and dry applications. Now new pleated designs with higher temperature fabrics have created a major new category. Because the pleated synthetic media filters are typically less than 8 inches in diameter (the typical paper cartridge is more than 8 inches in diameter), the new segmentation for the pleated filters is labeled "cartridges <8 inches diameter".
Another development is the ceramic filter. It can operate at very high temperatures. If the gas has to be cooled to 500°F in order to be filtered a large amount of energy is wasted. These filters can not only remove the fine particulate but with direct sorbent injection can also remove acid gases. The ceramic filter can also include an embedded catalyst. So one vessel can replace three: the particulate filter, acid gas scrubber and selective catalytic NOx control unit.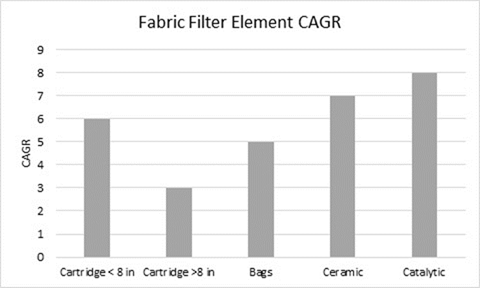 Applications: Biomass combustion followed by carbon sequestration is the most promising carbon negative technology. A coal plant like Drax, which switches to this technology, takes out as much CO2 from the atmosphere as it was previously adding. So this is a double digit growth potential for fabric filters.
Geographies: The Russian invasion is creating expanded markets for fabric filters in Europe. The growth of biomass combustion will offset use of natural gas. The agricultural disruption will create a spurt in fertilizer manufacturing plants in ROW. Russa and Belarus combined are the largest potash producer. Russia has large reserves of metals.
Chinese filter bag suppliers have a significant share of the international markets. The COVID shutdown creates a short term crisis. Longer term the autocratic Chinese-Russian coalition could permanently change the market.
The McIlvaine Company is making continuous changes to the Fabric Filter: World Market forecasts. More than 50,000 new forecasts by product type have been added. All the forecasts are being updated every few months in order to reflect the changes.
Information on the report is found at http://home.mcilvainecompany.com/index.php/markets/air/n021-world-fabric-filter-and-element-market
The report provides the foundation for an Evidence Based Sales Strategy. More information on this strategy is available from Bob McIlvaine. He can be reached at 847 226 2391 or rmcilvaine@mcilvainecompany.com
INDUSTRY NEWS
Andritz Orders Up 50% in First Quarter
The order intake of the ANDRITZ GROUP saw very favorable development in the first quarter of 2022 and, at 2,588.6 MEUR, was significantly higher than the previous year's reference figure (+49.7% versus Q1 2021: 1,729.5 MEUR). All business areas were able to increase their order intake significantly compared to the previous year's reference period. The business areas' development in detail:
Pulp & Paper: Order intake amounted to 1,105.8 MEUR and thus increased by 30.8% compared to the previous year's reference figure (Q1 2021: 845.5 MEUR). Both the Capital business, which received a large order to supply highly resource-saving and advanced technologies for a new pulp mill in China, and the Service business succeeded in increasing their order intake compared to the previous year
Metals: The order intake once again reached a favorable level at 501.4 MEUR and increased by 16.8% compared to the previous year's reference figure (Q1 2021: 429.1 MEUR). This is largely attributable to the Metals Processing sector, which increased its order intake considerably compared to the previous year's reference period due to unchanged, high steel prices and the resulting strong project and investment activity by international steel producers. Order intake in the Metals Forming (Schuler) sector saw a slight decline compared to the previous year's reference period.
Hydro: At 756.3 MEUR, the order intake was significantly higher than the very low figure for the previous year's reference period (+166.0% versus Q1 2021: 284.3 MEUR). This significant increase is mainly due to the booking of a large modernization contract in Mexico.
Separation: Order intake amounted to 225.1 MEUR and was thus well above the level of the previous year's reference figure (+31.9% versus Q1 2021: 170.6 MEUR). Both the solid/liquid separation and the feed & biofuel sectors showed very good development during the reporting period.
Carlyle Creates Platform to Capture Opportunities from the Energy Transition
Carlyle, which purchased Envea last year, announced the creation of an integrated platform which brings together the firm's substantial resources, scale and capabilities to further invest behind the energy transition and capture significant opportunities around the world. In addition, Carlyle has announced several leadership changes to enhance this platform, which will operate within the firm's Global Infrastructure business.
As the world seeks to decarbonize over the long-term, reposition and build new energy infrastructure, and responsibly manage traditional sources of energy, Carlyle is strategically refocusing the firm to be better positioned to continue to deliver on these emerging opportunities.
Carlyle has over 15 years of investing experience in infrastructure and energy spanning all major sectors — renewable energy, thermal power, upstream, midstream, and downstream oil & gas, digital infrastructure, and transportation — making the firm one of the industry's most diversified players. Within renewable energy, Carlyle has invested across the spectrum of opportunities including utility-scale, commercial & industrial, community renewables generation & storage, and bi-directional EV charging.
The firm also leverages distinct capabilities and proprietary data within its portfolio, which provides a variety of operational advantages and opportunities as well as driving benefits of scale across its investments. Examples include industry-leading capabilities to optimize power assets through the deployment of a technical and operating platform with over 100 employees; advanced methods to reduce methane emissions from offshore oil and gas facilities; carbon removal offset origination and trading activities; and the efficient procurement of renewable energy certificates. In addition, for the last three years Carlyle has performed bottom-up carbon footprints of Scope 1 and 2 emissions for its buyout portfolio1, providing robust emissions data which is helping the firm create and execute increasingly more effective decarbonization strategies across investments.
The integrated platform will centralize the firm's deep infrastructure and energy capabilities on a global basis, and provide the vision, resources, structure, and enhanced leadership to drive collaboration, insights, and scale – all with the aim of better investment performance. The platform has 38 portfolio investments managed by over 40 investment professionals. The team leverages the insights of eight seasoned Operating Executives and Senior Advisors, alongside the firm's global resources, including its ESG team which includes climate experts.
Effective summer 2022, Avik Dey will join Carlyle as Co-Head of Carlyle International Energy Partners ("CIEP"), the firm's strategy targeting global energy investment opportunities outside of North America. Dey, who joins the firm from a leadership role at NOVA Chemicals, has had a distinguished career building CPP Investments' energy practice to span a diversified portfolio of energy, power, and venture investments. He was the former global Head of Energy & Resources and led the team that created CPP Investments' Renewables strategy in 2016 that resulted in the creation of a separate Power & Renewables group.
Dey will work alongside Bob Maguire, who assumes the role of Co-Head of CIEP, and -together they will be responsible for the activities of the fund. As part of this change, Marcel van Poecke steps up from Head of CIEP to become Vice Chair of CIEP, where he will remain actively involved with the fund and its portfolio, and the firm will continue to benefit from his considerable energy investing experience and network.
Effective immediately, Macky Tall, Chair of the Infrastructure Group, expands his role to lead the newly integrated platform and is now responsible for defining the vision and implementing Carlyle's investment strategy across infrastructure and energy. Additionally, Pooja Goyal, Chief Investment Officer of the Infrastructure Group and Head of Renewable and Sustainable Energy, continues to play a leadership role.
Kewsong Lee, Carlyle CEO, said: "We continue to adapt and align the firm to ensure Carlyle is at the forefront of capturing the tremendous global investment opportunities presented by the energy transition. By combining our expertise into a single platform, enhancing our leadership, and drawing on the firm's considerable global resources and portfolio companies, we are even better positioned to capitalize on these opportunities for our investors."
Marcel van Poecke said: "We are delighted to welcome Avik to Carlyle. He is one of the industry's leading energy investors specializing in decarbonization and we will benefit greatly from his deep expertise."
Avik Dey said: "I am thrilled to be joining a team with such impressive experience investing behind the energy transition. I look forward to working with Bob to identify opportunities across the energy spectrum to help drive sustainable change and create value for investors over the long-term."
Carlyle has an industry-leading position addressing the impacts of climate change. The firm was one of the first major private equity firms to join the call to accelerate the transition to a net zero economy with the establishment of both short- and long-term climate goals, and to achieve carbon neutral operations in 2018. In 2021, Carlyle co-led the creation of the ESG Data Convergence Project to track ESG metrics – including greenhouse gas emissions and renewable energy use – and standardize reporting in private.
ACQUISITIONS
Xylem Acquires 15 Companies In Last Decade
Xylem was a divestiture by ITT a decade ago. Its main assets were a pump company in Europe and treatment technology in the U.S. ITIT retained the industrial pump and valve businesses .Over time xylem has made more than 15 acquisitions.
In 2021 Xylem expanded its regional footprint with the acquisition of Turkey's pumping and water treatment systems company, Anadolu Flygt.
The acquisition will allow the company to service a broader range of countries across the region and further accelerate Xylem's growth in the Middle East market with an enhanced suite of digital water solutions, as well as proven systems for sustainable water use.
In 2018 Xylem Inc. acquired EmNet, LLC, a rapidly growing provider of smart solutions that enable municipalities to manage the urban water cycle and wastewater and stormwater systems. This addition further expanded Xylem's growing portfolio of advanced infrastructure analytics solutions and capabilities. Financial terms were not disclosed.
EmNet's core technology and expertise in real time decision support systems (RT-DSS) was developed as a multidisciplinary approach to solve the toughest watershed and collection system challenges. Their open architecture platform, called BLU-X, brings the power of big data analytics in real time to water and wastewater systems management.
Evoqua Water Technologies to Acquire Smith Engineering, Inc.
Evoqua Water Technologies (AQUA), an industry leader in mission-critical water treatment solutions, on June 22 announced that it has entered into a definitive agreement to acquire privately-held Smith Engineering, Inc. The acquisition will enhance Evoqua's portfolio of high purity water treatment systems and expand its service footprint in North America.
Smith Engineering, headquartered in Chaska, Minnesota, is a leader in the design, manufacturing, and service of custom high purity water treatment equipment serving the biotech/pharmaceutical, data center, food and beverage, healthcare, medical device, and microelectronics markets. With over 1,200 customers in North America, Smith Engineering offers a variety of water treatment products and services, including filtration, UV, reverse osmosis, and deionization.
"Smith Engineering has built a solid reputation as a trusted partner, providing reliable high purity water solutions and services to their broad customer portfolio," said Ron Keating, Evoqua's Chief Executive Officer. "This addition will further strengthen our service footprint in North America, enabling us to better serve our customers."
The transaction is expected to close during Evoqua's fourth quarter of fiscal 2022, which ends September 30, 2022, subject to the satisfaction of customary closing conditions. Upon closing the transaction, the business will be part of Evoqua's Integrated Solutions and Services segment.
Evoqua Water Technologies is a leading provider of mission-critical water and wastewater treatment solutions, offering a broad portfolio of products, services, and expertise to support industrial, municipal, and recreational customers who value water. Evoqua has worked to protect water, the environment, and its employees for more than 100 years, earning a reputation for quality, safety, and reliability around the world.
Headquartered in Pittsburgh, Pennsylvania, the company operates in more than 150 locations across nine countries. Serving more than 38,000 customers and 200,000 installations worldwide, our employees are united by a common purpose: Transforming Water. Enriching Life.® To learn more, visit www.evoqua.com.
Flowtech Water Solutions is Purchased by PumpServ
A Wigan-based manufacturer of water booster products has been purchased by a pump servicing and distribution company based in the South East of England, in a deal supported by Lancashire-headquartered accountancy and business advisory firm MHA Moore and Smalley.
Flowtech Water Solutions Holdings Ltd, which trades as Flowtech, and its subsidiary Flowtech Water Solutions, supply a range of products including water boosting equipment, pressurization units, valves, and filtration equipment for customers across the UK in a range of commercial markets.
They employ around 25 staff and have a turnover of around Ł4 million.
The companies have been purchased by PumpServ, in a deal which is expected to provide accelerated growth through partnership working within the sector.
Andrew Leech, managing director, Flowtech, will retire, while Martin Donaldson, managing director, and Paul Havard, business development director, will continue to operate the Flowtech Water Solutions brand within the PumpServ group.
The corporate finance and transaction tax team at accountancy and business advisory firm MHA Moore and Smalley advised Flowtech on the deal.
Martin Donaldson, managing director, Flowtech Water Solutions said: "I am extremely excited about the growth and opportunities this merger will bring to the business. The addition of Flowtech Water Solutions into the PumpServ family aligns perfectly with our ambitions to grow the business and enhance our reputation as a truly specialized pump engineering company.
"With the exception of the management team, there will be no changes to the existing structure at this time."
Matt Magee, chief executive, PumpServ, said: "The obvious synergies between PumpServ and Flowtech will accelerate our growth plans and we are tremendously excited about the opportunities this acquisition will bring to both businesses."
DESMI Acquired by One Equity
The Danish pump manufacturer DESMI has signed a definitive agreement to sell a majority share to middle market private equity firm One Equity Partners (OEP).
Founded in 1834 and headquartered in Nřrresundby, Denmark, DESMI provides pumping solutions to end-markets including marine and offshore, industrial, utility, and defense and fuel. The company also provides environmental solutions for oil spill response, seaweed collection and cleaning waterways. DESMI has global operations across 20 countries in Europe, Asia, the Middle East, North America, and Africa and employs nearly 1,000 people. DESMI's pumps and systems are sold to more than 150 countries through a network of subsidiaries and distributors across six continents.
"We look forward to a strong partnership with CEO Henrik Sřrensen and his management team," said Johann-Melchior von Peter, Senior Managing Director at OEP. "We plan to utilize OEP's deep industrial sector expertise to help DESMI accelerate its growth trajectory and further diversify its end-markets to strengthen the business."
"It was high on our agenda to find a new owner who wants to continue our growth strategy within flow technology and extend DESMI's brand. OEP wants exactly that, and I am pleased to welcome them as a new majority shareholder of our great company," says Sřrensen. "After nearly 190 years of operations, we look forward to entering our next stage of growth with the support of our new partner. OEP is a firm that shares our vision for the evolution of DESMI and has a long-standing track record for building market-leading industrial companies."
"We see significant potential to leverage DESMI's global infrastructure and comprehensive value chain to consolidate a fragmented industry and enter new, attractive product segments," said Marc Lindhorst, Principal at OEP.
Bonomi Buys Ghibson Italia and AWS
Bonomi Group continues to grow and with the usual push towards the set objectives, it is completing the acquisition of the following companies: Ghibson Italia for 85%, a company specialized in the production of butterfly valves and check valves for all the most different industrial applications and 100% of Ghibson & Co., a company that supports and completes the range of Ghibson Italia. In addition, there is 100% of the company Penta, specialized in the production of metal seated ball valves for critical operating conditions and 100% of the company AVS – Automatik Ventiler System, a Swedish company supplying industrial systems. The story continues, with new goals, to be achieved together.
CD&R Buys Pumps and Flow Control Businesses of Roper
Roper Technologies Inc has agreed to sell a majority stake in its industrial businesses, including its entire Process Technologies segment and the industrial businesses within its Measurement & Analytical Solutions segment, to affiliates of private investment firm Clayton, Dubilier & Rice LLC (CD&R). Roper will receive total upfront, pre-tax cash proceeds of approximately US$2.6 billion while retaining a 49% minority interest in a new standalone entity.
The transaction includes the Cornell, FMI, and Roper Pump businesses, as well as Alpha, AMOT, CCC, Dynisco, FTI, Hansen, Hardy, Logitech, Metrix, PAC, Struers, Technolog, Uson and Viatran. Together, these businesses generated approximately US$940 million of revenue and US$260 million of EBITDA in 2021.
"This is the final step in Roper's divestiture strategy to reduce the cyclicality and asset intensity of our enterprise," said Neil Hunn, Roper Technologies' president and CEO. "Selling a majority interest in these industrial businesses will provide Roper with significant upfront cash, while maintaining the ability to receive additional cash proceeds from the future exit of our minority interest."
"We are excited to partner with CD&R given their track record of successful corporate partnerships. Operating as a standalone entity will enable these businesses to build on their niche-leading strategies and continue creating value for their customers and shareholders," added Hunn.
John Stroup, operating advisor to CD&R Funds, will lead the standalone entity when the transaction closes.
Nitto Buys Bend
Nitto develops new products and services by strategically devoting resources to Nitto's three focus domains: Information Interface, Next-generation Mobility, and Human Life. The acquisition of Bend will also accelerate innovation in these domains.
The flexible sensor developed by Bend simultaneously measures "bend," "stretch" and "force" at high accuracy, in addition to having excellent flexibility and durability. The flexible sensor is expected to meet the evolving technical demands in various fields, including automation in the automotive field and remote monitoring in the digital healthcare field. Through this acquisition, Nitto aims to create new businesses by combining Nitto's global foundation and core technologies, such as adhesive technology and flexible printed circuit technology, with Bend's sensor device technology. Besides expected applications in the ever-changing automotive and healthcare fields, Nitto also anticipates these technologies to be utilized in fields such as sports and robotics. Furthermore, Nitto considers building a platform to accumulate sensor-acquired data and deploying services utilizing the acquired data.
Dover Buys Malema, a Flow Measurement Company With $45 Million in Revenue
Dover has entered into a definitive agreement to acquire Malema Engineering Corporation ("Malema"), a designer and manufacturer of high-precision, mission-critical flow-measurement and control instruments serving customers in the biopharmaceutical, semiconductor, and industrial sectors. Malema will become part of the PSG business unit within Dover's Pumps & Process Solutions segment.
Malema's products will expand Dover's biopharma single-use production offering, which already includes Quattroflow pumps, CPC connectors, and em-tec flowmeters. Based in Boca Raton, FL, and with facilities in San Jose, CA, Singapore, South Korea, and India, Malema expects to generate approximately $40-45 million in revenue during the full year 2022 and has a robust growth outlook.
Over the past four decades, Malema has cultivated a loyal base of blue-chip customers, OEMs, and end-users with substantial aftermarket and recurring revenue streams. Malema's first-of-its-kind single-use flow sensor using Coriolis technology offers superior flow-measurement performance and accuracy versus alternative technologies, reducing the potential for measurement error and eliminating the need for calibration in time-sensitive and contamination-intolerant environments.
Speaking about the market opportunity for Malema, PSG's President, Karl Buscher, said, "We see a tremendous long-term growth opportunity in the bioprocessing industry driven by a strong and growing pipeline of effective novel biologic drugs, biosimilars, protein therapies, non-COVID mRNA vaccines, as well as budding cell & gene therapies. Additionally, the growing adoption of more efficient single-use production processes supports a robust outlook for our offerings of single-use components to end-customers. We believe that pairing Malema's technology with our existing portfolio of single-use pumps for biopharma processing will greatly enhance the accuracy and value proposition of our solutions to our customers."
"We are methodically building out our biopharma platform through proactive capacity additions, new product development, and opportunistic acquisitions of highly-attractive niche component technologies," said Richard J. Tobin, President, and Chief Executive Officer of Dover. "Malema represents a strategic and highly-complementary flow-control and sensing technology and further strengthens our sensor portfolio with new proprietary technology. In addition to attractive biopharma regulatory approvals.
Dover is a diversified global manufacturer and solutions provider with annual revenue of approximately $8 billion. We deliver innovative equipment and components, consumable supplies, aftermarket parts, software and digital solutions, and support services through five operating segments: Engineered Products, Clean Energy & Fueling, Imaging & Identification, Pumps & Process Solutions, and Climate & Sustainability Technologies. Dover combines global scale with operational agility to lead the markets we serve. Recognized for our entrepreneurial approach for over 65 years, our team of over 25,000 employees takes an ownership mindset, collaborating with customers to redefine what's possible. Headquartered in Downers Grove, Illinois, Dover trades on the New York Stock Exchange under "DOV." Additional information is available at dovercorporation.com.
PSG is a global pump solution expert and leading manufacturer of pumps, systems, and related flow-control technology for the safe and efficient transfer of critical and valuable fluids and materials. Headquartered in Oakbrook Terrace, IL, PSG is comprised of several world-class brands, including Abaque®, All-Flo®, Almatec®, Blackmer®, Ebsray®, em-tec®, Griswold®, Hydro Systems™, Mouvex®, Neptune™, Quantex™, Quattroflow®, and Wilden®. PSG products are manufactured in three continents – North America, Europe, and Asia – in state-of-the-art facilities that practice lean manufacturing and are ISO-certified. PSG is part of the Pumps & Process Solutions segment of Dover Corporation.
John Cockerill Integrating the "Cooling" Activities of Hamon
In line with its industrial project, John Cockerill has acquired the "Cooling" activities of the Hamon Group in Belgium, France, and Spain. It is thus expanding its portfolio of technologies dedicated in particular to low-carbon energy and responsible industry. It also develops its presence in the Paris region and in Spain. John Cockerill is safeguarding some 270 highly qualified jobs and maintaining strategic activities for European industry and energy under European control.
This acquisition concerns the design, manufacture, installation, commissioning, and maintenance of systems for cooling water or condensing steam from power plants, particularly nuclear power plants, or industrial processes (chemical, petrochemical, steel, paper, sugar, etc.).
This scope represents an annual turnover of about 100 million euros and is supported by about 30 people in Mont-Saint-Guibert (Belgium), 120 in Île-de-France and Centre – Val de Loire.
François Michel, CEO of John Cockerill: "We are very pleased to contribute, through this acquisition, to the strengthening of strategic activities that contribute to energy and industrial sovereignty in Europe, such as the design and installation of cooling towers for nuclear power plants. This operation is perfectly in line with our desire to strengthen our roots in European territories, with our ambition to expand our portfolio of technological solutions to decarbonize the economy, with our commitment to society and with our DNA as an entrepreneurial enabler of opportunities."
Stéphane Vandepoortaele, President of John Cockerill Hamon: "We are delighted to join John Cockerill and confident in the future for our people and our business. The John Cockerill Group, with its businesses, markets, customers, and mindset very similar to ours, is indeed a fertile ground for our future success. I am therefore delighted that our industrial adventure can continue in this new environment."
Schenk Process Sells Mining Business to Sandvik
Schenck Process, a global company for sustainable, integrated measuring and process technology solutions, i has signed an agreement for the sale of its Mining business to Swedish engineering group Sandvik AB. Upon completion, the business will be integrated into Sandvik's Rock Processing Solutions business area, a leading supplier of equipment, tools, parts, services and solutions for processing rock and minerals in the mining and construction industries. The transaction is expected to complete in the second half of 2022, subject to regulatory approvals.
With locations in 21 countries, spread over 6 continents, Schenck Process is a global provider of process solutions for mission-critical applications. Schenck Process services a wide range of industries and provides customers with a unique combination of individual products, smart solutions, and deep application know-how.
Schenck Process's Mining business comprises operations in major mining locations around the world including Australia, South Africa, and South America with FY2021 revenues of about €160m and approximately 630 employees.
Once fully integrated into Sandvik Rock Processing Solutions, the Mining business will benefit from a greater global reach combined with Sandvik's strong technical and commercial depth providing a more attractive customer proposition and broader career opportunities for all mining employees.
Keith Cochrane, CEO Schenck Process Group, commented:
"I am delighted with this outcome for our mining colleagues and customers. Sandvik Rock Processing Solutions is both a natural and excellent new partner for our Mining business creating a stronger platform to build on our recent market success. This transaction will result in a more focused Schenck Process Group to further grow and extend our positions as a global solutions provider for the food, chemical and performance materials as well as the infrastructure & energy markets."
Anders Svensson, President of Sandvik Sandvik Rock Processing Solutions, commented:
"I am really pleased that we have come to this agreement. Schenck Process Mining range of high-capacity screens and feeders, as well as screening media offering will complement our product offering. Coupled with Schenck Process Mining knowledge and experience in screening applications this will enable us to serve our customers even better and provide complete solutions."
Sandvik is a global high-tech engineering group offering solutions that enhance productivity, profitability and sustainability for the manufacturing, mining, and infrastructure industries. Sandvik is at the forefront of digitalization and focuses on optimizing customers' processes.
Donaldson Buys Biotech Company, Purilogics
Donaldson Company, Inc.( DCI), a leading worldwide provider of innovative filtration products and solutions, announced the acquisition of Purilogics LLC (Purilogics) Purilogics is an early-stage biotechnology company that leverages a novel technology platform for the development of best-in-class membrane chromatography products. The company offers a broad portfolio of purification tools for a wide range of biologics, including mRNA, plasmid DNA, viral particles, monoclonal antibodies, and proteins. Purilogics' proprietary formulations and processes create membranes that have significant competitive advantages, enabling faster and more cost-effective production of increasingly complex biologic drugs.
"We are excited about the value Purilogics brings to the Donaldson life sciences portfolio through its novel and differentiated products," said Tod Carpenter, Chairman, President, and Chief Executive Officer of Donaldson. "Our membrane technology expertise, and global sales and manufacturing footprint, will enable faster development and commercialization of these powerful tools for biologics purification."
"Being a part of Donaldson will provide Purilogics with the global scale and financial flexibility needed to achieve our founding vision – to accelerate the speed of early stage biologics drug development and improve production efficiency," said Jinxiang Zhou, Ph.D., co-founder, and vice president of Purilogics.
Founded in 2013 by Jinxiang Zhou, Ph. D and Scott Husson, Ph.D., Purilogics is headquartered in Greenville, South Carolina. Donaldson acquired Purilogics for an initial purchase price of approximately $20 million as well as milestone-based earnout payments over the next five years. Once commercialized, revenue from Purilogics' products will be reported within the Donaldson Industrial Filtration Solutions business in the Industrial Products segment.
Purilogics was advised in the transaction by Klaus Binder and John Chickosky of Binder Associates, GmbH. Founded in 1915, Donaldson (DCI) is a global leader in technology-led filtration products and solutions, serving a broad range of industries and advanced markets. Our diverse, skilled employees at over 140 locations on six continents partner with customers—from small business owners to the world's biggest OEM brands—to solve complex filtration challenges.
CWS Buys STAX a Benelux Cleanroom Distributor
CWS Cleanrooms, a member company of the CWS Group, takes over STAXS Contamination Control Experts, a leading distributor of cleanroom consumables for the life sciences and other industries in the broader Benelux region.
This acquisition by CWS Cleanrooms is a further stage in the expansion of its cleanroom services in Europe. The seller is Silverfleet Capital, a pan-European private equity company. The parties have agreed to keep the purchase price confidential. The transaction is planned for completion in late May 2022 and is subject to no further closing conditions.
The acquisition is an important step in implementing the company's growth strategy, as Markus Schad, Managing Director of CWS Cleanrooms, knows: "This acquisition represents a further stage in the expansion of our international portfolio of services for our customers in the highly specialized cleanroom segment. We at CWS Cleanrooms are Europe's first one-stop shop provider of textile services, cleaning, training, on-site services, and consumables. Together with the existing management team, we will further strengthen the positioning of CWS Cleanrooms in Europe."
MDI Modular Devices Buys Cardiac Services Mobile
MDI Modular Devices, a provider of mobile cath labs and mobile cleanrooms, has announced the acquisition of a mobile cath lab company out of Nashville, TN that serves the US markets.
The acquisition of Cardiac Services Mobile builds on Modular Devices' position as a premier provider of mobile cardiac cath, peripheral vascular, electrophysiology (EP) and mobile CT labs for the rapidly growing US mobile imaging market.
Modular Devices, based in Indianapolis, IN, is a long-time driver of innovation in the mobile cath lab industry. The company's imaging division provides a comprehensive fleet of temporary interim cath, IR, EP and CT labs serving the hospital, ambulatory surgery center (ASC) and outpatient-based lab (OBL) markets. Modular Devices' interim labs add value for healthcare facilities of all sizes, helping take the guesswork out of how to continue services during imaging lab renovation projects and how to start-up or expand a service line when no space is available inside the current footprint of the healthcare facility.
"Following on the heels of the recent acquisition of Modular Devices by O2 Investment Partners in Bloomfield Hills, Michigan, this is the first step of our strategic plan to grow our market share and product offering," said Greg Mink, CEO of Modular Devices. "The addition of Cardiac Services Mobile allows us to meet the market demands of our growing customer base as we upgrade the imaging capabilities in Cardiac Service's mobile labs. The acquisition adds nearly 33% more capacity to our existing infrastructure."
The addition of Cardiac Services Mobile's interim cath lab fleet and its team of industry professionals complements and strengthens Modular Devices' rapidly growing mobile imaging business. The combination will allow for increased efficiencies and newer digital x-ray system upgrades to the interim lab fleet, while providing healthcare facilities with better access to safe and reliable high-quality interim lab solutions.
Going forward, Modular Devices will be the largest mobile company focused on temporary, interim cardiac catheterization, peripheral vascular, Electrophysiology (EP) and CT labs. Modular Devices' offers both Mobile Labs (coach on wheels) and larger Modular Labs. Mobile Labs are used primarily as short-term solutions lasting 2-5 months while the larger Modular Labs are the ideal solution for more complicated procedures and longer-term lengths of 6-12 months or longer.
AirCare Automaton, FFU Controls Supplier, acquired by FAIX Capital
AirCare Automation has been acquired by the private investment firm, Falx Capital. The recapitalization by Falx was completed on 31st March 2022.
Recapitalization is the process of restructuring a company's debt and equity mixture.
The announcement has been made by Generational Equity, who advised the finances of the acquisition.
AirCare Automation is a Texas-based supplier of cleanroom Fan Filter Unit (FFU) Control Systems for regulated air control environments.
Established in 2003, the company has increasingly combined expertise in AC motor speed control, ECM fan motor interfaces, and Cleanroom Control Systems (Consoles and environmental sensors) to provide a total support package for monitoring and controlling cleanroom environments.
Originally established as a controls supplier to downstream OEM FFU markets, in the past several years the company has evolved its services to include complete controls and system integration packages to new and existing sites.
G-CON Buys Pasteurop
The monolithic cleanroom wall panels and doors specialist Pasteurop has been acquired by G-CON and will become G-CON Clean Components SAS. Pasteurop's core competence is the automated production of monolithic cleanroom wall panels and doors. These components are used in a variety of industries with stringent standards for cleanliness and quality.
Pasteurop was founded in 1978 and acquired by Panelco SAS in 2004. Since then, the company has produced numerous highly innovative products and has received multiple awards for innovations in the cleanroom infrastructure market.
"We have enjoyed working with Pasteurop on many projects and have been impressed by their robust delivery timelines and high quality of the supplied components," said Maik Jornitz, President and CEO of G-CON. "This acquisition is a natural progression, adding these critical components into our product portfolio so we are able to serve our customer base with a broader range of bioprocess space infrastructures. The vertical integration of these cleanroom components will also accelerate our already rapid delivery times and enhance the delivery schedule certainty, all to the benefit of the global patient."
Pasteurop will become G-CON Clean Components SAS, with Philippe Calland remaining as the President of the independent subsidiary.
"Our desire is to accelerate the growth and further the innovative power of Panelco by joining G-CON, which we see as industry-transforming prefabricated cleanroom supplier. The joint vision and values of the companies and combined product portfolio will advance our market leadership as total cleanroom infrastructure provider," said Philippe Calland, President of Panelco. "This enables us to deliver sustainable healthcare processing spaces faster and in a much more cost-effective way."
G-CON has also made recent strides in Europe with the launch of its POD range in the continent.
Elis expands in Mexico with acquisition of Garment Leaser
After Brazil, Chile and Colombia, Elis enters a new country in Latin America with the acquisition of a leaser on the Mexican market.
Elis, an international multi-service provider, offer textile, hygiene, and facility services solutions. Present in Europe, the company has continued its expansion in Latin America with the acquisition of the only Mexican player with national coverage.
Created one century ago, this family business mainly supplies flat linen and workwear, operates 11 plants and 12 distribution centers.
It generates a turnover of c. €74m ($81.4m) mainly with clients in the healthcare market, but as well in hotels and restaurants and in industry.
This are 2,600 employees that are joining the group Elis. The management will continue to run and develop the business.
The transaction should be finalized by the end of July 2022.
Asgard-Angstrom buys UK Cleanroom Supplier SEL
Angstrom Technology has announced its third acquisition in six months, after acquiring UK-based C2C in January.
The West Michigan cleanroom engineering company and portfolio company of ASGARD has acquired UK-based Specific Environments Limited (SEL). This acquisition will bring Angstrom Technology's cleanroom expertise to greater markets throughout Europe and will build on the organization's specialized design and engineering capabilities.
As part of the transaction, Peter Saunders, Managing Director of SEL, will continue to lead the business alongside the existing management team.
This is another big milestone for Angstrom," said Matt Isard, CEO of Angstrom. "SEL's strong design and engineering capabilities will give Angstrom a more integrated commercial approach and allow us to work even more collaboratively with our customers to drive value. This acquisition accelerates the next stage of growth for the organization all while retaining our core values and commitment to quality, service, and innovation."
Karan Rai, Managing Partner of ASGARD, said: "The SEL acquisition adds a significant in-house design and engineering competence to our existing platform. We are committed to building a highly customer-centric and full-service global company in this space. This is our third add-on acquisition to the Angstrom platform in the past six months and is just the continuation of a long-term growth strategy focused on consolidating the cleanroom and controlled environment industry. We are excited to welcome the talented SEL team into the Angstrom family."
Peter Saunders, Managing Director of SEL, said: "We believe this partnership will help us meet the growing demand from our customers and enable us to work with larger organizations in delivering fully customizable and turnkey cleanrooms. I believe the combined company is poised for significant growth as it continues to expand its global footprint."
"With this acquisition, Angstrom adds tremendous design and engineering capabilities along with a highly experienced team," added Robert Beall, Partner at ASGARD. "SEL is a leader in the cleanroom industry and serves the world's most sophisticated pharma/biotech clients. We believe our ability to attract industry-leading talent and pedigree to Angstrom is further validating our thesis. We look forward to partnering with and supporting the company's management team."
Neenah and SWM Merge
Schweitzer-Mauduit International, Inc. and Neenah, Inc. (NP), two leading global manufacturers of specialty materials, today announced that they have entered into a definitive agreement to combine in an all-stock merger of equals with combined revenues of approximately $3 billion, expanded scale and capabilities, and accelerated growth opportunities.
This transaction brings together two organizations with highly complementary technologies, geographies, and product portfolios in specialty materials. The combined company will capitalize on powerful megatrends with strong positions in large, growing categories including Filtration, Healthcare & Wellness, Protective & Adhesive Solutions, Industrial Solutions, and Packaging & Specialty Paper.
Under the terms of the agreement, which was unanimously approved by the Boards of Directors of both companies, shareholders of Neenah will receive 1.358 shares of SWM common stock for each share of Neenah common stock owned. Following the closing of the transaction, SWM shareholders will own approximately 58 percent of the combined company, and Neenah shareholders will own approximately 42 percent of the combined company, in each case, on a fully diluted basis.
"I'm proud of the work our team has done to successfully expand and grow our global portfolio over the last several years, adding core capabilities and scale to better serve our customers. This merger is an exciting next step on our journey and one that will deliver significant shareholder value," said Dr. Jeff Kramer, Chief Executive Officer of SWM. "SWM has earned a reputation as a critical solutions provider. The combination with Neenah is a continuation of our strategic intent to solve our customers' most complex design challenges. We are excited by the numerous benefits of this merger, including the significantly broadened customer base, product lines and technical expertise. At the same time, combining the talented teams, cultures ,and well-run operations of Neenah and SWM will enhance our position as a world-class leader across our end-markets, poised to drive long-term growth and attractive returns. We look forward to working with the Neenah team to unlock the tremendous value of this compelling combination for all stakeholders."
"This combination is a unique opportunity to accelerate our growth strategy and continue the transformation of our business, creating a global leader in specialty materials with strong and defensible positions in attractive end-markets," said Julie Schertell, President, and Chief Executive Officer of Neenah. "Merging our two companies enhances our ability to grow and solve the needs of our customers for demanding, innovative products that address global challenges such as the necessity for clean water and air, sustainable alternatives, and enhanced health and wellness. The synergy potential for this transaction is significant, and the all-stock structure enables shareholders of both companies to participate in the substantial value creation and future growth opportunities of the combined company. SWM has a talented team that shares our values, with a focus on employee safety, innovation, and customer intimacy. We look forward to delivering on the potential of this transaction by capitalizing on our combined capabilities and strengths."
Strategic and Financial Benefits of the Combination
Creates a Global Leader in Specialty Materials with a Broad Portfolio of Solutions:

Combining the Neenah and SWM product portfolios will enhance exposure to growing, global end-markets with clear megatrends of clean air and water, health and wellness, sustainability, and advanced protective solutions. Complementary capabilities exist in key categories including filtration, healthcare, tape, packaging, release liners, and adhesive solutions.

Highly Achievable Cost Synergies:

The transaction is expected to achieve at least $65 million in annual run-rate cost synergies within 24-36 months post close. Key cost savings include organizational optimization, procurement and other supply chain efficiencies, and redundant public company costs.

Accelerates Growth

with Enhanced Scale and Larger Global Footprint: The combination is expected to accelerate long-term revenue growth, with numerous opportunities to cross-sell the extensive suite of specialty materials, leverage each company's deep customer relationships, combined technology portfolio, and innovation capabilities. In addition, with operations spanning four continents, the combination will create a stronger presence to better serve customers both globally and regionally, with significant opportunities to increase penetration in several geographies.

Strong Financial Profile and Commitment to Shareholder Value Creation:

The combined company is projected to have approximately $450 million of pro-forma adjusted EBITDA (including synergies) and margins of more than 15 percent in highly specialized, defensible categories. The transaction is also expected to increase the combined company's ability to generate cash, providing financial stability and flexibility. The combined company intends to uphold Neenah and SWM's track records of prioritized uses of cash, including returning capital to shareholders. As a larger, well-capitalized company, the combined entity also expects to benefit from greater access to capital markets, opportunities for lower cost of capital, and long-term strategic optionality.

Accelerates Innovation:

The combined company's suite of technologies, intellectual property, and R&D capabilities in material science is expected to accelerate the pace of innovation, with the potential to deliver breakthrough, high-growth products that better meet the ongoing needs of customers and drive long-term profitability for shareholders.

Shared Values and Culture

: SWM and Neenah have highly aligned outlooks on business, prioritizing employee safety and development, and partnering with customers to create premium, unique solutions that fuel their success. With shared commitments to environmental stewardship, sustainability, engagement, inclusion, and corporate governance, the combined business will build upon both companies' ongoing ESG efforts.
<![if !supportLineBreakNewLine]>
<![endif]>
The combined company will remain headquartered in Alpharetta, Georgia and will be led by a proven management team that reflects the strengths and capabilities of both organizations. Upon close, Julie Schertell, President, and Chief Executive Officer of Neenah, will serve as President and Chief Executive Officer of the combined company. Dr. Jeff Kramer, Chief Executive Officer of SWM, will serve as a strategic advisor for the combined company following the close of the transaction. A new name for the combined company will be selected in connection with the merger.
The new Board will consist of nine directors, five of whom will be from the SWM Board and four of whom will be from the Neenah Board, including Ms. Julie Schertell. John D. Rogers, Non-Executive Chairman of the SWM Board, will serve as Non-Executive Chair of the combined company's Board of Directors.
Schweitzer-Mauduit International, Inc., operating as SWM International, is a leading global performance materials company, focused on finding ways to improve everyday life by bringing best-in-class innovation, design, and manufacturing solutions to our customers. Our highly engineered films, adhesive tapes, foams, nets, nonwovens, and papers are designed and manufactured using resins, polymers, and natural fibers for a variety of industries and specialty applications. SWM and its subsidiaries manufacture on four continents, conduct business in over 90 countries and employ approximately 5,000 people worldwide. For further information, please visit SWM's website at www.swmintl.com.
Neenah is a leading global manufacturer of specialty materials serving customers across six continents, with headquarters in Alpharetta, Georgia. We are focused on growing in filtration media, specialty coatings, engineered materials and imaging & packaging. Our materials are in various products used every day, such as transportation and water filters, premium packaging of spirits, technology and beauty products, industrial labels, tapes and abrasives, and digital printing for high-end apparel.