WATER & WASTEWATER TREATMENT CHEMICALS WORLD MARKET UPDATE
March 2019
McIlvaine Company
Forecasting the Most Profitable Market - Kemira Example
The McIlvaine Water & Wastewater Treatment Chemicals: World Markets forecasts a market of $30 billion next year of which municipal wastewater is $5 billion. Pulp and Paper and Oil & Gas forecasts are more modest. They exclude some of the products supplied by the treatment chemical companies but which involve processes and not typical water treatment. This continuously updated report with 50,000 forecasts is arguably the best source for a multi-client estimate of the Total Available Market (TAM). However this should be only the starting point in preparation of the Most Profitable Market (MPM). This is the market which will yield the biggest profit given the supplier's capabilities. For more details on the program Click Here
This market is impacted by new developments such as proppants for hydraulic fracking. It is impacted by product quality and cost. An important element is validation of a lower total cost of ownership (LTCOV) in the minds of purchasers. Kemira will be used as an example of how to create the MPM. Two of the most challenging aspects are to
<![if !supportLists]> 1. <![endif]> Accurately assess the large new opportunities e.g. phosphorous removal, hydraulic fracturing and total solutions
<![if !supportLists]> 2. <![endif]> Create a validation path which is economically effective
Kemira Assessment
Kemira sales in 2018 were € 2.6 billion. EBITA was € 323 million for a margin of 12.5%. Net profit was € 95 million. 41% of the sales were outside pulp and paper but the other 59% were in pulp and paper. Some of the largest customers are municipalities such as Shanghai, Paris, London and New York. Other major customers are oil field suppliers such as Haliburton and Schlumberger. International Paper is also a customer.
Kemira expects increased demand in water treatment chemicals due to water reuse and phosphorous recovery from wastewater. Revenue growth has averaged 3% over the last 5 years while the EBITA CAGR has been above 5%.
Five products each account for more than 15% of revenue.
<![if !vml]>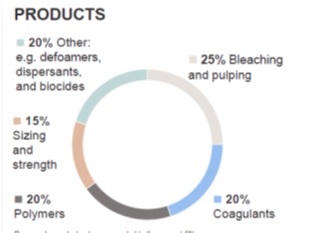 <![endif]>
Kemira has large market shares in both water treatment and oil and gas.
<![if !vml]>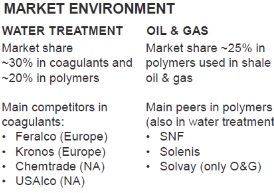 <![endif]>
It estimates its pulp and paper market share at 16%. This puts it in second place behind Solenis. Kemira is looking to the oil and gas market including shale and EOR to be a contributor to profitability improvement. It is expanding polymer capacity in the U.S. A Chemical Enhanced Oil Recovery (CEOR) polymer expansion is underway in the Netherlands with a start up in the second half of 2019. Shale fracking accounts for 65 % of the oil and gas revenues with 20% in oil sands and CEOR.
The raw materials, intermediates, products and end uses are shown below.
<![if !vml]>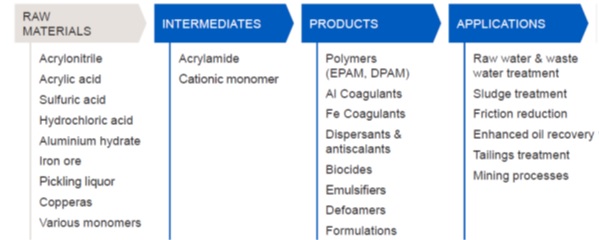 <![endif]>
Opportunity #1 Hydraulic Fracking
In Hydraulic Fracturing Markets McIlvaine is predicting a big change to the previous forecasts for treatment chemicals. ExxonMobil and Chevron are planning to invest heavily in shale fracturing. The result will be twice the chemical consumption which was derived from IEA and OPEC forecasts. U.S. liquids production will reach 25 million b/d in 2025 in the new scenario. There is reason to believe that polymer chemical investment per barrel will also rise. Since Kemira is targeting this market it will be critical to make detailed assessments of the purchases in the U.S. and also in the developing markets such as Argentina. The Hydraulic Fracturing Market report Hydraulic Fracturing MPM and N026 Water and Wastewater Treatment Chemicals: World Market plus day to day coverage in N049 Oil, Gas, Shale and Refining Markets and Projects will provide insights to make this forecast more accurate.
Opportunity 2 Total Solutions
Kemira KemConnectTM gives full visibility to chemistry applications, 24/7. Because it constantly gathers data it supplies up-to-date insights needed for better decision making, faster troubleshooting, smarter chemical management, and improved cost efficiency.
Kemira's has provided a remote plant operation solution to Nestlé Puljonki. This food manufacturer in Finland uses a dissolved air flotation process to pre-treat the wastewater from production before it is passed on for further treatment at the on-site plant. The sludge generated by the treatment process is dried in a screw press.
In January 2018 Kemira assumed responsibility for managing the wastewater treatment plant, while the customer was responsible for operation and monitoring with support from Kemira experts. After planning and implementing upgrades to the plant automation, the groundwork was in place for Kemira to assume full responsibility for the remote management of the wastewater treatment process at Nestlé Puljonki.
For a fixed monthly fee, Kemira takes care of all aspects relating to the operation, management, and support of the wastewater treatment process through the Kemira Operon turnkey service concept, which is based on specific key performance indicators agreed together with the customer. Using Kemira's KemConnect platform, all relevant performance parameters at the plant can be monitored in real time by experts at Kemira's Lapinlahti control center over 150 kilometers away.
Kemira has the potential to generate billions of dollar in revenues with this total solutions approach. More importantly it could double EBITA. This opportunity including recorded webinars with Kemira and other chemicals companies is covered in N031 Industrial IOT and Remote O&M. The webinar with a presentation by Kemira and other chemical producers is available at https://www.youtube.com/watch?v=YD5C93c6ujw&feature=youtu.be
Opportunity # 3 Phosphorous Removal
Struvite formation is a common challenge for wastewater treatment plants that utilize anaerobic sludge digestion. At the Miami-Dade plant, heavy struvite build-up had continued for years and it was starting to cost them more time and money. It impeded their dewatering operation and forced them to clean their systems on a weekly basis. This was time-consuming, resource hungry, and caused unnecessary downtime. Worse, the struvite was also damaging their centrifuges, leading to frequent repairs and yet more downtime.
Their approach was not only to apply the right chemical but to work with the customer for a complete value-adding solution," explains Tafadzwa "Tee" Mariga, Application Manager at Kemira. Kemira's team recognized quickly that the amount of ortho-phosphorus in the sludge needed to be decreased. Utilizing wastewater treatment expertise, the right solution was identified through laboratory testing.
The solution was based on Kemira's enhanced solids management program, powered by KemConnect™ real-time process monitoring and performance optimization.
McIlvaine tracks the individual wastewater plant activity in 62EI North American Municipal Wastewater Treatment Facilities and People Database which is being expanded for international coverage. This information provides a detailed bottoms up market assessment as well as a vehicle to validate the lowest total cost of ownership by Kemira or a competitor.
Creating a Validation Path which is Economically Effective
The Most Profitable Market only includes real revenue opportunities. This means not only creating products with lowest total cost of ownership but continually validating their superiority. This validation in turn requires evidence and a way to organize the evidence and communicate it to the purchaser. The McIlvaine thesis is that there is enough evidence available from on line sources and it can be readily organized to provide the validation. As an example McIlvaine selected the "struvite" subject and used the WEFTEC conference last fall to show that an attendee armed with the available evidence could attend the show and make decisions at a very high level. The approach was chronicled in Municipal Wastewater Services.
An update was sent to potential attendees with the struvite focus Municipal Wastewater Treatment Update. This update linked to many articles already available on line about struvite from specific exhibitors including consultants, separation and pump companies. It identified available articles on struvite from each of the publishers who was exhibiting. It included abstracts of speeches to be given at WEFTEC. Phosphorous recovery is an option being pursued by some plants. So this impacts the market for chemicals. The extent of struvite problems with pumps and centrifuges helps quantify the value of a chemical to solve the problem.
So just gathering the evidence available at one event demonstrates how a company such Kemira can validate a LTCO product.
The Most Profitable Market forecast can be the foundation of the business program. The MPM includes the impact of R&D and product improvement to lower cost of ownership. It includes the intelligence from the sales department on competitor designs and market share. It can be used to set realistic targets for regional sales directors and even the local salesmen. Since these chemicals are continuously consumed, the purchases at each plant can be predicted. The program is a systematic route to maximize profits.
Frac Sand Plants will spend more than $45 million for Flocculants by 2025
Frac sand plants around the world will increase their flocculant consumption over the next five years. Presently 90 percent of the $17 million spent on flocculants is by U.S. based plants. U.S plants will double their purchases by 2025 and other regions will spend more than $9 million.
The two most common flocculants are polyacrylamide and polydimethyldiallyammonium chloride (polyDADMAC). Although other types of flocculants are in use, these chemicals currently make up a majority of the flocculant use. Polyacrylamide anionic flocculants are commonly used to enhance settling of solids in the clarifier associated with the wet plant.
PolyDADMAC cationic coagulants are commonly used to enhance the performance of the belt press associated with wash plants.
There is the need to recycle water in the Permian basin where water is scarce. The growing markets in China and other countries are also in areas of water scarcity. There are increasing quantities of sand used per gallon of oil recovered. Furthermore the cost of extracting oil from shale is proving to be the lowest cost option. Chevron, ExxonMobil and other major gas and oil companies are greatly increasing their shale investments. Argentina is in the early stages of shale development. Saudi Arabia is looking to shale to supply gas. This gas will be used in power plants and will replace the oil presently used.
Chemical Displays at OTC
A number of chemicals will be exhibited May 6-9 at the Offshore Technology Conference. There will be 2000 exhibiting Companies representing 40+ countries (including divisions and subsidiaries) and 23 international pavilions. Exhibit net square feet is 500,000+ sq. ft., including outdoor exhibits. Attendance is expected to be 60,000+ representing 100+ countries (includes exhibit personnel). There will be 350+ technical presentations, 22 topical breakfast and luncheons, and 11 panel sessions.
Gumpro Drilling Fluids is a manufacturer of specialty drilling fluids based in India, offers various Drilling and completion Fluids for Water and Oil Based Mud systems. Gumpro also provides mud testing equipment and Lab Housing for sale and lease. Gumpro has ISO certified R & D Centre which provides services to the industry for R & D and QA. India
http://www.gumprodf.com
Jiahua American LLC, Yorker chemicals is a global company providing a broad range of high-quality and innovative chemicals to meet technical challenges in drilling, cementing, stimulation, production and EOR applications. Yorker chemicals (US subsidiary of Jiahua Chemical Inc.) has a strong and state of the art manufacturing base in China, Vietnam, and USA to produce more than 720,000 MT of chemicals. United States
http://www.yorkerchem.com
Landoil Chemical Group is a professional manufacturer of Polyanionic Cellulose (PAC) and Carboxymethyl Cellulose (CMC), focusing on drilling fluid & drilling mud. As a leading enterprise in the cellulose industry, with unique advantages and excellent performances (low filtration, high viscosity, etc.) products are certified by API 13A and ISO9001. PAC LV, PAC R, PAC HV, CMC HV, CMC LV. China
http://www.landoilchem.com
Qingdao Green Chemicals Co., Ltd., is a manufacturer and supplier of drilling fluids, cementing, frac materials for oil & gas in China. Being the strategic supplier of Halliburton, MI-Swaco, Baker Hughes, Weatherford, Scomi for more than 9 years, they can supply best quality, prompt shipment, competitive price, and professional service. China
http://www.grchem.com
Qinhuangdao Jinjia Petrochemical Co., Ltd is a high and new-tech integration enterprise of science, industry and trade, which was established in 2001 in Qinhuangdao city, with floor area of 50,000 square meters. Focusing on Friction Reducer Powder and Emulsion. China
http://www.jinjia-petrochemaical.com
Sahara Chemical Solutions SCS, SAPESCO provides a broad range of high-quality chemicals to help operator and service companies meet technical challenges. Providing full scale of chemical solutions including laboratory testing and site implementation. Supporting operators and service companies to keep up with the industry's overall drive for optimum efficiency and productivity. Egypt
http://www.sapesco.com
Shandong Ruihai Mishan Chemical Co., Ltd., introducing themselves as chemical group company since 2006 in China with the registered capital of CNY 100 million. The company assets are more than CNY 300 million, and annual sales reached CNY 700 million in 2018. The company is specialized in research and develop of acrylamide series chemicals. China
http://www.mxchem.cn
Shanghai Smart Chemicals Co., Ltd., established in 1991, Shanghai Smart Chemicals Co. Ltd is a specialized supplier in China for oilfield chemicals. Products include drilling, cementing, acidizing, fracturing, stimulation chemicals etc. Their plants and research center can offer customized solutions at your special request, which enables us an effective solution designer. China
http://WWW.HEBEISMART.COM
Shenzhen Esun Industrial Co., Ltd, established in 2002, Shenzhen Esun Industrial Co., Ltd is a high-tech enterprise dedicated to industrialization of environmentally friendly material, specializing in R&D of Biomaterials, green solvent. ESUN is a leading manufacturer of polycaprolactone and polycaprolactone polyol in China. Main polyurethane raw materials are: polycaprolactone polyol, polylactide polyol and bio-solvent. China
http://www.brightcn.net
Solvay offers the largest selection of high-performance polymers and composite materials with outstanding chemical resistance, retention of mechanical properties and very low permeation. Products include PEEK, PPS and fluoropolymers for fluid/gas transport and anti-corrosion coatings, fluoroelastomers for seals, and fluorinated fluids for drilling operations, as well as UD CF reinforced tapes.
United States
http://www.Solvay.com
Zhongke Bosson (Beijing) Technology Co. Ltd. an integrated solution provider of oil field chemicals. The service package covers drilling fluid slurry and cementing slurry system building and evaluation; High waxy crude oil transportation scheme optimization; Chemical products supply. China
http://WWW.BOSSONOIL.COM
PTQ Quarterly Advertising 3rd quarter 2018 includes water chemical ads
17 advertisers displayed a range of combust, flow, and treat products covering 18.5 pages of text.
PTQ Q3 (Jul, Aug Sept) 2018 Advertising

Company

Pages

Subject

Service

AMETEK Grabner

0.5

On Line Sulfur Analysis

IIoT

Aqseptence

1.0

Johnson Screens

Liquid Filtration

DuPont

1.0

Scrubbers, desulfurization

Scrubber/Adsorber

DeLoach

1.0

Scrubbers, Pumps

Scrubbers, Pumps, Liquid Filtration

Honeywell UOP

3.0

Integrated Solutions

IIoT

John Zink

1.0

Combustion Systems

Thermal/Catalytic

Jonell Nowata

1.0

Filter Elements

Liquid Filtration

Kurita

1.0

Chemicals, Wastewater Treatment

Chemicals, Liquid Filtration

LumaSense

1.0

Flare Stack Monitoring

IIoT

Magnetrol

2.0

Level control

IIoT

Metso

1.0

Valves

Valves

Nalco

1.0

Chemicals

Chemicals, Liquid Filtration

OHL Valves

0.5

Valves

Valves

Prognost

1.0

Monitoring

IIoT

Sulzer

1.0

Scrubbers

Scrubbers

Weka

0.5

Level Measurement

IIoT

Zwick

1.0

Valves

Valves