UTILITY E-ALERT
#1454– January 24, 2020
Table of Contents
CLIMATE CHANGE
COAL – U.S.
COAL – WORLD
<![if !supportLists]> · <![endif]> Global activists urge Bangladesh PM to scrap Plans for Coal-fired Power Plants
<![if !supportLists]> · <![endif]> Indian Power Utility lobbies to weaken Pollution Standard
<![if !supportLists]> · <![endif]> German Government negotiates Coal exit but waters down Commission Recommendations
<![if !supportLists]> · <![endif]> Modernization of the 680 MW Lignite-Fired Power Station Kosovo B
BIOMASS
<![if !supportLists]> · <![endif]> ANDRITZ to supply a further High-efficiency PowerFluid Circulating Fluidized Bed Boiler with Biomass Firing in Japan
GAS TURBINES
<![if !supportLists]> · <![endif]> MHPS Technology Upgrades at Termocandelaria Improve Colombia's Electric Sector Capacity, Reliability and Efficiency
WASTE-TO-ENERGY
<![if !supportLists]> · <![endif]> Commercial operations achieved at Two New Wheelabrator Technologies Waste-to-Energy Facilities in U.K.
NUCLEAR
<![if !supportLists]> · <![endif]> GE Hitachi Nuclear Energy and TerraPower announce Collaboration to Support Versatile Test Reactor Program
_____________________________________________________________________________________________________________________________
CLIMATE CHANGE
The Opportunistic Antidote to the Climate Change Doomsday Scenario
The U.S. Administration will support a trillion-tree planting campaign along with many other nations. However, the U.S. still believes that warming may be caused by solar activity and that increased CO2 levels are a result and not cause of the warming. What if the U.S. government officials are wrong and the doomsday predicters are right? They say we are reaching a tipping point and it will be difficult if not impossible to prevent the catastrophic floods and fires without immediate cessation of fossil fuel burning.
Fossil fuel elimination will certainly threaten economic prosperity throughout Asia. If Asian nations are not participants any reductions in Europe and the U.S. will be insignificant.
The solution to this dilemma is a Doomsday antidote which is Opportunistic Biomass Combustion and Sequestration. A UK consortium is already generating a significant amount of its electricity from biomass burning and will be distributing CO2 and hydrogen to industrial facilities and sequestering the remaining CO2 underground. In Canada the SaskPower Boundary Dam 3 coal fired plant has now supplied 3 million tons of CO2 for enhanced oil recovery.
So, there is no doubt that biomass combustion and CO2 sequestration is a legitimate option. The question is how costly will it be? It will not be cheap but on the other hand if the doomsday believers are correct then it could be the only option. This biomass combustion/sequestration will "suck the CO2 out of the air." Wind and solar are just neutral. So, the biomass option is the antidote for the doomsday scenario.
The greater the impending doom the greater the amount of biomass which should be grown, combusted and sequestered. But to be opportunistic why spend the money if it is not needed. So, the opportunistic approach is to build and retain biomass capable fossil fuel boilers. Should the coal fired boilers being retired in the U.S. be scrapped or should they be mothballed and ready for conversion to biomass firing if needed?
Should utilities reconsider scrapping the coal plants and building natural gas-fired units? Or should they design natural gas fired plants for eventual biomass gasification and sequestration?
Should the Philippines make its new fleet of coal fired boilers biomass ready? It is a major target of the trillion-tree initiative. There needs to be an optimization of four initiatives.
<![if !supportLists]> · <![endif]> Tree planting for long term sequestration (hundred years)
<![if !supportLists]> · <![endif]> Biomass fuel growth with the most mass in the shortest amount of time
<![if !supportLists]> · <![endif]> Biomass combustion
<![if !supportLists]> · <![endif]> CO2 use and sequestration
Due to the uncertainties, the wise course is to spend modest amounts to make combustion plants ready for biomass combustion while continuing to develop new sequestration strategies including substituting CO2 for water in hydraulic fracturing.
A biomass capable electricity generator becomes the highest-ranking choice with wind, solar, hydro and other options falling behind. Biomass may never be burned but if the doomsday scenario becomes part of the strategy then it is the antidote.
Details on the strategies, projects, and on all coal-fired generators around the world are included Utility Tracking System. http://home.mcilvainecompany.com/index.php/databases/42ei-utility-tracking-system
UK Coalition will sequester CO2 from Biomass Combustion
A coalition of industry, power and oil and gas firms in the U.K. are collaborating on a net-zero industrial cluster that they believe will establish a template for any country seeking a carbon-neutral economy. This was reported by John Parnell in Greentech Media.
The coalition includes Drax. The company used to be best known for running the Drax Power Station, a 4-gigawatt coal-fired power plant in the north of England. Today 2.6 gigawatts have been converted to biomass. The Drax Group has a spinoff in the U.S. producing wood pellets, pumped hydro and a pipeline of gas power-plant developments.
This mixed-fuel power complex on England's east coast is at the heart of an early proposal to send the U.K. on its way toward a net-zero economy. Its biomass generators will be connected to carbon capture, utilization and storage (CCUS) technology.
Meanwhile, National Grid, which runs the U.K. power transmission network and gas distribution grid, will create a regional CO2 network offering industry and petrochemical complexes down the Humber River the chance to feed into the pipe. At that point, Norwegian oil and gas major Equinor gets involved, providing a long-term home for that CO2 in the North Sea.
In tandem, the negative-emissions electricity at Drax will create hydrogen that will be distributed down the Humber industrial cluster via a new network to be developed by National Grid.
<![if !vml]>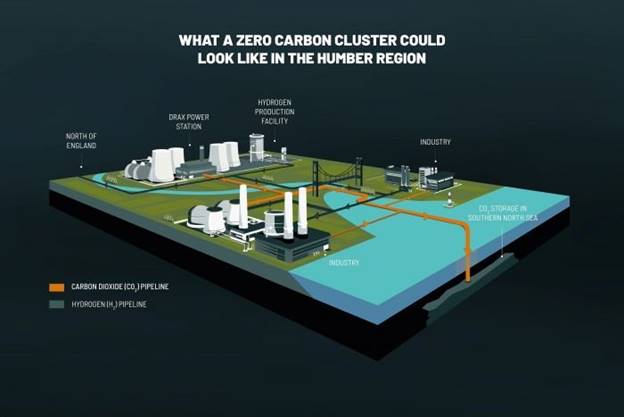 <![endif]>
The timelines for the project, particularly the CCUS component, could be shorter than expected. The companies involved include Drax, Shell, and the utility SSE, NGV has developed the Endurance store — a saline aquifer located 90 kilometers off the east coast of England in the Bunter sandstone formation in the southern North Sea. It is ideally situated to facilitate CCUS developments in the Humber region and could potentially be used by other cluster developments, such as Teesside in the northeast of the U.K. or Rotterdam in the Netherlands."
SaskPower Boundary Dam has now sequestered 3 Million Tons of CO2
The carbon capture and storage (CCS) facility at SaskPower's Boundary Dam (BD) Power Station had another good year in 2019, according to data released by SaskPower.
The facility prevented more than 616,000 tons of carbon dioxide (CO2) from entering the earth's atmosphere, even though there was a scheduled shutdown that lasted about two months.
There was also scheduled maintenance in the second half of November and the first week of December that took the facility offline.
It was also a year of milestones and firsts for CCS.
The CCS facility eclipsed the three-million-ton mark for CO2 captured and sequestered on November 4. It took a little more than five years to hit that mark.
The CCS facility also hasn't had a lost-time accident since it came online in October 2014.
"You see the size and the scope and the equipment and the chemicals that we're handling and all those sorts of things, and 24 hour a day operation, 365 days a year, that plant has equipment running in," said Howard Matthews, the vice-president of power production at SaskPower.
The 20,000 HP Compressor inside the CCS facility also went through its first overhaul and inspection last spring. "It was due for its regularly scheduled five-year dismantle and inspection, and a 57-day outage to allow us to take that compressor (apart)," said Matthews.
There have been some challenges. The boiler in Unit 3 has encountered tube leaks, because Matthews said the fuel the boilers burn wears the tubes out. "After five years of hard run time on the BD 3 boiler, we've seen a couple of tube leaks. Of course, when the boiler's not operating, there's no flue gas and no steam for the CCS facility and it takes CCS offline," said Matthews.
There will be some scheduled maintenance at Boundary Dam this year. They won't be to the same degree as the two-month shutdown of a year ago, but there will be regularly scheduled maintenance for cleaning work in the tower, absorber and heat exchangers.
Nothing unusual is slated, which means there should be very good performance in 2020, Matthews said.
"It does take a bit of time when you come offline," said Matthews. "Things cool down and you have to get the chemical back into spec and the temperatures back correct, and then go back online with the compressors."
He believes there has been some really good progress on the facility over the past five years. SaskPower's game plan when it embarked on the CCS facility was, first and foremost, to prove the technology and to show it would work as intended. Matthews believes they have done that.
They also wanted to improve reliability.
"We've seen substantial improvement in reliability with some of the work that we've done in the past couple of years," said Matthews.
Now their focus is surrounding cost reduction and trying to get their costs for CCS as low as possible.
"The whole point of this is with reliability and cost improvements, to give the best information that we can to the decision-makers going forward. Those decisions won't be made for some time. We continue to work on reliability and reducing our costs," said Matthews.
Trump backs Trillion Tree Initiative
President Trump, on January 21, announced the United States will join the One Trillion Trees Initiative. Trump made the announcement during an address to global business leaders gathered for the annual event in Davos, Switzerland. "We're committed to conserving the majesty of God's creation and the natural beauty of our world," Trump said, adding that the U.S. "will continue to show strong leadership in restoring, growing and better managing our trees and our forests."
At the 4,000-megawatt Drax plant in the UK, biomass is being burned as a replacement for coal. Furthermore, the utility is funding a sequestration program with the goal of permanently encapsulating CO2 underground.
When you combine the Trillion Tree Initiative and biomass combustion and sequestration you have a program to actually reduce CO2 not just avoid emitting more. This means that there is no tipping point beyond which there is no potential for carbon reduction. It is a good bet that our views on climate change will be considerably different 20 years from now than they are now.
If it turns out that the impacts of elevated CO2 levels are even worse than now anticipated the combination of planting, biomass combustion, and sequestration is even more important. If it turns out as it did in the case of dioxins where the harm was vastly over-estimated or ulcers where the true cause turned out to be a virus then there is a flexible program, which will respond appropriately. Here are the impacts on CO2 levels of the various technologies.
| | |
| --- | --- |
| Technology | Impact on CO2 levels |
| Wind and solar | zero |
| Coal combustion | increase |
| Additional tree planting | decrease |
| Equilibrium where a number of new trees are offset by decaying trees | zero |
| Biomass combustion | zero |
| Biomass combustion and sequestration | decrease |
So, the flexible program incorporates additional tree planting until equilibrium is reached. Then dying trees are substituted for fossil fuels. If more reduction is needed sequestration of the biomass combustor emissions is undertaken.
In 2006, the Billion Tree Campaign was launched, by the (UNEP) as a response to the challenges of global warming,
The Billion Tree Campaign was handed over to the Plant-for-the-Planet Foundation in December 2011, an organization that has been participating in the Billion Tree Campaign since 2007. In December 2017, following the discovery that there are more than three trillion trees on Earth, the planting target was revised to a trillion trees and the Billion Tree Campaign became the Trillion Tree Campaign.
One estimate found that this number of trees would cancel out the last 10 years of CO2 emissions and sequester 160 billion tons of carbon. However, the intergovernmental panel on climate change is even more positive. They estimate that one trillion trees will store an estimated 205 billion tons of carbon, or about two-thirds of the carbon that humans have added to the atmosphere since the 1800s.
The problem with this approach is that 30 years from now in 2050 there will be lots of trees dying and emitting CO2. However, at that time the biomass can be harvested and burned in power generators. If the 500,000 MW of new coal-fired capacity, which is built is designed to be biomass ready, it can be converted making each of the generators carbon neutral. If this CO2 is then sequestered, these generators would be as the UK describes it "sucking the CO2 out of the air. They would be the only generator type which actually reduces CO2.
What are the costs? The continuation of the coal-fired power program would net a savings of $7.2 trillion over 30 years. This saving would primarily be in a few Asian countries. The tree planting program would cost $700 billion resulting in a $6.5 trillion saving over the 30 years. For the period 2050-2080 the coal-fired power plants would be converted to burn biomass and if necessary, also sequester CO2. Sequestration would raise costs of electricity generation and make this approach relatively more costly but only after 2050. Since biomass combustion and sequestration is the only CO2 reduction option it can be employed if necessary.
| | | |
| --- | --- | --- |
| Activity | 2020-2050 | 2050-80 |
| Tree Planting | -$700 billion | -$700 billion |
| Saving with coal vs. more expensive generation options | $7.2 trillion | |
| Net savings | $6.5 trillion | |
| Biomass combustion with or without sequestration. | Biomass combustion without sequestration would increasingly be implemented. | Sequestration would be an alternative to other renewables and actually remove CO2 and not just be neutral. |
In 2050 these biomass- ready coal-fired power plants would have already served their purpose as coal generators. Their conversion to biomass would ensure that the forestation approach is sustaining in terms of CO2 minimization. However, if there are major improvements in the cost of wind and solar and no need to reduce CO2 the plants could be retired. But since they would be the only alternative for dealing with dying trees, they will continue to be utilized.
Another option is to convert these plants to biomass combustion at an earlier date. There is optimism that the cost of sequestration can be greatly reduced through programs underway at Drax and other locations. If some of the most pessimistic forecasters are right and climate change becomes a crisis, then the biomass generation and sequestration becomes the only route to solve the problem since it reduces CO2.
The present CO2 level is 410 ppm. But a massive tree planting program could have the effect of reducing CO2 by more than 1 ppm per year. The net effect would be a 390 ppm CO2 level in 2050.
Initiative

2020-2050

ppm CO2

2050-2080

ppm CO2

Existing

410

390

New Coal and Other

30

20

Tree Planting

-50

0

Biomass Combustion at most former coal plants and Sequestration

0

-30

CO2 level in the atmosphere at end of period

390

380
After 2050 solar and wind will be more cost effective particularly if energy storage methods advance. The need for new coal-fired power plants will cease but there will be other sources with the potential to add 20 ppm to the atmosphere in the 2050-2080 timeframe.
In 2050 there will be a very large quantity of fuel contained in elderly trees. They can be harvested and burned as fuel. The biomass would replace coal in existing boilers. They would not emit CO2 to the atmosphere if there is sequestration. New trees that replace the old trees will continue to remove CO2. So, this initiative would more than offset man-made sources and the CO2 level could drop to 380 ppm in 2080.
CO2 sequestration has been commercially practiced for decades. One use has been enhanced oil recovery. CO2 is being piped long distances in many areas. Presently it is economic only if it has a use such as recovering oil. The UK believes that new carbon capture technologies will drive down the cost over the coming years. But whether it is inexpensive or expensive, the situation is manageable in 2050 due to the ability to suck out the CO2. This control provides flexibility. It will allow construction of coal-fired power plants in India, the Philippines, Indonesia, Bangladesh, and Vietnam and still achieve climate change goals.
NETL Project Validates Geologic Storage of CO2 to boost Energy Production, reduce Carbon Footprint
The carbon footprint created by industry and other human activity in Big Sky Country — the area stretching across the Great Plains and into Canada — can be reduced using technology pioneered by NETL and partners at a leading research university.
Work completed as part of the NETL-backed Plains CO2 Reduction (PCOR) Partnership demonstrates not only the ability to reduce carbon dioxide emissions, it also enhances the efficiency of oil production, an important consideration to bolster domestic energy production.
PCOR is one of the U.S. Department of Energy's (DOE) seven Regional Carbon Sequestration Partnerships (RCSPs), which have been laying the groundwork since 2003 for large-scale geologic storage of CO2 in the United States as a means of mitigating effects of climate change while still allowing for the efficient and affordable use of fossil fuels for energy production.
RCSP activities, supported by NETL, have included assessments of geologic and terrestrial storage potential in each region, followed by small-scale validation tests and six large-scale (greater than 1 million metric tons) geologic storage field experiments.
The Energy and Environmental Research Center (EERC) at the University of North Dakota leads the PCOR Partnership. Throughout its history, PCOR has engaged a membership of more than 120 partner organizations drawn from industry, government and research institutions to foster carbon capture, utilization, and storage (CCUS) deployment across a vast region.
The positive environmental impact of PCOR is significant. Stretching from Missouri through the northern Great Plains to northcentral Canada, this region possesses outstanding potential for widespread CCUS deployment because it has significant geologic storage resources and an extensive fossil fuel-based industry. Furthermore, several active CCUS projects in the region are already setting an example for future work by demonstrating safe and effective carbon management strategies with attendant economic benefits.
Another key achievement of the PCOR Partnership was its assessment and monitoring of more than 6 million metric tons of CO2 storage associated with the enhanced oil recovery (EOR) operations, which inject captured CO2 into oil reservoirs to increase production, at Denbury Resources' Bell Creek oilfield in southeast Montana.
NETL-supported Petra Nova Project celebrates Three Years of Sustainable Operation
The world's largest operating post-combustion carbon dioxide (CO2) capture system Petra Nova celebrates its third anniversary January 10, 2020. The project, supported by the U.S. Department of Energy (DOE) Office of Fossil Energy and administered by NETL, is demonstrating how carbon capture, utilization, and storage technologies can economically support the flexibility and sustainability of fossil fuels at commercial scale.
Owned and operated by NRG Energy Inc. and JX Nippon Oil and Gas Exploration Corporation, Petra Nova is located southwest of Houston Texas and applies carbon capture technology to an existing unit at the coal-fired W.A. Parish Generating Station.
Commencing operation in 2017, the Petra Nova project addresses capture and beneficial reuse of CO2 from coal-based electricity production. The project uses an advanced amine-based process to capture CO2, which is then compressed, dried, and transported for enhanced oil recovery (EOR) at the West Ranch Oil Field in Jackson County, Texas, to boost oil production.
Using the Kansai Mitsubishi Carbon Dioxide Recovery (KM-CDR) Process©, the Petra Nova project is designed to capture approximately 90% of the CO2 from a 240-megawatt equivalent flue gas slipstream — which is approximately 1.6 million tons of CO2 per year (assuming an 85% availability). Since beginning operations in January 2017, Petra Nova has captured more than 3.9 million short (U.S.) tons of CO2 and West Ranch Oil Field has produced more than 4.2 million barrels of oil through EOR.
COAL – U.S.
EPA approves Utah's Regional Haze Plan
EPA is proposing to take action pursuant to section 110 of the Clean Air Act (CAA or Act) on State Implementation Plan (SIP) revisions submitted by the State of Utah on July 3, 2019, as supplemented on December 3, 2019, to satisfy certain regional haze requirements for the program's first implementation period. The EPA is proposing to approve the July 2019 SIP revision that provides an alternative to best available retrofit technology (BART) controls for nitrogen oxides (NOx) at the PacifiCorp Hunter and Huntington power plants. The EPA proposes to find that the Utah NOx BART Alternative for Hunter and Huntington would provide greater reasonable progress toward natural visibility conditions than BART, in accordance with the requirements of the CAA and the EPA's Regional Haze Rule (RHR). In conjunction with this proposed approval, EPA proposes to withdraw the federal implementation plan (FIP) that addresses NOx BART for the Hunter and Huntington power plants. The EPA also proposes to approve the December 3, 2019 SIP supplement that would require reporting of all deviations from compliance with the applicable requirements under BART and the BART Alternative, including the emission limits for Hunter and Huntington.
Federal Register/Vol. 85, No. 14/Wednesday, January 22, 2020 / Proposed Rules
California's Richmond City Council has approved an ordinance to phase out storage of coal and petroleum coke in that city. The ordinance gives Levin-Richmond Terminal Corporation on the Santa Fe Channel east of Point Richmond and south of the Iron Triangle neighborhood three years to wind down coal and coke storage operations. The terminal stores coal shipped from Utah mines before export to Japan. Richmond City Mayor Mr. Tom Butt said "The coal ordinance is created following complaints from the public about increased coal dust in the air in parts of Richmond. It would govern only the storage of coal in Richmond; it will not have any effect on transportation of coal through the city by rail."

Levin-Richmond Terminal is a dry bulk cargo marine terminal on the San Francisco Bay in Richmond, California. It is privately owned by the Levin Richmond Terminal Corporation. Levin Richmond Terminal Corporation began exporting coal in 2013. It had already been exporting petcoke for decades. The petcoke comes from the Phillips66 refinery to load onto boats headed for Australia and Europe.
Wyoming and Montana challenge denial of Millennium Bulk Coal Terminal Permit in Supreme Court
Wyoming Governor Mark Gordon announced that Wyoming and Montana have jointly asked the United States Supreme Court to hear a challenge to Washington State's denial of the proposed Millennium Bulk coal terminal in Longview in Washington. Governor Gordon said that specifically, the two states seek to invoke the US Supreme Court's original jurisdiction, which allows for disputes between states to bypass lower courts and proceed directly to the US Supreme Court. Wyoming and Montana argue that Washington's discriminatory denial of a Section 401 Water Quality Certification for the coal terminal violates both the Dormant Commerce Clause and the Foreign Commerce Clause of the United States Constitution. The Commerce Clause to the US Constitution authorizes the federal government, not states, to regulate interstate commerce.

Governor Gordon said that he remains hopeful that the U.S. Supreme Court will act expeditiously and grant a hearing on this issue that is critical to the state's economic interests.

The challenge stems from a 2017 decision by the Washington Department of Ecology to deny permit applications to build a proposed coal terminal in Longview, Washington called Millennium Bulk. Washington officials denied a Section 401 Water Quality Certification for the Terminal with prejudice, effectively killing the project.
Dairyland Power Cooperative to retire Genoa Station #3 in 2021
Dairyland Power Cooperative announced that its Sustainable Generation Plan includes the retirement of the coal-fired Genoa Station #3 in mid to late 2021. This decision also aligns with our Sustainable Generation Plan and its focus on the continued addition of renewable resources," said Barb Nick, President. "The recently announced approval by the Public Service Commission of Wisconsin for the Nemadji Trail Energy Center in Superior gives us the added confidence to take this next step to further diversify Dairyland's resource mix and reduce our carbon intensity.
It is desirable to determine the impact on flow and treat markets It is a once through water system. Most of the flyash is sold but about 10'% has been landfilled.
As can be seen below there will be elimination of lime, urea, and activated carbon as well as replacement bags.
plant name: Genoa
epa unit id: 1
Dairyland Power Cooperative
utility name: Dairyland Power Cooperative
state: WI
county: Vernon
size MW: 345.6
plant startup: 1969
part addition: ESP, baghouse sized for ACI
part addition startup: 1992, 2010
part addition supplier: ABB
fgd startup: 2010
fgd supplier: Alstom
fgd architect: Sargent & Lundy
fgd reagent: lime
fgd process: dry
nox pc technology: SNCR
Mercury technology: ACI
Two Large Coal-fired Power Plant retirements in 2020 in Kentucky
The Tennessee Valley Authority's Paradise Unit 3 near Drakesboro is scheduled to shutter this December while Owensboro's Elmer Smith Generating Station will cease operations in June.
At Paradise there will be lost revenues for limestone, anhydrous ammonia, catalyst modules, and FGD nozzles.
plant name: Paradise
epa unit id: 3
new owner:
parent utility: Tennessee Valley Authority
utility name: Tennessee Valley Authority
state: KY
county: Muhlenberg
size MW: 1150
future plans:
plant startup: 1970
fuel specific: blend PRB/bit
part original equipment: Cold Side ESP
part manufacturer: American Standard
fgd startup: 2006
fgd supplier: Advatech
fgd changes to original: upgrade 2012
fgd reagent: limestone
fgd process: wet
fgd survivor company: Mitsubishi
fgd process efficiency: 98%
fgd scrubber vessel material: alloy 2205 with superduplex alloy
nox pc technology: SCR
nox pc supplier: Alstom
nox pc startup: 2003
nox pc catalyst supplier: Cormetech
nox pc efficiency: 90%
nox pc ammonia type: anhydrous
nox pc ammonia supplier: LaRoche
At Elmer Smith the primary difference in the two units shutting down other than size is that one has SCR and one has SNCR. The lost revenue will be limestone, urea, and ammonia along with components such as FGD nozzles
plant name: Elmer Smith
epa unit id: 1
new owner:
parent utility: Owensboro Municipal Utilities
utility name: Owensboro Municipal Utilities
state: KY
county: Daviess
size MW: 151
future plans:
plant startup: 1964
fuel specific: Med Sulfur Bit
alternate fuel: None
boiler type: cyclone furnace
boiler manufacturer: Babcock & Wilcox
plant architect: Smith & Loveless
cooling type: once through, fresh water
part addition: ESP
part addition startup: 1993
part addition supplier: Wheelabrator
Fgd startup: 1995
fgd supplier: Wheelabrator
fgd architect: Smith & Loveless
fgd changes to original:
fgd reagent: limestone
fgd process: wet
fgd survivor company: Wheelabrator
fgd process efficiency: 90%
nox pc technology: SCR
nox pc architect: Sargent & Lundy
nox pc startup: 2003
nox pc catalyst supplier: Haldor Topsoe
nox pc ammonia type: anhydrous
nox pc injection system supplier: Wahlco
nox pc dampers supplier: Bachmann
nox pc expansion joints suppliers: Papco
plant name: Elmer Smith
epa unit id: 2
parent utility: Owensboro Municipal Utilities
utility name: Owensboro Municipal Utilities
state: KY
county: Daviess
size MW: 265
plant startup: 1974
fuel specific: Med Sulfur Bit
alternate fuel: None
boiler type: Pulverized Dry Tang Firing
boiler manufacturer: ABB Combustion Engineering
plant architect: Smith & Loveless
cooling type: once through, fresh water
part addition: ESP
part addition startup: 1994
part addition supplier: Wheelabrator
fgd startup: 1995
fgd supplier: Wheelabrator
fgd architect: Smith & Loveless
fgd reagent: limestone
fgd process: wet
fgd survivor company: Wheelabrator
fgd process efficiency: 90%
nox pc technology: SNCR
nox pc supplier: Hamon Research Cottrell
nox pc startup: 2003
COAL – WORLD
Global activists urge Bangladesh PM to scrap Plans for Coal-fired Power Plants
Forty international civil society organizations, think tanks, and climate movement platforms have urged prime minister Sheikh Hasina to withdraw the approval of all coal-fired and other fossil fuel-based power plant projects.
In a petition sent to the prime minister, the organizations requested Hasina to take steps to generate all power in the country from renewable energy by 2050, according a press release.
Friends of the Earth, 350.org, Bank Information Centre, Oxfam Bangladesh among the signatories of the petition, said the release was issued by NGO Forum on ADB—a Philippines-based international network of civil society organizations.
The 29 coal-fired power plants, if built, would emit 5.3 billion tons of carbon-dioxide in their lifetime of 40 years, and would make the climate impact worse for Bangladesh, according to the petition.
The petitioners raised high concern on the duty exemption of coal power plants. Bangladesh compensated at least $ 4.45 billion in past 6 years and $ 1 billion in fiscal year 2018–19 as capacity charge for stranded assets of the independent power producers as much of generated power by them remained unused, they said.
They said that SS Power Limited, a coal-fired plant owned by the S Alam Group, had alone got a duty exemption of Tk 3100.71 crore.
In the Paris Agreement of 2016, Bangladesh pledged to reduce greenhouse gas emissions and to increase renewable energy use at 10 percent by 2021, but so far met only 4 percent of that target as of November 2019, said the petitioners.
The petitioners also lauded Bangladesh for being the first country to adopt a resolution in parliament declaring climate change a 'planetary emergency.' But, they said, the decision to increase coal-based power plants is contradictory to Hasina's remark on the climate action and also against the nations' climate commitments.
Indian Power Utility lobbies to weaken Pollution Standard
NTPC, a publicly owned utility, which generates about one-quarter of India's electricity, is lobbying for a significant weakening of nitrogen oxide pollution standards for coal-fired power plants built after 2017. Standards to protect public health were announced in 2015, with coal plants commissioned after 2017 not allowed to exceed nitrogen oxides concentrations of 100 milligrams per cubic meter of air (mg/Nm3). NTPC wants new plant pollution limits for nitrogen oxides to be set at 450 mg/Nm3. The Modi Government is already seeking to lift the nitrogen oxides limit on coal-fired power plants built between 2004 and 2016 from 300 mg/Nm3 to 450 mg/Nm3. NTPC is claiming trials of nitrogen oxides pollution control in India have proved ineffective at controlling emissions, a claim disputed by companies involved in the projects. The revelation comes as coal-fired power plants, in breach of the December 2019 deadline for the installation of flue gas desulfurization units, continue to operate without penalty.
German Government negotiates Coal exit but waters down Commission Recommendations
The German Government has agreed to allocate €40 billion (US$44 billion) to support economic restructuring of the four states affected by the closure of hard coal-fired power plants by 2035 and lignite power plants by 2038. The deal provides for 2,800 megawatts (MW) of lignite plants to be closed by 2022, 200 MW less than recommended by the coal exit commission, but with no plants to be closed between 2022 and 2025.
The agreement also allows the commissioning of the 1,000 MW Datteln 4 unit. The government is also proposing to allocate €2.6 billion (US$2.9 billion) to RWE for lost revenues on its plants and a further €1.75 billion (US$1.9 billion) for power utilities in the east of the country. The deal provides for the demolition of six more villages to cater for mine expansions but spares Hambach forest, but only as an island surrounded by mining.
The weakening of the coal exit commission's proposed package has been criticized by former commissioners who argue the government's proposed legislation should be modified to reflect the original recommendations. ClientEarth estimates up to 6,000 MW of lignite plants could still be operating up to 2038.
Cabinet Ministers approve Two New Coal-fired Power Plants in Norochcholai, Sri Lanka
The Cabinet of Ministers has approved two new 300 MW coal-fired power plants in Norochcholai and two 300 MW liquefied natural gas (LNG) plants in Kerawalapitiya amid serious concerns over an impending power crisis.

Accordingly, Cabinet Co-Spokesperson and Information & Communications Technology, Higher Education, Technology & Innovations Minister Bandula Gunawardane revealed that two new 300 MW coal-fired power plants will be built as an extension to the existing Norochcholai coal-fired power plant.
The former Power and Energy Minister Ravi Karunanayake initially brought the proposal last year to add a 300 MW coal power plant to the Norochcholai facility with a loan from China. .
The Cabinet also approved the installation of an LNG (bi-sectorial natural gas plant) with a capacity of 300MW as a joint venture with Ceylon Electricity Board (CEB) and India /Japan in Kerawalapitiya.
Modernization of the 680 MW Lignite-Fired Power Station Kosovo B
The lignite-fired power station "Kosovo B" near Pristina will be modernized, in cooperation with the Government of Kosovo and under the direction of Engineering Dobersek GmbH, supported by its consortium partners Hamon Thermal Europe S.A., France and RJM Corporation (EC) Ltd., England, trading as RJM International.
This consortium has joined together to deliver the required technical and commercial solutions as set out in the EU tender. The purpose of the contract is to significantly reduce nitrogen oxide emissions (NOx from around 700-800 mg/Nm3 to less than 200 mg/Nm3 at 6% O2, with SNCR), and dust emissions (from 300-700 mg/Nm3 to 20 mg/Nm3), while improving plant efficiency to recover full load of 339 MWe per boiler, up from around 292 MWe.
References in South East Europe—including projects financed by the World Bank and the EU enable Engineering Dobersek to contribute with its experience to this project in Kosovo.
The consortium leader, Engineering Dobersek (www.dobersek.com ) will coordinate the project and will be responsible for full management of the site, the pneumatic ash handling system including necessary air supply.
Consortium partner Hamon Thermal will design and supply the Electrostatic Precipitator filtration system (ESP). The ESP of Hamon are considered as effective dust collectors with the collection efficiencies of up to 99% with guaranteed outlet emissions as low as 20 mg/Nm3 with minimal pressure loss.
Consortium partner RJM International is responsible for designing and engineering the NOx reduction system, using its combustion modelling capabilities to achieve the 75% reduction in NOx emissions mandated by the EU. RJM's equipment, such as new burner components, will be supplied to the site by RJM International and installed by Engineering Dobersek.
The reconstruction of the power station will be carried out in two phases. The works commenced on December 2, 2019. The commissioning of Unit B1 is planned for the end of 2020 and Unit B2 by the end of 2021. The modernization works are an important contribution to improving air quality, enhancing environmental protection and the strengthening of the infrastructure of Kosovo.
With this contract, Engineering Dobersek once more confirms its competence in the field of power station technologies in South East Europe.
BIOMASS
ANDRITZ to supply a further High-efficiency PowerFluid Circulating Fluidized Bed Boiler with Biomass Firing in Japan
International technology group ANDRITZ has received an order from a Joint Venture between Toyo Engineering Corporation and Nippon Steel Engineering Co., Ltd., Japan, to deliver a PowerFluid circulating fluidized bed boiler with a flue gas cleaning system.
The boiler will be part of a new biomass power plant to be built in Omaezaki in Shizuoka Prefecture, Honshu Island, some 200 km southwest of Tokyo, Japan, for the Omaezakikou Biomass Power Plant. Commercial operations are scheduled to begin in mid-2023.
The PowerFluid boiler to be supplied by ANDRITZ features low emissions, high efficiency and availability, as well as high fuel flexibility. It forms an essential part of a high-efficiency biomass power plant for supply of green energy to the national grid. The biomass power plant fired with wood pellets and palm kernel shells as main fuels will generate around 75 MWel of power.
This is now the seventh order in two and a half years for supply of an ANDRITZ PowerFluid circulating fluidized bed boiler to the Japanese market. This confirms ANDRITZ's comprehensive expertise and acknowledged competence in the biomass-fired fluidized bed boiler sector.
GAS TURBINES
MHPS Technology Upgrades at Termocandelaria Improve Colombia's Electric Sector Capacity, Reliability and Efficiency
<![if !supportLineBreakNewLine]>
<![endif]> Mitsubishi Hitachi Power Systems (MHPS) and Termocandelaria announced an order for a new MHPS steam turbine and M501F4 gas turbine upgrades for the Cartagena power plant, along with an exclusive 15-year Long Term Service Agreement (LTSA). The order will enable the plant to operate on a combined cycle basis, increasing plant output by more than 74 percent and improving fuel efficiency by more than 35% — from 10,219 to 6,618 BTU/kWh lower heating value (LHV). It meets Termocandelaria's goals to create electricity more affordably and reliably and with lower carbon emissions.
As part of the service package and MHPS's long-standing commitment to Latin America, the company will upgrade the plant's existing Westinghouse gas turbines by applying Advanced Class Gas Turbine materials and coatings to enhance performance, extend maintenance intervals, increase reliability and lower life cycle maintenance costs.
The LTSA includes the MHPS-TOMONI™ suite of Total Plant Solutions, which uses artificial intelligence monitoring tools to help guarantee the reliability and availability of what will be the most efficient combined cycle plant in Colombia. Marco Sanchez, MHPS Americas Vice President and Head of Intelligent Solutions, said, "MHPS Total Plant Monitoring develops predictive modeling scenarios to detect potential maintenance needs before they become issues and to enable condition-based maintenance."
The customized MHPS hardware and software solutions will increase plant capacity from 324 to 566 MW, lower fuel and maintenance costs, and increase plant flexibility to produce affordable power for the citizens of Cartagena.
Marcos Meireles, Rio Energy's CEO, said "We are very excited to install the first GE's Cypress wind turbines in Brazil. This agreement reinforces our commitment to help grow Brazil's installed base, by investing not only in adding new turbines, but also introducing a new technology to advance onshore wind in Brazil."
The contract also includes a ten-year operation and maintenance (O&M) agreement for all equipment supplied by GE at the wind farm, with the potential to extend to 20 years.
WASTE-TO-ENERGY
Commercial operations achieved at Two New Wheelabrator Technologies Waste-to-Energy Facilities in U.K.
Wheelabrator Technologies realized major milestones in the U.K. in 2019 when two new waste-to-energy facilities reached full commercial operations.
After three years of construction, the creation of approximately 1,500 jobs and $110K (£85K) in contributions to local community causes and initiatives, the waste-to-energy facilities—Wheelabrator Parc Adfer, located at Deeside in North Wales, and Ferrybridge Multifuel 2 (FM2) in West Yorkshire—commenced operations in late December and will now play a critical role in the region's environmental and energy infrastructure.
Combined, Wheelabrator Parc Adfer and FM2 will process up to 964,000 tons per year (875,000 tonnes) of residual waste. Together, they will utilize waste as a fuel to generate a total output of 98MW (gross)/89 MW (net), enough electricity to power an estimated 210,000 U.K. homes and businesses.
The facilities will divert residual waste from landfill, prevent the need for export of waste to continental Europe, reduce greenhouse gases, recycle metals that would otherwise go to landfill and generate clean, renewable baseload energy.
Wheelabrator entered the U.K. market in 2009 to target Private Finance Initiatives (PFIs) and shortly after commenced its support for the startup of Riverside Resource Recovery Facility in Belvedere, London, leveraging Wheelabrator's operational excellence in the U.S. over the last 45 years. Wheelabrator has since successfully developed, financed and managed the construction of four waste-to-energy facilities. The first to be delivered was Ferrybridge Mutlitfuel 1 (FM1), part of the Multifuel Energy Limited (MEL) joint venture with SSE, which commenced commercial operations in July 2015 to process 744,000 tons per year (675,000 tonnes) and generate 79MW (gross)/72MW (net) after being built by Hitachi Zozen Inova (HZI). It is now recognized as one of the most efficient waste-to-energy facilities in the U.K. FM2, also built by HZI, is expected to achieve comparable levels of performance, being managed by the same management team within the MEL joint venture. Since commencing full operations in December, Wheelabrator Parc Adfer, built by EPC contractor CNIM, has performed exceptionally well with a capacity of 220,000 tons per year (200,000 tonnes). Wheelabrator Kemsley, also being built by CNIM, is currently progressing hot commissioning and is expected to come online in Q2 2020. The facility will process 605,000 tons (550,000 tonnes) and generate 69MW (gross)/63MW (net) when the facility is taken over from CNIM.
Once all four assets are operational, they will process 2.3M tons (2.1M tonnes) of residual household and commercial waste, and generate 1.1M net MWh of renewable, baseload energy each year.
Bob Boucher, President and CEO at Wheelabrator, said: "This is a significant accomplishment for our business and is transformational for our team in the U.K. as we commence operations at both Wheelabrator Parc Adfer, and FM2, the second facility within our MEL joint venture with SSE. Growth in this market has been our number one strategic priority and I am proud of our team and our customers for continuing to demand and support sustainable waste management in the U.K. Takeover of these two facilities is the result of many years of commitment, hard work and strong partnerships with our customers and the communities we operate within."
"There remains a significant capacity gap in this market, and we continue to explore opportunities to develop new waste-to-energy facilities to ensure local, sustainable waste management solutions, and provide energy security for the U.K. With limited landfill space, high landfill taxes, high costs and increasing barriers to exporting waste to continental Europe and the need to invest in baseload electricity generation, Wheelabrator is well-positioned to unlock future opportunities to provide sustainable waste management to local communities."
Wheelabrator's active development pipeline is already well-advanced with a further three U.K. projects, Wheelabrator Kemsley North in Kent, located next to our almost complete Wheelabrator Kemsley facility, Wheelabrator Harewood in Hampshire, and Skelton Grange in Yorkshire, which will be developed with SSE as part of the MEL joint venture.
Boucher said: "We look forward to continuing to develop, deliver and realize the potential of clean energy in the U.K."
NUCLEAR
GE Hitachi Nuclear Energy and TerraPower announce Collaboration to Support Versatile Test Reactor Program
GE Hitachi Nuclear Energy (GEH) and TerraPower have announced a collaboration to pursue a Public Private Partnership to design and construct the Versatile Test Reactor (VTR) for the U.S. Department of Energy (DOE).
The two companies recently submitted a joint response to an Expression of Interest issued by the Battelle Energy Alliance (BEA) on behalf of the DOE, which seeks stakeholders interested in forming a partnership for a cost sharing arrangement to design and construct the VTR utilizing sodium fast reactor technology.
"This collaboration brings together a strong team of engineers and scientists, which has considerable experience in sodium reactor technology," said Jay Wileman, President & CEO of GEH. "The combined team has complementary and unique experience with the credibility to lead the VTR design, procurement and construction effort. We are excited to work with TerraPower on such an important project."
"To achieve nuclear energy's full potential, business and government must work together to invest in both testing new materials and demonstrating advanced technologies," said Chris Levesque, TerraPower CEO. "America's nuclear workforce is ready to build next generation nuclear technology to deliver affordable, clean energy, and to reestablish American leadership in nuclear technology. The VTR offers a domestic platform for innovation that promotes American economic and national security."
Energy Northwest, a utility consortium with nuclear power plant operating experience, will support the joint GEH-TerraPower effort. Additional companies and investors have expressed interest in being part of this effort and, if brought on board, will be named later.
The U.S. Department of Energy Office of Nuclear Energy established the VTR program to introduce fast neutron spectrum technology that does not currently exist in the U.S. and to support accelerated development of nuclear fuels and materials for advanced reactors.
In November 2018, BEA selected GEH and its PRISM technology to support the VTR program. Since then GEH has been actively engaged in development of the VTR conceptual design. TerraPower has supported the VTR program by making enhancements to the VTR's design and has invested ten years of sodium technology development into its traveling wave reactor.
SNC-Lavalin contracts to extend Life of CANDU Reactor at Romanian Nuclear Plant
Candu Energy will work on upgrades to extend the operating life of a 24-year-old Romanian nuclear power unit.
Candu, a member of the SNC-Lavalin Group, was awarded a $10.8 million contract by Societatea Nationala Nuclearelectrica S.A. (SNN) for engineering analysis and assessments on the Cernavoda Unit 1 CANDU nuclear reactor. The contract is focused on the fuel channel and feeders assemblies with the objective of extending the operating life of the plant by approximately 4 years, up to 245,000 effective full power hours (EFPH) from the original design life of 210,000 EFPH. The extensions would enable the Cernavoda plant to operate safely until it is ready for refurbishment in 2026.
In October, SNN had also awarded SNC-Lavalin and its partner Ansaldo Nucleare the condition assessment work which will determine the scope of repair and replacement of other equipment as part of the Cernavoda Unit 1 refurbishment outage.
"SNC-Lavalin looks forward to continuing our long relationship with SNN to optimize the operation of Cernavoda Unit 1 in preparation for a refurbishment that will contribute to over 60 years of CANDU reactor life," said Sandy Taylor, President, Nuclear, SNC-Lavalin. "Our dedicated project execution team has exceptional expertise in this area, having completed similar assessments for several CANDU clients around the world."
Cernavoda Unit 1 produces over 700 MW of electricity, about 10 percent of Romania's electricity demands. It was commissioned and began commercial full power operation in December 1996.
Nuclear power units do not emit carbon dioxide. Officials estimate that Cernavoda Unit 1 has avoided the release of more than four million metric tonnes of CO2 annually that would have been produced by a coal-fired plant, according to the release.
CANDU, known as Canada Deuterium Uranium, was invented in Canada. It uses deuterium oxide as a moderator and uranium as a fuel, according to the Canadian Nuclear Association.
The CANDU reactor also has been used at the Bruce, Darlington and Pickering power plants.
ACCESSING ALL THE PROJECTS AND INFORMATION ONLINE
This Utility E-Alert is part of the Utility Tracking System. The system allows you to instantly retrieve project details, profiles of each coal-fired power plant worldwide, the right contacts at the OEM and A/E firms and summaries of all the scheduled FGD and SCR projects. You need a user name and password to access this system. If you have forgotten your user name or password or are not sure whether you are eligible to access this system, please send email to editor@mcilvainecompany.com. *** The Utility E-Alert is for the exclusive use of the registered subscriber to whom it is electronically delivered. Unauthorized distribution is prohibited. ***
© 2020 McIlvaine Company