Industrial Valve World Markets Update
October 2018
McIlvaine Company
TABLE OF CONTENTS
Creating a Winning Strategy for the Valve Market
Valves at WEFTEC
Media and Valves

Determining Competitor Market Shares and Strategy
Steel Industry Valve Purchases Will Exceed $1.7 billion this Year


____________________________________________________________

Creating a Winning Strategy for the Valve Market
Suppliers and purchasers of valve products and services have the same basic questions but with different perspectives. The purchaser must select a process, the type of valve to use in that process, and then choose the best supplier. Increasingly purchasers are conducting total cost of ownership (TCO) evaluations. (1)
Supplier Questions vs End User Questions
<![if !vml]>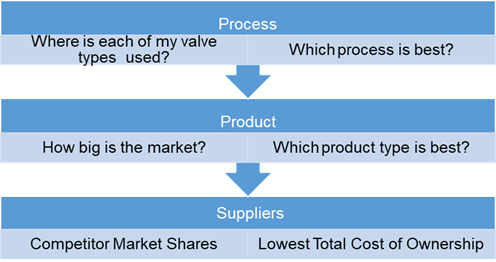 <![endif]>
The supplier of a high performance valve needs to understand the processes and how his product will be used in those processes. He wants to know how big the market is for this product. He wants to know if he has the lowest total cost of ownership product and if so how does he create a winning strategy. An important aspect is competitor analysis and determination of market shares for the various players.
There are different strategies for high performance valves as opposed to general performance valves. This analysis focuses on just high performance. However high performance is defined as a valve which is purchased based on lower total cost of ownership as opposed to just price and delivery. It is therefore possible to move a general performance manual on/off valve into the high performance category by adding automatic and smart features.
There are potential benefits to suppliers resulting from detailed forecasts of the purchase opportunity for each product at each prospect. This opportunity needs to be clarified with a strategy which is specific to each one of the many prospects. This opportunity is tied directly to Lowest Total Cost of Ownership Validation (LTCOV). Determining the TCO for the product is only the first step. What is the TCO for each of the competitor products? What competitors initiatives or innovations can impact the SWOT analysis?
Validation is more than just a white paper which lays out the basis for the LTCO. Validation includes convincing the customer that the product is the best. This entails coordination with publishers, conference organizers, and associations.
There is now the opportunity to make market research and associated technical analysis the foundation of business strategy rather than a peripheral tool. Sales leads are used because the supplier does not understand the customer needs. If the supplier has detailed forecasts of the opportunity with each purchaser, understanding of the purchaser needs, the products to best serve those needs, and the optimum program with publishers, and conference organizers he will have a winning strategy.
Future as well as present market shares of competitors are needed. The future share is in part based on product improvements. It is also shaped by the sales activity. One useful tool is analysis of competitor advertising and exhibition expenditures by region and industry as well as product. This indicates the effort which the competitor is undertaking to capture market share or to hold it. If this analysis is continued over the years patterns emerge as to where competitors are increasing expenditures to gain market share.
The suppliers and purchasers both seek to understand the TCO aspects of a competitor product for a specific application. Advertising in a magazine focused on a specific industry is revealing. Chemical Engineering has multiple valve advertisements in each issue.
Chemical Engineering - September 2018 - Valve Advertising

Company

Pages

Subject

Emerson

1

Engineering and project management-automation

Gemu

0.5

Diaphragm valves

Swagelok

1

Small valves

A-T Controls

0.2

PFA lined ball valves

Proco

0.2

Check valve

Auma

0.5

Valve actuators

Plastomatic

0.5

Various designs in plastic
In a recent issue A-T Controls advertised its PFA lined ball valves. This company is one of 20 valve manufacturers who have products addressed to highly corrosive, medium temperature, non-abrasive service. This excludes the less expensive all plastic valves which are not suited for the conditions. It excludes the valves which have to withstand abrasion and require urethane or other abrasion resistant coatings.
This advertisement will be of interest to specific types of chemical manufacturers. PFA lined valves are well suited to chlorine service. The tonnage of chlorine manufactured at each site around the world is identifiable. The use of that chlorine by others can also be traced. Therefore the supplier can obtain useful forecasts for the opportunity for PFA lined ball valves at thousands of suppliers and users of chlorine.
One of the uses of chlorine is in wastewater treatment plants. These plants are users of multiple treatment chemicals. The suppliers of valves for wastewater use are mostly identified in the exhibitor directories of wastewater exhibitions. The largest North American wastewater exhibition is WEFTEC with 20,000 visitors. Here are the numbers of valve exhibitors by product type for the 2018 exhibition.
<![if !supportLists]> · <![endif]> Valve Operators & Controls (32)
<![if !supportLists]> · <![endif]> Valves: Air (19)
<![if !supportLists]> · <![endif]> Valves: Automatic (25)
<![if !supportLists]> · <![endif]> Valves: Backflow Prevention (23)
<![if !supportLists]> · <![endif]> Valves: Check (34)
<![if !supportLists]> · <![endif]> Valves: Control (30)
<![if !supportLists]> · <![endif]> Valves: Gate (27)
<![if !supportLists]> · <![endif]> Valves: Plug (16)
<![if !supportLists]> · <![endif]> Valves: Rotary (11)
A dozen magazines had stands at the 2018 WEFTEC. They handed out current issues with exhibitor coverage. They also conducted email campaigns prior to the show featuring specific exhibits. During the show several conducted video interviews.
Publications, conferences and exhibitions are where revelations of new developments can be communicated and where the LTCOV can be established. This means inclusion of the most relevant material. Those suppliers who are confident that they have the LTCO will have every reason to make it financially attractive to the media to provide actionable analyses.
This show has been used as an analysis of the benefits of interconnection of suppliers, media, and event organizers Municipal Wastewater Services
Here are the details about the venue
WEFTEC 2018
91st Annual Technical Exhibition & Conference
Conference: September 29 - October 3
Exhibition: October 1 - 3
Core Hours: 8:30 am - 5:00 pm daily
New Orleans Morial Convention Center
Valves at WEFTEC

Here are some highlights of the valve exhibits
Lift Station Valves furnished by DeZURIK to Phoenix
APCO SRA Surge Relief Angle Valves were installed on a new Lift Station in the city of Phoenix. New freeway construction required the existing lift station to be relocated. The new location is in a hilly part of town with elevation changes, and the Lift Station discharges into a force main system. The 8" SRA-3000A Surge Relief Angle valves are designed to prevent line damage from surges that occur when the lift station pumps cycle on and off. The surge valves were installed and set to relieve system pressure at 135 psig. DeZURIK PEC Eccentric Plug Valves are used as isolation valves on the lines.
The surge relief valve is typically installed downstream of the check or pump control valves on the pump discharge header with the valve inlet connected to the side outlet of a tee and the valve outlet piped to the sump. The normally closed surge relief valve opens quickly when the system pressure rises above its adjustable relief pressure setting allowing fluid to be discharged from the system through the open surge relief valve to atmosphere. While the surge relief valve is open, the system is no longer contained, fluid compression is limited and surge pressure is controlled (green line). The valve will remain open as long as the system pressure exceeds the valve's relief pressure setting. The valve will slowly begin to close at an adjustable rate as the surge pressure subsides and the system pressure falls below the valve's relief pressure setting. DeZurik will be at stand 4929 at WEFTEC
Egger Booth 1543

Egger's Iris valve provides Stable, Linear, Accurate, Repeatable and Reliable control of aeration basins.
In the past, WWTP's have upgraded their processes with Fine bubble diffusors, High-speed Turbo Blowers, Hyperboloid mixers but never dealt with the most critical & final piece of the puzzle; a good process control system including s unique valve design. The laminar flow characteristics can reduce blower energy consumption 20% through better control.

Asahi/America Booth 1145
Asahi/America, Inc., a manufacturer and distributor of corrosion resistant thermoplastic fluid flow solutions including valves, actuators and piping systems, will be exhibiting in booth 1145 at WEFTEC. Asahi will be featuring two of their newest solutions at the show, the latest innovation in butterfly valves: the Type-57P; and the compact and powerful Series 17 electric actuator.
The Type-57P butterfly valve is the next generation of Type-57 butterfly valves. The redesigned valve is available in an ANSI wafer-style connection and shares the same face-to-face dimensions as all like-size Asahi/America Type-57 butterfly valves.
<![if !vml]>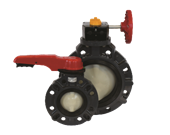 <![endif]>
New Design Features
<![if !supportLists]> · <![endif]>Molded tag holes for valve identification and labeling
<![if !supportLists]> · <![endif]>Redesigned indicator plate for lever handle models 0° closed to 90° open legend with 10° intervals
<![if !supportLists]> · <![endif]>Improved design of seat and disc bushing for increased internal sealing performance
<![if !supportLists]> · <![endif]>Newly designed disc and seat for added valve life
The Type-57P's body and disc are injection molded for durability, and the 316 stainless steel stem is non-wetted. For high cycle life and smooth torque, the seat and disc bushings have been fitted with dual O-ring seals.
Asahi/America's Type-57P butterfly valve is available in sizes 1-1/2" through 8" with a lever, and in 1-1/2" through 14" with our Plasgear™ operator. Available body and disc materials include PVC, CPVC, PP and PVDF. The Type-57P top flange features an ISO 5211 F07 – F14 bolt circle, and all sizes can be electrically or pneumatically actuated.
Asahi/America's Type-57P is assembled to customer specification and tested in their Lawrence, MA facility.
In addition, Asahi will be featuring their new Series 17 actuator at WEFTEC.
The compact, lightweight and powerful Series 17 electric actuator features a reversing motor with multi-voltage capabilities, an internal heater, auxiliary switches, and two LED position indicators.
<![if !vml]>
<![endif]><![if !vml]>

<![endif]>
Internally, the Series 17 includes a permanently lubricated steel gear train and declutchable manual override.
The Series 17 also features a combination NEMA 4X and 6 enclosure, which is finished with a thermally bonded powder coat to protect against corrosion, an ISO bolt circle and flying leads.
Media and Valves
A - Magazines and Interconnection of People and Knowledge
The Industrial Internet of Wisdom interconnects people and knowledge through publications, conferences, and webinars. These provide the support information for the decision systems and Lowest Total Cost of Ownership Validation (LTCOV). Transfer of knowledge from one industry to another is also important. Municipal and industrial wastewater innovations need to be shared. There also needs to be interconnection between the systems designers and the suppliers of valves. Various publishers exhibiting at WEFTEC make the interconnection between industries e.g. industrial wastewater and municipal wastewater or between valves and industries.
Valve suppliers gain insights on new technology such as nutrient recovery and valve problems such as with struvite in these magazines exhibiting at WEFTEC
According to Valmatic Madison Metropolitan Sewerage District is one of a number of utilities making the switch to the installation of glass-lined plug valves to alleviate their Struvite problem. http://www.valmatic.com/pdfs/MissionPossible.pdf One solution is the switch from motorized plug valves to motorized pinch valves http://www.onyxvalve.com/uploads/docs/Onyx_and_Struvite_Readers_Digest.pdf
| | |
| --- | --- |
| Magazine | Stand |
| Chemical Engineering | 809 |
| Chemical Processing | 542 |
| Endeavor Business Media | 4051 |
| Empowering Pumps | 4751 |
| Environmental Science and Engineering | 2246 |
| Global Water Intelligence | 6659 |
| Modern Pumping Today | 5150 |
| Pumps & Systems | 2852 |
| Stormwater | 1652 |
| WaterWorld | 3911 |
| Water & Waste Digest | 4028 |
B - Endeavor Business Media is offering industry and product interconnection. The Process Flow Network covers innovative solutions for the process industries. Together, the three brands that make up the network — Processing, Flow Control and Water Technology — serve a diverse audience of engineers, corporate managers, plant operators and other process industry professionals. You can learn more about the Process Flow Network at WEFTEC Booth #4051.
C - Enviromental Science & Engineering has struvite data. In November 2015, two HydroFLOW 160i units were installed on the sludge pipe feeding the GEA Westfalia Separator model CB 505-00-32 centrifuge at Somersworth N.H. One unit was placed before the centrifuge, just after the thickened waste activated sludge pump, and the other was placed before the feed tube just before the centrifuge. Both units were installed without process down-time as they are fitted around existing piping and do not require plumbing modifications.
The units use 120V AC and draw less than 1 Amp, which is similar to the power consumed by a 60-watt light bulb.

Success for this facility meant reducing polymer usage and producing dryer cake, while not adversely impacting the centrate quality. The centrate quality in Somersworth typically averages about 500 mg TSS/L, but rarely exceeds 1,000 mg TSS/L. Surpassing the 1,000 mg TSS/L threshold could affect the plant treatment capacity. https://esemag.com/wastewater/new-device-reduces-polymer-use-and-controls-struvite-during-sludge-dewatering/
D - Modern Pumping Today. One of the recent feature articles covers struvite removal https://modernpumpingtoday.com/removing-struvite-from-wastewater-systems/
The article above on struvite removal at NYC with a special polymer was contrasted to an approach which would have made centrifuge pond adjustments. This article presents a third option.
A wastewater treatment company in Canada uses a number of dewatering centrifuges to remove water from sewage sludge. After the sludge has been removed the water is purified and then discharged. Purification occurs in the sludge dewatering centrifuge where the centrifuge's force separates the sludge from the water.
Struvite formed inside the sludge dewatering centrifuge necessitating the need for the centrifuge to be stopped and cleaned every 800 hours of operation (approximately two months) which took workmen a day to clear with chemicals, hammers and chisels.
A Scalewatcher electronic descaling system was installed at the centrifuge with an induction cable around the 6-inch supply mains. When, after four months, the treated centrifuge was opened during the first inspection, it appeared that the wall was only covered with a minimal deposit of softened struvite. Two months later the centrifuge was opened and inspected again whereupon it was found to be even cleaner. To confirm the results, the Scalewatcher was switched off. Shortly afterwards, the operators noticed that the deposits had returned. When the Scalewatcher was switched on again the Struvite disappeared. The magazine covers municipal and other pumping applications and includes in depth analyses which can aid decision making. Vince Marino vince@modernpumpingtoday.com will be at the stand 5150
E - WaterWorld Stand 3091 has an easily used search engine. Struvite causes alve problems. So information on the incidence and solutions are relevant. A search under struvite shows a 2018 article - Howard County Department of Public Works engaged HDR to provide engineering design services for upgrades to the biosolids facilities at the Little Patuxent Water Reclamation Facility in Savage, Maryland. The Little Patuxent facility used dewatered cake lime stabilization for biosolids treatment. The changes to the biosolids processing included eliminating the lime system and replacing it with anaerobic digesters, centrate demmonification and associated solids screening, thickening, odor control and digester gas handling improvements.

After an extensive evaluation of phosphorous removal technologies, the design was based on Centrisys AirPrex because of its demonstrated ability to prevent struvite precipitation in downstream processes, including piping and the solids dewatering equipment. The Little Patuxent facility uses decanter centrifuges for biosolids dewatering https://www.waterworld.com/articles/2018/06/little-patuxent-water-reclamation-facility-upgrades-system-with-airprex-for-sludge-optimization-and.html
In a 2017 article in WaterWorld - CNP™ Technology Water and Biosolids Corp. recently announced AirPrex®, a sludge optimization and phosphorus recovery process, has been selected for the Liverpool Wastewater Treatment Plant (WWTP) by the Medina County Sanitary Engineers in Ohio.
https://www.waterworld.com/articles/2017/04/liverpool-wwtp-selects-airprex-for-sludge-optimization-and-phosphorus-recovery.html
A comprehensive article on nutrient recovery in a 2016 issue is provided at https://www.waterworld.com/articles/wwi/print/volume-31/issue-6/featured-articles/nutrient-recovery-2-0.html This article is from the sister publication, Water & Wastewater International by Dr. Christian Kabbe from the Berlin Centre of Competence for Water, Germany.
For more information, email: Christian.kabbe@kompetenz.wasser.de. The struvite problem and the interest in nutrient recovery is world-wide. The quest for the LTCO should also be world wide
F - Water & Waste Digest Stand 4028 has a search engine with multiple articles on struvite. Here is one from 2017 - Struvia prevents uncontrolled struvite precipitation during wastewater treatment. This Veolia process uses a patented mixing system, TurboMix, to produce and separate struvite crystals within a single reactor. This compact, resource-efficient, low-energy process saves on operating costs by reducing struvite-related maintenance and reducing the amount of coagulant used for chemical P removal, all while producing a valuable granular end product consisting of magnesium ammonium phosphate crystals that are rich in recycled nutrients. https://www.wwdmag.com/treatment/struvite-removal
G - Chemical Engineering
The September issue will be distributed at WEFTEC. There is a special advertising section on water treatment but the feature articles are on boiler feedwater treatment. Advertisements for some WEFTEC exhibitors appear in the main section but there are advertorials for each in the special water treatment section. Each of these is the equivalent of 0.5 pages of advertising. So for GEMU, Flottweg and about half of the listed advertisers there is the bonus coverage.
<![if !supportLineBreakNewLine]>
<![endif]>
Chemical Engineering September 2018 CFT Advertising

Company

Pages

Subject

Cleaver Brooks

1

Boilers, water systems, controls

Emerson

1

Engineering and project management-automation

Endress +Hauser

1

Flow meters, transmitters, pH

Badger Meter

1

Flow meters

Flottweg

0.5

Centrifuges

Ross

0.5

Mixers

Load Controls

0.5

Viscosity measurement

Gemu

0.5

Valves, water treatment

Swagelok

1

Valves

NOV

1

Progressing Cavity Pumps, screens, mixers

Krohne

0.5

Level transmitters

Ekato

0.3

Mixing

A-T controls

0.2

PFA lined ball valves

Material Transfer

0.5

Bulk bag discharger

Paul O. Abbe

0.2

Mixing, size reduction

Proco

0.2

Check valve

Seepex

0.5

Pumps , metering system

Bionomic

0.5

Modular scrubbers

Ametek

0.3

Viscosity analyzer

Finder Pompe

0.3

Centrifugal and plunger pumps

Myron L

0.5

Liquid measurement

Arkema

0.5

Kynar
This format of advertising in the main section and advertorials in the special section could be used to provide lowest total cost of ownership validation.
#

Magazines

Suppliers/ Consultants

Operators

Struvite

A

Eleven companies

B

Endeavor

C

ES&E

GEA

Somersworth NH

x

D

Modern Pumping Today

Scalewatcher

Plant in Canada
<![if !supportLineBreakNewLine]>
<![endif]>

x

E

WaterWorld

HDR, Centrisys, Berlin Centre

Howard Cty. M.D

Medina Cty, Ohio

x

F

Water & Wastes Digest

Veolia

x

G

Chemical Engineering

Many
Determining Competitor Market Shares and Strategy
The Mcilvaine Company provides market share data for thousands of air, water and energy companies. However clients are seeking even greater segmentation by industry, region and specific product,.
One of the tools for this more extensive segmentation is activity at exhibitions. The geographic distribution as well as industry focus can be determined. The detailed analysis of exhibition activity at WEFTEC is shown at Municipal Wastewater Services. There were many water related exhibits at Singapore International Water Week. We have a 20 page analysis just of the pump companies with displays. We have been analyzing exhibition activity every third year for IFAT in Munich and were a participant in the Pump Summit last year.
We have also just completed an analysis of exhibitors of non woven filter media at Filtration 2018. The focus is on air filtration, gas turbine, and dust collector media with a more minor focus on liquid filtration media. Filtech held in Europe is more focused on filtration equipment rather than media and has the largest display of filtration equipment of any show around the world.
A number of power related shows are reported in our Utility E Alert including smaller venues such as the VGB air pollution conference or the Indian FGD&DeNOx conference last week. Power-gen shows in several regions of the world include substantial CFT space. The OTC exhibition in Houston is one of the largest oil and gas exhibitions with more than 100 CFT exhibitors. Interphex in NYC is has dozens of displays by CFT pharmaceutical suppliers. ACHEMA in Frankfurt provides hundreds of displays of CFT products for the chemical industry every third year
The Cleanroom Technology exhibition in the U.K and a number of smaller European exhibitions such as Lounges provide displays of valve products used in cleanrooms. The industry focused shows such as Semicon West have a number of displays by valve suppliers but the valve percentage of total space is low.
Advertising is also a good indicator of activity by product, industry and location . We tabulate the number of pages, the subject matter and the service in which we will be evaluating it
Valve Advertising in Pharmaceutical Manufacturing July - August 2018

Company

# of pages

Subject

Service

Cashco

1

Regulator, valves

IIoT, Valve
Valve Advertising in Processing - October 2018

Company

# of pages

Subject

Service

AT Controls

1

Valves and Controls

Valve

Jefferson

0.2

Valve

Valve

Everlasting Valve

0.5

Valve

Valve

Cashco

0.5

Regulator, Valve

IIot, Valve

Griffco

0.5

Valve

Valve

Assured Automation

0.2

Valve

Valve
Hydrocarbon Processing - September 2018 - Advertising

Company

Pages

Subject

Service

Swagelok

1.0

Pressure measurement system

Valve, IIoT
Chemical Engineering - September 2018 - CFT Advertising

Company

Pages

Subject

Service

Gemu

0.5

Valves, Water Treatment

Valves

Swagelok

1

Valves

Valves

A-T controls

0.2

PFA Lined Ball Valves

Valves

Proco

0.2

Check Valve

Valves

Arkema

0.5

Kynar

Valves
Pipeline & Gas Journal July 2018 Advertising

Company

Pages

Subject

Service

Quarter Turn Actuation (QTA)

0.5

Valve Actuators

Valve

Rotork

1.0

Actuators

Valve

Wolseley

1.0

Valve Automation

Valve
PTQ Q3 (Jul, Aug, Sept) 2018 Advertising

Company

Pages

Subject

Service

Metso

1.0

Valves

Valves

OHL Valves

0.5

Valves

Valves

Zwick

1.0

Valves

Valves
Some of the advertisements are general and reference a number of products. Swagelok has a full page on a pressure management system advertisement. By contrast the A-T advertisement in Chemical Engineering is just a quarter page on just one type of lining for one type of valve.
The advertising and exhibition activity can be a function of initiatives to gain market share rather than just keep it. Therefore tracking this activity over time is useful. For example one chemical company had the largest stand at WEFTEC a few years ago and did not have a stand this year.
Steel Industry Valve Purchases Will Exceed $1.7 billion this Year
The world steel industry will spend over $1.7 billion this year for valves, parts, and service. Many of the valve decisions will be made from the headquarters of large international operators. This will necessitate a new marketing approach by valve suppliers.
In the case of ArcelorMittal, the majority ownership is by an Indian individual but the decisions regarding valve purchases may be made in Luxembourg which is the company headquarters. ArcelorMittal is a major valve purchaser. Its valve purchases for steel and mining applications are just under $100 million per year of which $84 million is for steel applications.
<![if !vml]>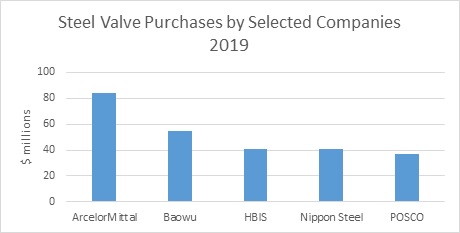 <![endif]>
As the world's largest steel manufacturer, ArcelorMittal makes almost as much steel as India itself. Yet India must more than double steel output by 2030 if its smart cities, bullet trains, advanced manufacturing and safer housing are to become reality. ArcelorMittal, with its partners Nippon Steel and Sumitomo Metal is presently bidding to buy Essar Steel which is a large bankrupt Indian Steel company.
Lakshmi Niwas Mittal owns controlling shares in Arcelor Mittal which he founded. He is one of the world's wealthiest individuals and sits on the board of Goldman Sachs. He grew up in an Indian family in the steel business. Until the 1990s, the family's main assets in India were a cold-rolling mill for sheet steels in Nagpur and an alloy steels plant near Pune. Lakshmi Mittal decided to strike out on his own and opened his first steel factory PT Ispat Indo in Sidoarjo, East Java, Indonesia in 1976.
He then founded ArcelorMittal which is now the world's leading steel and mining company, with annual achievable production capacity of approximately 113 million tonnes of crude steel, driven by 197,108 employees working in 60 countries.
ArcelorMittal is the largest producer of steel in North and South America and Africa, a significant steel producer in the CIS region, and has a growing presence in Asia, including investments in China and India. It is also the largest steel producer in the EU, with significant operations in France, Germany, Belgium, Spain, Luxembourg, Poland, the Czech Republic and Romania.
It is also a mining leader. ArcelorMittal has a global portfolio of 14 operating units with mines in operation and development and is one of the largest iron ore producers in the world.
ArcelorMittal works with more than 70,000 direct suppliers, covering an annual spend of around $50 billion for raw materials, energy, industrial products and spares, as well as various services.
It manages a complex supply chain, using the principles of total cost of ownership. If it purchases Essar Steel it is likely that major valve decisions will be made in Luxembourg or in one of nine shared services centers the company operates worldwide.
With remote monitoring of valve operations and data analytics the company will have the background data to determine the lowest total cost of ownership. It has invested heavily in IIoT working with ABB, Schneider Electric, GE, Siemens and others. At the Olaberria plant in Spain, as an example, valves associated with the melting, dust collection and other equipment are continuously monitored and data analyzed.
Valve suppliers looking to increase sales in India as well as in other countries will want to consider the following:
<![if !supportLists]> · <![endif]> Purchasing decisions are going to be made by relatively few individuals who are not likely to be at the plant site
<![if !supportLists]> · <![endif]> Decisions are going to be increasingly made based on lowest total cost of ownership
<![if !supportLists]> · <![endif]> The successful valve supplier will need to prepare a lowest Total Cost of Ownership Validation (LTCOV) for each application in each industry and then LTCOVs for each major customer
<![if !supportLists]> · <![endif]> We are entering the post digital era where the Industrial Internet of Wisdom (IIoW) is empowering IIoT and will necessitate new marketing strategy for valve suppliers.
<![if !supportLists]> · <![endif]> This new era will make it possible for international valve suppliers to better compete for valves to be used in India
The McIlvaine N028 Industrial Valves: World Market provides 50,000 forecasts of valves by type, end use location, and industry. It also includes forecasts for the 200 largest customers
A program including forecasts for thousands of prospects is also available. Details are provided at www.mcilvainecompany.com Bob McIlvaine can answer your questions at rmcilvaine@mcilvainecompany.com 847 784 0012 ext.