PUMPS WORLD MARKET
UPDATE
October, 2018
McIlvaine Company
TABLE OF CONTENTS
2019 Chemical Industry Pump Purchases
McIlvaine Market Forecasting and Analysis for Pumps demonstrated with WEFTEC Analysis

Pumps at WEFTEC

Media and Pumps at WEFTEC<![if !supportLineBreakNewLine]>
<![endif]>
Determining Competitor Market Shares and Strategy
_________________________________________________________________

2019 Chemical Industry Pump Purchases
Chemical Industry purchases of pumps including parts and services will exceed $3.8 billion next year. The centrifugal pump purchases will exceed $2.8 billion. (1)
<![if !vml]>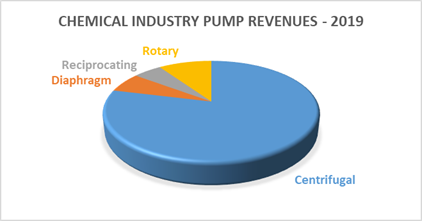 <![endif]>
The market can be further segmented by pumps for new greenfield plants, new replacement pumps for existing plants, parts, and service. The new greenfield segment is less than 15 percent of the total. This means that existing pump owners will make most of the purchasing decisions. Furthermore these existing plants are centralizing their purchasing. BASF is specifying pumps for all plants from its headquarters in Ludwigshafen. The company has process management software and can track pump performance around the world. Consequently relatively few people with a great deal of analytical information are making more and more of the pump decisions.
These highly informed people are looking to interact with supplier personnel who can add insights. Therefore suppliers will need direct sales programs to target these influential people. It is possible to determine the annual purchases of thousands of pump customers in order to provide the foundation of a sales program. Nearly 1000 chemical companies spend more than $500,000 per year on pumps. More than 20 companies spend more than $35 million/yr.
Largest Pump Purchasers in the Chemical Industry - 2019

Company

Corporate Location

World Pump Purchases

Braskem

Brazil

Sinopec

China

xx

Air Liquide

France

BASF

Germany

xx

Linde

Germany

Evonik

Germany

Covestro

Germany

Mitsubishi Chemical

Japan

x

Toray Industries

Japan

LyondellBasell

Netherlands

x

AkzoNobel

Netherlands

Yara

Norway

SABIC

Saudi Arabia

x

LG Chem

South Korea

Ineos

Switzerland

x

Formosa Plastics

Taiwan

x

Dow Chemical

U.S.

xx

ExxonMobil

U.S.

x

DuPont

U.S.

x

PPG Industries

U.S.

All companies will spend more than $35 million for pumps.

Those with x will spend more than $50 million and

those with xx will spend more than $100 million
The investment in pumps at each plant is a function of the tons of chemicals produced. Data is available on the production of each chemical at each plant. There is also data on the type of production process used. For example there are several different processes for making chlorine.
Installed Chlorine Production Capacities (kt chlorine/yr)

Country

Company

Site

Total

Hg

D

M

Others

Austria

Donau Chemie

Brückl

74

74

Belgium

INOVYN

Antwerp

460

110

350

Belgium

INOVYN

Jemeppe

174

174

Belgium

Vynova

Tessenderlo

475

205

270
With this data the process pump investment can be determined. However, a company such as Wacker Chemie makes chlorine on site and then uses the chlorine multiple times in downstream processing. This increases the pump purchases accordingly. The pump purchases for water intake, cooling, wastewater, chemical metering, and power plant ultrapure water can also be determined from available data. Thanks to the regulatory authorities the size of any wastewater discharge is known. The size of the plants power generators are also known. This is the basis for calculating the ultrapure water and cooling water pump purchases. This includes metering pumps as well as process pumps.
There is the opportunity to offer edge computer software which will be part of the pump package and increase pump supplier revenue. (2) Revenue can be further expanded by offering 24/7 remote monitoring. Presently pump suppliers capture just a small portion of the total market.
<![if !vml]>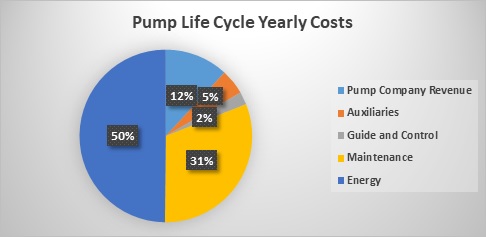 <![endif]>
The 50 percent spent on pump energy can be reduced with process management programs. Maintenance can be reduced with 24/7 remote monitoring.
Since the original pump price is only 12 percent of the total annual cost, it is important for pump suppliers to validate that their offering has the lowest total cost of ownership.
The determination of the purchase opportunity for each major customer is the foundation of a sales program. The Lowest Total Cost of Ownership Validation (LTCOV) is the vehicle to persuade these major customers as to where to spend their money.
<![if !supportLineBreakNewLine]>
<![endif]>
McIlvaine Market Forecasting and Analysis for Pumps demonstrated with WEFTEC Analysis
WEFTEC, being held in New Orleans, September 29 - Oct 3 is one of the largest municipal wastewater conferences and exhibitions in the world. There will be 50 pump companies among the exhibitors. There will also be a number of good papers which will address pump issues.
NAFTA is the second largest municipal wastewater pump market behind Asia.

<![if !vml]>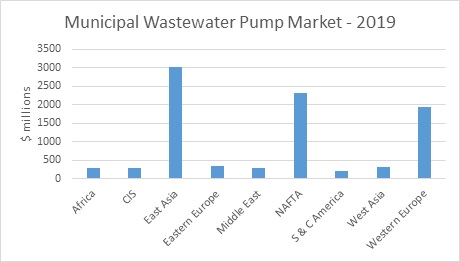 <![endif]>
A pre-show analysis of WEFTEC helps provide more insights on the Serviceable Obtainable Market (SOM) and Wisdom based Obtainable Market (WOM). The SOM would be a segment of the $9 billion Total Available Market (TAM) market. On the other hand the WOM market can be even bigger than the TAM. The WEFTEC pre-show analysis covers many of the parameters which will impact total cost of ownership (TCO). The SOM is the market where the supplier can validate lowest total cost of ownership (LTCOV). Therefore analysis of the information made available at WEFTEC is important.
One of the problems being addressed at WEFTEC is struvite removal. It is a relatively new problem caused in part by regulations which now require phosphorous removal. Understanding of the phosphorous developments is important to determining both TAM and SOM. The additional revenue from side stream phosphorous removal increases TAM. The fact that struvite problems dictate the use of one pump type over another affects SOM.
The SOM is also impacted by new developments by pump competitors. WEFTEC provides a unique opportunity to learn about these developments.
Many of the pump exhibitors are displaying "smart" pumps which incorporate a range of controls including edge process management systems. This addition generates not only additional revenues at the time of original sale but a recurring service income including remote continuous monitoring.
Pumps at WEFTEC
<![if !supportLineBreakNewLine]>
<![endif]>
WEFTEC was bigger and better than ever this year and even exceeded the record attendance in Chicago last year. This show has been used as an analysis of the benefits of interconnection of suppliers, media, and event organizers Municipal Wastewater Services
Here are the details about the venue
WEFTEC 2018
91st Annual Technical Exhibition & Conference
Conference: September 29 - October 3
Exhibition: October 1 - 3
Core Hours: 8:30 am - 5:00 pm daily
New Orleans Morial Convention Center
There were a number of pump exhibitors. Here are some highlights
A - Idex-VanLare installs Pulsafeeder Metering Pumps
Located on the southern shore of Lake Ontario, the Frank E. VanLare Wastewater Treatment Facility, Monroe County, N.Y., has a total treatment capacity of 660 mgd and is currently running around 100 mgd. The plant uses Non-metallic Eclipse pumps to pump 12.5% Sodium Hypochlorite, Chlorine, for disinfection before the final discharge of the wastewater. VanLare runs 24 hours a day, 365 days per year.
VanLare originally installed peristaltic pumps for Sodium Hypochlorite and its Environmental Service team was in search of a better solution. Peristaltic hose life is unpredictable and inconsistent. These pumps are not leak free so worker safety was also a concern because of inhalation and skin contact with the chemicals. To solve the problem they installed Non-metallic Eclipse pumps. Eclipse sealless design ensures zero emissions of hazardous or regulated chemicals. These pumps have superior chemical resistance. Service is quick and piping and electrical stay in place because of the front pull-out design.
In addition to pumping Sodium Hypochlorite, VanLare installed three Non-metallic Eclipse E25 pumps into the Ferric Chloride station. Ferric Chloride is used for phosphorus removal. Pulsafeeder will be a stop in the Sludge Dewatering WEFTEC GDPS at stand 4308.
B - Accudyne will be a stop in the Sludge Dewatering WEFTEC GDPS
Accudyne Industries business units manufacture pumps designed to inject coagulants, disinfectants, softening agents, acids and bases for pH control and de-chlorination chemicals into a plant's water systems:
Milton Roy metering pumps are efficient, cost-effective and reliably designed specifically for wastewater treatment.
Milton Roy mixers are widely utilized for basic treatments, sludge digestion and O2 injection.
Williams pneumatic metering pumps are ideally suited to precisely inject a wide variety of chemicals designed for treating industrial water and wastewater.
LMI chemical metering pumps are used for versatile applications in water and wastewater treatment.
Sunflo high pressure centrifugal pumps are widely utilized for boiler feed water and membrane filtration wash down.
The Milton Roy stand at WEFTEC will be 3739
C - Thames Water Modgen Plant switches to SEEPEX Pumps
Originally built in the 1930s, the Mogden sewage treatment plant has undergone major expansions over the decades to keep up with exploding population growth. Operator Thames Water has now converted the large plant over to using SEEPEX pumps. The customer needed more than just equipment, requesting a sophisticated service package as well to ensure optimal operation.
This was no small challenge given the variety of sludges involved of differing densities and temperatures. SEEPEX had to precisely design every pump – ranging from the small metering pump for liquid polymers to the many transfer pumps for sludge treatment – for specific requirements. Pumps also had to be developed which were capable of moving 180 cubic meters of slurry to the sludge treatment facility 16 km away. Additionally, special measures were required to ensure smooth and efficient pump operation, reducing downtime and costs.
SEEPEX N300-36 transfer pumps were deployed, becoming milestones in technological development by being the biggest progressive cavity pumps in existence at that time in both length and weight.
Since commissioning, SEEPEX has performed full-service monthly inspection and maintenance of the pumps, checking dry running, overpressure, wear, driving power and efficiency. The key is performing preventive maintenance, on site and the same day if necessary, before any breakdowns can occur.

The success is evident, as pump downtimes at the sewage plant have been drastically reduced. SEEPEX UK is now responsible for maintaining a total of 68 progressive cavity pumps and macerators at Thames Water facilities and at the neighboring Iver South sewage treatment plant located in Slough.
Seepex is one of the identified stops in the Sludge Dewatering WEFTEC GDPS at stand 6939.

<![if !supportLineBreakNewLine]>
<![endif]>
E - NOV Progressing Cavity Pump
The article below appears in the preview of WEFTEC in Industrial Water World, the sister publication of WaterWorld. The magazines provide an important function by educating potential visitors.
<![if !vml]>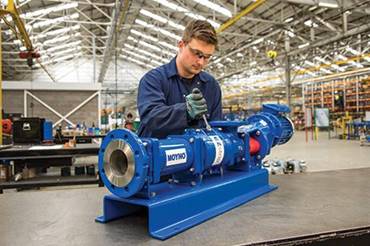 <![endif]>
The EZstrip™ maintain-in-place progressing cavity pump from NOV is designed with new features to make maintenance more user friendly. It has quick and safe removal of the full drive train including rotor, stator, shaft, rod and seal. With its patented Positive Torque Split Coupling Rod, maintenance and assembly times are reduced. The tie-bar-free design allows the EZstator clamps to lock the stator securely in place, further reducing stator removal time by over 50% and improving safety of common maintenance operations. Available in cast iron or stainless steel with a choice of rotor and stator materials, it suits multiple applications.
National Oilwell Varco (NOV)
www.nov.com
Booth 1313
F - Netzsch Booth 1319
On display will be the N.Mac Twin Shaft Grinder; FSIP (full service-in-place) version of the industry-leading NEMO progressing cavity pump, including the new xLC unit; the revolutionary TORNADO T2 rotary lobe pump, and the iFD-Stator 2.0.

Also to be highlighted is the maintenance-friendly FSIP NEMO progressing cavity pump and its new xLC unit. Providing full access to all of the pump's rotating parts, the FSIP pump allows users to conveniently open the pump cavity on-site and dismantle all rotating parts and simply install them again without having to remove the pump or disconnect the piping. This significantly reduces installation complexity and maintenance time. The new addition to the NEMO's portfolio, the xLC unit, triples the service life of the pump, particularly when conveying difficult, abrasive media.
When wear occurs in the rotor-stator system, the new xLC unit allows the performance of the pump to be re-established by adjusting the preload between the conveyor elements https://www.wateronline.com/doc/netzsch-to-showcase-range-of-innovative-pump-technology-weftec-0001
At the town of St Marys in Canada changes resulted in increasing the viscosity of the thickened biosolids significantly, and also increased the percentage of solids from 3% to a range of 8% to 14%. The centrifugal type pump previously used, could not handle the highly viscous biosolids. The Netzsch P.C replacement solved the problem
https://www.waterworld.com/articles/2018/06/canadian-wwtp-reduces-loading-times-with-netzsch-vertical-pump-install.html
The N.Mac™ Twin Shaft Grinder from NETZSCH is designed to fragment a variety of materials and is ideal for wastewater treatment and industrial applications. Available in both channel and inline (flanged) housing construction, the N.Mac can be installed into effluent channels or upstream from a pump. The cartridge design features a leak-free combination of mechanical seal and bearing cartridges, enabling quick and simple replacement and servicing. https://www.waterworld.com/articles/print/volume-33/issue-10/products/products-services-wastewater-treatment.html
G - KSB: Pumps and Mixers will be on display at booth # 4641 and will feature
Virtual experience of the new generation Amarex KRT submersible pump with the F-Max impeller
•New generation Sewatec horizontal dry well pump with F-Max impeller
•New Additions to our hydraulic lineup (K-Max and E-Max)
•Most reliable submersible motor pump with axial propeller
•Complete line of our efficient vertical tubular casing pumps for your water applications
•KSB System Analysis – System Efficiency Services
•Watch the Operations Challenge teams practice with the NEW KSB Maintenance Event

In a 2018 WaterWorld interview KSB explains its "Cycle of Solutions" concept, addressing how integrated technology is now needed for water intake to disposal https://waterworld.brightcovegallery.com/detail/video/3580038825001/ksb
KSB now (as of 2012) offers the Sewatec dry-installed volute casing pump. Used for wastewater transport and treatment, sludge handling, and stormwater applications, the pump features a flexible hydraulic design to meet a multitude of conditions. The Sewatec dry pump line is a derivative of the KRT line of submersible pumps (also available from KSB). Because Sewatec's impellers, bearings, mechanical seals, O-rings and discharge covers are interchangeable with the KRT line, inventory streamlining is easy for customers that also use KRT wet well pumps. https://www.waterworld.com/articles/iww/print/products/2012/07/wastewater-pump-ksb-inc.html
H - BJM Pumps Booth 1901
BJM Pumps® provides fluid handling solutions for industrial and municipal services. BJM Pumps has grown quickly by supplying world class pumps and accessories, priced competitively, through its global network of stocking distributors in the United States, Canada and South America.
<![if !vml]>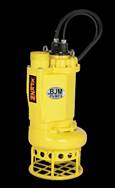 <![endif]>
BJM Pumps has announced the new XP-KZN heavy-duty, submersible, explosion-proof pumps that are designed for tough conditions where explosion-proof, FM, C/US approval is needed. The XP-KZN features a top discharge, slim-line design with an agitator to suspend heavy slurries containing abrasive materials, as well as to allow for an easy fit into tight, thin spaces. It features robust construction and unmatched design, making it able to outperform and outlast standard wastewater predecessors in harsh environments. The agitator helps keep solids suspended in liquid and helps prevent the pump from clogging, reducing capital and operating costs.
https://www.waterworld.com/articles/print/products/2015/march/submersible-pumps.html
I - Boerger, LLC Booth 5927
Headquartered in Germany with subsidiaries around the world, Börger develops, manufactures and sells rotary lobe pumps, macerating technology and feeding technology for the conveyance of low to high viscous and abrasive materials. Börger's core product, the Blueline Rotary Lobe Pump, is a self-priming, valveless, positive displacement pump available in 21 models within six series delivering flow rates up to 7,500 gpm. All Börger equipment is constructed using MIP (Maintenance in Place) deisgn. This allows for an almost limitless operational lifetime. Through the Quick-Release Cover all wetted parts can be maintained or replaced without the removal of pipe or drive systems.
Rotary lobe pump interview with McIlvaine at WEFTEC 2010 http://www.mcilvainecompany.com/WEFTEC_2008/WEFTEC2008BorgerRotaryLobePumps.htm
J - Flygt, A Xylem Brand Booth 5939
Xylem's Flygt manufacturers submersible pumps, mixers and mechanical aeration equipment for use in markets ranging from water and wastewater treatment, raw water supply, abrasive or contaminated industrial processes, mining and irrigation.
Operators of a municipal wastewater pumping station in the rural town of Lomma on Sweden's south-western coast agreed to install and trial a revolutionary new wastewater pumping system in an effort to solve clogging issues at the pump station.
As well as delivering clog-free pumping, Xylem's Flygt Concertor, a state-of-the-art pumping system with integrated intelligence, significantly reduced energy consumption at the wastewater pumping station. The operators were so impressed that they decided to purchase and permanently install the new system at the facility. https://utilitymagazine.com.au/flygt-concertor-trial-a-success-for-swedish-municipality/
Rene Prins discusses Flygt's new Experior wastewater pumping system, which combines the best in hydraulics, motors and intelligent controls to deliver a user-friendly, energy efficient wastewater pumping solution. Water World Weekly video interview http://site-438305.bcvp0rtal.com/detail/video/1277219628001/flygt-a-xylem-brand
With the development of the centrifugal N-pump and introduction of the PC-pump in the Flygt assortment ITT Flygt in 2008 was able to offer a complete assortment of pumps for sludge applications. McIlvaine Company Interview http://www.mcilvainecompany.com/WEFTEC_2008/WEFTEC2008ITTFlygtCorporation.htm
K - Gorman-Rupp Pumps Booth 3429

Gorman-Rupp Pumps is a manufacturer of pumps and pumping systems for the municipal, water, wastewater, sewage, industrial, construction, and original equipment manufacturing markets. Solids handling self-priming and submersible sewage pumps offer maximum dependability and ease of service. Established in 1933, Gorman-Rupp provides a quality, competitively priced product backed by customer service.
Gorman-Rupp supplies sewage pumping systems including pumps, motors and controls (complete sewage lift stations). The solids handling self-priming and submersible sewage pumps offer dependability and ease of service.
Struvite Choking Problems Solved: SE Water decided to go with Gorman-Rupp Super T Series self-priming pumps with an internal coating to attempt to slow the struvite growth. These pumps can be installed above the liquid (high and dry) to enable operators to easily access and monitor at ground level https://www.pumpindustry.com.au/stps-struvite-pump-choking-problems-solved/
L - LobePro Rotary Lobe Pumps Booth 4241
LobePro Rotary Pumps manufactures 3 lines of positive displacement, rotary lobe pumps: S-Series: Sludge, Mud, and Slurries and General Use applications; C-Series: Corrosives & Chemicals; and D-Series: Duplex Pumps for Abrasives & Corrosives. Each line is also available in an API-Series: API 676 Compliant version. Our rotary lobe pumps are typically used to pump sludge to and from thickeners, separators (such as belt presses, centrifuges, and rotary presses), digesters, clarifiers. They are suitable for pumping any wastewater sludge which has had the hard solids over 1/8" and most grit removed for flows up to 2000 GPM and pressures up to 150 PSI. the company can specify an in-line grinder, filter or knock-out tank should hard solids larger than 1/8" be present.
According to Bill Blodgett, president, the recent rate of innovation in production from Biosolids has been amazing. However, one consistent requirement is the need for low shear, pulseless pumping of viscous material (often containing 2% or greater solids). Just as important is pumping at a measured flow rate and pressure. LobePro rotary lobe pumps excel in this. LobePro pumps are available in capacities up to 2000 gpm and pressure capability up to 150 PSI. The pumps are happy to run clockwise or counter clockwise. This allows one pump to both load and unload or back flush. (for other properties see Properties of Rotary Lobe Pumps).
M - Putzmeister America, Inc. Booth 2857
Putzmeister is well known for its complete systems approach, especially for handling the most difficult applications, including the transport and storage of coarse sludges and slurries. From the mud of the Assuan Dam and the sewage waters of Paris, to land reclamation, coal and ash in power stations, and gold slimes in mining – Putzmeister is the first choice for municipal and industrial project applications. Organic applications: biomass, sewage treatment, co-incineration, coal slurry, cement industry, special waste, paper industry, chemical industry. Inorganic applications: mining, fly- and bottom-ash, surface water sludge removal, tunnel construction, oil industry/offshore. Putzmeister technology has opened up new applications for difficult material, making it possible to efficiently convey sludges and slurries that seemed impossible before.
N - Shanghai Techase Environment Protection Co., Ltd Booth 4651
TECHASE, which was invested in by Tongji University, is a worldwide leading company in solid-liquid separation of industrial and municipal wastewater. Our head office and factories are located in Shanghai. TECHASE intends to provide customers with professional consulting services, the best cost-effective solutions and products of top quality, high performance, and for customization.
O - Schwing Bioset, Inc. Schwing Booth 2914
Schwing Bioset, Inc. has supplied complete biosolids treatment and handling systems for over thirty years. Growing from a biosolids handling supplier, it now offer process systems as well, including MBR systems, phosphorus management, screw press dewatering, piston pumps, screw conveyors, Class A alkaline stabilization and drying technologies, sliding frames, live bottoms, and more.
At wastewater plants utilizing anaerobic digestion, Struvite commonly forms and creates issues with pipes clogging and equipment being damaged as a result of scaling. Additionally, tanks can accumulate Struvite, which requires periodic removal and creates an additional expense to plant operations. Schwing Bioset's Nutrient recovery system recovers Ortho Phosphate and Ammonia Nitrogen from wastewater while offering great benefits to the treatment plant, not only by significantly reducing phosphorus in the waste stream, but also preventing unwanted scaling and accumulations, and creating a valuable end product. The phosphorus forms a stable Struvite crystal that can be marketed and sold for beneficial reuse, thus keeping excess phosphorus out of the local waterways and helping close the phosphorus recycling loop.
White paper: Although the advantages of anaerobic treatment are obvious, subsequent nutrient removal still remains an important issue. Readily biodegradable organic matter needs to be bypassed towards aerobic post-treatment in order to achieve the final nutrient effluent standards, thus reducing the potential biogas yield
and increasing the waste sludge production. Nutrient removal by struvite (MgNH4PO4 · 6H2O) or magnesium ammonium phosphate (MAP) precipitation is an interesting alternative approach to address phosphorus removal (von Munch and Barr, 2001; Gonzalez and De Sa, 2007).
To read the entire white paper, please submit the download form. http://www.schwingbioset.com/white-paper-phosphate-removal
P - SRS Crisafulli, Inc. (also known as Crisafulli Pump Company) Booth 7230
Full line of dredges for managing settled wastes, biosolids, sediment, lime and alum sludges, and high-volume pumps for dewatering, stormwater management, lift stations and pumps.
The SRS Crisafulli remote control FLUMP dredge is designed to remove settled wastes and other by-products from settling ponds or lagoons. It is equipped with discharge pumps in sizes 3", 4", 6", and 8". The integrated system is comprised of major standard and optional components – i.e., flotation system, primary and secondary motors, hydraulic and electrical systems, cutterhead, pump, ladder, manual or programmable computerized controls, cabled traverse system, and Crisafulli Integral Floating Discharge System. Four models are offered with standard dredging depths to 12 feet. Custom depths to 30 feet. https://www.waterworld.com/articles/print/volume-26/issue-6/products/products--services.html
O - Yamada America Booth 645
Yamada Corporation is a global producer of air operated double diaphragm pumps with over 100 years of experience. It pursues an ever-increasing number of pump applications involving corrosives, slurries, viscous and shear sensitive liquids. Pumps range from ¼" through 3" in a wide array of materials of construction. Specialty pumps include solids handling, powder, and high-pressure pumps.
U - Weir Booth 5739
Weir designs and manufactures highly engineered pumps and related equipment for the global water and wastewater industries. Engineers work closely with customers to understand their operational challenges and help improve productivity and lower total operating costs.
At Stand 5739, Weir will be displaying its full product portfolio for the water and wastewater markets including products from Weir Floway and Weir Specialty Pumps (WEMCO and WSP brands).
Weir Floway has been manufacturing vertical turbines for more than 80 years. We are recognized by customers around the world for industry leading quality and performance. We have evolved into an engineered-to-order company that can solve the most complex and demanding of applications. From special materials and custom designs, Weir Floway is dedicated to providing superior quality, top hydraulic performance, and long service life.
Weir Specialty Pumps (WSP) are experts when it comes to wastewater pumping and grit removal applications. WSP brings more than 60 years of experience in providing equipment to the municipal wastewater market with our WEMCO Torque-Flow recessed impeller grit pumps, WEMCO Screw-Flow screw centrifugal solids handling pumps, and the WEMCO Hydrogritter for grit removal and dewatering applications. In addition, WSP also manufactures the WSP Chop-Flow chopper pumps, WSP Self-Primer, and WSP Non-Clog pumps. WSP is able to provide pumps in a multitude of arrangements including horizontal, vertical, and submersible.
Media and Pumps at WEFTEC
A - Magazines and Interconnection of People and Knowledge
The Industrial Internet of Wisdom interconnects people and knowledge through publications, conferences, and webinars. These provide the support information for the decision systems and Lowest Total Cost of Ownership Validation (LTCOV). Transfer of knowledge from one industry to another is also important. Municipal and industrial wastewater innovations need to be shared. There also needs to be interconnection between the systems designers and the suppliers of components and consumables. Various publishers exhibiting at WEFTEC make the interconnection between industry e.g. industrial wastewater and municipal wastewater or between products and industries e.g. pumps. Suppliers and purchasers can pursue IIoW with their assistance.
| | |
| --- | --- |
| Magazine | Stand |
| Chemical Engineering | 809 |
| Chemical Processing | 542 |
| Endeavor Business Media | 4051 |
| Empowering Pumps | 4751 |
| Environmental Science and Engineering | 2246 |
| Global Water Intelligence | 6659 |
| Modern Pumping Today | 5150 |
| Pumps & Systems | 2852 |
| Stormwater | 1652 |
| WaterWorld | 3911 |
| Water & Waste Digest | 4028 |
B - Endeavor Business Media is offering industry and product interconnection. The Process Flow Network covers innovative solutions for the process industries. Together, the three brands that make up the network — Processing, Flow Control and Water Technology — serve a diverse audience of engineers, corporate managers, plant operators and other process industry professionals. You can learn more about the Process Flow Network at WEFTEC Booth #4051.
C - Science & Engineering has struvite data. In November 2015, two HydroFLOW 160i units were installed on the sludge pipe feeding the GEA Westfalia Separator model CB 505-00-32 centrifuge at Somersworth N.H. One unit was placed before the centrifuge, just after the thickened waste activated sludge pump, and the other was placed before the feed tube just before the centrifuge. Both units were installed without process down-time as they are fitted around existing piping and do not require plumbing modifications.
The units use 120V AC and draw less than 1 Amp, which is similar to the power consumed by a 60-watt light bulb.

Success for this facility meant reducing polymer usage and producing dryer cake, while not adversely impacting the centrate quality. The centrate quality in Somersworth typically averages about 500 mg TSS/L, but rarely exceeds 1,000 mg TSS/L. Surpassing the 1,000 mg TSS/L threshold could affect the plant treatment capacity. https://esemag.com/wastewater/new-device-reduces-polymer-use-and-controls-struvite-during-sludge-dewatering/
D - Modern Pumping Today. One of the recent feature articles covers struvite removal https://modernpumpingtoday.com/removing-struvite-from-wastewater-systems/
The article above on struvite removal at NYC with a special polymer was contrasted to an approach which would have made centrifuge pond adjustments. This article presents a third option.
A wastewater treatment company in Canada uses a number of dewatering centrifuges to remove water from sewage sludge. After the sludge has been removed the water is purified and then discharged. Purification occurs in the sludge dewatering centrifuge where the centrifuge's force separates the sludge from the water.
Struvite formed inside the sludge dewatering centrifuge necessitating the need for the centrifuge to be stopped and cleaned every 800 hours of operation (approximately two months) which took workmen a day to clear with chemicals, hammers and chisels.
A Scalewatcher electronic descaling system was installed at the centrifuge with an induction cable around the 6-inch supply mains. When, after four months, the treated centrifuge was opened during the first inspection, it appeared that the wall was only covered with a minimal deposit of softened struvite. Two months later the centrifuge was opened and inspected again whereupon it was found to be even cleaner. To confirm the results, the Scalewatcher was switched off. Shortly afterwards, the operators noticed that the deposits had returned. When the Scalewatcher was switched on again the Struvite disappeared. The magazine covers municipal and other pumping applications and includes in depth analyses which can aid decision making. Vince Marino vince@modernpumpingtoday.com will be at the stand 5150
E - WaterWorld Stand 3091 has an easily used search engine. A search under struvite shows a 2018 article - Howard County Department of Public Works engaged HDR to provide engineering design services for upgrades to the biosolids facilities at the Little Patuxent Water Reclamation Facility in Savage, Maryland. The Little Patuxent facility used dewatered cake lime stabilization for biosolids treatment. The changes to the biosolids processing included eliminating the lime system and replacing it with anaerobic digesters, centrate demmonification and associated solids screening, thickening, odor control and digester gas handling improvements.

After an extensive evaluation of phosphorous removal technologies, the design was based on Centrisys AirPrex because of its demonstrated ability to prevent struvite precipitation in downstream processes, including piping and the solids dewatering equipment. The Little Patuxent facility uses decanter centrifuges for biosolids
dewatering https://www.waterworld.com/articles/2018/06/little-patuxent-water-reclamation-facility-upgrades-system-with-airprex-for-sludge-optimization-and.html
In a 2017 article in WaterWorld - CNP™ Technology Water and Biosolids Corp. recently announced AirPrex®, a sludge optimization and phosphorus recovery process, has been selected for the Liverpool Wastewater Treatment Plant (WWTP) by the Medina County Sanitary Engineers in Ohio.
https://www.waterworld.com/articles/2017/04/liverpool-wwtp-selects-airprex-for-sludge-optimization-and-phosphorus-recovery.html
A comprehensive article on nutrient recovery in a 2016 issue is provided at https://www.waterworld.com/articles/wwi/print/volume-31/issue-6/featured-articles/nutrient-recovery-2-0.html This article is from the sister publication, Water & Wastewater International by Dr. Christian Kabbe from the Berlin Centre of Competence for Water, Germany.
For more information, email: Christian.kabbe@kompetenz.wasser.de. The struvite problem and the interest in nutrient recovery is world-wide. The quest for the LTCO should also be world wide
Note Also view the automation N-Hach web recording which is by WaterWorld and the automation-N Suez TOC analyzer article which appeared in WaterWorld pre show coverage as well as the pumps and valves E-NOV progressing cavity pump
F - Water & Waste Digest Stand 4028 has a search engine with multiple articles on struvite. Here is one from 2017 - Struvia prevents uncontrolled struvite precipitation during wastewater treatment. This Veolia process uses a patented mixing system, TurboMix, to produce and separate struvite crystals within a single reactor. This compact, resource-efficient, low-energy process saves on operating costs by reducing struvite-related maintenance and reducing the amount of coagulant used for chemical P removal, all while producing a valuable granular end product consisting of magnesium ammonium phosphate crystals that are rich in recycled nutrients. https://www.wwdmag.com/treatment/struvite-removal
G - Chemical Engineering
The September issue will be distributed at WEFTEC. There is a special advertising section on water treatment but the feature articles are on boiler feedwater treatment. Advertisements for some WEFTEC exhibitors appear in the main section but there are advertorials for each in the special water treatment section. Each of these is the equivalent of 0.5 pages of advertising. So for GEMU, Flottweg and about half of the listed advertisers there is the bonus coverage.
<![if !supportLineBreakNewLine]>
<![endif]>
Chemical Engineering September 2018 CFT Advertising

Company

Pages

Subject

Cleaver Brooks

1

Boilers, water systems, controls

Emerson

1

Engineering and project management-automation

Endress +Hauser

1

Flow meters, transmitters, pH

Badger Meter

1

Flow meters

Flottweg

0.5

Centrifuges

Ross

0.5

Mixers

Load Controls

0.5

Viscosity measurement

Gemu

0.5

Valves, water treatment

Swagelok

1

Valves

NOV

1

Progressing Cavity Pumps, screens, mixers

Krohne

0.5

Level transmitters

Ekato

0.3

Mixing

A-T controls

0.2

PFA lined ball valves

Material Transfer

0.5

Bulk bag discharger

Paul O. Abbe

0.2

Mixing, size reduction

Proco

0.2

Check valve

Seepex

0.5

Pumps , metering system

Bionomic

0.5

Modular scrubbers

Ametek

0.3

Viscosity analyzer

Finder Pompe

0.3

Centrifugal and plunger pumps

Myron L

0.5

Liquid measurement

Arkema

0.5

Kynar


Determining Competitor Market Shares and Strategy
The McIlvaine Company provides market share data for nearly 1000 pump companies. However clients are seeking even greater segmentation by industry, region and specific product.
One of the tools for this more extensive segmentation is activity at exhibitions. The geographic distribution as well as industry focus can be determined. The detailed analysis of exhibition activity at WEFTEC is shown at Municipal Wastewater Services. There were many water related exhibits at Singapore International Water Week. We have a 20 page analysis just of the pump companies with displays. We have been analyzing exhibition activity every third year for IFAT in Munich and were a participant in the Pump Summit last year.
We have also just completed an analysis of exhibitors at Filtration 2018. The focus is on air filtration, gas turbine, and dust collector media with a more minor focus on liquid filtration and no focus on pumps. By contrast. Filtech held in Europe is more focused on filtration equipment rather than media and has the largest display of filtration equipment of any show around the world.
A number of power related shows are reported in our Utility E Alert including smaller venues such as the VGB air pollution conference or the Indian FGD & DeNOx conference last week. Power-Gen shows in several regions of the world include substantial pump space. The OTC exhibition in Houston is one of the largest oil and gas exhibitions with a number of pump exhibitors. Interphex in NYC has a handful of displays by pharmaceutical pump suppliers. ACHEMA in Frankfurt provides hundreds of displays of pumps for the chemical industry every third year
The Cleanroom Technology exhibition in the U.K and a number of smaller European exhibitions such as Lounges provide displays of pumps used in cleanrooms. The industry focused shows such as Semicon West have some displays by pump suppliers but the pump percentage of total space is low.
Advertising is also a good indicator of activity by product, industry and location. We tabulate the number of pages, the subject matter and the service in which we will be evaluating it.
Pump Advertising in Pharmaceutical Manufacturing July-August 2018

Company

# of pages

Subject

Service

None
CFT Advertising in Processing - October 2018

Company

# of pages

Subject

Service

Discflow

0.5

Pump

Pump

Blue-White

1

Pump, Flow Meter

Pump, IIoT

Gorman Rupp

0.2

Pump

Pump

Motion Industries

1

Pump

Pump

NOV

1

Pump

Pump
Hydrocarbon Processing - September 2018 - Advertising

Company

Pages

Subject

Service

No Pump Advertisements
Chemical Engineering - September 2018 - CFT Advertising

Company

Pages

Subject

Service

Seepex

0.5

Pumps, Metering System

Pumps

Finder Pompe

0.3

Centrifugal and Plunger Pumps

Pumps