Oil, Gas, Refining, Monthly Analysis for CFT Suppliers

June 2019
This monthly analysis is included in the Oil, Gas, Shale, Refining report. The projects segment is updated daily. There is a summary and links to more comprehensive data. The additions for the month are included below following the Overview
Overview
LNG is a Most Profitable Market for CFT Suppliers
Combust, flow, and treat (CFT) products are important components in liquefaction of natural gas, the transport of those liquids by ship or land and their regasification prior to use. It is desirable for a CFT supplier to assess this opportunity based on the basis of the profit which can be obtained by pursuing it. This Most Profitable Market (MPM) can be defined as the market which yields the highest profit given the resources available.
The LNG market creates high profit opportunities for CFT companies due to
<![if !supportLists]> · <![endif]> High growth
<![if !supportLists]> · <![endif]> Challenging applications
<![if !supportLists]> · <![endif]> Relative few decision makers
<![if !supportLists]> · <![endif]> Purchaser desire to buy based on lowest total cost of ownership
<![if !supportLists]> · <![endif]> Ability to validate lowest total cost of ownership
High Growth: High growth markets have less competition and a bigger profit opportunity. LNG will be experiencing rapid growth. Over the next few years the U.S. will lead in liquefaction construction. Regasification facilities will be constructed in many countries. LNG represents just under 10 percent of the global gas supply. LNG continues to be the fastest-growing gas supply source. The expected world compound annual growth rate is 4 percent a year between now and 2035. However growth in the next 5 years will exceed 7 percent.
2018 liquefaction capacity was 370 million tons per annum (mtpa). 875 mtpa of new liquefaction capacity is proposed. 92 mtpa is under construction. Global regasification capacity is 851 mtpa. There are 478 LNG vessels with more than 20 new vessels per year being commissioned. In 2023 Australian capacity will exceed 80 mtpa compared to 100 mtpa in Qatar and 65 million mtpa in the U.S. The U.S. will experience the fastest growth from a base of 20 mtpa in 2017.
<![if !vml]>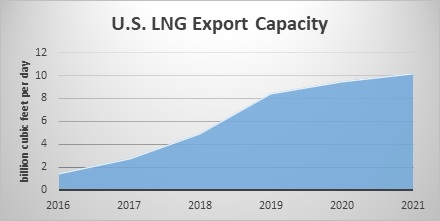 <![endif]>
| | | |
| --- | --- | --- |
| Name | Location | Completed |
| Sabine Pass 1 | Louisiana | 2016 |
| Sabine Pass 2 | Louisiana | 2016 |
| Sabine Pass 3 | Louisiana | 2017 |
| Sabine Pass 4 | Louisiana | 2017 |
| Cove Point | Maryland | 2018 |
| Sabine Pass 5 | Louisiana | 2018 |
| Corpus Christi 1 | Texas | 2018 |
| Cameron 1 | Louisiana | 2019 |
| Elba Island 1-6 | Georgia | 2019 |
| Cameron 2 | Louisiana | 2019 |
| Freeport 1 | Texas | 2019 |
| Corpus Christi 2 | Texas | 2019 |
| Elba Island 7-10 | Georgia | 2019 |
| Freeport 2 | Texas | 2019 |
| Cameron 3 | Louisiana | 2019 |
| Freeport 3 | Texas | 2020 |
| Corpus Christi 3 | Texas | 2021 |
Challenging Applications: The CFT opportunity is more than $3 billion per year. Of this total more than 60 percent of the applications are considered high performance. These are components subject to severe or critical service.
Relatively Few Decision Makers: Frequently a sale can exceed $20 million with very few decision makers.
Purchaser Desire to Buy Based on Lowest Total Cost of Ownership: Due to the severity and criticality of the service there is a big incentive to buy the product which is not necessarily lowest in cost to handle the extreme requirements surrounding cryogenics, thermal dynamics and velocity control.
Ability to Validate Lowest Total Cost of Ownership: Due to the need for high performance it is relatively easy to engage decision makers in discussions relative to cost of ownership. However a convincing case has to be made based on evidence not only of a product's cost saving features but, on its performance, relative to competitor options.
The LNG market will be a Most Profitable Market for many CFT suppliers due to its size, rapid growth and challenging applications. A relatively few decision makers are incentivized to select products with the lowest total cost of ownership. They have the background evidence to evaluate the conflicting claims of various suppliers. The result is that they are willing to pay higher prices for the better products. This in turn results in greater profits for the supplier.
The Most Profitable Market Program is described at www.mcilvainecompany.com
New Petrochemical Forecast
The report has a new comprehensive analysis of the Petrochemical industry. Here are some of the highlights.
Petrochemicals represents one of the largest markets for Combust, Flow and Treat (CFT) suppliers. This report helps suppliers identify the most profitable opportunities at each potential large prospect. Overviews, plant analyses and project data are supplied for each large prospect. This continuing flow of information facilitates continuous forecasting of the Most Profitable Markets. The foundation of the analyses are present in projected production. Ethylene is a major petrochemical. Forecasts are provided for future production in each country.
Ethylene Forecasts (1000TPY)
| | | | | | | | | | |
| --- | --- | --- | --- | --- | --- | --- | --- | --- | --- |
| | 2016 | 2017 | 2018 | 2019 | 2020 | 2021 | 2022 | 2023 | 2024 |
| Austria | 596 | 631 | 669 | 709 | 752 | 797 | 845 | 895 | 949 |
| Belgium | 2930 | 3106 | 3292 | 3490 | 3699 | 3921 | 4156 | 4405 | 4670 |
| Finland | 393 | 417 | 442 | 468 | 496 | 526 | 558 | 591 | 626 |
| France | 4407 | 4671 | 4951 | 5249 | 5563 | 5897 | 6251 | 6626 | 7024 |
| Germany | 6836 | 7247 | 7681 | 8142 | 8631 | 9149 | 9698 | 10279 | 10896 |
Present production at each major plant is also gathered.
Ethylene Production in France

Location

Company

1000 tpy

Berre (Aubette)

LyondellBasell

470

Dunkerque

Versalis

380

Feyzin

A.P. Feyzin

250

Gonfreville

Total

525

Lavera

Naphtachimie

740

NDG

ExxonMobil

425
Detailed information is compiled for the producers comprising most of the market. Here are excerpts on LyondellBasell.
Overview
LyondellBasell manufactures in 24 countries. Net income in 2018 was $4.7 billion. Enterprise value exceeds $40 billion. It is the #1 supplier of polypropylene in Europe and the U.S. It is the # 1 supplier of polyethylene in Europe and the # 1 supplier of propylene oxide worldwide.
LyondellBasell recently expanded capacity at three of its facilities in La Porte, Corpus Christi and Channelview, increasing its annual ethylene production capacity by 2 billion pounds. It is now completing a $700 million facility at its La Porte complex with the annual capacity of more than 1 billion pounds of high-density polyethylene, the world's most common plastic.
The company also plans to build the world's largest propylene oxide and tertiary butyl alcohol plant at its Channelview complex to produce chemicals for furniture, automobiles, adhesives and other uses. The $2.4 billion project, the company's largest investment to date, is based on its belief of the U.S. petrochemicals retaining a competitive edge in the global market.
Project Information
Plant and project information is added continually to the report
LyondellBasell Boosts Corpus Christi Ethylene Capacity by 50 Percent
LyondellBasell has completed its 800 million pounds-per-year ethylene expansion project at its Corpus Christi, Texas, facility, the company announced January 19. "As we look to meet growing, global demand for our products, we continue to seek the right opportunities that ensure we are well positioned for the longer term," stated Bob Patel, LyondellBasell CEO and chairman of the management board, in a press release. "By expanding ethylene capacity in the U.S. through debottlenecks rather than long and costly greenfield developments, we quickly added substantial capacity for significantly less than the cost of a new plant." LyondellBasell noted the expansion allows the Corpus Christi facility to now produce 2.5 billion pounds-per-year of the basic chemical building block ethylene, which is used in housewares, construction materials, automotive parts, food packaging and personal care products. The Corpus Christ project wraps up a multi-year initiative by the company to add 2 billion pounds of U.S. ethylene production capacity. Over the past 5 years, LyondellBasell has spent approximately $2 billion on U.S. Gulf Coast expansions and plans to invest another $3 billion in the region, the company noted. Later this year, it plans to begin construction on a high density polyethylene (HDPE) plant in LaPorte, Texas, targeted for a 2019 start-up. Also, the company reported that it is making progress on development of a world-scale propylene oxide and tertiary butyl alcohol (PO/TBA) plant at its Channelview, Texas, facility.
Revision Date: 2/9/2017
Tags: 325110 - Petrochemical Manufacturing 石化产品生产, LyondellBasell, Expansion, Production Capacity, USA
---
LyondellBasell Breaks Ground on Texas PE Project (T17)
LyondellBasell said May 16 that it has begun construction on the first Hyperzone polyethylene (PE) plant at its complex in La Porte, Texas. "Today represents the launch of our latest innovation in plastics technology," LyondellBasell CEO Bob Patel stated in a press release. "The new Hyperzone PE plant will produce a better plastic that advances solutions to modern challenges, like protecting the purity of water supplies through stronger and more versatile pipes and ensuring the freshness of bulk foods by providing tough, crack-resistant containers for storage. This is truly a global effort developed by an international team, built to serve worldwide markets." According to LyondellBasell, the project will create up to 1,000 jobs at the peak of construction and 75 permanent positions during operations. Created by LyondellBasell research and development teams in Italy, Germany and the U.S., Hyperzone PE technology facilitates the production of cost-effective, lightweight plastics that are strong, durable and recyclable, the company stated. In addition, the technology reportedly enables the manufacture of a broad spectrum of high density PE (HDPE) products in just one plant rather than multiple plants. LyondellBasell said the new Hyperzone plant will more than double the LaPorte Complex's annual PE capacity to 2 billion pounds (900,000 metric tons). The company anticipates a 2019 startup, and it plans to make the PE process technology available for licensing in the future. Separately, LyondellBasell said that development of a world-scale propylene oxide and tertiary butyl alcohol (PO/TBA) plant at its Channelview, Texas, site is progressing. The company anticipates a final investment decision for the PO/TBA project in the second half of this year.
Revision Date: 5/23/2017
Tags: 325110 - Petrochemical Manufacturing 石化产品生产, LyondellBasell, Construction, USA
---
LyondellBasell Advances $2.4 Bln Gulf Coast Petchem Project (08, T18)
LyondellBasell Industries NV has reached final investment decision on its previously proposed plan to build what it is calling the world's largest propylene oxide (PO) and tertiary butyl alcohol (TBA) plant at the company's Houston-area complex in Channelview, Tex.
Revision Date: 11/13/2017
Tags: 325110 - Petrochemical Manufacturing 石化产品生产, LyondellBasell, Facility, Project, Production, Investment Decision, Construction, USA
---
LyondellBasell Breaks Ground on the World's Largest PO/TBA Plant (08)
LyondellBasell broke ground on what will be the largest propylene oxide (PO) and tertiary butyl alcohol (TBA) plant ever built. The $2.4-B project represents the single-largest capital investment in the company's history.
Revision Date: 9/18/2018
Tags: 325110 - Petrochemical Manufacturing 石化产品生产, LyondellBasell, Steel, Equipment, Cables, Concrete, Instruments, Piping, Project, Downstream, Investment, Construction, Processing Capacity, USA
---
Details on Existing Plants
Details on existing plants around the world are also provided.
Clinton, Iowa With approximately 400 employees and contractors, and covering an area of almost 239 acres, the Clinton Complex is one of the largest chemical plants in Iowa. Using natural gas liquids as a feedstock, the plant manufactures ethylene which is then converted into polyethylene plastic resins.
Morris, Illinois: Approximately 400 employees and contractors work on the site which covers an area of almost 700 acres. Using natural gas liquids as a feedstock, the plant manufactures ethylene, which is then converted into polyethylene plastic resins.
Channelview, Texas: The plant, about 20 miles east of downtown Houston, has been in operation since 1957. Today, the Channelview Complex comprises an area of 3,900 acres with two large manufacturing facilities and a workforce of more than 2,000 people. Two olefin units at the north side facility manufacture ethylene, propylene, butadiene and benzene. The south side facility uses many of these products to produce propylene oxide, styrene monomer and other derivatives and gasoline-blending products.
The Lowest Total Cost of Ownership Cycle for Oil and Gas CFT Products
The Most Profitable Market (MPM) Program entails identifying markets where products with lower total cost of ownership can be developed and then evaluating the market potential. This is better done holistically. This approach involves knowledge of the processes and the products in each process. The silos between industries need to be penetrated and collaboration among disparate suppliers encouraged. A good case in point is the use of resin bonded sand for hydraulic fracturing. Dow Chemical introduced a new resin for sand coating in 2014. The polyurethane offers more elasticity than phenolics. As a result the fractures do not collapse. Collapsing leads to sand particles in the product. As the product is transported by the electric submersible pump, the sand abrades the impellers. Pumps with an initial cost of over $100,000 can experience life cycles measured in months.
<![if !vml]>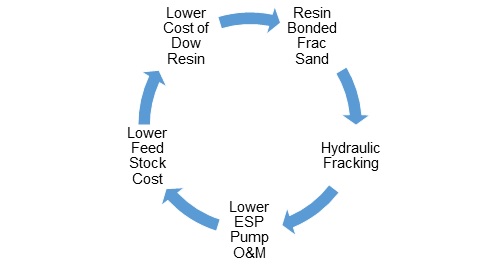 <![endif]>
This life has been extended when resin coated sand is utilized. The overall cost of oil extraction is lessened. With lower feedstock costs, the resin is less costly to manufacture. This can lead to lower resin prices and even more reason to select resin coated over uncoated sand.
This cycle can be useful to pump companies such as Veretek. They cite a case where their new V pump lasted for one year whereas the original ESP pump lasted only three weeks. In other cases the difference in pump life has been less. How much more can the owner afford to pay for the Veretek pump? The evaluation of the resin bonded sand alternative has to also be considered. The market potential for Veretek is impacted by the resin bonded sand effect on pump erosion and by the additional cost of the resin coated sand.
Preferred Sands partnered with Dow in the introduction of the Dow coating. How much more can they charge for resin coated sand? Are the purchasers fully aware of the cost of sand erosion on pumps or the ability of the Preferred Sands proppant to reduce that cost?
Low Cost Oil and Gas will Boost the U.S. Combust, Flow and Treat Market
The 2025 market for combust, flow, and treat (CFT) products will be much larger in many industries because of cheap oil and gas in the U.S. McIlvaine is revising its long range forecasts for all CFT products based on an anticipated surge of U.S. oil and gas production in the 2021-25 period. The petrochemical industry will show growth of 8 percent per year while the natural gas processing and transport growth will be even higher. There will be impacts on final products such as plastic and synthetic fibers and then in the industries which finally use those products. This includes building materials, appliances, pharmaceuticals and coatings.
<![if !vml]>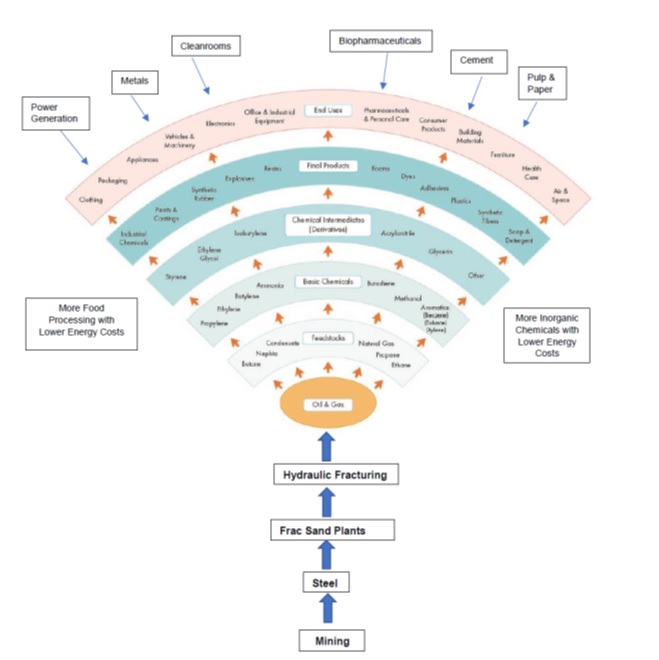 <![endif]>
There will be a broader impact on the CFT components due to lower energy costs. The U.S. will be more competitive in energy intensive industries such as cement, inorganic chemicals, mining, steel, pulp & paper and food processing. Based on the new U.S. oil and gas production estimates McIlvaine is adjusting its 2025 forecasts in each service by from a -5 percent change in flue gas desulfurization to a 30 percent increase for pumps.
| | |
| --- | --- |
| Service | 2025 Forecast Adjustment % |
| Fabric Filter | 10 |
| Scrubber/Adsorber | 20 |
| Flue Gas Desulfurization | -5 |
| Electrostatic Precipitator | 3 |
| Liquid Filtration including Filter Presses and Bag Filters | 24 |
| Cartridges | 14 |
| Reverse Osmosis, Ultrafiltration Microfiltration | 20 |
| IIoT & Remote O&M including Guide, Control, Measure | 25 |
| Thermal and Catalytic Oxidation | 20 |
| Valves | 24 |
| Pumps | 30 |
| Cleanrooms | 12 |
| Water, Wastewater Treatment Chemicals | 24 |
The steel industry will benefit due to the fact that it is a major energy user and will be more competitive with lower oil and gas prices. It also supplies products to many industries which will directly benefit from the expanded oil and gas production. For example a large investment in steel is required for the construction of a hydraulic fracking manufactured sand plant.
A few industries will experience smaller markets. The coal fired power and specifically the flue gas desulfurization system market will actually shrink as more U.S. coal fired plants are retired than would have occurred with higher gas prices.
U.S. Petrochemical Companies will increase IIoT and Remote O&M Purchases by 8%/yr through 2025
U.S. petrochemical producers are increasing their IIoT and Remote O&M investments per ton of product at the same time they are accelerating the construction of new plants to take advantage of the low cost feedstocks in the U.S. Just within the last few months the major oil companies have made clear their intention to invest a higher percentage of capital on U.S. shale oil and gas extraction. Chevron believes that it can extract oil at a cost as low as $15 per barrel. ExxonMobil believes it can be profitable with $30/bbl oil. Both companies are expecting the U.S. liquids production to be 25 million bl/d by 2025. This compares to IEA and OPEC forecasts for the U.S. production at just half this amount.
The impact on the petrochemical industry will be substantial. The availability of cheap and abundant feedstocks such as ethane make the U.S. Shale Crescent in the East and the Permian basin in the Southwest ideal locations for new production facilities. The U.S. Congress just received a report from the Secretary of Energy which predicts that the Eastern U.S. will become a petrochemical and plastics manufacturing hub. A detailed analysis by the McIlvaine Company built on specific projects and plans concludes that the U.S. petrochemical IIoT and remote O&M market will grow by 8%/yr vs 6.5%/yr for the rest of the world.
World Petrochemical Combust, Flow, Treat IIoT and Remote O&M Revenues
$ billions - 2025

Product

U.S.

ROW

Total

MPM

Total MPM

$ billions

%

$ billions

IIoT and Remote O&M - Total

1.9

7.1

9.0

51

4.6

Guide

0.5

1.9

2.4

70

1.7

Control

0.9

3.5

4.4

40

1.8

Measure - Liquids

0.2

0.8

1.0

50

0.5

Measure - Gases

0.2

0.6

0.8

50

0.4

Measure - Solids

0.1

0.3

0.4

50

0.2
The U.S IIoT and Remote O&M opportunity will approach $2 billion per year by 2025. There is a Most Profitable Market (MPM) segment which includes those products where a clear lowest total cost of ownership can be established. The total U.S. IIoT market in 2025 will be $1.9 billion but the MPM market will be close to $1 billion.
The guide segment will account for 25 percent of the total as petrochemical companies continue to accelerate purchases of process management software systems. Nearly $500 million will be spent on instrumentation.
There will be a number of technical challenges as shale gases with varying percentages of ethane and other natural gas liquids are converted into ethylene and other petrochemical products. In recent years the automaton market growth in the U.S. has been less than in Asia. This has handicapped suppliers whose primary strengths lie outside Asia. The opportunity to maximize profits in the U.S. market is therefore unique. Many of the automation markets such as coal fired boilers are mature. This reduces the profit potential because of the emphasis on price to sustain revenues. A growing market is much more likely to result in maximum profits.
The McIlvaine N031 Industrial IoT and Remote O&M provides forecasts for five product categories in every country in every industry. This analysis provides the basis for determining the Most Profitable Market in a program explained at http://home.mcilvainecompany.com/index.php/component/content/article/30-general/1469-most-profitable-market-program
Hydraulic Fracturing Presents a Most Profitable Market Opportunity for Pump Manufacturers
The hydraulic fracturing pump market is one of the Most Profitable Markets (MPM) for pump suppliers. It is large and will grow at close to double digit rates in the next few years. The application is extremely challenging. This creates a situation where a better designed pump can be sold at a much higher price. The repair part market is bigger than the new equipment market. So this creates a large combined market.
There are a few major purchasers each of whom will spend more than $50 million per year on pump hardware, repairs and services. This makes direct sales possible. Without sales commissions or distributor markup the gross profit will be higher.
It is recommended that pump companies invest in very detailed market forecasting which is focused on increasing profits and not just revenues. This forecast can be described as the "Most Profitable Market" (MPM). The $70 billion industrial pump market is the Total Available Market (TAM).
<![if !vml]>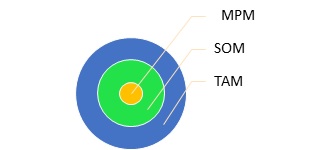 <![endif]>
The Serviceable Obtainable Market (SOM) is the market which can be addressed with the lowest priced product at even small unit margins. The Most Profitable Market (MPM) is the one for which the supplier can most profitably supply its products and services given its capital and knowledge resources.
Hydraulic fracturing offers a large and fast growing MPM for pump manufacturers. New developments in the last month will cause a large increase in fracking pump sales. It now is a good bet that the U.S. could be producing 25 million bbl/day of liquids by 2025. The oil companies are saying that OPEC and IEA's more pessimistic forecasts are wrong. They are setting their capital budgets on this premise.
For more information on the MPM forecasts for hydraulic fracturing and other pump applications click on N019 Pumps World Market
Projects
The global hydrocarbon processing industry (HPI) continues to expand and modernize to efficiently meet growing demand for energy, transportation fuels and petrochemicals. At present, Hydrocarbon Processing's Construction Boxscore Database is tracking more than $1.6 T in active projects around the world. These investments include projects that have been announced or are in the planning, engineering or construction phases.
Shell and Partners Start Deep-Water Production at Lula North in Brazil
Royal Dutch Shell plc, through its subsidiary Shell Brasil Petróleo Ltda. ("Shell"), announced February 1, with consortium partners, the start of production at the Lula North deep-water project in the Brazilian Santos Basin. Production at Lula North is processed by the P-67 floating production and storage offloading vessel (FPSO) and is operated by Petrobras. The production hub is the seventh FPSO deployed at Lula and the third in a series of standardized vessels built for the consortium. It is designed to process up to 150,000 barrels of oil and 6 million cubic meters of natural gas per day. Shell and its partners began production at Lula Extreme South with the P-69 FPSO in October 2018. Shell has a 25 percent stake in the Lula consortium, operated by Petrobras (65 percent). Galp, through its subsidiary Petrogal Brasil, holds the remaining 10 percent interest. Discovered in 2006, Lula is the largest producing field in Brazil and accounts for 30 percent of the country's oil and gas production.
Sempra Energy's Port Arthur LNG Project and Two Natural Gas Pipelines Receive Final Environmental Impact Statement
Sempra Energy announced January 31 it received the Final Environmental Impact Statement (FEIS) from the Federal Energy Regulatory Commission (FERC) to construct the Port Arthur LNG natural gas liquefaction-export project in Jefferson County, Texas, as well as the Texas and Louisiana connector pipeline projects that will deliver natural gas to the new export facility.
Texas COLT Submits Application with MARAD for Deepwater Port Project
Texas COLT, a proposed joint venture among Enbridge Inc., Kinder Morgan, Inc. and Oiltanking, announced January 31 that it has submitted an application with the U.S. Maritime Administration (MARAD) to construct and operate a deepwater crude oil export port located off the coast of Freeport, TX. The Texas COLT Project includes an offshore platform and two offshore loading single point mooring buoys capable of fully loading a 2-million-barrel Very Large Crude Carrier (VLCC) in approximately 24 hours. The offshore facilities will be connected by a 42" pipeline to an onshore tank farm that will have up to 15 million barrels of storage capacity. Today's submittal with MARAD begins the application process for Texas COLT which is planned to be in-service by 2022.
Total Makes Major New Gas Discovery in the North Sea
Total announced a new significant discovery in the North Sea offshore U.K., on the Glengorm prospect located in the Central Graben.
Mcdermott Awarded EPCI Subsea Contract from LLOG
McDermott International said it was awarded a contract award by LLOG Exploration Company, for a deep-water subsea pipeline project off New Orleans, Louisiana. As part of the contract, McDermott will work on tiebacks and structures from the Stonefly development to the Ram Powell platform, the company said in a statement. The scope of work includes project management, installation engineering, subsea structure and spoolbase stalk fabrication, and subsea installation of the subsea infrastructure to support a two well subsea tieback from the Stonefly development site to the Ram Powell platform via a 60,000 foot 6-inch pipeline at water depths ranging from 3,300 to 4,100 feet. McDermott will also design, fabricate and install a steel catenary riser, a pipeline end manifold and two in-line sleds.
"This award demonstrates McDermott's commitment to helping LLOG safely and competitively deliver the Stonefly development," said Richard Heo, McDermott's senior vice president for North, Central and South America. "McDermott's proven track record of project execution in the Gulf of Mexico, combined with our industry-leading subsea capabilities and integrated business model, will help drive efficiency while maintaining our uncompromising commitment to safety and quality." The Stonefly development includes the Viosca Knoll 999 area where McDermott is scheduled to use its 50-acre spoolbase in Gulfport, Mississippi, for fabrication and reeled solutions.
McDermott is scheduled to install the subsea tiebacks and structures using its North Ocean 105 vessel in the third quarter of 2019. Structure design and installation engineering began in January 2019 in McDermott's Houston office. The lump sum contract award will be reflected in McDermott's first quarter 2019 backlog. The Ram Powell tension leg platform is located in 3,200 feet of water in Viosca Knoll Area, Block 956, and is capable of processing 60,000 barrels of oil per day and 200 million cubic feet of gas per day.
Chevron to Buy $350 Mln Texas Refinery from Petrobras
Chevron Corp said it has agreed to purchase a refinery in Pasadena, Texas for US$350 million from Brazil's Petrobras. The deal to acquire Petrobras subsidiary Pasadena Refining Systems, which along with the 110,000-barrel-per-day (bpd) refinery, includes a 466-acre complex housing storage tanks with capacity for 5.1 million barrels of crude oil and refined products and 143 acres of additional land, the company said. "This expansion of our Gulf Coast refining system enables Chevron to process more domestic light crude, supply a portion of our retail market in Texas and Louisiana with Chevron-produced products, and realize synergies through coordination with our refinery in Pascagoula," said Pierre Breber, executive vice president of Chevron downstream & chemicals. The acquisition will add to the refining network of CUSA, which includes a refinery in Pascagoula, Miss., two facilities in California, in El Segundo and Richmond, and the Salt Lake refinery in Utah. Once approved by regulators, the acquisition will become the second Gulf Coast refinery operated by Chevron and its only one in Texas. Chevron has said it wants a second Gulf Coast facility to handle crude and better supply its retail gasoline network. The plant produces mostly gasoline and distillates such as diesel.
MGX Minerals Announces Successful Commissioning of Alberta Oilsands Wastewater Treatment System
MGX Minerals Inc. and engineering partner PurLucid Treatment Solutions ("PurLucid") are pleased to report commissioning results from its commercial-scale 5m3 per hour (750 barrel per day) NFLi-5 advanced wastewater treatment system.
System, Evaporator Blowdown Water, Evaporation, Nanofloatation Technology, Wastewater Treatment, Steam Assisted Gravity Drainage, Extraction, Canada
Greenkote Anti-corrosion Coatings to Be Used in World's Second Largest Natural Gas Processing Facility
Greenkote PLC (greenkote.com), global provider of high-performance anti-corrosion metal coatings, announced that its Chinese licensee has won a major contract to supply 1200 tons of coated hex-bolts for construction of the new Amur Gas Processing Plant (AGPP) in the Amur region of Siberia. When completed, AGPP will be the second largest facility of its type in the world, designed to process 42 billion cubic meters of gas per year. The Greenkote licensee, Shanghai Premier Tension Control Bolts Co., Ltd. is a joint venture of Tension Control Bolts Ltd. (TCB) of the UK, Shanghai High Strength Bolts Plant Ltd. (SHS) and Shanghai Yan Yan Trading (YYT). Shanghai Premier operates a full state-of-the-art Greenkote coating line and has added significant new capacity to fill the AGPP contract. The company's Greenkote-coated preload bolts, both tension control bolts (TCB) and hex bolts, all meet the most stringent international standards including ISO C5-M which addresses very highly corrosive marine environments. Greenkote® is a proprietary family of high-performance zinc-based coatings that can be applied to ferrous metals and alloys by a patented thermal diffusion process — for fasteners and many other applications. Greenkote replaces many older processes such as hot-dip galvanizing, zinc plating, sherardizing and metal flake coating. In addition to its superior anti-corrosion qualities Greenkote also provides improved adhesion and longer wear, and it eliminates hydrogen embrittlement. Greenkote is also eco-friendly, from which its name derives. Unlike many other anti-corrosion coatings, Greenkote processing is totally free of pollutants. It is fully compliant with ASTM A1059/A1059M, an industry standard specification for zinc alloy coatings. Notably, in 2016, Greenkote-coated bolts (provided by Greenkote-licensee TCB of the UK), were also selected for use in constructing the New Safe Confinement Shelter over the Chernobyl nuclear power plant site — another world-class application in an extremely harsh environment.
Middle East Oil Spend to Rise in 2019
Middle East oil investments are likely to rise in 2019 on back of Saudi Arabia shallow water brownfield expansions, while North Africa will see a decline, Wood Mackenzie says in its 2019 outlook report.
Honeywell Technology and Controls Selected for Largest Petrochemicals Project in China
Honeywell announced January 17 that Zhejiang Petrochemical Co. Ltd. (ZPC) will use a range of process technology from Honeywell UOP, the world's leading licensor of refining and petrochemical process technology, for the second phase of an integrated refining and petrochemical complex in Zhoushan, Zhejiang Province. The complex is one of several new large industrial sites that are part of China's current national economic development plan.
Alfa Laval Wins SEK 180 Mln Pumping Orders
Alfa Laval has won two orders to supply Framo pumping systems; to an oil facility in the Middle East – and to an FPSO (Floating Production, Storage and Offloading) vessel to be built in China. The orders have a total value of approximately SEK 180 million and were booked late December in the Pumping Systems unit of the Marine Division, with deliveries scheduled for 2019. The orders comprise pumping systems for crude oil in a cavern – and for crude oil offloading, slop and ballast pump duties. "I am pleased to announce these two large orders for our Framo pumping systems. These pumping systems are used in a variety of duties, all with heavy demands on safety and reliability, where they provide an optimized performance," says Peter Leifland, President of the Marine Division. Framo pumping systems are used in three main areas: cargo, oil and gas production and offshore supply and recovery. There are also special pumps for crude stored in underground caverns.
FERC Staff Issues the DEIS for the Annova LNG Brownsville Project (CP16-480-000)
Issued: December 14, 2018 The staff of the Federal Energy Regulatory Commission (FERC or Commission) has prepared a draft environmental impact statement (EIS) for the Annova LNG Brownsville Project (Project) proposed by Annova LNG Common Infrastructure, LLC; Annova LNG Brownsville A, LLC; Annova LNG Brownsville B, LLC; and Annova LNG Brownsville C, LLC (collectively Annova). Annova requests authorization under Section 3(a) of the Natural Gas Act and Part 153 of the Commission's regulations to site, construct, and operate a liquefied natural gas (LNG) terminal (LNG terminal) to liquefy and export natural gas at a proposed site on the Brownsville Ship Channel in Cameron County, Texas. The Project consists of the following facilities: • pipeline meter station; • liquefaction facilities; • two LNG storage tanks; • marine and LNG transfer facilities; • control room, administration/maintenance building; • site access road; and • utilities (power, water, and communication systems).
TechnipFMC and MMHE Sign Long-Term Offshore Agreement with Saudi Aramco
TechnipFMC, in consortium with MMHE (Malaysia Marine and Heavy Engineering Sdn Bhd), has signed a Long-Term Offshore Agreement with Saudi Aramco. This agreement, valid for 6 years, covers engineering, procurement, fabrication, transportation and installation of offshore facilities for the development of Saudi Aramco's offshore projects. This agreement builds on the long-term relationship between TechnipFMC and Saudi Aramco, as well as the strong partnership between TechnipFMC and MMHE which has a proven track record of successful project execution and delivery. In support of this project, TechnipFMC will continue hiring and training Saudi engineers, supporting the on-going Saudization initiative.
BP Energy Partners Purchases Controlling Interest in Cryopeak LNG Solutions
BP Energy Partners, LLC announced it has purchased a controlling interest in Cryopeak LNG Solutions Corp ("Cryopeak"), a customer-centric liquified natural gas (LNG) solutions company. Cryopeak will become a portfolio company in BPEP's second private equity fund, BP Natural Gas Opportunity Partners II, LP. In addition to the controlling interest acquisition, BPEP will also commit additional capital to Cryopeak to support its continued growth throughout North America. Cryopeak is focused on providing industrial customers and utilities with access to clean and reliable natural gas in locations where natural gas pipeline services are unavailable, limited or unreliable. Based in Vancouver, Cryopeak's engineering, design and procurement expertise makes it one of the leading liquified natural gas ("LNG") virtual pipeline providers in North America. The company provides safe and reliable LNG virtual pipeline services including LNG procurement, LNG transportation and LNG onsite equipment and support. "It is great to have BP Energy Partners as a major investor in Cryopeak," says Calum McClure, Chief Executive Officer of Cryopeak. "BP Energy Partners' investment provides Cryopeak the capital to grow the business providing our customers with a cleaner, lower cost fuel. The team at BP Energy Partners has great experience in energy investments and we look forward to Cryopeak continuing to grow as a leader in the small-scale LNG industry."
TechnipFMC Awarded Integrated EPCI Contract for BP Atlantis Phase 3 Project in GOM
TechnipFMC has been awarded a significant (1) integrated Engineering, Procurement, Construction and Installation (iEPCI™) contract by BP for the Atlantis Phase 3 project. Following final investment decisions from all partners, TechnipFMC will manufacture, deliver and install subsea equipment, including subsea tree systems, manifolds, flowline, umbilicals and subsea tree jumpers, pipeline end terminations, subsea distribution and topside control equipment. This contract also includes provisional services for tooling and personnel required to install the hardware. It is scheduled to come on stream in 2020. Arnaud Pieton, President Subsea, commented: "We are very pleased TechnipFMC has been awarded an iEPCI™ contract for the Phase 3 development of the BP Atlantis project. This award reinforces TechnipFMC's position as the market and technology leader for subsea equipment and demonstrates the added value of iEPCI™ - our unique integrated offering. We look forward to extending our successful relationship with BP on the Atlantis project in the Gulf of Mexico." The Atlantis Phase 3 field is located approximately 150 miles south of New Orleans at a water depth of roughly 2,100 meters (6,800 feet) and will be tied back to the existing platform. (1) For TechnipFMC, a "significant" contract is between $75 million and $250 million.
Shell and PGGM Explore Potential Joint Acquisition of Eneco
Shell and PGGM have joined forces to explore the opportunity to bid for the sustainable energy provider Eneco in the Netherlands. In December 2018 Eneco and its shareholders' committee announced the start of the privatisation process. In a statement, Shell said both firms would combine the knowledge, ambitions and financial commitment to build on Eneco's sustainable strategy and are determined to competitively grow the renewable energy products and services offer for millions of customers in North West Europe. Shell believes that Eneco will be a platform for growth, operating from Rotterdam, with potential investments inside and outside of the Netherlands. "The energy transition offers good opportunities for long-term investments in a more sustainable economy and we think Eneco can play a central role in realising the consortium's shared ambitions. PGGM and Shell bring complementary experience and expertise across Eneco's activities, which will support the delivery of affordable sustainable energy to a growing number of customers in North West Europe," said Frank Roeters van Lennep, Chief Investment Officer Private Markets PGGM. The consortium partners understand that Eneco will be brought to the market via a controlled auction, subject to shareholder approval. PGGM and Shell realise this process is at an early stage and respect.
Australia's Victoria State Slows AGL LNG Import Project with Environmental Review
Plans by Australia's AGL Energy to start importing liquefied natural gas from 2021 will be delayed after the state of Victoria called for the company and its pipeline partner to submit a full environmental assessment of their project. The review process typically takes nine to 12 months, which means AGL will not be able to reach a final investment decision on the A$250 million ($178 million) jetty project by June 2019, as it had hoped.
Salt Creek Midstream to Partner with Noble Midstream on Crude Oil Pipeline and Gathering System
Salt Creek Midstream, LLC, a portfolio company owned by funds managed by the Private Equity Group of Ares Management, L.P. and by ARM Energy Holdings, LLC in October announced that it has entered into a letter of intent with Noble Midstream Partners LP to form a 50/50 partnership on a crude oil pipeline and gathering system in the Delaware Basin.
Penspen Wins FEED Contract for Nigeria to Morocco Gas Pipeline
UK's Penspen has been awarded a contract by Morocco's Office National des Hydrocarbures et des Mines (ONHYM) and the Nigerian National Petroleum Corporation (NNPC) to execute the First Phase of the FEED of the 5,700 km gas pipeline proposed to run from Nigeria to Morocco. The award is a follow-up on the feasibility study completed by Penspen in July 2018. Work has already started and is being executed from Penspen's Abu Dhabi office. The FEED Phase I consists of a detailed review of the feasibility study results and in-depth evaluation of the gas demand and supply study. Further design of the pipeline system, in addition to the execution of an Environmental and Social Impact Assessment (ESIA), will then be carried out with the aim of optimising the proposed pipeline route and project economics. Penspen will also support the client in marketing and promoting the pipeline project to potential stakeholders showcasing the wider benefits of its development. At the end of the study, key detailed outcomes will help the client prepare for the second phase of the FEED (FEED Phase II) which is expected to lead to a Final Investment Decision (FID). Penspen will be utilising the skills and capabilities of Dar Al-Handasah, Crestech and Control Risk to conduct a number of special studies required for the FEED services, environmental impact assessment, Nigeria gas supply study and risk study respectively.
Argentina's YPF to Invest Over $30 Bln to Improve Oil and Gas Output
YPF, which is already Argentina's leading energy company, aims to increase oil and gas output by 5% annually through 2022 to 700,000 barrels of oil equivalent a day. The company plans to focus on conventional output by drilling more than 1,600 wells.
BP Approves Atlantis Expansion in Gulf of Mexico
UK's BP has approved a major expansion at the Atlantis field in the U.S. Gulf of Mexico as the oil giant plans for significant growth in deepwater projects in the Gulf of Mexico.
Energy Transfer Partners Gauges Interest for Boosting Dakota Access Capacity
The developer of the Dakota Access pipeline is gauging shippers' interest in a possible expansion of the volume of crude oil moved through the pipeline from 500,000 barrels to 570,000 barrels per day, despite ongoing tribal efforts to shut the pipeline down.
Reliance Plans Expansion at Jamnagar Refinery
Reliance Industries Inc. (RIL), Mumbai, is evaluating a plan to expand one of the two refineries that form part of its nameplate 1.729 million-b/d integrated refining and petrochemical complex at Jamnagar in Gujarat, India. The expert appraisal committee of India's Ministry of Environment, Forest, and Climate Change (EFCC) will consider environmental clearance for RIL's project in a 2-day meeting scheduled for Dec. 19-20, according to the EFCC meeting agenda. The project proposes to expand production capacity of the 551,000-b/d Special Economic Zone (SEZ) refinery of the Jamnagar complex to about 823,400 b/d from its current production capacity of about 706, 900 b/d, the EFCC agenda said. Details regarding the proposed project and whether it also will impact crude processing capacity at the site have yet to be revealed.
Woodside Awards 4 FEED Contracts for Scarborough Project
Australia's Woodside Petroleum has awarded four contracts for front-end engineering design activities for the proposed Scarborough gas project offshore Australia. The contracts are for engineering activities related to the upstream development's floating production unit, the export trunkline and the subsea umbilical risers and flowlines.
Cogent Midstream Lets Contract for Midland Basin Gas Plant
Cogent Midstream LLC, Dallas, has let a contract to Honeywell UOP LLC for the previously announced expansion of natural gas processing capacity in the lower Midland basin of West Texas that will add a refrigerated cryogenic processing plant at the same location as its existing Big Lake gas plant in Reagan County, TX. As part of the contract, Honeywell UOP will provide a proprietary UOP Russell 200-MMcfd gas processing plant to extract NGLs from natural gas produced from several counties in the Wolfcamp formation of the Permian basin in Texas, the service provider said. Honeywell UOP's scope of work on the project will include design and supply of the UOP Russell modular cryogenic plant with refrigeration and dehydration units.
Pertamina Plans to Build Two Grassroots Integrated Refining and Petrochemical Complexes
Alongside revitalization projects at its existing refineries, Pertamina said in early 2018, it plans to build two grassroots integrated refining and petrochemical complexes, each of which will cost $15-16 billion to complete. The first project, a joint venture with Russia's PJSC Rosneft, to be built at Tuban, in East Java, would involve construction of a 300,000-b/sd refinery configured to process imported volumes Russian ESPO and Iraqi Basrah, as well as other medium to heavy, sulfurous crude imports to produce feedstock for an associated petrochemical complex, the partners said (OGJ Online, May 27, 2016). The Tuban refinery and integrated petrochemical plant are currently due to begin operation in 2024, Pertamina said.
Mexico Plans New Refinery, Rehab Work
President Andres Manuel Lopez Obrador of Mexico has announced a plan to rehabilitate six refineries and build a 340,000-b/d refinery. The new refinery at Dos Bocas in the Gulf Coast state of Tabasco would be the seventh and biggest refinery in Mexico. It would be capable of producing 340,000 barrels per day. Construction contracts could be awarded in March, officials said. After upgrade, the combined capacities of existing Petroleos Mexicanos (Pemex) refineries at Cadereyta, Madero, Minatitlan, Salamanca, Salina Cruz, and Tula will be 1.54 million b/d, according to the plan. Lopez Obrador took office in December. Pemex Chief Executive Officer Octavio Romero said Lopez Obrador's National Refining Plan aims at rescuing the national oil industry and achieving energy independence. "There will be no more privatization or dismantling of facilities, nor will the workers of the energy sector in our country be displaced to perform other activities," Romero said. The Dos Bocas refinery is to produce 170,000 b/d of gasoline and 120,000 b/d of ultralow-sulfur diesel.