Decisive Classification for Scrubber Nozzles, Limestone Slurry in Coal Fired Power Plants
| | | |
| --- | --- | --- |
| Application | Coal fired power plants | Also other applications where SO2 needs to be removed |
| Process | Limestone slurry scrubbing | Most commonly used in Chinese coal fired plants |
| Sub Process | Spray towers | Most common scrubber method in china |
| Specific Decision | Nozzle selection | Critical to efficiency and are a big potential maintenance problem |
| Decision Level One | Single or double orifice | Trend is for double orifice for better coverage |
| Direction of Flow | Up or down or both | |
| Flow Pattern | Full cone or hollow cone | Full cone has higher efficiency but hollow cone is less subject to plugging |
| Materials | Metals or silicon carbide | Silicon Carbide is less expensive and has proven its abrasion resistance |
China Nozzle Experience
FGD Nozzle Suppliers
FGD Continuing Decision Process For: Sources
Better Nozzle Selection Can Improve Scrubber Performance
Robert Van Durme of Lechler presented at paper at the EUEC Conference in January 2013 on wet FGD nozzles. Muscatine Power & Water was acknowledged. Van Durme showed examples of coverage from single full cones, single hollow cones, up/down hollow cones, up/down full cones, dual down hollow cones, and dual down full cones.
FGD Continuing Decision Process For: Nozzles

Nozzles are required for spray type scrubbers. Hollow cone or full jet are the two most common types. The primary nozzle manufacturers have facilities that only manufacture metallic nozzles. They therefore rely on a small group of suppliers of ceramic parts as subcontractors. Coors recently exited this business. So the ceramic subcontractor is the potential bottleneck.
Overview of Nozzles presented by Tony Licata, Babcock Power at November 8, 2007 Hot Topic Hour
http://www.mcilvainecompany.com/FGD_Decision_Tree/subscriber/Tree/DescriptionTextLinks/Mcilvain 11-08-07r1 (1).pdf
A variety of nozzle types are applicable to FGD absorber spray tower service, mist eliminator washing, and dry FGD. Lechler has provided an overview.
http://www.mcilvainecompany.com/FGD_Decision_Tree/subscriber/Tree/DescriptionTextLinks/Spray Nozzles Used for Chemical Injection.pdf

Nozzles are Critical: Hot Topic Hour November 8, 2007

Hundreds of years of FGD experience were efficiently utilized in a Hot Topic Hour November 8 on nozzles for FGD, NOx, SO3 and mercury control.

Tony Licata of Babcock Power was the lead speaker. He addressed nozzle selection by Babcock in the various applications. The utilization of bi-directional nozzles in the lower three layers of the wet limestone spray tower improves efficiency without adding height or additional spray banks. The first use was at Tiefstack in 1992 and then in the U.S. at Vectren's Culley station in 1994. Tony said that they are now routinely asked to guarantee 98.5 and even 99 percent SO2 removal. With the bi-directional nozzles they are able to do this economically. Tony maintains that the spray tower provides lower energy consumption than alternatives.
<![if !supportLineBreakNewLine]>
<![endif]>
One of the utilities participating in the discussion stated that they have had trouble with nozzle pluggage and asked how that could be solved. Tony said that the bi-directional nozzles have orifices so large that you could pass a golf ball through them. Therefore pluggage should not be a problem.
In the Babcock design for NOx control with aqueous ammonia, dual fluid nozzles are integrated with the Delta wing mixing element.

The Lechler presentation was provided by a foursome: Mughis Naqvi, John Coulston, Martin Reinsalu and Robert Van Durme. Both hydraulic and air atomizing nozzles are available. Lechler has designed customized twin-fluid nozzles for high solids applications, such as in Spray Drier Absorber Lances. The nozzle has been proven to work in flyash/lime slurry applications up to 35 percent by weight. For wet FGD a double nozzle design called "Twinsorb" was reported to have increased SO2 removal rates and reduced maintenance costs.
FGD and DeNOx NEWSLETTER March 2010 No. 383
Nozzles Are Key to Efficiency
Nozzles are important in DeSOx and DeNOx, as discussed in the Hot Topic Hour on January 14, 2010. Two leading companies provided information on the latest developments.
Mughis Naqvi and John Coulston of Lechler USA discussed types of spray nozzles used in SDAs, CFB scrubbers as well as SCR and SNCR. Figure 1 shows types of nozzles used in each application. Air atomizing nozzles shear liquid into droplets with a high velocity air stream using compressed air. Hydraulic atomizing nozzles, by contrast, shear a high velocity sheet of liquid into droplets by the relative velocity of the adjacent relatively stationary air.
Figure 1. Summary Chart
NOx Removal

SOx Removal

SCR

SNCR

WFGD

Semidry FGD

SDA

CFB

Rotary Atomizer

Spray

Ammonia

Urea or Ammonia

Limestone or Lime Slurry

Lime Slurry

Water, Lime

Lime Slurry

Product Scope

Air atomizing lances & skids.

Hydraulic or air atomizing lances & skids.

Silicon carbine ramp-bottom nozzles.

Dual-outlet nozzles

Air atomizing laval nozzles & lance.

Slurry and water injection skid.

Self-cleaning LOC system

Spillback lances and skids.

Air atomizing laval nozzle & lance.

Slurry and water injection skid.

Self-cleaning LOC system.
In a SNCR system the air atomizing nozzle lances are mounted on the walls of the boiler and spray into appropriate combustion zones. Droplet size and flow rate are controlled by varying air and liquid pressures. In the wet FGD absorber hydraulic Silicon Carbide atomizers with a large free passage are used.
Mike Bruno of BETE Fog Nozzle presented two Case Studies highlighting recent examples where integrated engineering design, development, testing and manufacturing resources met the customer's specialized need for pollution-control process improvements. One example was improving SO2 removal efficiency for a 200-MW subcritical pulverized coal-fired boiler so that 99 percent SO2 removal was the norm and 98 percent removal was possible in upset conditions. A DTH Series dual orifice nozzle was developed to meet the needs. The results included
 No clogging of the nozzles as a large free passage is integral to the design
 Emissions testing during unit commission­ing demonstrated target removal efficiency.
The efficiency guarantee of this scrubber allowed the utility to move quickly through the early permitting process by offering to shut down two other smaller units with older scrubbers.
December 2006
No. 344
Drax Switches to Bete Dual Direction Spray Nozzles for its FGD Absorbers
Drax has invested in advanced spray nozzle technology, DTH nozzles from Bete Fog Nozzle, Inc., for its FGD absorbers. DTH nozzles incorporate two hollow cone spray patterns, one spraying up and one down. The dual direction spray uses less piping, reduces pressure drop, increases average droplet residence time thereby increasing FGD efficiency, and provides more uniform spray distribution.
Initially, Drax incorporated two rings of DTH nozzles in one of its six FGD absorber towers. Success there led to an order for DTH spray nozzles in another FGD unit and ultimately in the remaining four FGD units.
Five New Wet Limestone FGD Systems for Ameren
Hitachi Power Systems America completed start-up in January 2011 of five wet limestone FGD systems for Ameren—2x535 MW Sioux 1 and 2, 465-MW Duck Creek, 360-MW Coffeen 1 and 590-MW Coffeen 2. The FGD systems were designed for 99 percent SO2 removal without the use of additives when firing bituminous coal, as well as a blend of bituminous and PRB coal.
The spray towers were constructed of carbon steel with flake glass lining or in the case of the Sioux FGDs with Stebbins tiles to protect against chloride levels as high as 50,000 ppm. The scrubber inlet ducts were made of Hastelloy C276. Weir provided the recycle slurry pumps (800TYGSL) and absorber bleed plumps (EEAH). Siemens provided the oxidation air blowers (Turblex KA). Absorber nozzles are Spraying Systems type 4B-Hollow Cone made of silicon carbide. Philadelphia Mixing Solutions model 3850 oxidation air agitators were used. The limestone horizontal wet ball mills are from Metso and the mist eliminators from Munters. (model DV-210 vertical flow 2–stage).
The units now fire a blend of PRB coal and 5 to 30 percent bituminous coal, so the SO2 removal efficiencies at performance testing ran 99.65 to 99.95 percent. The systems have operated with 100 percent availability reported Bruce Studley, Robert Nicolo and Steve Mosch of Hitachi.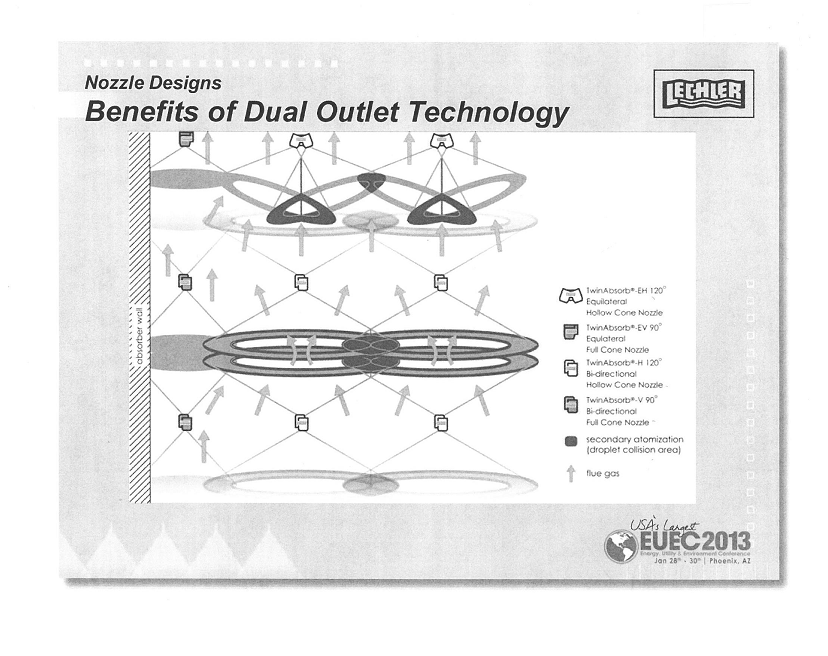 Three case studies were presented. A 176-MW power plant burning 1.6 lb/MMBtu sulfur coal using a dual loop scrubber with three spray levels was achieving about 92 percent SO2 removal via packing. It was experiencing high pressure drop and bypassed 2.5 percent of the flue gas. Lechler improved the spray coverage with more nozzles and rotated headers resulting in $1,226,000/year energy cost saving and eliminating a $300,000 packing replacement.
A 2000+ MW power plant burning 5.0 lb/MMBtu sulfur coal with an open spray tower design and five spray levels was achieving 97+ percent SO2 removal via organic acid addition. Lechler updated the nozzle technology and organic acid use was eliminated. This resulted in $554,000/yr additive savings.
A 2000+ MW power plant using a JBR scrubber for SO2 control was experiencing insufficient quenching, resulting in scaling and buildup. Lechler replaced the interior full cones with dual outlet hollow cones for finer atomization and better evaporative cooling and modified the two quenching spray zones.