· Fabric Filter Market Changing Faster Than Any Time Since 1960
· Evidence Based Sales Strategy Needed for CO2 Pumps and Compressors
· Market Share Analysis is Critical to an Evidence Based Sales Strategy
Fabric Filter Market Changing Faster Than Any Time Since 1960
In the 1960s pulse cleaned bags rapidly obsolesced shaker bags. New high temperature fabrics were introduced which allowed greater penetration into the power and other markets dominated by precipitators.
The 2020s is going to be equally dynamic in terms of the products, applications, and geographies.
Products: Previously the element designs were primarily bags and cartridges. The cartridges were pleated and mostly cellulose. They were applicable only to light and dry applications. Now new pleated designs with higher temperature fabrics have created a major new category. Because the pleated synthetic media filters are typically less than 8 inches in diameter (the typical paper cartridge is more than 8 inches in diameter), the new segmentation for the pleated filters is labeled "cartridges <8 inches diameter".
Another development is the ceramic filter. It can operate at very high temperatures. If the gas has to be cooled to 500F in order to be filtered a large amount of energy is wasted. These filters can not only remove the fine particulate but with direct sorbent injection can also remove acid gases. The ceramic filter can also include an embedded catalyst. So one vessel can replace three: the particulate filter, acid gas scrubber and selective catalytic NOx control unit.
<![if !vml]>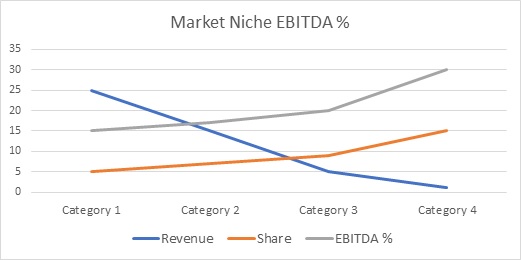 <![endif]>
Applications: Biomass combustion followed by carbon sequestration is the most promising carbon negative technology. A coal plant like Drax which switches to this technology takes out as much CO2 from the atmosphere as it was previously adding. So this is a double digit growth potential for fabric filters.
Geographies: The Russian invasion is creating expanded markets for fabric filters in Europe. The growth of biomass combustion will offset use of natural gas. The agricultural disruption will create a spurt in fertilizer manufacturing plants in ROW. Russa and Belarus combined are the largest potash producer. Russia has large reserves of metals.
Chinese filter bag suppliers have a significant share of the international markets. The COVID shutdown creates a short term crisis. Longer term the autocratic Chinese-Russian coalition could permanently change the market.
The McIlvaine Company is making continuous changes to the Fabric Filter: World Market forecasts. More than 50,000 new forecasts by product type have been added. All the forecasts are being updated every few months in order to reflect the changes.
Information on the report is found at http://home.mcilvainecompany.com/index.php/markets/air/n021-world-fabric-filter-and-element-market
The report provides the foundation for an Evidence Based Sales Strategy. More information on this strategy is available from Bob McIlvaine. He can be reached at 847 226 2391 or rmcilvaine@mcilvainecompany.com
Evidence Based Sales Strategy Needed for CO2 Pumps and Compressors
Decisions about pumps and compressors for CO2 will be important in the campaign to quickly find alternatives to Russian oil and gas. Drax in the UK combusts biomass and will now sequester the CO2 in the North Sea. This will make Drax a carbon negative contributor. It will allow 4000 MW of coal fired plants to remain operating in Poland and East Europe and still obtain the carbon neutral goals which are sought.
For suppliers selling pumps and compressors where performance is important; the most profitable market is directly proportional to the ability to convince purchasers of product superiority. If you are selling well established products to new customers or new products to existing customers success will depend on gathering the evidence, analyzing total cost of ownership and then presenting that evidence in a way which validates claims.

<![if !supportLineBreakNewLine]>
<![endif]>
Evidence Based Sales Campaign
<![if !vml]>

<![endif]>
The Mcilvaine Company provides a guide to the Evidence Based Sales Strategy with forecasts of the Total Available Market (TAM) based on the raw data, the Serviceable Obtainable Market (SOM) based on the predicate evidence and the Most Profitable Market (MPM) based on analysis of competitors and purchasers.
http://home.mcilvainecompany.com/index.php/other-services/free-news/news-releases/47-uncategorised/news/1713-nr2699
The raw data on pumps and compressors for CO2 is available on line. Here are examples.
There are many specific applications involved in the purification, compression and movement of the CO2. It is up to the supplier to organize the predicate evidence, address the disputed evidence and make a case. Here is an example.
For an EOR project in Qatar, Sulzer supplied an API 610 type BB5, multi-stage, opposed impeller pump with a design pressure around 240 barg, Along with the relatively high suction pressures, the lightness and effusiveness of the supercritical CO2 needed to be managed well. Sulzer says that high suction pressures and lightness of CO2 have a significant effect on the design of the pump. Sulzer says they have addressed both the design and materials issues and offer a lower total cost of ownership product for the application
The unique aspects of the pump design are important and will be part of the disputed evidence. Some of the materials selection choices are just predicate evidence which competitors can also address.
Knowledge of the competitors designs is essential in providing proper evidence. There are some unique ways to accomplish this. A large compressor/blower manufacturer contracted with McIlvaine for extensive competitor analysis of blowers and compressors for aeration in municipal wastewater treatment plants. They wanted a fair assessment of cost of ownership. To do this McIlvaine created a decision guide for attendees at WEFTEC in two different years as shown at http://home.mcilvainecompany.com/index.php/silobusters/municipal-wastewater-services
Since quite a bit of total cost of ownership evaluation is created by the consultants and made publicly available the predicate evidence was exceptional. Contribution by the competitors addressed the disputed evidence.
It could be argued that the supplier was giving too much publicity to competitors. But this concession was minor compared to the evidence based most profitable market strategy benefits.
Projects and technology relative to CO2 sequestration are found in the weekly Utility E Alert and Tracking System http://home.mcilvainecompany.com/index.php/databases/42ei-utility-tracking-system
The Total Available and Serviceable Obtainable Markets are included in Pumps: World Markets.
http://home.mcilvainecompany.com/index.php/markets/water-and-flow/n019-pumps-world-market
Most Profitable Market programs for both pumps and compressors are available. For more information contact Bob McIlvaine at rmcilvaine@mcilvainecompany.com or cell phone 847 226 2391.
Market Share Analysis is Critical to an Evidence Based Sales Strategy
Scope: To create promotional value it is relatively easy to pick a market scope which favors the company. To create strategic value it is desirable to carefully assess the following definitions
· Product which is being evaluated
· Application
o Industry
o Process
o Medium (gases, liquids, free flowing solids)
· Geographic scope
Market Share and Rankings Analysis Needs
<![if !vml]>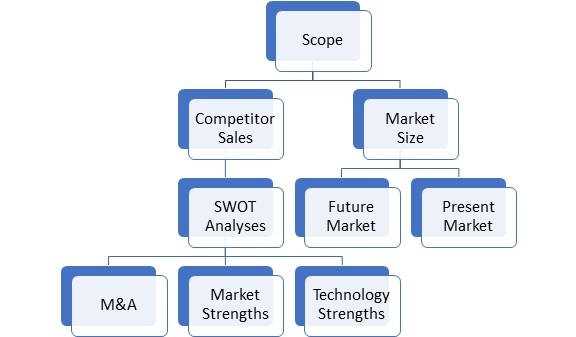 <![endif]>
Market Size: The true market size often requires understanding of the industries, the applications and even the equipment choices. What percentage of sewage sludge is dewatered in belt filter presses, centrifuges, or recessed chamber filter presses? If you sell filter cloths or filter belts this is an important investigation.
Determination of the future market is very important. If the supplier can gain market share in an expanding market the impact on revenues is substantially greater than gaining market share in a stable or shrinking market.
Competitor Sales: It is desirable to not only assess the present sales of the major competitors but also predict their future sales and market shares. This requires considerable effort but there are multiple values. McIlvaine analyzes the participation of flow and treat companies in hundreds of exhibitions around the world. Some are industry oriented such as ACHEMA. Some are equipment oriented such as Valve World or FILTXPO. Exhibitions such as PowerGen are held in Asia, the U.S. and Europe. So insights on geographical strategy can also be ascertained.
It is also desirable to conduct SWOT analyses for major competitors and to assess their product development activity. The McIlvaine company has services on air pollution control, water pollution control, combustion, drying, separation and other processes which provide unique insights on product development progress and needs.
Important niches: An important niche is one where the supplier can persuade customers that he has a better solution than competitors. So the activities of competitors now and in the future need to be assessed.
What is needed? The following questions need to be answered
· Is this a process used in multiple industries or is it unique to one industry?
· How big is the market niche now and in the future?
· What are the shares of major participants?
· Why are they leaders?
· How profitable are these niches for the leaders?
Analyzing Exhibition Activity: Clues as to the future application and geographic focus of competitors' are revealed in exhibition participation. Here is a compilation for pumps at the 2019 WETEC show.
WEFTEC is one of the world's largest exhibitions for municipal wastewater products. It compares favorably with IFAT in Germany because it is held three times as often. It also compares favorably to Asian exhibitions.
It is therefore useful to determine
· Which pump companies are exhibiting,
· What is their world pump market share
· What are their niche leadership positions. A niche leadership can be a combination of geography, pump type, and application. Leadership is defined as being in a group of leading suppliers.
<![if !vml]>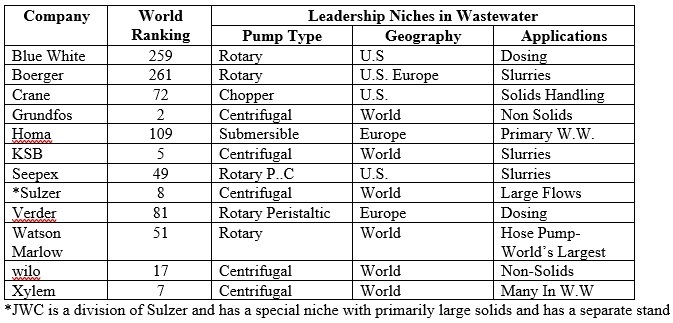 <![endif]>
The centrifugal pump market in wastewater is much larger than rotary, reciprocating, or diaphragm. The same is true for other industries. So centrifugal pump manufacturers have the top rankings in the total market.
Municipal wastewater represents 15% of all industrial applications.
The importance of the wastewater market differs by pump type. It is only 9% of the market for reciprocating pumps, 17% for centrifugal pumps, 19% for diaphragm pumps, and 21 % of the rotary market.
<![if !vml]>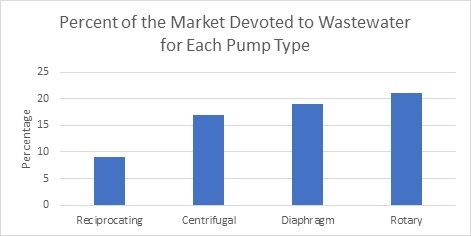 <![endif]>
The market shares of 400 pump companies are included in Pumps: World Market. Click here for more information: http://home.mcilvainecompany.com/index.php/markets/water-and-flow/n019-pumps-world-market
Market share adjustments need to be made with each acquisition: Here is a change in the Crane Valve Market Share change resulting from the purchase of the Circor Instrument Valve division
Crane Valve Market Share Slightly Changed by CIRCOR Acquisition
<![if !vml]>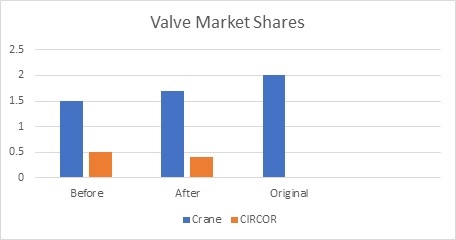 <![endif]>

<![if !supportLineBreakNewLine]>
<![endif]>
CIRCOR sold its instrumentation and related valve divisions which had $80 million in sales to Crane. This will raise the Crane market share in the valve industry from 1.5% to just under 1.7%.
In both cases there is more impact on the Crane market share in oil, gas, refining, and petrochemicals than there is on the total for all industries. This purchase is focused on instrumentation valves.
It is generally useful to analyze the markets for small valves used with analyzers and instrumentation separately from process valves. The technology and marketing knowledge is different. The instrument valve decisions will be made by those involved with automation and controls. The process valve decisions are made by people involved in operations and system design.
The large process valve decisions are more likely to be made by the owner where instrumentation valve decisions are often made by the supplier of the instrumentation.
Market share analysis is an important deliverable in each of the McIlvaine market reports described under "Markets" at www.mcilvainecompany.com
Click here to un-subscribe from this mailing list