Over 25 Million Masks will be Distributed to Underserved Communities
Singapore Residents Receiving Free Masks
Follow the Taiwan Example and Supply Free Effective Masks to Everyone at Princeton
Local Groups Providing Masks for the Vulnerable
OSHA Should Set Air Standards in Work Places
Americans will Still be Wearing Masks in 2022
Need to Focus on Length of Mask Use
GW University Creating HVAC Systems Which Minimize Horizontal Air Flow
_____________________________________________________________________________
Over 25 Million Masks will be Distributed to Underserved Communities
The Biden administration announced Wednesday it would distribute more than 25 million masks to over 1,300 community health centers and 60,000 food pantries and soup kitchens in an effort to reach underserved communities and as part of the president's promise to make the pandemic response more equitable.
Between March and May, the administration will send well-fitting cloth masks, available in child and adult sizes, that can be washed for reuse, White House COVID-19 response coordinator Jeff Zients announced during a press briefing.
The masks will also be compliant with coronavirus guidance from the Centers for Disease Control and Prevention, made in the U.S. and will not affect the availability of masks for health care workers.
"Not all Americans are wearing masks regularly, not all Americans have access and not all masks are equal," Zients said. "With this action, we are helping to level the playing field, giving vulnerable populations quality, well-fitted masks."
The Department of Health and Human Services, in partnership with the Department of Defense, will deliver masks to Federally Qualified Health Centers. Among these health centers, two-thirds of the people served live in poverty, 60% are racial or ethnic minorities, and nearly 1.5 million are homeless, according to a fact sheet provided by the White House.
The Defense Department will work with the Department of Agriculture to deliver masks to about 300 food banks that extend across a network of 60,000 food pantries, soup kitchens and other food distribution points.
Americans can pick up individual wrapped masks at any of these locations, Zients said. About 12 million to 15 million Americans are expected to receive masks as a result of this campaign, the White House said.
The campaign rollout came a day after Biden told essential workers at a virtual roundtable that he expected his administration to send millions of masks around the country "very shortly."
Studies have shown, and Dr. Anthony Fauci has pointed out many times, masks are the single most effective way to protect yourself and others from getting infected with the coronavirus that causes Covid-19.
"Masks are a two-way street. Masks protect you and me" by preventing the spread of droplets and aerosol that may contain the virus, the US Centers for Disease Control and Prevention says in its mask guidance.
Biden has called on everyone to wear a mask when out in public, and he has made it mandatory on federal property. Masks are required on public transportation and in airports and transit stations.
Most states and some local governments have some type of mask mandate in place, and most retailers require shoppers to wear them in their stores.
Earlier this month, White House chief of staff Ron Klain said that the Biden administration is hoping to resurrect a proposal from the Trump administration to send masks directly to Americans.
"This was an idea that really came up last year in the Trump administration -- the public health agencies recommended it, President Trump vetoed it for some reason," Klain told NBC's Lester Holt on February 4. "We want to get this back on track. I hope in the next few days, or next week, we may be able to announce some progress on this."
The US Postal Service had planned to distribute 650 million face coverings for the Trump administration last April, according to internal documents reviewed by CNN in September.
A senior administration official told The Washington Post at the time that the plan was scrapped by the White House as some advisers were worried that it could create "concern or panic."
"If you're wearing a cloth mask, it should be a multi-layered mask so that you have several layers of potential protection for a single mask," CDC Director Dr. Rochelle Walensky recently told CNN's Anderson Cooper and Sanjay Gupta.
The CDC has recently updated its guidance to suggest wearing a cloth mask over a disposable mask, such as one of those blue surgical masks, as a way to add more protection. New data from the CDC shows that layering a cloth mask over a disposable medical mask can block 92.5% of potentially infectious particles from escaping by creating a tighter fit and eliminating leakage.
Fauci, director of the National Institute of Allergy and Infectious diseases, has recently sported two masks, one on top of the other.
The original program involved cloth masks made by underwear manufacturers. As you can see from the draft USPS News Release below there would have been five masks per household. These were washable masks. So a use period of a week or two was likely envisioned.
<![if !supportLineBreakNewLine]>
<![endif]>
<![if !vml]>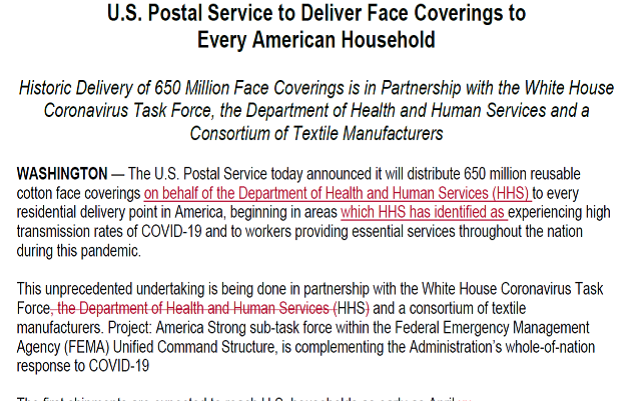 <![endif]>
<![if !vml]>

<![endif]>

The consortium of Textile Manufacturers at the time included Hanes "HanesBrands is part of a consortium of apparel manufacturers that have a contract with the U.S. federal government to produce cotton masks. HanesBrands aims to produce 1.5 million of these masks weekly, with the entire consortium to produce 5 million to 6 million each week, using HanesBrands' design and patterns as the guide."
Singapore Residents Receiving Free Masks
Residents in Singapore will be able to collect free reusable masks and alcohol-free hand sanitizer from March and April, in another nationwide distribution by Temasek Foundation.
In a Facebook post, Temasek Holdings CEO Ho Ching said the reusable masks will be ready for collection on Mar 1. Every Singapore resident can each collect one navy-blue mask from Swiss company Livinguard, provided by the Temasek Foundation, she said in the post last Friday (Feb 19).
"Like before, we cover Singaporean and non-Singaporean residents, as no one is safe till everyone is safe," said Mdm Ho.
This is the fourth national mask distribution by Temasek Foundation, and the collection will last for two weeks.
Between June last year and end-January, about 26 million reusable masks have been distributed, Temasek said in a Facebook post on Jan 28.
The new mask is made up of two layers - the outer layer is a water repellent antimicrobial layer while the antibacterial treatment on the inner layer "kills any bacteria from our saliva", said Mdm Ho.
The mask also does not have to be washed after daily use, she said. Instead, the mask can be washed once or twice a week. With up to 30 washes, the mask can be used daily for about six to seven months.
Even after 30 washes, the mask can be used as an ordinary two-layer cotton mask. It can also be used as an "outer mask" to provide better protection for those who may be wearing another mask underneath.
"For instance, if there should be an outbreak of the more infectious variants from UK, South Africa or Brazil, we should use a double mask for extra protection," said Mdm Ho.
Follow the Taiwan Example and Supply Free Effective Masks to Everyone at Princeton
Mark Lee, a graduate student in the School of Public and International Affairs at Princeton has written an insightful article which champions a program to provide free effective masks to not only those directly associated with the University but also the towns people. It is in a large part what McIlvaine is proposing with safe bubbles. (McIlvaine was a graduate of this same school decades ago). Here are excerpts from Mark's article.
"On Jan. 31, Taiwan announced a $7 million initiative to secure surgical masks for its entire population of 22 million. In a massive public-private partnership, the government devised a five-week plan to produce more than 10 million masks per day and meet the nation's rising demand for protection, managing mass distribution through a newly developed online platform.
It is a remarkable story, especially when you consider the announcement was made more than a year ago, on Jan. 31, 2020. (And in case you're wondering, the initial production target was achieved ahead of schedule.)
By early spring 2020, Taiwan's neighbors were also assembling supply chains and implementing innovative technologies to get quality masks in the hands of citizens. With 3M's patented N95 mask — the gold standard of face masks — facing worldwide shortages, some East Asian countries began mass-producing their own alternative versions that 3M itself acknowledges are "similar" in filter quality.
Still reeling from tragedy in Wuhan, China boosted its mask production capacity by 450 percent in one month. After overcoming early quality concerns, China now widely exports its own KN95 masks for medical use around the world. Meanwhile, South Korea launched a national initiative to distribute its KF94 masks at an accessible price of $1.20 per mask. Despite some initial hiccups, officials in these countries took the measures necessary to protect their citizens, including communicating the reasons why everyone should wear and have access to high-quality masks.
Meanwhile, the U.S. government lagged far behind. On Feb. 29, the U.S. Surgeon General was still tweeting that face masks were "NOT effective," and by the time the Centers for Disease Control and Protection (CDC) finally recommended face coverings on April 2, it was far too late. During New York's first wave, medical-grade masks (i.e., anything with at least the protective quality of a surgical mask) were in disastrously short supply. Americans were forced to fabricate their own protection, with the U.S. Surgeon General publishing a video on how to make a mask out of an old t-shirt. For several weeks, even front-line health workers were furnishing their own homemade coverings.
In the months since, multiple North American and European researchers have published new studies "proving" what health leaders in East Asia already knew when they began taking action over one year ago: quality masks matter, and it's effective public policy to ensure affordable access and widespread adherence during a pandemic. Despite this scientific truth, it was only this week that the U.S. government finally encouraged widespread adoption of medical-grade masks, based on a new CDC study demonstrating that their use could help limit the spread of the virus. Yet this report did not come with an accompanying plan to guarantee affordable access for all.
In lieu of a nationwide or statewide mask distribution scheme, Princeton would do well to proactively launch its own in our community. This semester, the University has the opportunity to follow the example of Taiwan and embark on a similar project, though on a much smaller scale. By procuring and distributing medical-grade masks to all members of the Princeton community — both on campus and in town — the University can take a simple, evidence-backed measure that will keep our community safer as we continue to weather this devastating pandemic.
As a master's student at the School of Public and International Affairs and a Resident Graduate Student, I have had the immense privilege of remaining in student housing ever since our initial lockdown last March. I have watched firsthand as Princeton has leveraged its wealth to operate almost like an independent, well-resourced nation, imitating public policy decisions successfully applied in Taiwan, South Korea, New Zealand, and elsewhere. Indeed, the one notable area where Princeton has yet to take substantive action is quality mask access, even though medical-grade masks (other than N95s) are no longer in short supply.
Since August, the University has paid for weekly asymptomatic testing for all students, staff, and faculty. As Taiwan pioneered in early 2020, the University mandates quarantine for incoming travelers, and, crucially, provides free meals as well as grocery delivery for graduate students living in apartments.
Although I never tested positive for COVID-19, the moment I reported mild symptoms in December, University Health Services stepped in to provide care, calling me daily for wellness checks while I isolated in my dorm room as a precaution. I feel extremely privileged to have access to this safety net, which includes resources far beyond the reach of the average American, never mind the millions of essential workers who are largely Black and Brown.
I also feel grateful to live in New Jersey, where more than 90 percent of residents are complying with mask wearing. I'm especially appreciative of University employees for abiding by these measures, including campus dining cooks working over hot stoves and other facilities staff engaged in physical labor. Unlike other parts of the country, we aren't dealing with mask deniers or questionable mask adherence. It's clear that members of our community listen to public health officials and follow guidelines and would readily adopt medical-grade masks if provided access and clear instruction.
That's why it alarms me to see dozens of students and staff still wearing flimsy cloth masks, bandanas, or gaiters as face coverings on campus, despite mounting evidence that these makeshift options do not offer adequate protection. On Feb. 10, the CDC announced new research that COVID-19 transmission can be reduced by up to 96.5 percent.
If individuals wear "well-fitting" masks with multiple layers that can be adjusted to the user's face, design features that are incorporated into both Korean KF94 and Chinese KN95 masks. Higher-quality masks are more critical than ever given the emergence of more infectious variants, as recently flagged by medical experts.
Fortunately, the cost to provide better masks would be a drop in the bucket compared to the significant expenses the University has already dedicated to ensuring safety on campus, which have included establishing our own campus testing laboratory and administering twice-weekly coronavirus tests for students.
Although the CDC still limits the use of N95s to health personnel, KF94 and KN95 masks are available for purchase for under two dollars each, for a total cost of less than $10 per student per week. It would be a worthwhile and affordable investment for Princeton to acquire these masks in bulk, distribute them to everyone on campus, and educate all on why they are a better choice than less protective coverings.
Simultaneously, these high-quality masks must also be made available to members of the nearby community. Whether at the grocery store or downtown businesses, local residents come into contact with Princeton students on a daily basis. Even registered family members of students living in graduate housing face barriers accessing the University's medical resources; I have several classmates whose partners are excluded from asymptomatic testing and aren't able to access referrals to specialists on the MyUHS website, despite being officially registered with the University as cohabitating spouses.
As local organizers are highlighting at a demonstration this weekend, we have to acknowledge that, especially in a pandemic, we are one Princeton community, and our collective safety and sense of community care does not diminish the moment we cross Nassau Street into town.
During a year of chaos and uncertainty, Princeton has utilized its vast resources to take decisive action and successfully secure our campus. As we adapt to the next phase of this pandemic, it's time for our health leaders to procure better masks and once again keep our community safe."
Mark Lee is Master of Public Affairs candidate at the Princeton School of Public and International Affairs from Irvine, Calif. He can be reached at markml@princeton.edu.
Local Groups Providing Masks for the Vulnerable
A new program launched by the United Way of Thunder Bay, Canada is providing free face masks to those in need during the COVID-19 pandemic.
Facing Forward is a collaboration between the United Way, City of Thunder Bay, Thunder Bay Community Foundation and Thunder Bay District Health Unit.
"Vulnerable community members who might not otherwise be able to afford to buy a mask will have access to free a mask," said United Way of Thunder Bay CEO Albert Brule. "And there's a combination of disposable masks, which are best suited to certain situations, and reusable cloth now that we are making available to those who can't afford to buy them."
The program offers a few ways for people to get involved.
Those buying an individual mask at Ungalli Clothing Co. on Cumberland Street S. will also provide one free mask to a vulnerable community member.
Businesses can buy masks in bulk online, with proceeds supporting the Facing Forward program.

<![if !supportLineBreakNewLine]>
<![endif]>
OSHA Should Set Air Standards in Work Places
Dr. David Michaels led the Occupational Safety and Health Administration, which sets workplace standards, during the Obama administration. Now the epidemiologist is one of more than a dozen scientists calling on the Biden administration to set air standards for workplaces like grocery stores, meatpacking plants, buses and prisons, to save lives in a pandemic.
<![if !supportLineBreakNewLine]>
<![endif]>
We've known for nearly a year that COVID is airborne – yet aside from hospitals, few workplaces acknowledge that the virus can hang in the air, he told Julie O'Connor of the Star-Ledger Editorial Board. Instead, they emphasize surface-scrubbing and physical distancing. Below is an edited transcript.
Q. So the federal Centers for Disease Control has set no standard for ventilation? Not even for schools?
<![if !supportLineBreakNewLine]>
<![endif]>
A. That's right. There are private groups that put out voluntary standards, but there are no actual standards for ventilation right now.
Q. We've followed the debates over ventilation in school buildings. Can you talk about how this is playing out in other workplaces, if at all?
<![if !supportLineBreakNewLine]>
<![endif]>
A. The debate is not so much about schools or specific workplaces, but how COVID-19 is transmitted. Early in the pandemic, we very much focused on larger droplets and contaminated surfaces. We now understand that breathing tiny particles called aerosols also spread the virus. And because of that, we need to implement other sorts of precautions. Simply keeping people six feet away and cleaning surfaces and wearing a surgical mask or a cloth mask is not adequate.
<![if !supportLineBreakNewLine]>
<![endif]>
Q. Those are the kinds of things Gov. Murphy has directed employers to do. You're arguing it's not enough to keep workers safe.
<![if !supportLineBreakNewLine]>
<![endif]>
A. Exactly. They're important. But distancing is not always adequate; we know that people who are exposed at distances far greater than six feet have gotten sick. If you can make sure the virus is not in the air, that's the best.
<![if !supportLineBreakNewLine]>
<![endif]>
One part of it is to make sure people who are sick stay home. But we want to dilute the workplace with fresh air or filtered air as much as possible. And surgical masks, while useful in keeping droplets out of the air, are less effective in controlling aerosols. In some situations, for heavily exposed workers in risky environments for longer periods, we probably need stronger masks, like respirators.
Q. You think the government should be setting air standards for workplaces and requiring N95s or other respirators?
<![if !supportLineBreakNewLine]>
<![endif]>
A. Yes. What we're asking the CDC to do is recognize this means of transmission is an important one and modify its guidance to reflect this. That will be important because OSHA is likely to be issuing an emergency temporary standard for workplaces within the month. It will point to CDC guidelines and say, follow this. And if the guidelines are out of date, they will be less protective.
Q. What might this mean for workers?
A. In the most hazardous workplaces like meat or poultry factories, many employers have left people working shoulder to shoulder and put pieces of plastic film between them. The idea is that if you have workers breathing or coughing droplets, the plastic will stop that from getting into the breathing zone of other workers. We know that's not effective. And we know there are studies where workers who are at a great distance from sick workers do get infected.
So what would have to happen is, the employer first would look to improve the fresh air flow, to bring more outside air, and use a higher efficiency filter to catch these aerosols. And if that weren't effective enough, the workers who are there all day long perhaps would have to wear respirators, as industrial workers in many situations unfortunately have to do. I don't say N95s, because there are more comfortable respirators to use outside of hospitals, and there is no shortage of them.
Q. Right now, the CDC is recommending double-masking.
<![if !supportLineBreakNewLine]>
<![endif]>
A. We're not saying that's wrong at all. And we're not saying the public should be wearing N95s. On a bus, for instance, the riders come in and out and don't need extra protection. They could wear a double mask. But the bus driver, or the hospital worker who's not directly working with COVID patients but is nearby – those workers are in an environment where there's lots of virus in the air. Those people should be the focus of better protection.
Q. I could see requiring buses to open windows. But what might this mean in a jail or food processing plant?
<![if !supportLineBreakNewLine]>
<![endif]>
A. It isn't one-size-fits-all. An employer could be required to do a risk assessment and make a plan. The approach could be to have fewer people in the room. It could be increasing the airflow. But simply saying distancing and handwashing and surface washing is not adequate.
Q. In the Trump administration, you say, OSHA was pretty hands-off.
<![if !supportLineBreakNewLine]>
<![endif]>
A. Yes. OSHA received thousands of complaints, made very few in-person inspections and when it did, issued generally pretty low fines. In the meat packing plants, hundreds of workers were sickened and some died. And the fines were in the $15,000 range. It's worth noting that the place where the largest number of inspections occurred, and citations were issued for COVID, was the NY/NJ area. I think they may have done as many inspections as the rest of the county combined. That was because the regional leadership of OSHA had some very creative dedicated, sophisticated leadership.
<![if !supportLineBreakNewLine]>
<![endif]>
Q. We had a lot of deaths in nursing homes. That could be another reason.
<![if !supportLineBreakNewLine]>
<![endif]>
A. A higher death rate than any other state. They certainly went to nursing homes because that was the problem. But other parts of OSHA didn't do inspections in the same way, or the same numbers as this region. It wasn't because it was the worst problem. Every state has nursing homes that were disasters.
<![if !supportLineBreakNewLine]>
<![endif]>
Q. What are other most dangerous workplaces, aside from those you've mentioned?
A. Grocery stores, which are open all the time. Migrant farm workers. Many are brought to the fields in vans provided by their employer, where they are exposed to each other, and live in bunk houses. You can't wear a mask and you have sometimes poor ventilation.
Q. The CDC has not recommended N95 masks or other respirators, even with the emergence of the more contagious variants and slow vaccine rollout. Are they worried consumer use would fuel another shortage?
<![if !supportLineBreakNewLine]>
<![endif]>
A. We no longer have a shortage of N95s, and there are other respirators available that wouldn't compete with health care for use.
Q. Do you think the Biden administration is likely to require industry to invest in better masks and ventilation?
<![if !supportLineBreakNewLine]>
<![endif]>
A. I think there will be requirements for better protection for workers.
Q. What would you say to a struggling restaurant owner who says, 'I can't afford to buy everybody these masks or fix the ventilation'?
<![if !supportLineBreakNewLine]>
<![endif]>
A. I think we're going to need to subsidize small businesses to keep them open, just as we're going to need to subsidize COVID testing and other things. But the cost of not doing that is even higher. Not only is it the cost for the people getting sick; we're not going to be able to control the epidemic and reopen the economy.
Q. One argument made under Trump is that there were limited resources for inspection, so how would OSHA enforce this stuff?
<![if !supportLineBreakNewLine]>
<![endif]>
A. That's nonsense. OSHA certainly could have done the job very differently. This agency, which is filled with dedicated career professionals, was very frustrated by the Trump administration. I think you'll see a great deal more out of OSHA now, under President Biden.
The 13 experts who wrote the letter — including several who advised Mr. Biden during the transition — urged the administration to blunt the risks in a variety of workplaces by requiring a combination of mask-wearing and environmental measures, including better ventilation. They want the C.D.C. to recommend the use of high-quality masks like N95 respirators to protect workers who are at high risk of infection, many of whom are people of color, the segment of the population that has been hit hardest by the epidemic in the United States.
At present, health care workers mostly rely on surgical masks, which are not as effective against aerosol transmission of the virus as N95 masks are.
Mr. Biden has directed the Occupational Safety and Health Administration, which sets workplace requirements, to issue emergency temporary standards for Covid-19, including those regarding ventilation and masks, by March 15.
Americans will Still be Wearing Masks in 2022
Dr. Anthony S. Fauci, President Biden's chief medical adviser for Covid-19, said on Sunday that Americans may still be wearing masks outside their homes a year from now, even as he predicted the country would return to "a significant degree of normality" by fall.
"I want it to keep going down to a baseline that's so low there is virtually no threat," Dr. Fauci said on the CNN program "State of the Union," referring to the number of cases nationally that would make him comfortable enough to stop recommending universal masking. "If you combine getting most of the people in the country vaccinated with getting the level of virus in the community very, very low, then I believe you're going to be able to say, for the most part, we don't necessarily have to wear masks."
Need to Focus on Length of Mask Use
Most of the academic studies focus on extended use and reuse of masks in medical settings. Medical workers are likely to be exposed to COVID at rates which are much higher than individuals in public settings. The new ASTM standards address the deterioration rate for reusable masks. However, someone who goes to the store wearing a mask and then spends the rest of the day in his house without a mask may be wearing the mask for only an hour or two per day.
The office worker who wears a mask all day long will log user hours at 5 to 20 times the homebody who goes out rarely. The care with which masks are stored when not in use is another variable. Considerable analysis is needed in this area. Some data such as the following table will be useful even though it was designed for medical workers.
<![if !vml]>
<![endif]>
The full document is found at
https://www.ncbi.nlm.nih.gov/pmc/articles/PMC7588721/
GW University Creating HVAC Systems Which Minimize Horizontal Air Flow
George Washington University is completing a second phase of HVAC upgrades in several campus buildings this semester to align with COVID-19 safety protocols and limit energy consumption.
David Dent, the associate vice president for facilities planning, construction and management, said officials are renovating the HVAC systems in Enterprise, Phillips, Rome, Discovery and Ames halls, Amsterdam House, the Smith Hall of Art and Building GG before June. He said officials upgraded eight other residential buildings last fall as part of the ReStart initiative, a project aimed to bolster HVAC systems on campus.
The ReStart Initiative, which is running this academic year, helped officials determine that all buildings on campus are "safe for occupancy." The project's first phase of upgrades in the fall cost GW $2.4 million,
The project also indicated that officials need to invest more into mechanical systems "to address deferred maintenance," Dent said. He said officials identified the buildings that needed more modernization to comply with the University's standards for carbon footprint, greenhouse gases and energy performance.
"You don't want to have a system which creates large horizontal flows of air because if you have a horizontal flow of air with the velocity, say one meter per second, what will happen again is if someone is ill and is giving off the virus, that virus will be carried in the airstream to other people in the room," Glicksman said.
Glicksman said the University's installation of the MERV 13 filter, which blocks contaminants, "works quite well" and meets the standard of ventilation expected of most buildings. He said the filters can stop all particles beside "the very tiniest" aerosols that a high-efficiency filter could block.
"People are doing what they think is best," he said. "There has not been enough absolute standard to say this will guarantee that the building will be completely safe. It'll certainly be safer and reduce the probability of transmission from one person to another, but that's the state of the art right now."
Forrest Meggers, an assistant professor of architecture at Princeton University, said the challenge for implementing HVAC upgrades under COVID-19 guidelines is the significant energy demand to ensure a maximum amount of fresh air is being delivered inside the buildings. He said the upgrades under the guidelines are often followed by a 200 to 300 percent increase in energy demand.
"We probably aren't going to stay at that level, but it's really exposed the sensitivity of our carbon emissions and primary energy demand to heating and cooling buildings and how the mode of heating and cooling that we do, which in the U.S. explicitly tied to air conditioning," Meggers said.
Meggers said officials should introduce a radiant hydronic system, a heating method that utilizes running water through pipes to create heat, to address the heating and cooling components of HVAC upgrades, which he said would ultimately be more efficient.
"You'd have to think about it as a campus for HVAC systems – 'I can make these great upgrades and make the buildings more comfortable and a little bit more efficient by putting water-based heating and cooling systems and making the ventilation be more focused on delivering care efficiently and having heat recovery,'" he said.