Coronavirus Technology Solutions
June 29, 2020
The Coronavirus Task Force has Finally Stated That Masks Protect the Wearer
Efficient Masks Should be the Primary Weapon to Vanquish COVID
Berry Global to Supply Medicom with Media for Hundreds of Millions of Face Masks per Year
Low & Bonar Teams with AFPR0 on Masks
New York Malls will Need High Quality Air Systems Before They can Reopen
Masks are the Most Effective Way to Vanquish COVID Despite Criticism of Papers with this Conclusion
O2 Canada has Efficient Mask with Insertable Filters
Totobobo has Reusable Mask with Electrostatically Enhanced Filters
Respro® Mask has High Efficiency Valved Masks and Lower Efficiency Scarves
_____________________________________________________________________________
The Coronavirus Task Force has Finally Stated That Masks Protect the Wearer
Both Dr. Birx and Fauci made such statements in the last few days. Dr. Deborah Birx said that scientific evidence shows that masks both "keep you from infecting others and protects you from getting infected."
Dr. Birx said Sunday that there is "clear scientific evidence" that masks work -- adding that she assumes President Donald Trump is able to keep six feet of distance "in a majority of cases" when pressed on whether he should wear one.
"What we have said to people is there is clear scientific evidence now, by all the droplet experiments that happened, and that others have done, to show that a mask does prevent droplets from reaching others," Birx said on "Fox News Sunday" when asked what she would tell people who say they have a right not to wear a mask in public.
"Out of respect for each other, as Americans that care for each other, we need to be wearing masks in public when we cannot social distance," she said.

Efficient Masks Should be the Primary Weapon to Vanquish COVID
If everyone including transmitters and recipients were correctly wearing N100 masks there would be no COVID transmission. If everyone wore an N30 mask the infection rate would only be cut in half. So mask efficiency makes a huge difference.
We have to separate capability from operability and then upgrade the operability to utilize the maximum capability.
Health officials confused operability and capability from the earliest days in the COVID spread. Even after it became apparent that 40-60% of the transmission was from individuals with no signs like coughing or sneezing officials resisted the mandate to require efficient N95 masks. The reasoning was that they were in short supply and needed by healthcare workers.
Since lower efficiency e.g. N30 masks could be made available, they were recommended on the basis that most of the transmission was from coughing and sneezing of large droplets. There was never any claim that these masks would prevent exhalation of small virus aerosols generated by breathing, talking, or singing. Now that it is proven that these small aerosols are responsible for most of the transmission inefficient masks are of little value.
When both transmitter and recipient are wearing 95% efficient masks the recipient inhales only 0.25% of the virus
N95 Mask
<![if !vml]>

<![endif]>
Compare this to the N30 mask where the combination results in the recipient inhaling 49% of the virus.
N30 Mask
<![if !vml]>

<![endif]>
The N30 masks result in nearly 200 x the virus inhalation of the N95 mask.
<![if !vml]>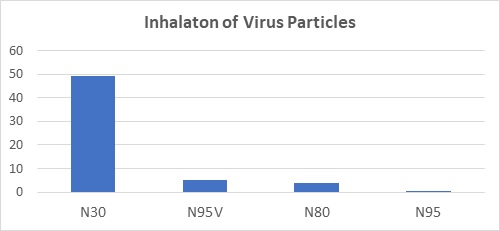 <![endif]>
The N80 mask would result in only 4 % inhalation. This makes it 12 times better than the N30. Even the N95V mask with a valve is very good with only a 5% inhalation. It is 10 times better than an N30 mask.
There are arguments that the virus is transmitted from surfaces to the hands then to the eyes or nose. However, if everyone is wearing an efficient mask there will be no virus on surfaces.
It is now clear that masks have the capability to vanquish COVID the challenge is now to improve the operability.
Operability
The two critical aspects of operability are availability and execution. Availability is limited by mask media as well as mask production. The meltblown media production has expanded considerably. However, it is only a small percentage of what would be needed for 3 billion people to be wearing N95 masks. Sinopec demonstrated that in three months you can add enough capacity to make 10 million masks per day. However if people use disposable meltblown N95 masks, the daily mask production could be as much as 1 billion masks per day. This would require an effort 100 x larger than the Sinopec effort or the equivalent of 100 more producers the size of 3M.
An alternative is the N80 mask using spun bond media. 30,000 extra tons per year would be needed. U.S. non global nameplate capacity of spunbonded/spunmelt polypropylene nonwovens is over 4.7 billion tons per year. So this requirement is comparatively small when compared to disposable diapers.
Nanofibers offer another alternative with potential for higher efficiency and lower resistance. This approach does not rely on a permanent electrostatic effect. Therefore these masks are washable. Nanofiber laminate media can be readily available.
Many companies are making masks and many more are eager to do so. There are critical design aspects such as obtaining the right fit and maximizing breathability. But there are no great hurdles to overcome.
Execution: There may need to be some funding for masks in developing countries. But the cost of masks will be far less than the cost of any other approach to defeat COVID. At $100 per year per person x 3 billion people we are looking at a $300 billion yearly market. This is sizable enough to warrant the attention of the world's largest fabric and PPE companies.
The first task is to correct the misinformation and help governments understand the importance of the mask initiative. At the same time the suppliers have to have plans in place to expand to meet demand. McIlvaine is addressing the needs with a three pronged program in Coronavirus Technology Solutions. Each initiative includes daily Alert coverage, webinars and analysis. The initiatives are
<![if !supportLists]> 1. <![endif]> Masks and other PPE
<![if !supportLists]> 2. <![endif]> Filters and HVAC
<![if !supportLists]> 3. <![endif]> Decontamination, monitoring and other products


Berry Global to Supply Medicom with Media for Hundreds of Millions of Face Masks per Year
Berry Global is collaborating with The Medicom Group, (Medicom), to design the manufacturing solution and guarantee the supply of nonwoven fabric intended for use in producing hundreds of millions of face masks annually as part of Medicom's agreement with the British Government. Medicom is one of the world's leading manufacturers of medical and respiratory masks.

To do so, Berry is investing in a new state-of-the-art meltblown nonwovens line, to be outfitted with its proprietary charging technology, at one of its U.K. based facilities to increase capacity of material necessary in the production of European-standard Type IIR and N99-equivalent FFP3 masks. The masks will be manufactured and sold under Medicom's European Kolmi brand.

The British Government has enabled these investments through a long-term contractual commitment. The agreement confirmed support for Medicom's new U.K.-based production facility, which is scheduled to open later this summer. This move highlights the focus governments are placing on securing a supply chain that helps ensure a local supply of personal protective equipment.

"Berry has deep roots in the U.K. We are pleased to support Medicom as they open their new facility and help advance safety and protection in the region well beyond the COVID-19 pandemic," says Curt Begle, president of Berry's Health, Hygiene, and Specialties Division.
Low & Bonar Teams with AFPR0 on Masks
Low & Bonar's Colback nonwovens are now included as a reinforcement layer in FFP2-certified medical face masks. The masks themselves are produced by another company located in the Netherlands: AFPRO Filters. Though both companies were new to the face mask business, they made it happen within a very short period.

As in many other countries, the Netherlands was confronted with a global shortage of personal protective equipment as COVID-19 spread across the continents. Called upon by the Dutch Minister of Health and Sports, a unique public/private consortium came to existence, with selected Dutch companies invited to join and serve a single purpose: the realization of large-scale, non-profit based production of health protection items within the country to help protect their healthcare workers. Without a second thought, both Low & Bonar and AFPRO Filters became part of this consortium and soon started to work on medical face masks together. Shouldering responsibility, both companies deliver at cost price. The consortium distributes the medical masks evenly or wherever the need in national healthcare institutions is greatest.

"Although neither of us had ventured into face masks before, we could build on long-standing expertise within our fields and believed we could make it work," says Low & Bonar business development manager Edgar Berkhout. "AFPRO Filters is a long-standing producer of filter systems, an industry we are very familiar with. We know our product and production capabilities inside out and have many in-house testing facilities at our disposal. Thanks to that, and through our intensive collaboration, we were able to move fast."
<![if !supportLineBreakNewLine]>
<![endif]>
Niels Berkhout, supply chain director at AFPRO Filters, adds: "We felt an enormous urgency to turn this project into a success and found an equal dedication at Low & Bonar. We experienced a very high degree of flexibility among all involved: engineering, production, planning and deliveries. So much technical knowledge was made available to us and always at very short notice. Together we were able to overcome all the obstacles along the way."

Colback is a spunbond nonwoven. Its role in these FFP2-approved face masks is one of reinforcement. As an intermediate layer Colback provides the necessary sturdiness to the masks, keeping them in shape and place during wear. At the same time, Colback is very light-weight, thin and highly permeable which allows for easy breathing and improves user comfort. Customers benefit from Colback´s straightforward processing. Colback is very suitable for ultrasonic welding, among other things, and it cuts without any fraying or curling.

"Our main mission is to bring value to our customers. By tailoring our product and fine-tuning all its technical details to the exact needs of these face masks, adding value is exactly what we did. And in doing so, we are able to contribute in a non-profit manner to the current urgent needs of our society," concludes Berkhout.
AFPRO makes a range of filters from low efficiency panel filters to HEPA. Each individual filtHEPA filter is tested in accordance with the EN1822 standard.

New York Malls will Need High Quality Air Systems Before They can Reopen
New York malls will need high quality air systems that can filter out the coronavirus before they will be allowed to reopen, Gov. Andrew Cuomo said on Monday.
"Any malls that will open in New York, large malls, we will make it mandatory that they have air filtration systems that can filter out the COVID virus," Cuomo said at a press briefing.
High efficiency particle air filters, or HEPA filters, have been shown to help reduce the presence of Covid-19 in the air, according to a presentation from Cuomo.
The U.S. Centers for Disease Control and Prevention says the coronavirus is thought to spread primarily through person-to-person contact, when an infected person produces respiratory droplets by coughing, sneezing or talking in close contact with other people. It's possible someone can become infected by touching a surface and then touching their mouth, nose or eyes, but that's not considered to be the main way the virus is transmitted, the CDC says.
Some epidemiologists say the virus also appears to spread through exhaled air when people talk or breathe, known as aerosols, according to Nature.
The coronavirus' particle has a diameter of about .125 micron, he said, pointing to recent studies. HEPA filters are designed to filter particles that are .01 micron and above.
New York has not allowed malls to reopen in the state yet, Cuomo said. He said the state recommends all businesses and offices "explore the potential for their air conditioning air filtration system."
New Jersey allowed malls to reopen on Monday while following the same health precautions required of other stores but without advanced filtration systems, according to the state's guidelines.
Cuomo has allowed other businesses to reopen without installing high-end filtration systems. So far, indoor retail, except for malls, indoor and outdoor dining and some office spaces have reopened in different regions of the state with reduced capacity.
New York City is expected to begin on July 6 its next phase of reopening, which will allow for indoor dining and personal care services such as nail salons, spas, massage parlors, and tattoo and piercing facilities with limited occupancy.
Cuomo said on Monday, however, that he's concerned about the city's enforcement of previous reopenings and that it has experienced a lack of compliance when it comes to social distancing and mask wearing, he said.
"You can see it in pictures, you can see it if you walk down the street, you can see the crowds in front of bars, you can see the crowds on street corners. It is undeniable," Cuomo said.

Masks are the Most Effective Way to Vanquish COVID Despite Criticism of Papers with this Conclusion
We have provided detailed coverage of a June 11 article showing that masks are the most effective way to vanquish COVID and observe that whether or not some of their approaches were flawed their conclusion was correct. There is good coverage of this dispute in VOX.
A high-profile dispute between researchers over a study on the role of face masks in preventing Covid-19 is revealing the tensions in how science is conducted during a global pandemic. It's also raising questions about the role of prestigious journals in elevating findings that may not hold up.
In the latest development, the authors of a controversial study on the effectiveness of face masks, published on June 11 in the journal Proceedings of the National Academy of Sciences (PNAS), are pushing back against calls to retract the paper.
On June 24, the authors issued a rebuttal statement to a petition signed by more than 40 scientists who identified "egregious errors" in the original study.
The study examined how Covid-19 spreads through the air and found that "wearing of face masks in public corresponds to the most effective means to prevent interhuman transmission." While the authors are not epidemiologists, Nobel Prize-winning atmospheric chemist Mario Molina is among its authors.
The finding that masks are a good way to slow the pandemic aligns with other research, as well as the guidance from health agencies that now recommend wearing them. But the idea that they're the "most effective means" to do so, compared with tactics like social distancing, banning large gatherings, and closing businesses, is a controversial claim. And the scientists calling for a retraction say the evidence presented doesn't back it up; they found serious flaws with the study's methodology and some of its underlying assumptions.
In their letter to PNAS calling for the retraction, the critics write: "While masks are almost certainly an effective public health measure for preventing and slowing the spread of SARS-CoV-2, the claims presented in this study are dangerously misleading and lack any basis in evidence," according to the letter.
The call for a retraction follows two other recent high-profile retractions in other major scientific journals withdrawn by the request of their authors who found problems in their own data. But it's highly unusual for one group of scientists to publicly rebuke a piece of research by another, as with the recent PNAS study.
That raises the question of how to bring more researchers to the table and speed up the reveal of valuable information about Covid-19 without sacrificing the integrity of the process.
For their part, the authors said in their rebuttal statement that the sentence referring to differences between New York City and the rest of the country was taken out of context. It was specifically referring to federal policies across the United States as a whole compared to policies in New York City, rather than comparing the city to other cities or states. (Molina also wrote a rebuttal making similar points in El Universal in Spanish.)
As for the straight trend lines across curves, the authors insist that it was appropriate. "A simple inspection of the data indicates a remarkable linearity in the portions of the figures we highlight," they wrote.
And the authors said the criticisms stem from academic gatekeeping. "It is truly incredible how the authors [of the retraction petition] could come up with such naïve ideas, merely because no COVID-19 epidemiologist was among the authors of our paper," the authors wrote in their rebuttal.
In this case, both the authors and the reviewers of the study were not epidemiologists, as might be expected for a paper on this topic, but scientists who study aerosols.
"I really highly doubt it would have been published in PNAS if it had gone through the regular channel," Grabowski said.
With the swarm of research on Covid-19, it's inevitable that some questionable findings would emerge. Part of it stems from the circumstances. The disease has only been circulating for a few months, so there hasn't been enough time to set up robust controlled studies. Many papers are based on observations rather than experiments, but done right, these studies can still yield useful information.
In any case the filtration industry also needs to start providing academics with more information and help them understand aspects such as the difference between filters. This whole dispute relies on a statistical approach. Since we do not know how many New Yorkers were wearing high efficiency masks and how many were just wearing bandanas the impact of the mask mandate is in question.
https://www.vox.com/2020/6/29/21302489/coronavirus-face-mask-covid-19-pnas-study

O2 Canada has Efficient Mask with Insertable Filters
O2 Canada is a Canadian business founded in 2014. It is a Class 1 Medical Device company registered with Health Canada. The company mission is to help millions of people breathe clean air.
Peter Whitby covered the history in his blog "When we started studying air pollution and engineering masks, we carried out research at the Air Pollution Research and Innovation Laboratory at the University of Waterloo. This is now the Green Energy and Pollution Control Research Lab. During our studies of dust masks and disposable masks, we learned that leakage is the biggest challenge. Air is like water in that it takes the path of least resistance and any gap will result in unfiltered air bypassing the mask. This led us to focus on developing the high-performing medical-grade silicone seal for our mask, the O2 Curve."
In testing at the Green Energy and Pollution Control Research Lab, O2 achieved filtration efficiency of 98.6% against PM2.5. The testing covered particle sizes ranging from 0.5 to 5.0 microns.
<![if !vml]>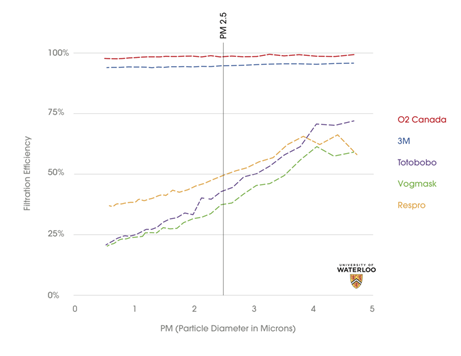 <![endif]>
Experimental testing of masks and filters was initiated by Professor Zhongchao Tan at the Air Pollution Research Lab. A quantitative respirator fit testing (QNFT) was conducted to quantify the leakage between the respirator (i.e. dust mask) and the face.
Five different masks and their filter membranes were tested on three different facial sizes (using mannequins) to assess performance on different facial profiles. Here were the key findings:
Performance of dust masks depends on both face and mask shapes

Penetration of Particles through Filter Media

shows the penetration for micron particles through tested filter media as a function of particle diameter at an air flow rate of 30 lpm. Results showed that the penetration rate increased as the particle size decreased.

The difference between these standard deviations shows the importance of how the mask is mounted on the face in different times.

Ergonomics are highly important. Achieving an air-tight seal is critical for mask performance.
Certifications:
Passed Nelson Labs Valve Leakage Test (TEB-APR-STP-0004)

Passed Nelson Labs Exhalation Resistance Test (TEB-APR-STP-0003)
Specifications for the filter media used in the O2 Curve:
<![if !vml]>

<![endif]>
filter material removes particulate matter down to 0.1 microns

medical grade silicone provides exceptional comfort and face seal

Ultra-soft silicone ear loops that won't disturb hairstyle

Adjustable neck strap with snap-button clip

3-pack of electrostatic filters included free!
<![if !vml]>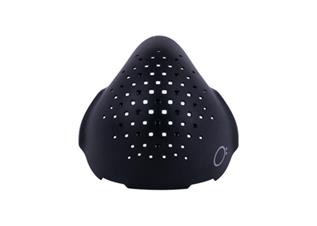 <![endif]>
The price is around $70. Additional filters are about $1.40 each.
Totobobo has Reusable Mask with Electrostatically Enhanced Filters
<![if !supportLineBreakNewLine]>
<![endif]>
This Singapore based company provides high efficiency masks, Unique features include:
(1) Patented "Water-mark seal check" is easy and reliable. (2) Customizable mask. You can shape it and trim it. DIY to the unique face of each of your family member. (3) Very flexible and comfortable to the skin, superior fit due to the SoftTech material. (4) Light reusable respirator. Weight only 20 grams. (5) Super elastic strap, comfortable and durable. (6) Reproduction of bacteria or virus is prohibited on the surface of the mask, thanks to the anti-virus additive.
Poor face seal is poor protection. Over 90% of 1500 tests of N95 masks failed due to users unaware of the leaks, According to a published study by Tongji Medical College, which conducted 1500 tests with 500 N95 masks on 50 Chinese.

To help identify any leaks, Totobobo developed the "water-mark" method; the frost internal surface of the mask turns into transparent when it touches wet skin. The transparent water-mark makes it easy to identify any gaps between the mask and the user's face.

<![if !supportLineBreakNewLine]>
<![endif]>
<![if !vml]>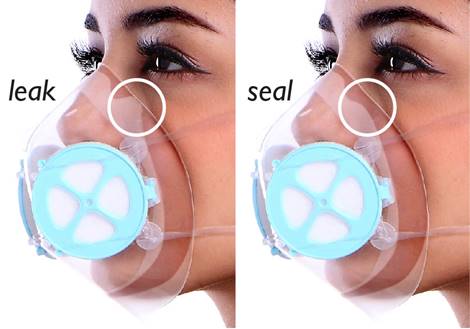 <![endif]>

Masks are available at various efficiency levels.

F96 (96%) filter - Extra high level of protection. Breathe easier than typical N95 masks.
F94 (94%) filter - Easy to breathe while maintaining high level of protection.
F92 (92%) filter - Most economic, high efficiency for everyday use.
All above filters contains electro-static charges and are highly effective to trap fine dusts and particles even below 0.3 micron.
The mask is around $32 and can be reused hundreds of times. Each set of two replaceable electrostatic filters is around $2.

Respro® Mask has High Efficiency Valved Masks and Lower Efficiency Scarves
The mask incorporates an Activated Charcoal Cloth layer together with a submicron particle filter layer (combination filter) as it has the ability to adsorb viral matter in both the micro and the nano range of sizes by means of entrapment and adsorption. Suitable masks with a combination filter:
Techno Mask - (suitable for commuting)
Cinqro Mask - (suitable for Sport)
Ultralight Combo - (suitable for Sport)
Sportsta Combo - (suitable for Sport)
Allergy Combo - (suitable for commuting)
Skin plus Techno upgrade kit - (suitable for Sport)
Techno Plus - (suitable for Sport)
<![if !supportLists]> · <![endif]> The effective working life of Respro® filters depends on a number of factors, such as; the breathing rate of the user; ambient levels of pollution; the length of time the filter is actively working; hygiene levels. Taking these factors into account we recommend that the filter should be replaced every month or every 69 hours, whichever is sooner.
<![if !supportLists]> · <![endif]> Replacement of the Sportsta™ filter should be carried out every month or when the filter becomes noticeably discolored.
It is recommended that the neoprene shell of the mask be washed every month under normal use. To do this it is necessary to remove the filter and the valve first.
https://respro.com/pg/faqs#faq1