Overview

June 10 Face Mask News

Membrane Mask with Silver Being Developed by UK

TTG has Membrane Media for Face Masks with a Number of Claimed Advantages

Transparent Mask Developed by Swiss


Mask Policy Review
Should We Rethink our Whole Mask Policy?

Should task # 1 be to protect individuals rather than keep them from being spreaders?

Virus Factors

Mask Factors

Wearer factors

Environment
Facemask Performance Articles in Previous Alerts

Silicon Based Membrane for Masks has Efficiency and Other Advantages
Fibre Extrusion Technology Says There May Be Better Answers Than Polypropylene for Meltblowns
NXTNano has Nanofiber Media Available for Face Masks
Tustar Teams with Neatrition to Introduce High Efficiency Masks to the U.S. Market
Sciessent Antimicrobial Used in Hanesbrands Masks
Teho Filter Using Ahlstrom Media for N88 Masks in Finland
Russian Scientists Develop Nanofibers for Masks
O2 Nano Mask is Low Pressure Drop, Efficient and Reusable
Cambridge has an Efficient and Comfortable Mask but with Valve

Masks are Part of a Combined Program to Reduce the Odds to Near Zero
Airplanes are Relatively Safe with the Following Guidelines
Midwest Textiles, Hollingsworth & Vose Partner to Develop Homemade Facemask Kit
Bondex Ramps up Production of Material for PPE & N95 Facemasks
Ultra-Pure PM 0.1 Mask Filter from Asiatic Fiber Corporation
Ahlstrom -Munksio Media Being Used by French Mask Makers
Ava Breathe has Unique Mask Design
High Fashion Mask is Available from Lumen Couture

Website Dedicated to Analyzing Mask Decontamination Options

N95 Masks Much Safer than Medical Masks for Wearers
Avantor in Unique Position To Supply Products to Mitigate the Coronavirus
Upscale KN95 Masks Available
Do we Need Masks with Valves for Certain People and Certain Situations?
Chinese N95 Masks Shipped to Massachusetts did not Meet Requirements
Alpha Pro Tech Expands Production of Face Masks
Masks with Valves have Advantages but Design and Maintenance are a Challenge
ExxonMobil has New Filtration Fabric and Mask Design
Spectrashield Meets Efficiency Requirements
Berry Global has New Material for Surgical Masks
NC State Develops Two Polymer Spunbond for Masks Which Can Be Sewn and is Washable
Hospital Using MSA Respirators With Replaceable Cartridge
MSA Has a Range of Respirator Designs Available to Protect Hospital Personnel
Sindat Now Producing Efficient Masks with Replaceable Membrane
Cummins and Dupont are Working Together to Help Address the Current Shortage of N95 Masks
U.S Army Research on Face Mask Media will be Helpful
Fibertex Non Wovens has New HEPA Filter Media for Filters and Respirators
Alternative coverstock media from Ahlstrom-Munskjo
Social Distancing Alternative with Low Risk and Modest Cost for Coronavirus Mitigation
The Mask Market Could Soar From a Few Billion Per Year to Hundreds of Billions
Superior Felt and Filtration has Both Meltblown and Needle Punched Media for Masks
SWM supplies Melt Blown Media and Film for Surface Layer
____________________________________________________________________________
Overview
Efficient masks remove virus aerosols and protect wearers. Inefficient or loose fitting masks may capture less than 20 percent of the aerosols. New evidence reveals that virus aerosols are a significant transmission route. The guidelines and advice given to the public are to wear masks not for self- protection but to protect others. McIlvaine Company questions this policy and is trying to understand all the many factors which should impact mask decisions. In this pursuit a webinar open to everyone will be held on June 18 at 10:00AM CDT. The proposition to be discussed and debated is Should the primary use of masks be to protect the wearer?
A number of recent research papers validate airborne transmission of small virus aerosols along with the possibility that even long distance travelers may become dormant but are revitalized when they are inhaled. Efficient N95 masks will capture these aerosols. However, this type of mask is uncomfortable unless it is equipped with a valve to allow unfiltered breath to be exhaled. For this reason masks with valves are prohibited in some communities and not recommended in general guidelines.
Masks have proven to be extremely effective in protecting asbestos workers, Asian citizens in high air pollution areas and those with immune deficiencies. The moon has a hostile atmosphere but man has walked its surface. The common denominator is that the danger of the conditions is accepted and masks are designed to keep the wearer safe. The webinar will probe ways that more efficient N80 masks without valves can be made available to billions of people. It will cover the potential for a range of masks including some with valves to be used depending on individuals and circumstances.
This Alert has been expanded to include the previous articles relevant to mask performance and the various designs available and under development. Important material selection information is highlighted in red
Attendees are invited to submit data in advance and participate in the general discussion during the webinar. For more information and to register Click here

June 10 Face Mask News
Membrane Mask with Silver Being Developed by UK

As the world continues to respond to the COVID-19 pandemic, the University of Kentucky continues its work to confront the virus through innovative research and collaboration.
With funding and support from Kentucky's National Science Foundation (NSF)-sponsored Established Program to Stimulate Competitive Research (EPSCoR), a team from UK and Somerset Community College (SCC) is creating 3D-printed, membrane-filtered face masks that can inactivate the coronavirus. The goal, through passive decontamination, is to not only protect people from breathing in viruses, but to eliminate them on contact.
Isabel Escobar, professor of chemical and materials engineering in the UK College of Engineering and associate director of UK's Center of Membrane Sciences, is working to perfect the central component of the masks — the filter. This filter will contain a unique membrane composed of a polymer dissolved in a nontoxic, bio-derived solvent, which will then be chemically bound to medical-grade silver nanoparticles, known for their antiviral efficiency.
"The virus is about 120 nanometers in size — in the world of membranes, that's large," Escobar said. "Even more so, it's not going to come as a virus by itself, flying in the air. It's going to come in the saliva, so it's going to be a much larger particle. A large particle is just not going through (this filter)."
But Escobar's research takes it a step further, adding the silver nanoparticles for the passive disinfection.
"(The silver nanoparticles) prevent the virus from binding and attaching, and it inactivates," she said.
Eric Wooldridge, professor of additive manufacturing at SCC, and his team will be providing the substrates, or the structure, of the masks. These substrates, made of polypropylene, will be 3D-printed in a honeycomb pattern to allow for a strong, breathable structure. The antiseptic membranes from Escobar's team will then line the insides, ultimately creating a safer, cost-effective and environmentally sustainable PPE that would match or exceed N95 mask requirements.
"Utilizing SCC's additive manufacturing capabilities to produce the base components combined with UK's groundbreaking nanotechnology to provide the coatings, our goal is to not only demonstrate that it can be done, but that we can rapidly scale production through our KCTCS additive manufacturing network," Wooldridge said. "This collaboration represents one of the primary goals of the KY NSF EPSCoR program: bridging the gap between theoretical research and practical application to rapidly respond to a need and create solutions that truly matter to the Commonwealth."
"I love the fact that the 3D-printed supports are from a collaboration with a community college," Esocbar said. "This shows that without the help of a community college, this project would not have been possible. We are, all together, an intellectual force."
Escobar, originally from Rio de Janiero, Brazil, has spent the majority of her life working on membrane filtration, with the focus of providing clean water access to the world. When the COVID-19 pandemic hit, Escobar realized her work could also be applied to filtering viruses.
The team's antiviral masks have the potential to positively impact the state, nation and world in response to COVID-19. The collaboration is an example of how KY NSF EPSCoR's supported researchers have the knowledge base and creativity to pivot their research in the midst of a public health crisis.
"KY NSF EPSCoR is in a unique position to see connections between projects that are unknown to researchers — without their vision, my idea of making passive disinfection face masks using membranes might have stayed as just an idea," Escobar said. "But thanks to the vision of KY NSF EPSCoR, Eric Wooldridge and I connected and were able to not only develop a short-term plan to make face masks but also develop a long-term plan for research at the forefront of innovation."
The KY NSF EPSCoR funding comes a month after a similar project at UK was funded by an NSF Rapid Response Research (RAPID) grant. This project, led by UK's Dibakar Bhattacharyya (known to friends and colleagues as "DB"), also seeks to develop antiviral membrane masks, but through different means. DB, who is director of the UK Center of Membrane Sciences, is a mentor and colleague of Escobar, and actually recruited and brought her to UK in 2015.
"I have to say (DB) is probably one of the people that I respect the most in the world, probably one of the most brilliant minds alive, and he and I spend a lot of time discussing research ideas," Escobar said. "We have a lot of projects at the Center of Membrane Sciences. We aim to determine how membrane science and technology can help solve problems communities are facing."
http://uknow.uky.edu/research/uk-scc-team-confront-covid-19-antiviral-membrane-3d-printed-face-masks
TTG has Membrane Media for Face Masks with a Number of Claimed Advantages
Trinity Technology Group's (TTG) created a new AIRADIGM three-layer composite medical face mask media.
"We are proud that our proprietary AIRADIGM technology can help better protect people on the front lines of healthcare today," said Greg Vas Nunes, TTG's CEO. "We applied our significant experience in membrane and fabric construction to create a composite material that provides several unique performance features not currently available."
AIRADIGM composite face mask material is a proprietary design that features:
<![if !supportLists]> · <![endif]> Spun-lace polyester outside layer for durability;
<![if !supportLists]> · <![endif]> ePTFE membrane core for enhanced filtration and breathability;
<![if !supportLists]> · <![endif]> Spun-bond polypropylene inside for softness and moisture management; and
<![if !supportLists]> · <![endif]> The composite media is sonically laminated for integrity and increased mask lifespan.
<![if !supportLists]> · <![endif]> This unique, lightweight, bonded composite keeps fluids and particles out but allows body heat and vapor to escape for long term comfort. Also, the composite's membrane core is breathable and increases the wearer's protection. Studies have shown that PPE comfort is a must for user compliance and concentration, both of which are absolutely critical in medical settings.
<![if !supportLists]> · <![endif]> The proprietary membrane provides filtration capabilities that do not degrade with humidity unlike traditional melt blown mask materials. Microbe and particle protection levels stay consistently high for all-day protection without frequent mask replacement. Masks made with the special AIRADIGM media can be autoclaved and safely reused. These benefits relieve the stress on the PPE supply chain and improve return on investment. Plus, substantially fewer masks end up in landfills.
<![if !supportLists]> · <![endif]> Third party testing and certification is under way at Nelson Labs to confirm that the AIRADIGM surgical grade face mask media exceeds ASTM F2101 for Bacterial and Viral Penetration, ASTM F1862 for Blood Penetration, and ASTM F2299 for Particulate Infiltration, key criteria for N95 and ASTM Level 3 face masks.
Transparent Mask Developed by Swiss

A fully transparent surgical mask that filters out germs but allows facial expressions to be seen has been developed by Swiss scientists. Caregivers should be able to wear them from the summer of 2021.
<![if !vml]>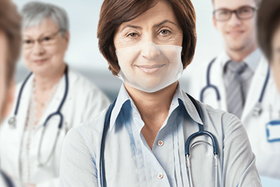 <![endif]>
For some segments of the population – like children, the elderly and the hearing impaired – the [current] masks are a major obstacle to communication," said the Swiss Federal Laboratories for Materials Science and Technology (EMPA) in a statement on Tuesday.
Along with researchers at the Swiss Federal Institute of Technology Lausanne (EPFL), EMPA has been working for two years on a completely transparent surgical mask.
They have now finalized a biomass-based material to manufacture the so-called HelloMasks and have created a start-up called HMCARE, based on the Biotech campus in Geneva, to market them.
The EMPA and EPFL researchers spent two years finding the right combination of transparency, resistance and porosity. They eventually came up with a membrane made from a polymer developed specifically for this application.
Because the new masks will be disposable for optimal efficacy, like existing surgical masks, the researchers focused from the start on finding a material that was either recyclable or biodegradable. "Our masks are made at 99% from a biomass derivative, and we'll keep working on them until they're completely eco-friendly," Pelet says.
Mask Policy Review

Should We Rethink our Whole Mask Policy?

Mask policy to combat COVID is based not on protecting the wearer but on protecting others from being infected by the wearer. There is an argument to be made that the emphasis should be the other way around. If everyone is protected then stopping the virus at its source is not so critical. It is appealing to just focus on stopping the source as you would by just turning off a garden hose. But if the water is already part of a rain storm, source control is too challenging. Virus in big cough droplets can be likened to the garden hose whereas virus aerosols can be likened to the rain storm.

We have mounting evidence that at least some of the COVID transmission is through small droplet aerosols or on virus attached to small particles. The argument can be made that the most important safeguard will be a highly efficient N95 or even N99 mask. Here are some examples
<![if !supportLists]> · <![endif]> Medical personnel are exposed to thousands of times more COVID than others but they wear N95 or even more efficient masks and avoid infection
<![if !supportLists]> · <![endif]> 60 choir members in Washington State attended a 2 hour choir practice but sanitized everything and kept 6 feet apart. 45 of them became infected. If they had worn surgical masks maybe only 25 would have become infected. If they had all worn N95 masks none of them should have become infected.
<![if !supportLists]> · <![endif]> At a Southern China restaurant where the air conditioner spread COVID N95 masks could have prevented the spread.
<![if !supportLists]> · <![endif]> If those passengers on the Diamond Princess isolated in their cabins and inhaling viruses through the HVAC system had instead roamed the ship in N95 masks they would have been spared.
Should task # 1 be to protect individuals rather than keep them from being spreaders?

What hospital would want to put efficient masks on COVID patients but leave medical personnel without protection? In theory the concept works well. Just control a few patients and then not have to worry about anyone else. In practice the obvious result would be disaster as COVID leaks would soon fell the medical workers. The takeaway is that it is very difficult to prevent COVID from entering the air. The same could be said for the concept that wearing inefficient masks will efficiently capture any virus generated by the wearer Since these masks are rated at very low efficiency on 0.3 micron particles and since they do not fit tightly most aerosols will pass through or around the mask
There are many arguments to be made for and against this new concept. They all depend on facts which are in dispute or not clearly understood. McIlvaine will be conducting a webinar on June 18 to discuss all of the following factors.
Virus Factors
<![if !supportLists]> · <![endif]> The size and proliferation of aerosols
<![if !supportLists]> · <![endif]> The percentage of virus in aerosols versus larger droplets
<![if !supportLists]> · <![endif]> The viral load
<![if !supportLists]> · <![endif]> Minimum infectious dose
<![if !supportLists]> · <![endif]> Life of virus
<![if !supportLists]> · <![endif]> Virus rejuvenation from dormancy
<![if !supportLists]> · <![endif]> Creation of aerosols from viruses leaving surfaces
<![if !supportLists]> · <![endif]> Efficiency of various masks in removing viruses
<![if !supportLists]> · <![endif]> Various mask media options
<![if !supportLists]> · <![endif]> Wash ability
<![if !supportLists]> · <![endif]> Efficiency reduction over time or with washing
<![if !supportLists]> · <![endif]> Mask fit
<![if !supportLists]> · <![endif]> Comfort
<![if !supportLists]> · <![endif]> Breathability and oxygen deprivation
<![if !supportLists]> · <![endif]> Valve options
<![if !supportLists]> · <![endif]> Killing as well as capturing viruses
<![if !supportLists]> · <![endif]> Age and immune response
<![if !supportLists]> · <![endif]> Other medical conditions
<![if !supportLists]> · <![endif]> Lung function
<![if !supportLists]> · <![endif]> Activities
Environment
<![if !supportLists]> · <![endif]> Virus load
<![if !supportLists]> · <![endif]> Percentage of aerosols
<![if !supportLists]> · <![endif]> Humidity
<![if !supportLists]> · <![endif]> Air flow patterns
<![if !supportLists]> · <![endif]> Benefits of capturing other contaminants
Virus Factors
Size and proliferation of Aerosols. We breathe in millions of particles per minute but must avoid just 10 viral particles. Small particles such as virus aerosols are invisible. This can provide a false sense of safety. In every cubic meter of air we inhale we also inhale 35 million particles greater than or equal to 0.5 microns in diameter. We inhale even more smaller particles in the 0.1 to 0.2 micron range which is the size of the virus.
The following table is designed to rate cleanrooms.
ISO 14644-1 Cleanroom Standards
Class

maximum particles/m3

FED STD 209E
equivalent

>=0.1 µm

>=0.2 µm

>=0.3 µm

>=0.5 µm

>=1 µm

>=5 µm

ISO 1

10

2

ISO 2

100

24

10

4

ISO 3

1,000

237

102

35

8

Class 1

ISO 4

10,000

2,370

1,020

352

83

Class 10

ISO 5

100,000

23,700

10,200

3,520

832

29

Class 100

ISO 6

1,000,000

237,000

102,000

35,200

8,320

293

Class 1,000

ISO 7

352,000

83,200

2,930

Class 10,000

ISO 8

3,520,000

832,000

29,300

Class 100,000

ISO 9

35,200,000

8,320,000

293,000

Room Air
There are some reports that the minimum infectious dose for COVID -19 can be as low as 10 viral particles. This means that if just a tiny fraction of the particles we inhale every minute are COVID we can become infected. For comparison purposes a pharmaceutical cleanroom typically is ISO 5. The cleanest operating theaters in hospitals are ISO 4. The semiconductor industry spends billions of dollars per year to reach ISO 3. The task of keeping small particles such as viruses from occupying space is very difficult.
Many of the particles we inhale are long distance travelers. For example mercury emitted from gold mines in Brazil has been traced to the Artic. When a volcano erupted in Iceland the skies turned dark in Europe for weeks. Italian researchers have found COVOD on air pollution particles in the Lombardy region. Another takeaway is that social distancing has limited effectiveness. Viruses travel on cigarette smoke sized particles. So one way to view the task is to think that everyone you encounter is puffing away and you have to avoid even inhaling a few of his smoke particles.
<![if !vml]>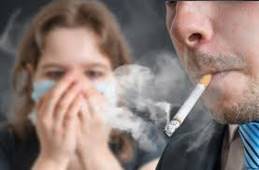 <![endif]>
The percentage of virus in aerosols versus larger droplets: Viruses attach to droplets or particles. They are only 0.1 microns in diameter but may be in droplets 20 microns in diameter or larger. Droplets in the 5 micron range can also be generated or can be the result of evaporation of larger droplets. In medical changing rooms in China higher viral loads have been noted. Viruses are also being aerosolized by cleaning the floor or from other surfaces.
Viral Load: The viral load varies by individual and activity. A lusty super spreader singer was able to generate many thousands of aerosols and infect 45 people in just two hours.
Minimum Infectious Dose: There are reports that only 10 viral particles is enough to cause an infection. Other views are that it generally requires a large number of particles over a period of time. Since large cough or sneeze droplets don't travel far, social distancing is therefore the best way to avoid infection. However, if small numbers of airborne viruses can cause an infection then a whole different approach is needed.
Life of Virus: The virus is known to remain viable for hours in the air and for days on various surfaces.
Virus Rejuvenation from Dormancy: It has now been documented that viruses are not necessarily dead but just dormant as they travel through the air. They can then penetrate the lungs where the moisture revives them.
Creation of Aerosols from Viruses Leaving Surfaces: There are numerous cases tracking aerosols which were originally on surfaces such as floors or clothing.
Mask Factors
Efficiency of Various Masks in Removing Viruses: Masks vary in efficiency depending on the media and the fit. Viruses average 120 nm in diameter but can be entrained in droplets larger than 300 nm. In general the efficiency improves with more media which means higher pressure drop. The meltblown media used with most N95 masks is electrostatically charged which improves capture efficiency.
The pressure drop impacts breathability. It increases as the square of velocity. So where there is lots of leakage such as the surgical mask with the gap below, the actual pressure drop is much lower than 2.5 Pa. this is because much of the air is bypassing the media. It is clear that surgical masks with gaps do not remove a big percentage of small particles. Most homemade masks are even more inefficient. In some cases a heavy cotton fabric is by itself quite efficient but with high resistance it will cause more air to bypass the mask. The takeaway is that the masks being worn by the public do not protect against virus aerosols.
Table 1. Filtration Efficiencies of Various Test Specimens at a Flow Rate of 1.2 CFM and the Corresponding Differential Pressure (ΔP) across the Specimens
flow rate: 1.2 CFM

filter efficiency (%)

pressure

differential

sample/fabric

<300 nm

average ± error

>300 nm

average ± error

ΔP (Pa)

N95 (no gap)

85 ± 15

99.9 ± 0.1

2.2

N95 (with gap)

34 ± 15

12 ± 3

2.2

surgical mask (no gap)

76 ± 22

99.6 ± 0.1

2.5

surgical mask (with gap)

50 ± 7

44 ± 3

2.5
The analogy can be made between a garden house and a rainstorm.
<![if !vml]>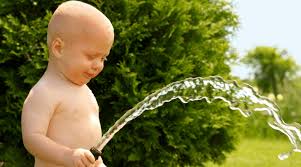 <![endif]> <![if !vml]>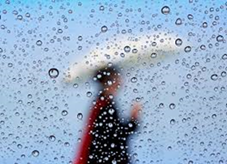 <![endif]>
If you only want to remove large cough droplets it is as easy as dodging a garden hose wielded by a baby. If you want to stay dry in a major storm that is very challenging.
Various mask media options: Surgical masks are made mostly with meltblown polypropylene. The meltblown is sandwiched between two layers of spun bond media. There is an electrostatic effect which improves on the already high efficiency due to the fine fiber matrix. There are some new meltblown designs with claims of even higher efficiency at a given pressure drop.
There are a number of alternative materials which are now available commercially. They include nanofiber membranes which are claimed to have higher efficiency at a given pressure drop. They are also washable. The media is available in large quantities. In the case of Cummins the offering is based on media originally designed for filtering engine air intakes. In the case of Ahlstrom it is the use of surgical drapes. Berry is another supplier diverting media used from other applications.
Efficiency: Some of the newly available media has efficiencies rated at N99 or better. 3M already offers a range of options higher than N95 using meltblowns. The question of a carbon layer and its impact on efficiency also needs to be addressed.
Wash ability: N95 masks with meltblown media can be decontaminated with UV light, H2O2 , or other means. Battelle reports ten time successful reuse of masks decontaminated with H2O2. Masks made with membrane materials can be washed by various means and reused many times. This reuse ability results in a better tight fitting mask with an affordable cost per use.
Efficiency reduction over time or with washing: The support structure as well as the mask media can deteriorate. The ability to separate the media and support structure means that the structure can provide longer term use.
Mask Fit: The mask fit is critical to providing protection. The more expensive reusable masks can provide that fit.
Comfort: N95 masks without valves but with a tight fit are uncomfortable to wear for long periods. The medical worker can endure the discomfort for a shift but it is unrealistic to think that people will wear N95 tightfitting masks without valves throughout the day without serious negative impacts.
Breathability and oxygen deprivation: With a tight fitting N95 mask the quantity of air inhaled is down as much as 25%. Some CO2 is re-entrained in the new breath. Two Korean 14 year olds who were required to run in 1000 meter tests with their masks on died last month on the track. The government has since suspended the requirement.
Valve options: There is a large industry which has flourished for many years. Masks with valves are purchased by those wanting to protect themselves from air pollutants. In China there are Vogmask stores where all they sell are dozens of varieties of highly efficient designer masks. They are equipped with one way valves which allow the air to be exhaled through the valve.
<![if !vml]>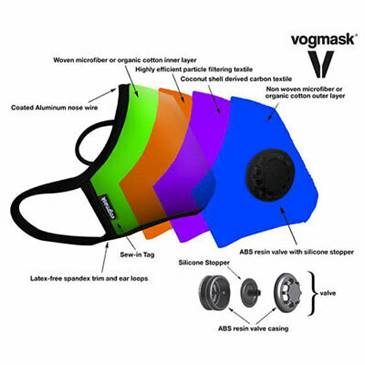 <![endif]>
Millions of people have been wearing these valve masks to protect themselves without concern about their potential contamination of others. Why is this not an important model for us to use going forward?
Killing as well as capturing viruses: A number of media designs incorporate silver or other materials which will kill bacteria and viruses.
Wearer factors
Age and immune response: The use of masks by the elderly is conditioned on the breathability. It is unlikely that anyone with reduced lung function or heart problems could wear an N95 mask without a valve. Shouldn't the type of mask be dictated by this need? Should the elderly be deprived of efficient masks because valves are prohibited? Sacramento says: Masks with valves are prohibited. Let's consider mask recommendations by segment and not as one.
Other medical conditions: Those with impaired immune systems can probably justify an N99 Mask and tight fit. This will require use of a valve. The tight fit is also a function of the valve. If you are blowing air out around the edges of the mask you tend to expand the opening.
Lung function: The lung functions vary among individuals creating an important variable in mask selection.
Activities: Any job function involving physical labor including many meat processing jobs needs to take into account the importance of wearing a mask which does slow down oxygen intake.
Environment
Virus load: The wearing of masks can be tailored to the viral load and therefore the risk. There is a movement to develop a N-80 mask which would be less efficient than the N95 but more efficient than the typical surgical mask. Individuals could have all three mask options available. They could decide where it is most appropriate to not wear a mask or to wear the N80 or N95.
Percentage of aerosols: The danger at any point in time is a function of the percentage of the total viral load which is in the form of aerosols.
Humidity: In general higher humidity deters the virus when it arrives. The virus travels shorter distances in humid air than in dry air where the droplet size is smaller.
Air Flow Patterns: The viral load is in part determined by air flow. This important subject is dealt with in a separate analysis.
Benefits of capturing other contaminants: The coronavirus pandemic will subside at some point in time. There will be uncertainty about when and if it will return. Wearing an N90 mask may become as much a habit as drinking bottled water. Everyone is subjected to high air pollution levels at some point in time during the year. In some countries this is a daily occurrence. But even in others the mask will be justifiable. St Louis was meeting its particulate ambient emission goals and was assumed to be meeting its toxic metal goals which had been shown to track the total particulate. However, when the city installed monitors to directly measure toxic metals, they found spikes on days when the wind blew from the direction of a lead refinery.
Hospital acquired infections cause 1.7 million illnesses and 99,000 deaths per year in the U.S. Patients would be well served to wear N95 masks
Face Mask Performance Articles in Previous Alerts
Silicon Based Membrane for Masks has Efficiency and Other Advantages
Researchers funded by King Abdullah University of Science and Technology
have developed a membrane that can be attached to a regular N95 mask and replaced when needed. The filter has a smaller pore size than normal N95 masks, potentially blocking more virus particles.
N95 masks filter about 85% of particles smaller than 300 nm, according to published research. SARS-CoV-2 (the coronavirus that causes COVID-19) is in the size range of 65–125 nm, so some virus particles could slip through these coverings. Also, because of shortages, many health care workers have had to wear the same N95 mask repeatedly, even though they are intended for a single use. To help overcome these problems, Muhammad Mustafa Hussain and colleagues wanted to develop a membrane that more efficiently filters particles the size of SARS-CoV-2 and could be replaced on an N95 mask after every use.
To make the membrane, the researchers first developed a silicon-based, porous template using lithography and chemical etching. They placed the template over a polyimide film and used a process called reactive ion etching to make pores in the membrane, with sizes ranging from 5–55 nm. Then, they peeled off the membrane, which could be attached to an N95 mask. To ensure that the nanoporous membrane was breathable, the researchers measured the airflow rate through the pores. They found that for pores tinier than 60 nm (in other words, smaller than SARS-CoV-2), the pores needed to be placed a maximum of 330 nm from each other to achieve good breathability. The hydrophobic membrane also cleans itself because droplets slide off it, preventing the pores from getting clogged with viruses and other particles.
https://pubs.acs.org/doi/full/10.1021/acsnano.0c03976
Fibre Extrusion Technology Says There May Be Better Answers Than Polypropylene for Meltblowns
Fibre Extrusion Technology (FET), a UK-based specialist in process solutions and equipment for the manmade yarns and fiber extrusion industry, has received unprecedented inquiries about its nonwoven meltblowing systems since the onset of the coronavirus crisis.
"We're currently running trials, preparing samples and defining specifications for companies in Germany and Italy, as well as the UK, and we could already have sold the lab line we have here many times over," said Managing Director Richard Slack. "It's primarily designed for R&D and pilot scale applications, but trials have proven it to be suitable for the low volume production of critical meltblown face mask materials. Some of the customers to whom we've supplied similar lines have already pivoted their production to this, which has generated further interest.
"We feel, however, that we are ideally placed to offer services to nonwoven companies who may be exploring alternatives to polypropylene in meltblown, due to our experience in working with such a wide range of fiber types."
FET's meltblown system was originally developed for companies looking to process high melt viscosity medical grade resorbable polymers such as polyglycolic acid (PGA), polylactic acid (PLA) and polyhydroxl btyrate (PGH), mainly for use in implantable products and other medical devices.
The key applications for these fibers are in hernia repair patches, staple reinforcement buttresses, artificial skin, adhesion barriers periodontal and ringival repair materials and those for tendon and ligament repair.
"Our meltblowing system provides medical companies and others dealing in such fibers with a simpler processing route than other techniques such as needle punching and a wide range of structural and mechanical properties is obtainable from batch production," Slack said. "There are also numerous options for post-processing of the webs, by calendaring, point bonding or lamination."
Performance polymers such as TPU polyurethanes and TPE thermoplastic elastomers are also processed by a number of leading sportswear companies on FET meltblown systems, while engineering polymers such as ABS and PEEK, as well as polycarbonate and halogenated polymers, are other possible raw materials.
It is in the area of sustainable resins, however, that FET believes much more can be achieved.
Meltblown polypropylene nonwovens are the critical component of the face masks needed for Covid-19 frontline workers and their scarcity on the open market has in part been the reason for the reported shortages around the world.
An estimated 40 million face masks and other disposable nonwoven-based PPE items are currently estimated to be being consumed each day, amounting to a daily 15,000-ton mountain of waste — much of which must be incinerated.
"We've done a lot of work with sustainable polyamides and polyesters, as well as with PHAs and a range of of PLAs," Slack says. "In the longer term, there has to be a more sustainable option than polypropylene in these products and the opportunity to explore potential alternatives — drawing on the know-how from the extensive body of tests and trials we've carried out in the past, as well as the machines run commercially by our customers — is something I believe makes us pretty unique in the services we can offer nonwovens manufacturers.
Conventional meltblown and spunbonded systems are usually designed for high capacity systems and are not suitable for product development, he adds.
"They consume high quantities of materials and as a consequence are not suitable for development work with high value materials or for niche applications. They also rely on specially formulated low viscosity polymers which is a further limitation which does not apply to us.
In processing finer filaments, FET has achieved structures with average mean filament diameters of 1.68 microns and 58% of between 0.5 to 1.5 microns, in web thicknesses of 37 microns with bulk density of 98 mg/ml and porosity of around 92%.
FET's system is designed for the processing of pure polymer with no need for processing aids or additives.
"A wide range of structural and mechanical properties are obtainable, with numerous options for post-processing of the web, such as by calendaring, point bonding or lamination," Richard Slack concludes. "More effective and sustainable PPE solutions could well be achieved through further product development."
NXTNano has Nanofiber Media Available for Face Masks
A recent independent test by a mask supplier showed high efficiency for media made by NXT Nano. The company currently has some capacity available for manufacturing N95 rated face mask material. However they released this statement "Please understand this situation is fluid, and that as COVID-19 continues we expect this capacity to fill".
Materials are nanofiber coated PET in ranges from 29 to 70 GSM depending on the needs of individual manufacturing lines.
In 2019 NXTNano, commenced installation of its third HYPR-Spun Nanofiber production line, bringing its annual capacity to above 60 million square meters of high efficiency air filtration media. Like NTXNano's existing production lines, the newest equipment will facilitate high volume nanofiber manufacturing up to a maximum roll width of 2.15 meters.


"As we continue to see very strong demand in nanofiber air filtration medias as well as our apparel, medical, and microfiltration business segments, we felt it was critical to keep capacity ahead of demand so our customers can continue to count on the fast order turns they have become accustomed to," says director of sales Andrew McDowell.
Tustar Teams with Neatrition to Introduce High Efficiency Masks to the U.S. Market
With the help of Ann Arbor, Michigan-based TusStar, Chinese nanotechnology company Neatrition is introducing new KN95 safety masks to the U.S. market. These easy-to-clean, multiple-use masks will shield users from respiratory droplets and other particulate matter during the current COVID-19 crisis and beyond.
Neatrition collaborated with Tsinghua University, a major research university in Beijing, to develop and create these new nano medical masks that offer several advantages over traditional medical masks. Made in labs in China and overseen by academic researchers to ensure clean standards and a top-of-the-line product, the Neatrition KN95/NMV95 masks have a unique micro-nano sharkskin structure and bacteriostatic features that not only block aerial droplets from getting in, but also quickly kills viruses attached to the surface of the mask. U.S. Lab testing is currently underway for the anti-virus feature in which a virus will become inactive, degenerate and die within 1 minute on the surface of the material.
These advanced protection devices feature a strong droplet surface coating that allows the masks to last up to 10 times longer. The masks' soft sewn stretch knit ties and carefully crafted inner mask design provides a comfortable fit that is easy to wear for long stretches and is exceptionally breathable.
Traditional protective masks use material that can only be used once and only isolate droplets from the air," said TusStar President Frank Ni. "Unfortunately, many medical professionals and mask wearers are then still infected by the virus even after using these traditional masks because the virus is still alive on the outside surface."
A 5-mask package sells for $32, plus tax and shipping. Quantities of 500 masks are available at a discounted rate of $2,800.
Beijing Neatrition Technology Co., Ltd. was born in Tsinghua University. It is a new material and technology company integrating R & D, production and sales (Neatrition has developed superhydrophobic technology. The series products mainly cover (super) hydrophobic nanomaterials, which are waterproof, dustproof, snowproof, oilproof, etc. Neatrition, as a frontier science and technology enterprise in Zhongguancun, is committed to solving the surface cleaning and maintenance of all related objects for industrial and other users, the efficiency of its masks are compare to traditional N95-N100 masks.
Neatrition® nano medical mask

Traditional medical mask

Filtration Efficiency

Virus survival time on the surface

Test with NaCl particles

Test with oil particles

Neatrition®

Traditional medical mask

Neatrition® NM95(can be reused up to 10 times)

KN95(can be reused up to 3 times)

>90-95%

--

<2min

>2d

Neatrition® NMV95(can be reused up to 20 times)

N95(can be reused up to 3 times)

>95%

--

<2min

>2d

Neatrition® NM100(can be reused up to 20 times)

N100(can be reused up to 3 times)

>99.9%

--

<2min

>2d

Neatrition® NTV100(can be reused up to 20 times)

None

>99.9%

>99.9%

<2min

>2d
Due to the anti-bacterial qualities the masks can be stored and reused. One regimen is to rotate masks every three days to insure inactivation of the virus which was retained on the mask surface.
Sciessent Antimicrobial Used in Hanesbrands Masks
Sciessent has partnered with both healthcare and non-healthcare manufacturers to develop and gain regulatory clearance for masks containing Agion Antimicrobial for use in healthcare settings.

Sciessent has helped two suppliers obtain approval for the anti-microbial masks—one with a traditional medical device manufacturer following the severe acute respiratory syndrome (SARS) outbreak in the early 2000s, and another this year with a manufacturer from outside of the medtech industry—comparing and contrasting the two from an FDA regulatory process perspective.

Following the 2003 SARS outbreak, medical device manufacturer Nexera made the decision to develop a N95 respirator mask constructed from Foss Performance Materials' Agion Antimicrobial treated polyester fiber. As a medtech company, Nexera had experience with FDA review for its devices so it understood what the process entailed. The company looked to Sciessent as its supply partner to help with regulatory considerations related to the antimicrobial.

Because Nexera had developed the mask in response to SARS, as a product that could help in future respiratory virus outbreaks, the Nexera and Sciessent teams had ample time for pre-planning prior to FDA submission. This included the opportunity to develop data to support the mask's antimicrobial claims. Working together, the teams successfully obtained FDA clearance for Nexera's SpectraShield 9500 N95 respirator mask, and later leveraged additional data to secure an updated 510(k) with cleared claims to inactivate viruses by 99.99 percent in five minutes.
Sciesent also worked with Hanesbrands. While the FDA is leveraging its Emergency Use Authorization (EUA) to accelerate the timeframe for clearance of products to address the COVID-19 crisis, and this is certainly a benefit to companies producing PPE, Hanesbrands still had to meet the agency's requirements. Sciessent served as a collaborative partner in these efforts with medical device expertise, a wealth of data, and extensive experience in navigating the FDA's regulatory review pathway.

Unlike the premeditated work with Nexera to develop a mask following the SARS outbreak nearly two decades ago, work with Hanesbrands required that the team leverage existing knowledge and experience to quickly fill-in various information gaps. Instead of developing a product from the ground up, Hanesbrands was repurposing its knitted cotton fabrics treated with Agion Antimicrobial to develop its masks.

Sciessent supported Hanesbrands in their interactions with FDA. Given the urgent need to address the PPE shortage, it appeared communication was far more open and frequent with the agency under the EUA directive. The correspondence and exchange of information between Hanesbrands and FDA moved quickly. In this circumstance, the FDA did not clear specific efficacy claims; in fact, the agency said no efficacy claims could be made.

Having worked closely with the FDA with Nexera for its N95 mask and with other medical device manufacturers for their products, Sciesent was able to pivot quickly and apply its understanding of the regulatory process to the Hanesbrands situation. It was also able to leverage the data on safety and efficacy, including viruses from the Nexera mask's second 510(k) clearance, to help fast track the Hanesbrands mask clearance. As a result, FDA cleared Hanesbrands' mask in a matter of days, enabling the company to quickly transition its operations to relieving the PPE shortage.
Teho Filter Using Ahlstrom Media for N88 Masks in Finland
Ahlstrom-Munksjö is supplying facemask material from its plant in Tampere to Teho Filter for the assembly of masks. The masks will be available in May-June in the stores of Finland based retailer S Group. The filtration efficiency of the face mask material of 88% has been verified by VTT Technical Research Centre of Finland. It is substantially higher than the roughly 20-40% efficiency of masks made from cloth; the company claims. The filtration efficiency of a mechanical filter media remains intact over time compared to electrostatically charged materials the efficiency of which may decrease in humid conditions, Ahlstrom-Munksjö adds.
"We work with determination in order to enhance the supply of face masks for consumers in Finland. At the same time, we are further supporting the reopening in Finland once the corona pandemic restrictions loosen," states Otto Kivi, Sales Manager at Ahlstrom-Munksjö's Filtration business.
The company announced in April that it would start the production of facemask materials in Tampere, where its plant is capable of producing material for more than 10 million masks in the short-term and has the ability to increase capacity to about 30 million masks per month. Earlier in May, the company announced a similar co-operation on facemask supply with other Finnish players.
" We are also very pleased about the continued product development in Tampere: our production now meets the filtration efficiency requirements of surgical face mask materials. Currently, we are working together with our customers to develop a product that meets the European Standard EN 14683 for surgical masks. The availability of various protective gear is vitally important," Kivi continues.
Ahlstrom-Munksjö has long-term and in-depth knowledge in the production of protective materials for the healthcare industry. Due to the coronavirus pandemic, the company has increased its offering in protective fabrics and expanded the production of face mask materials globally to support the healthcare sector.
Russian Scientists Develop Nanofibers for Masks
A group of scientists from Russia's Krasnodar Region invented a nanofiber material for production of medical masks and respirator disposable filters that is more effective for prevention of the coronavirus spread than normal cloth, Dmitry Lopatin, a team representative, told TASS recently.
"We have begun our research in late March: kerosene soot particles have the same size as the coronavirus. We tested both the normal cloth used in mask production and our nanofibers for absorption. Currently, we are looking into two possible applications of our nanofibers for coronavirus prevention: production of medical masks and disposable respirator filters," Lopatin said. Dmitry Lopatin is a graduate of the Kuban State University. The group conducts its research in the Krasnodar Region's Goryachy Klyuch.
O2 Nano Mask is Low Pressure Drop, Efficient and Reusable
Viaex Technologies, a material science startup and laboratory, has been researching nanomaterials and developing their own products for over six years. They have collaborated with DaD Sewing House, a network of local manufacturers that provide employment opportunities to skilled craftspeople in San Francisco, to create the O2 Nano Mask. Distributed under O2 Brands, the O2 Nano Mask was created in April 2019 as a high-quality pollution mask, and this year, its production was increased to meet the demand of communities and healthcare facilities for protective masks for health workers and people affected by Covid-19. O2
The O2 Nano Mask is sold at $35.99 and comes in medium and large sizes.
The mask consists of two components: the reusable skin and the replaceable filter. Each filter features three layers: two layers of PET and one embedded with nanofiber material. The fibers are on the order of 85 ± 20 nm in diameter. This nanoscopic morphology creates uniquely small pores and drastically increases the membrane surface area while leaving open-air travel paths in 99% of the membrane volume.
The O2 Nano Mask's filter component stops 99% of PM2.5 particles, including dust and other air pollutants; pollen; dander and other allergens; bacteria and other germs; harmful gases; smoke (including from wildfires) and other fumes with its five-layer protection and hypoallergenic hydrophobic nanofilter. The filter media used has achieved 99% particle removal efficiency based on EN143 European certification standards and third-party testing.
The mask's outer shell component can last for a long time. The mask is machine washable and tumble dryer safe. It's intricately constructed to be worn time and time again. The filters are long-lasting depending on the level of pollution and are also fully recyclable. Each O2 Nano Mask filter can last from eight hours to 20 days (with light exercise in a moderate AQI environment).
Cambridge has an Efficient and Comfortable Mask but with Valve
The pro mask uses a unique triple filter system which has been tested by Nelson and reaches N99 efficiency levels.
The first layer of the filter system catches larger pollution particles such as dust and PM10. It's then backed up by the Three-Ply Micro Particulate which stops nearly 100% of smaller particulate matter such as PM2.5 and PM3.0.
The inner filtration layer is made from 100% pure activated carbon cloth, originally developed by the UK Ministry of Defense for chemical, biological, and nuclear warfare protection.
The carbon filter is treated with silver to ensure 99% of harmful pathogens are removed and killed. The filter material is comprised of a series of activated carbon filaments, each about 2,000 nanometers in diameter. Each filament is many times smaller than the typical grain size in standard carbon materials, making the rate of adsorption of pollutant gas much faster and therefore more powerful. It also means that bacteria and viruses are drawn to the filament surface much more efficiently, because there is so much more available surface than in a granular carbon.
The high number of filaments – spun into a yarn and then woven into cloth – makes the speed of adsorption extremely fast in a material that is still easy to breathe through. Not only are molecules such as pollutant gases and endotoxins quickly adsorbed into the pores from a much wider area, but the Van der Waals forces also attract and immobilize on the filament surface much larger particles including bacteria, which often have a negatively charged membrane. Together with the anti-bacterial silver added to the filament surface, the activated carbon cloth traps the bacteria and draws out the gel-like cytoplasm inside – killing it and preventing infection.
Cambridge uses British military technology developed for chemical, nuclear, and biological warfare in the mask that's manufactured in the UK. But the masks are assembled in Indonesia and China.
<![if !vml]>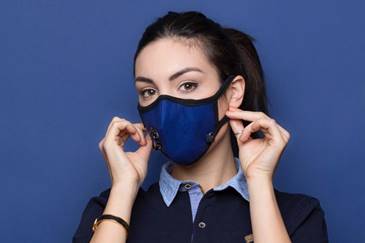 <![endif]>
Masks Performance Comparison
| | | | |
| --- | --- | --- | --- |
| | <![if !vml]> <![endif]>Cambridge Mask N99 PRO | <![if !vml]> <![endif]>Disposable Mask | <![if !vml]> <![endif]>Surgical |
| Fashion friendly | ✔ | ✘ | ✘ |
| Suitable for children | ✔ | ✘ | ✘ |
| More environmentally friendly long-lasting mask | ✔ | ✘ | ✘ |
| Comes with high quality cardboard for safe and easy carrying | ✔ | ✘ | ✘ |
| Adjustable earloops | ✔ | ✘ | ✘ |
| Blocks over 99% of viruses and bacteria | ✔ | ✘ | ✘ |
| Filters gas pollutants such as Ozone and oxides | ✔ | ✘ | ✘ |
| Mask filter life | 200-300 hours (3-6 months) | 8-10 hours | 8-10 hours |
| Cost per hour of use (USD) | $0.08c | $0.23c | $0.03c |
Draeger has Long Term Contract to Deliver N95 Masks to HHS
The U.S. Department of Health and Human Services (HHS) issued an award to Dräger for the supply of National Institute of Occupational Safety and Health (NIOSH) approved N95 respiratory protection masks at the end of March. The contract is part of the recent government announcements concerning the supply of masks. As part of the contract Dräger plans to increase U.S. domestic production of the masks and expand its manufacturing footprint over the course of the contract. Deliveries will take place over the next 18 months with a focus on accelerated supply wherever possible.
"Respiratory protection has been at the core of our capabilities for over 110 years. Our N95 mask design offers superior comfort and breathability and is certified to the NIOSH standard for particle respiratory protection," said President and CEO for Dräger in North America, Lothar Thielen. "This contract comes in addition to the ongoing work we are doing to protect frontline personnel in the fight against the pandemic. We are humbled to be able to support healthcare professionals and first responders with our Technology for Life, which spans both healthcare and safety applications. In addition we are proud to further increase our U.S. investments and manufacturing base in support of this contract."
Dräger is an international leader in the fields of medical and safety technology. Our products protect, support, and save lives. Founded in 1889, Dräger generated revenues of almost EUR 2.8 billion in 2019. The Dräger Group is currently present in over 190 countries and has more than 14,500 employees worldwide
CDC Approves Powered Air Purifying Respirators
NIOSH-approved respirators are available in many types, models, and sizes from many manufacturers for a wide variety of uses in many occupational settings. The most common types of respirators in healthcare are N95 filtering facepiece respirators (FFRs), surgical N95 FFRs, and PAPRs.
Of these three options, many healthcare practitioners are the least familiar with PAPRs. A PAPR is an air-purifying respirator that uses a blower to force air through filter cartridges or canisters and into the breathing zone of the wearer. This process creates an air flow inside either a tight-fitting facepiece or loose-fitting hood or helmet, providing a higher assigned protection factor (APF) than the reusable elastomeric non-powered air-purifying half facepiece (half mask) or N95 FFRs. A PAPR can be used for protection during healthcare procedures in which HCP are exposed to greater risks of aerosolized pathogens causing acute respiratory infections.
A PAPR may have a tight-fitting half or full facepiece or a loose-fitting facepiece, hood, or helmet. It has an OSHA APF of at least 25 for loose-fitting hoods and helmets, 50 for tight-fitting half masks, and 1,000 for full facepiece types and some loose-fitting hoods and helmets where the manufacturer's testing has demonstrated an APF of 1,000.
CDC has published recommendations for HCP respiratory protection and of commonly used NIOSH-approved, FDA-cleared, single-use filtering facepiece N95 surgical respirators. Properly fitted FFR and half facepiece reusable elastomeric respirators are expected to reduce exposures to one-tenth of the concentration that is in the air, based on OSHA's APF of 10 for these respirator types. All PAPR APFs exceed the APF of 10 for N95 FFR or elastomeric half facepiece respirators.
PAPRs reduce the aerosol concentration inhaled by the wearer to at least 1/25th of that in the air, compared to a 1/10th reduction for FFRs and elastomeric half facepiece air-purifying respirators. OSHA assigns an APF of 1,000 to some PAPRs with hoods or helmets. However, employers must have evidence provided by the respirator manufacturer that testing of these respirators demonstrates performance at a level of protection of 1,000 to receive an APF of 1,000. Absent such evidence, PAPRs with loose-fitting helmets or hoods have an APF of 25. When used properly, PAPRs provide increased protection and decrease the likelihood of infection transmission to the wearer as compared to FFRs and half face reusable elastomeric respirators.
A variety of NIOSH-approved PAPR designs are available. Examples include those with tight-fitting facepieces and loose-fitting hoods or helmets, blower styles, battery types (e.g., Lithium ion, Nickel-Metal hydride, Nickel Cadmium) or over-the-counter disposable batteries, and high efficiency (HE) filters or filter cartridges. HE filters are 99.97% efficient against 0.3 micron particles. A PAPR may have adjustable air flow rates for added comfort and a range of cartridge protections some of which are solely for particulates (HE filters) and others which also protect against chemical gases and vapors that can be used to help protect against hazards associated with the handling of certain hazardous drugs and cleaning/disinfecting operations. The substantial PAPR product diversity provides flexibility to customize protection needed in a healthcare setting.
IQ Mask Uses HEPA Grade Filtration Media
IQAir Mask features a unique exhaust valve design with an ultra-thin valve membrane for low air resistance and immediate air exchange. Many air pollution masks use ineffective material that wears out quickly due to moisture build-up and high filter material resistance – IQAir Mask ensures an even exchange of inhaled clean air and exhaled breaths while reducing moisture and CO2 build-up inside the mask to prevent drowsiness, headaches, or loss of energy.
IQAir Mask

<![if !vml]><![endif]>

General Features

Air leak protection

SoftSeal prevents air leakage with minimal pressure on facial skin

Filter media

Melt-blow cage (PE)
Multi-layer HyperHEPA for PM2.5 and fine particles
Non-woven glass microfiber, medical-grade HyperHEPA material

Breathing valve

FeatherValve for CO2 release upon exhalation

Mask structure

3D Filter Dome for space between media and skin

Sealant material

Terylene polyester fiber

Product lifespan

3-year shelf-life (recommended)

Suggested time for replacement

When the mask is broken, stained, or the respiratory resistance
increases significantly, please replace your mask with a new one.

Color

White filter material, gray sealant fabric and logo imprint

Storage temperature

< 70% rel. H, -4°F to 158°F (-20°C to +70°C)
Store in clean, dry bag or pouch in cool environment when not in use

Operating temperature

4° to 140° F (-20 to +60 °C)
A Mask is Not a Mask-Big Difference in Efficiency and Fit
An analysis of mask filter media shows that there are big differences between materials and the fit of the mask. Homemade masks can be quite efficient on removing particles such as viruses but the pressure drop is high. The fit of the mask means as much as the media efficiency. Details of the study are shown in an ACS publication https://pubs.acs.org/doi/10.1021/acsnano.0c03252
There is a need to evaluate filtration efficiencies as a function of aerosol particulate sizes in the 10 nm to 10 μm range, which is particularly relevant for respiratory virus transmission. The researchers carried out these studies for several common fabrics including cotton, silk, chiffon, flannel, various synthetics, and their combinations. Although the filtration efficiencies for various fabrics when a single layer was used ranged from 5 to 80% and 5 to 95% for particle sizes of <300 nm and >300 nm, respectively, the efficiencies improved when multiple layers were used and when using a specific combination of different fabrics. Filtration efficiencies of the hybrids (such as cotton–silk, cotton–chiffon, cotton–flannel) was >80% (for particles <300 nm) and >90% (for particles >300 nm). The researchers speculate that the enhanced performance of the hybrids is likely due to the combined effect of mechanical and electrostatic-based filtration. Cotton, the most widely used material for cloth masks performs better at higher weave densities (i.e., thread count) and can make a significant difference in filtration efficiencies. Studies also imply that gaps (as caused by an improper fit of the mask) can result in over a 60% decrease in the filtration efficiency, implying the need for future cloth mask design studies to take into account issues of "fit" and leakage, while allowing the exhaled air to vent efficiently. Overall, the study finds that combinations of various commonly available fabrics used in cloth masks can potentially provide significant protection against the transmission of aerosol particles.
Table 1. Filtration Efficiencies of Various Test Specimens at a Flow Rate of 1.2 CFM and the Corresponding Differential Pressure (ΔP) across the Specimens
flow rate: 1.2 CFM

filter efficiency (%)

pressure

differential

sample/fabric

<300 nm

average ± error

>300 nm

average ± error

ΔP (Pa)

N95 (no gap)

85 ± 15

99.9 ± 0.1

2.2

N95 (with gap)

34 ± 15

12 ± 3

2.2

surgical mask (no gap)

76 ± 22

99.6 ± 0.1

2.5

surgical mask (with gap)

50 ± 7

44 ± 3

2.5

cotton quilt

96 ± 2

96.1 ± 0.3

2.7

quilter's cotton (80 TPI), 1 layer

9 ± 13

14 ± 1

2.2

quilter's cotton (80 TPI), 2 layers

38 ± 11

49 ± 3

2.5

flannel

57 ± 8

44 ± 2

2.2

cotton (600 TPI), 1 layer

79 ± 23

98.4 ± 0.2

2.5

cotton (600 TPI), 2 layers

82 ± 19

99.5 ± 0.1

2.5

chiffon, 1 layer

67 ± 16

73 ± 2

2.7

chiffon, 2 layers

83 ± 9

90 ± 1

3.0

natural silk, 1 layer

54 ± 8

56 ± 2

2.5

natural silk, 2 layers

65 ± 10

65 ± 2

2.7

natural silk, 4 layers

86 ± 5

88 ± 1

2.7

hybrid 1: cotton/chiffon

97 ± 2

99.2 ± 0.2

3.0

hybrid 2: cotton/silk (no gap)

94 ± 2

98.5 ± 0.2

3.0

hybrid 2: cotton/silk (gap)

37 ± 7

32 ± 3

3.0

3.0
The quilter cotton mask could have a capture efficiency of less than 13%. This means that these masks are not effective in combatting the virus. Some of the fabrics which are effective have a high pressure drop. Most important the fit of the mask is a key factor. An N95 mask with a gap is only 34% efficient on particles less than 0.3 microns.
The advice about wearing masks tends to treat all masks as equal. In fact there is a world of difference.
W.L. Gore has a Number of Products it is Developing to Fight COVID
Gore has engineered prototype reusable mask covers to supplement clinicians' primary face masks. These covers, developed by a cross-divisional team, are made from a material that:
<![if !supportLists]> · <![endif]> is a proprietary Gore high-flow filtration laminate
<![if !supportLists]> · <![endif]> provides greater than 99% aerosolized virus particle protection
<![if !supportLists]> · <![endif]> is water repellent yet air permeable, and
<![if !supportLists]> · <![endif]> can be reused after autoclave or EtO sterilization
This effort went from a product concept to prototypes in less than one week. Gore currently has prototypes being evaluated at a limited number of U.S. facilities in COVID-19 outbreak hot spots. Based on feedback from those piloting the prototype, Gore intends to optimize the PPE Protector design and then scale up production for broader distribution.
Examples of other initiatives underway include:
<![if !supportLists]> · <![endif]> Protective medical gowns, using fabric laminates from current inventory
<![if !supportLists]> · <![endif]> Universal filter cartridge prototypes for use in respirators, hoods and ventilators that incorporate Gore filtration materials intended to provide N95 particulate protection
<![if !supportLists]> · <![endif]> Disposable N95 respirators, using Gore filtration laminates
N80 Masks Should be Worn by Three Billion People Who are in Public Space Every Day.
In a conversation with Dave Rousse of INDA earlier this week he talked about the N80 concept. This gives a specific name to what he believes will be a critical mission to assure that everyone in a public space is wearing an efficient mask. In our previous Alerts we have written about the Berry Development of a mask in this quality range. We further covered it in a Berry Profile. LINK to Berry Power Points
We also reported earlier about Ahlstrom-Munksjö, whose products Reliance SMS 200, Reliance SMS 300, Reliance Dextex 200 and Reliance Dextex 300 have been declared compatible with the French requirements for face masks used by civil servants in contact with the public. The material is typically used for the manufacture of sterilization wraps for surgical instruments. Reliance SMS 200 and Reliance SMS 300 have also been tested compatible with the European Standard EN 14683, meeting the performance criteria of surgical masks.

This month the company is producing material equivalent to 100 million face masks for civil servants in contact with the public such as police officers, prison administrators and social workers as well as companies active in essential sectors such as food, energy, water and waste.

"The attainment of this long-term work for the selection of our products represents a moment of collective pride at Ahlstrom-Munksjö. Our medical business serves the medical device market worldwide all year round, and our agility and ability to innovate makes us an ideal partner in critical situations," says Lionel Bonte, vice president of medical business.
Modern Healthcare Corporation has N-80 Mask
Motex, manufactures disposable medical surgical wound dressings and medical tapes as well as the varied face masks in Taiwan. It has plants located in Thailand, Shanghai and Taiwan. They have the certificates of ISO, CE, GMP. and some items with US FDA510K approved. The company was established in 1978 and has less than 100 employees. It offers N80 masks. This designation is being used by those who are offering a mask for the general population which is higher efficiency than most masks being worn by the public but would be 80% efficient on 0.3 micron particles in contrast to the 95% N95.
<![if !vml]>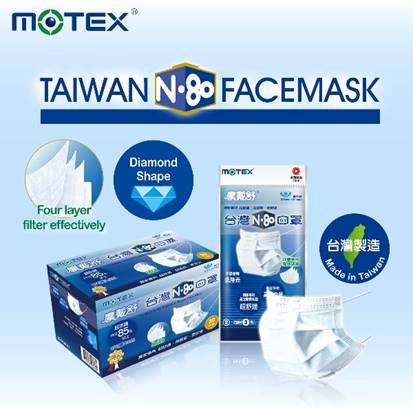 <![endif]>
The original name of the company was Huaxin Medical Materials. It has won awards for a new airtight protective mask. The overall safety and comfort of flat masks have greatly improved. Chairman Zheng said that the patented technology has the advantages of integrated design, fully automated production, cost competitiveness, etc., and can be applied to various flat masks on the market such as: dustproof (protective) masks, activated carbon masks, surgical bandage masks ... I believe that we can recreate the blue ocean business opportunities in the mask market and benefit the consumers.
Masks are Part of a Combined Program to Reduce the Odds to Near Zero
Ryanair CEO Michael O'Leary has claimed that if everyone wore face masks on planes and public transport, it would ''eliminate the risk of spreading Covid-19 by about 98.5%''.
O'Leary, who wants to restart flights in July, was speaking on BBC Radio 4's Today programme. He called the government's plan to quarantine travelers for 14 days "ineffectual" and "unmanageable".
O'Leary said the 98.5% figure came from a study by the Mater Hospital in Dublin.
<![if !vml]>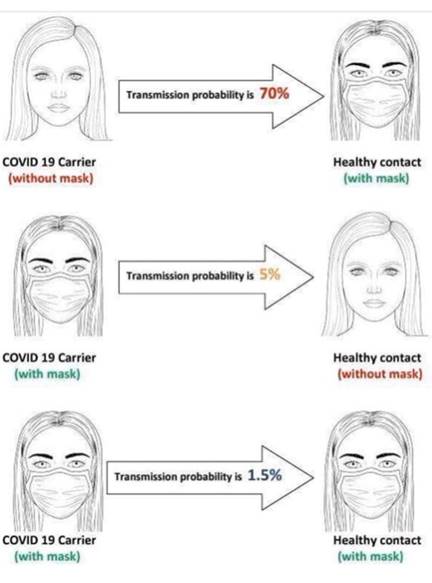 <![endif]>
This is over simplified because the efficiency of each mask is not specified. But if both are wearing N95 masks the probability should be reduced to fractions of a percent.
This could be reduced to close to 0 with partitioning.
<![if !vml]>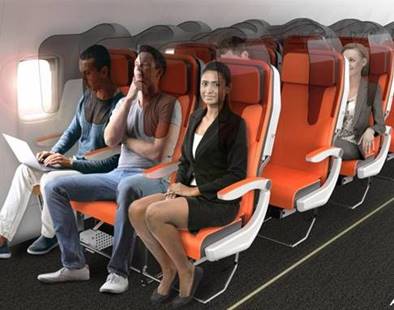 <![endif]>
There is already an air nozzle above each passenger. If this is directed downward you have the ideal cleanroom conditions of downward laminar flow of HEPA filtered air.
The avoidance of COVID-19 is a gamble but one where each safety measure keeps increasing the odds. If there is screening of passengers and temperature checks at the gate. The odds of sitting next to a COVID carrier are small. This would be increased further if passengers were tested for COVID before they boarded.
Airplanes are Relatively Safe with the Following Guidelines
Joseph Allen, assistant professor of exposure assessment science at Harvard, argues that despite what you may think, "you don't get sick on airplanes more than anywhere else."
Allen says airlines have, for many years, worked to keep passengers safe from disease while they travel.
"The ventilation system requirements for airplanes meet the levels recommended by the Centers for Disease Control and Prevention for use with COVID-19 patients in airborne infection isolation rooms," Allen said
Midwest Textiles, Hollingsworth & Vose Partner to Develop Homemade Facemask Kit
Midwest Textiles and Hollingsworth & Vose (H&V) are collaborating on a new ready-to-sew face mask kit for the general public. The new collaboration between Midwest and H&V offers an improvement to the everyday consumer by adding a layer of Nanoweb FM to the mask. Nanoweb FM is new filtration media made by H&V, designed for use in homemade face masks.
"H&V is one of the world's leading producers of filtration media for face masks and many other filtration applications. By partnering with Midwest, and through the development of Nanoweb® FM media, we are able to help support individuals and communities across the country that are struggling to obtain basic levels of protection," said Mike Clark, Division President at H&V. "Our new Nanoweb® FM media was designed specifically for general use in homemade face masks and can be inserted in a face mask pocket or stitched into a disposable pleated mask."
Consumers can purchase ready-to-sew face mask kits and Nanoweb® FM media for homemade masks at www.sitnsewfabrics.com. One kit containing 4 masks will cost $24.95, and it is estimated to take 15 minutes to sew and assemble each mask.

<![if !supportLineBreakNewLine]>
<![endif]>
Bondex Ramps up Production of Material for PPE & N95 Facemasks
To support the industry demand for PPE materials, Bondex, a producer of carded thermal bond, hydroentangled and needlepunch nonwovens, is dedicating a portion of its capacity to produce materials designed for use in N95 mask construction and materials for use in isolation gowns and other PPE applications.
Bondex develops a polypropylene nonwoven that is used in both mask and isolation gown applications, as well as hydroentangled polyester that is also used in the construction of mask materials.
"We have implemented plans as necessary to continue our supply to our customers though the pandemic crisis," says Bondex president Brian Little. "We have also recognized the needs in society to help battle this COVID-19 pandemic so we are adding staff in order to supply technical nonwovens for selected PPE applications in order to support these key initiatives."
Ultra-Pure PM 0.1 Mask Filter from Asiatic Fiber Corporation
The mask filter has three layers, and each layer has its unique purpose. The outer layer is air-droplets blocker, that can preliminarily filter the majority of particles and air-droplets. The second layer is an AFC® filter pad, it embraces air-in area and air-out valve, to create an PM 2.5 filtration effect. The base layer is anti-bacterial layer, and it also brings anti-odor and anti-static effect (to diminish the adherence of particle). The anti-bacterial is a long-lasting and durable for several times of laundry. This mask filter is being tested that can effectively block, filter and form an excellent barrier of air-droplets, micro-particle, bacterial, dust, pollen and smog
<![if !vml]>
<![endif]>
Features:
Triple filtration, BFE & PFE ≥ 99%, tested by Nelson labs

PM 2.5 level, effectively filtering micro-particle and smog

Centralized air exchange area, to enhance filtering effect

Exceptional air valve design, brings comfort without sweltering

Long-lasting anti-bacterial, remains 99% even after 50 times laundry

Multi-functional fiber, brings anti-bacterial, anti-odor and anti-static (less particle adherence)*BFE = Bacterial Filtration Efficiency; PFE = Particle Filtration Efficiency
*PM = Particulate Matter
Ahlstrom -Munksio Media Being Used by French Mask Makers
Ahlstrom-Munksjö products Reliance SMS 200, Reliance SMS 300, Reliance Dextex 200 and Reliance Dextex 300 have been declared compatible with the French requirements for face masks used by civil servants in contact with the public. The material is typically used for the manufacturing of sterilization wraps for surgical instruments. Reliance SMS 200 and Reliance SMS 300 have also been tested compatible with the European standard EN 14683, meeting the performance criteria of surgical masks.

During May the company will produce material equivalent to 100 million face masks for civil servants in contact with the public such as police officers, prison administrators and social workers as well as companies active in essential sectors such as food, energy, water and waste.

"The attainment of this long-term work for the selection of our products represents a moment of collective pride at Ahlstrom-Munksjö. Our medical business serves the medical device market worldwide all year round, and our agility and ability to innovate makes us an ideal partner in critical situations," says Lionel Bonte, vice president of medical business.

In France, Ahlstrom-Munksjö has some 1600 employees, eight production sites, two global R&D centers and a sales office. Measured by the amount of employees, France is the second largest country of operations representing 20% of gross sales.
Ava Breathe has Unique Mask Design
One Start X Med company, AVA Breathe, has taken a look at the various masks and face coverings out there and determined there's plenty of room for improvement.
"So most people have paper masks or cloth masks and things that are poorly fit and don't actually maybe properly protect people from this current COVID crisis," said Eric Sokol, Co-Founder of AVA Breathe. "So we developed a small personal air purifier that you can wear underneath it. So this is really the world's smallest N90 filter. When coupled with a surgical or cloth mask, it provides a lot of protection, along with sophisticated health monitoring." That includes the ability to monitor a user's respiratory rate, respiratory pressure and body temperature.
Sokol is a Stanford professor and physician, who teamed up with two other Stanford professors, to found AVA Breathe and enter StartX. The product also addresses the leak problem.
"We can make this as a little stick on filter, clip on filter or it could be embedded into any high-end mask," said Sokol. "So you can adjust then your mask so that it's properly fit and working for you to protect you."
Sokol says while their products provide immediate protection and detection, it may ultimately be the data collected that someday helps predict how your body reacts to the air you breathe. The startup AVA Breathe spun out of a Stanford Biodesign program and later joined up with StartX.
High Fashion Mask is Available from Lumen Couture
A $95 LED Matrix Face Mask allows wearers to write their own text: draw designs or use a phone's microphone or music tracks for equalizer effects. The construction is a Dual-layer cotton and mesh material with LED Flex Panel. It is washable. Electronics are removable for cleaning and sanitation. This is a novelty/fashion mask and not tested for medical efficiency nor does it make claims for medical protection. The tech components can be removed for normal wear and better air circulation. Battery and charge cord included.
<![if !vml]>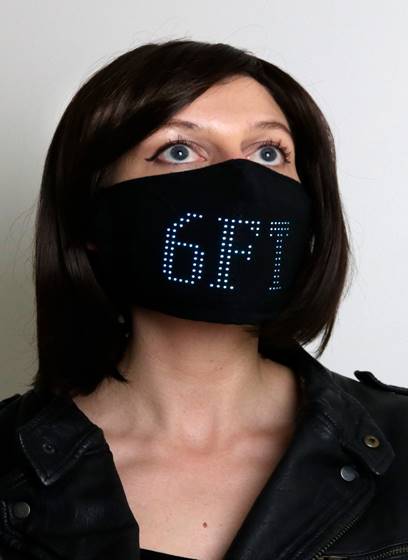 <![endif]>
This mask is not efficient enough to provide maximum protection. However, it does show the potential for fashionable masks.
Website Dedicated to Analyzing Mask Decontamination Options
A team of 60 scientists and engineers, students and clinicians, drawn from universities and the private sector, are unveiling N95decon.org, a website that synthesizes the scientific literature about mask decontamination to create a set of best practices to decontaminate and reuse this protective face covering during the current emergency.
"While there is no perfect method for decontamination of N95 masks, it is crucial that decision-makers and users have as much information as possible about the strengths and weaknesses of various approaches," said Manu Prakash, an associate professor of bioengineering at Stanford who helped coordinate this ad hoc, volunteer undertaking. "We aim to provide information and evidence in this critical time to help those on the front lines of this crisis make risk management decisions given the specific conditions and limitations they face."
The team members who came together over the last few weeks scoured hundreds of peer-reviewed publications and held continuous online meetings to review studies of decontamination methods that have been used on previous viral and bacterial pathogens and then to assess the potential to use these methods on the novel SARS-CoV-2 virus that causes COVID-19.
Their goal was to provide overwhelmed health officials with reliable, pre-digested scientific information about the pros and cons of three decontamination methods should local shortages force a choice between decontamination and reuse or going unmasked.
The three methods involve either heat and humidity; a specific wavelength of light called ultraviolet C (UVC); or treatment with hydrogen peroxide vapors (HPV).
The scientists did not endorse any one method but instead sought to describe the circumstances under which each might be effective against the virus provided rigorous procedures were followed. They concluded, for instance, that devices that rely on heat are effective under specific temperature, humidity and time parameters. With UVC devices, the group advised making sure masks are properly oriented to the light so the entire surface is bathed in sufficient energy. They also found that the HPV method could potentially be used to decontaminate masks in volume – a recommendation that is backed by the U.S. Food and Drug Administration, which has already certified certain vendors to offer hydrogen peroxide vapor treatments on a large scale.
N95decon.org will help facilitate the rapid deployment of these emergency measures by pointing decision makers to sources of reliable and detailed how-to information provided by other organizations, institutions and commercial services. For example, the U.S. Centers for Disease Control on Tuesday released a data-driven fact sheet and a detailed overview for implementing the same three decontamination methods.
Prakash and his collaborators stressed that decontamination does not solve the N95 shortage and expressed hope that new masks will be made available to health care workers and first responders in large numbers as soon as possible.
N95 Masks Much Safer than Medical Masks for Wearers

One of the conclusions of the N95decon group relative to mask performance is displayed on the website. Medical and cloth masks not only reduce respiratory droplet transmission to the outside from the wearer but also reduce the number of particles that reach the inside of the mask from the outside, thereby protecting the wearer (van der Sande et al., 2008). One carefully controlled study (Lai et al., 2012) was done with mannequins, where one expelled respiratory-like particles at 1 or 2 feet from another mannequin that wore either a fully-sealed or a mask with gaps under the eyes or on the sides (e.g. a medical-type mask). The number of particles 'inhaled' by the masked mannequin was measured to assess protection. The fully-sealed mask provided >97% protection under all conditions, including a mimicked cough at a short distance. The medical mask provided between 30% and 100% protection, depending on the number of gaps between the mask and the face, for how long the other mannequin was expelling particles, and the distance from the other mannequin. Another study with mannequins used influenza viral particles and found that medical masks blocked > 50% of infectious viral particles that were breathed in.
Avantor in Unique Position To Supply Products to Mitigate the Coronavirus
In 2018 Avantor acquired VWR for approximately $6.4 billion cash, in a deal the companies said would create a combined global provider of consumables-focused solutions and services to life sciences and advanced technologies businesses, as well as education, government, and research institutions.
The deal was designed to enable the combined company to serve customers from research through production by joining Avantor's strengths in cGMP manufacturing processes and significant exposure to emerging markets with VWR's focus on providing product and service solutions to laboratory and production customers in the Americas and Europe.
VWR supplies masks, gowns, gloves and other consumables. It also supplies hardware from various manufacturers such as clean benches from Bassaire (covered in the previous article).
VWR® Advanced Protection Face Masks offer excellent bacteria and particulate protection and are available in multiple styles to provide security and comfort throughout extended use.
Guards against bacteria and particulates

Highly breathable and fluid resistant

Malleable noseband ensures custom, secure seal

Soft and hypoallergenic
Masks feature three-ply construction for excellent particle and bacterial filtration efficiency. Available in two styles, with spandex ear loops or polypropylene ties ultrasonically welded to maintain softness and protect against particulates. An encased, 12cm (43/4") malleable steel nose-band creates a secure facial seal and improves wearer comfort. Latex-free. Masks are rigorously tested and manufactured in an ISO Certified facility under stringent process controls to ensure that each product meets exacting quality standards. Products are validated through independent lab testing.
<![if !vml]>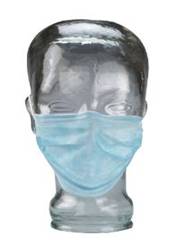 <![endif]>
Description

Color

VWR Catalog Number

Unit

Price

Mask with Ear Loops

Green

414004-663

Case of 500

$236.78

Pallet of 30000

$14,164.42

Mask with Ear Loops

Blue

414004-662

Case of 500

$236.78

Pallet of 20000

$9,442.94

Mask with Ear Loops

Yellow

414004-665

Case of 500

$231.95

Pallet of 25000

$11,593.12

Mask with Ear Loops

Pink

414004-664

Case of 500

$232.13

Mask with Ties

Blue

414004-666

Case of 500

$235.62

Pallet of 18000

$8,472.51
Upscale KN95 Masks Available
We have previously written about Vogmask with designer type high efficiency washable masks selling for $33. Here is mask which sells for around $5 from 22 Mask.
The mask complies with national standard GB2626-2006. Filtration efficiency is not less than 95%. Effective Protection: 5 layers of protection, disposable dust mask, activated carbon layer, non-woven fabric layer, double electrostatic absorption cotton and soft non-woven fabric layer. Can filter tiny dust, pollen, particulate matter and almost 95% of particles in the air.
<![if !vml]>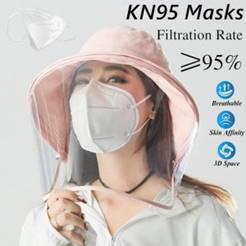 <![endif]>
https://22mask.com/masks-sale/kn95-mask-protection-efficency-95-anti-particle-mask-10-pcs/
Do we Need Masks with Valves for Certain People and Certain Situations?
Two Chinese boys dropped dead within a week of one another while wearing face masks during gym class. The students, who were both 14, were each running laps for a physical examination test when they suddenly collapsed on the track. One student at Changsha's Xiangjun Future Experimental School in Hunan province had been wearing an N95 respirator and running a 1,000-meter exam when the fatal incident occurred. It's unclear whether an autopsy had been ordered.
Though it's not known whether the masks played a role in either death, several schools in Tianjin and Shanghai have canceled physical education exams, according to the report.
These incidents raise the question as to whether N95 masks with valves should be substituted for those without valves under certain conditions. One would certainly be heavy exertion. Another would be individuals who have underlying conditions e.g. asthma where breathing is more difficult that it would be for the average person.
Chinese N95 Masks Shipped to Massachusetts did not Meet Requirements
A number of N95 facemasks from Chinese suppliers were tested by MIT as requested by the State of Massachusetts. Efficiency varied from 95% down to as low as 28%. Many of the suppliers delivered masks which were less than the 95% efficiency. Details of individual tests are shown in the link.
https://www.mass.gov/doc/kn95-respirator-test-results/download
Alpha Pro Tech Expands Production of Face Masks
Lloyd Hoffman, President and CEO of Alpha Pro Tech, said that orders for the face mask in recent months have been roughly 24 times the revenue that the company has recorded from sales of this product for each year since 2016.
"We have already commenced additional production of our N-95 face mask at our Salt Lake City, Utah facility, and we expect to continue to increase our production capacity," added Hoffman.
"Despite our rapid increase in production capacity, the backlog of orders continues to expand, in dollar amount and fulfilment time. We expect to fulfil approximately 30% of the currently booked orders in the first quarter of 2020, and we expect further revenue growth after the first quarter as additional orders are shipped," Hoffman explained. "We are committed to allocating the necessary resources and procuring the necessary raw materials in an effort to meet this unprecedented demand for our N-95 face mask and to aid communities around the world as they address this ongoing healthcare crisis."
<![if !vml]>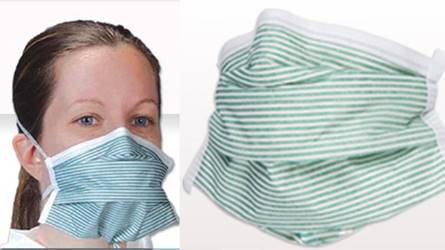 <![endif]>
The Alpha Pro Tech N-95 Particulate Respirator face mask's unique flat-fold design features a Positive Facial Lock (PFL) and meets the Centers for Disease Control and Prevention's (CDC) and National Institute for Occupational Safety and Health's (NIOSH) recommended protection levels for many airborne contaminants.
The N-95 face mask filters at least 95% of airborne particles. The integrated Magic Arch technology creates a comfortable breathing chamber within the N-95 face mask by holding it away from the wearer's nose and mouth.
Alpha Pro Tech, Ltd is the parent company of Alpha Pro Tech, Inc and Alpha ProTech Engineered Products, Inc. The company develops, manufactures and markets innovative disposable and limited-use protective apparel products for the industrial, cleanroom, medical and dental markets.
Masks with Valves have Advantages but Design and Maintenance are a Challenge
Paul Gardner, former chief of the Army's Edgewood Chemical Biological Center (ECBC) Respiratory Protection Branch was asked by McIlvaine to use his experience in evaluating new filter media for the Army and comment on recent coronavirus needs. His analysis was included in the April 27 Alert. He discussed challenges such as the higher breathing resistance, moisture, and comfort concerns. So we asked Paul to comment on the use of masks with valves which eliminate some of these challenges. Here is his response.
Paul: The obvious benefit of exhalation valves used in some FFRs is that they reduce the exhalation resistance and moisture within the mask thus improving overall comfort. As you mentioned, they are suitable for protecting the wearer as opposed to those around you should you be contagious.
One tradeoff is the added expense to manufacture. The biggest downside, however, is that they are potential leak sources and in a reusable FFR would need to be checked and maintained after each use to ensure they are free of contaminants and functioning properly. There is the added risk that people will not perform the maintenance to ensure the valve is clean, undistorted, and seated properly.
I have seen flapper valves in half-mask air-purifying respirators that had hair or bits of paper towel from cleaning that caused them to leak. Some were missing completely or stuck open having been sucked behind their spider support from heavy breathing. Most of the flapper valves I have seen in disposable N95 FFR are very thin and not very robust but are well protected behind a non-removable housing (cover) and not intended to be serviced. There are much higher quality outlet valve assemblies in elastomeric half-mask respirators which are can be serviced. These types I believe would be more suitable for a reusable FFR. However, in my mind none would lend themselves particularly well to washing, assuming that was the primary method used to decontaminate/reuse the masks, unless the entire assembly or flapper valve could be removed easily before washing the facepiece covering and/or filter (if separate) and reinserted without compromising the seal of the valve assembly and/or the flapper valve.
In summary, I see the benefit of exhalation valves in "single or limited use (i.e., disposable) " N95 FFRs but due to the concerns mentioned above not so much for "long-term or extended use (i.e., reusable) " FFRs, at least those that would need to be cleaned (washed) and maintained.
I would like to summarize my opinion in the positive: I believe exhalation valves would be a beneficial and desirable feature for a "reusable" N95-equivalent FFR intended for extended use by the general population. That is, if the mask can be designed to be maintained by the user (properly cleaned) without compromising the performance of the mask, especially with regards to the exhalation valve.
ExxonMobil has New Filtration Fabric and Mask Design
In response to the unprecedented challenges from the COVID-19 pandemic, ExxonMobil is applying its deep knowledge and experience with polymer-based technologies in combination with GCMI to facilitate development and expedite third-party production of innovative safety equipment that can be sterilized and worn multiple times.
A new industrial-style mask is being fast-tracked for production. The design improves coverage of a health care worker's nose and mouth and will use a replaceable cartridge system that includes a filtration fabric to prevent contact spread of the virus from the saturated filter. In this design, the filters are disposable while the main component of the mask can withstand repeated sterilization, thus prolonging the life-cycle of the product and addressing shortages of N95 masks.
Prototypes are currently being tested and reviewed by the U.S. Food and Drug Administration. When approved, production will begin immediately, with ExxonMobil supporting the identification of manufacturers familiar with the materials and process to quickly deliver the masks to doctors, nurses and health care providers. Once approved, manufacturers indicate they will be able to produce as many as 40,000 ready-to-use masks and filter cartridges per hour.
"Expediting advanced technologies to help those who are combatting this global pandemic is absolutely critical for society," said Karen McKee, president of ExxonMobil Chemical Company. "We're proud to do our part by sharing our expertise and experience in material technologies, and energy supplies needed to support our health care workers. It's just one example of ExxonMobil employees working around the clock to help keep our communities safe and limiting the spread of COVID-19."
"Scaling solutions rapidly to address the global crisis requires significant investment, innovation and collaboration," said Tiffany Wilson, CEO of Global Center for Medical Innovation. "By partnering with ExxonMobil, we're harnessing the expertise and capabilities of the world's largest energy companies to accelerate our ability to realize that vision."
Another product developed by GCMI is a face shield made from high-grade polymers that can withstand the harsh conditions of sterilization to enable reuse, while meeting the visibility and safety requirements of current designs. The technology complies with existing safety standards, reducing the time from design to front-line use. More than 50,000 units have already been produced and are being distributed to hospitals in New York and Atlanta. Production facilities are ramping up to manufacture more than 170,000 shields per hour in the coming days.
GCMI verifies, validates and accelerates the development and commercialization of new medical technologies that save lives and improve patient care. GCMI has worked collaboratively during COVID-19 to design, develop, prototype, validate and execute the need for protection to frontline healthcare workers, with an efficient, quick process intended to save lives.
ExxonMobil, which invented filtration fabric technology in the 1960s, is making its experts available to provide technical expertise and delivering polypropylene from its manufacturing sites in Baytown, Texas and Baton Rouge, Louisiana. The raw materials will be expedited, if needed, for face mask assembly. The company will also facilitate supply chain interfaces to expedite deployment.
The initiative is a collaboration between GCMI; Dr. Joanna Newton, Pediatric Hematologist/Oncologist, Aflac Center and Blood Disorders Center of Children's Healthcare of Atlanta and Assistant Professor of Pediatrics, Emory University School of Medicine; Children's Healthcare of Atlanta Pediatric Technology Center; and a team of scientists and researchers at the Georgia Institute of Technology and its Invention Studio.
Justin Sink, a digital transformation and innovation advisor at ExxonMobil, answered questions about the masks. The masks are made of a material that Exxon invented in the 1970s. It looks and feels like rigid cloth, but it's actually a melt-blown polymer that enables air to flow in and out easily. What most people don't know is that before the fabric is shaped into masks, it's given an electrostatic charge. That charge is what captures viruses or bacteria.
Over time and with extended use and contamination, that charge diminishes and, along with it, the protective ability of the mask. So, these masks often have to be thrown away after a single use. And the problem is there's only so much of the fabric being produced around the world.
With the N95 mask, the technology that's required to produce each unit is quite complex. It's difficult to build a new supply chain for N95 masks in a week – it usually takes months. And the virus spreads exponentially.
For context, says Sink " we still produce the raw materials for the fabric at our Baytown, Texas, production facility, which is currently working at maximum capacity. But most of the N95 microfiber is manufactured in Asia, and they need masks there as much as we need them here. So, the supply chain is stretched too thin, meaning mask material that's made in Asia is staying in Asia right now.
Fortunately, ExxonMobil understands materials science, manufacturing and supply chains, so we're working to use that expertise and our connections in these areas to help. That means looking at similar designs and materials and talking to academics and manufacturers who can divert their resources and retool their machinery quickly.
"In terms of materials for the masks, we have two new sources. One is from a company that makes the dust-repelling fabric for speakers for sound systems. That material, when charged, gets to a similar level of protection as an N95 mask and, if used properly, can protect a health care worker for an entire shift. A team at North Carolina State University, which is the premier fabric institute for polymers, has a production line operating 10 hours per day. We're helping to get them going 24/7.
Of course, there's only so much filtering material that can be produced. So, we need to use every centimeter of fabric effectively, which means rethinking the mask itself.
So instead of the traditional N95 disposable mask, we're working on a composite rubber facemask with small, replaceable filter cartridges. This mask looks like the ones painters wear. The filter fabric in the cartridges will have the electrostatic charge, and at the end of a shift, the doctor or nurse can simply remove the mask, clean it and replace the cartridges with new ones, enabling them to use the same mask again the next day.
Would the masks' replaceable filter cartridges contain similar material to that of an N95 mask? Essentially, yes. The main advantage is that we will use far less filter material than we would with a disposable mask, so no filter material goes to waste.
Best of all, we're not putting health care workers in a position where they feel they have to wash or heat sterilize an N95 mask, which just reduces the effectiveness of the masks they've been forced to reuse up to this point.
So how do we get from concept to rapid production, given the current supply chain constraints? We used 3D printing for prototypes and molds. After working with the medical community and the team at the Global Center for Medical Innovation in Atlanta to make sure the mask is up to standards, our medical-grade plastics experts started working with private and government manufacturers to create an injection mold.
Once the mold is built in the shape of the mask, thousands of them can be produced per hour. We're collaborating with NASA, the Georgia Tech Research Institute, GE, Delta Airlines, the National Organization for Technology Exploration and Delivery, Boeing and the U.S. Army
Spectrashield Meets Efficiency Requirements
The filtration technology in the SpectraShield™ Series of antimicrobial respirator masks formally passed penetration and resistance in multiple testing at numerous independent testing laboratories in the European Union. These tests require the SpectraShield™ masks to be subject to exposure of a quantity of particulate aerosols at .3 micron in size at a specific velocity rate. Upon the exposure of the aerosols, the amount of droplets that penetrate the mask are measured. In the European Union, for the masks to be rated a FFP2 it must meet a minimum of a 97% filtration rate, and for a FFP3, it must meet a minimum 99% filtration rate.
<![if !vml]>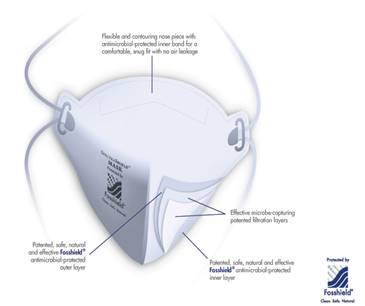 <![endif]>
In addition to conventional testing for a disposable respirator mask, the SpectraShield™ mask was also subjected to rigorous testing for reusability in which each mask was tested for filtration performance, inhalation and exhalation minimum tolerances after the masks had been subjected to severe clogging in a dolomite dust test. Two of the SpectraShield masks passed this rigorous reusability testing to earn a classification of FFP2 RD and FFP3 RD.

The tests conducted at these various independent laboratories were conducted according to national and international testing standard for filtration and safety. All the independent testing laboratories used in testing the SpectraShield™ masks are recognized by the applicable regulatory agencies in the European Union.
Extensive toxicology testing has been performed by AgION regarding the silver-copper zeolite antimicrobial agent. Independent tests results indicate the antimicrobial agent to be safe and non-toxic causing no negative side effects, conditions, or consequences.
Berry Global has New Material for Surgical Masks
Berry Global will increase production of face mask materials. The initiatives include additional capacity for the production of face mask materials in North America and a new material for face masks in Europe. With demand outpacing current supply for face mask filter media, the product development team at Berry has responded to deliver innovative solutions in a matter of weeks to support the demand. These solutions include pivoting existing manufacturing assets and creating alternative materials for face masks.

Berry has expanded its proprietary Meltex platform to add meltblown capacity in Waynesboro, VA. The line will make meltblown materials which will ultimately be used in surgical-grade face masks along with N95 and N99 respirators. This added capacity will support the manufacturing of approximately 200 million face masks annually.

Berry is also launching an extension to its Synergex range of products, Synergex ONE, a new media for face mask applications. Developed to initially meet the new face mask categories for general population, the aim is to quickly bring the media up to EN 14683:2019 standards for
surgical masks. The newly introduced Synergex ONE provides a multilayer nonwoven composite product in a single sheet, as an alternative to traditional face mask layer structures. This new material will be manufactured in Europe and serve the European market and is available immediately.

"This was something that was of paramount importance in the short term development," says Cedric Ballay EVP & GM for Europe in Health, Hygiene, and Specialties for Berry. "Given the array of materials currently being offered to the market, we are proud to offer an alternative solution to the traditional charged meltblown. We are now continuing to push on with the development to be able to pass BFE Type I and Type II testing with this media."
<![if !vml]>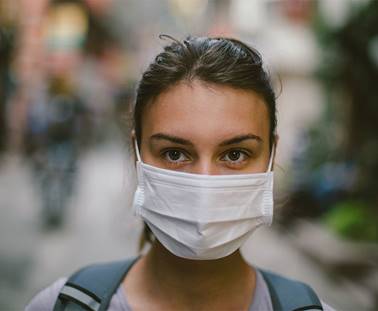 <![endif]>


Features are
<![if !supportLists]> · <![endif]> Multi-layer composite material – no lamination needed
<![if !supportLists]> · <![endif]> Filtration core of unique meltblown technology
<![if !supportLists]> · <![endif]> Suitable for general use
https://www.nonwovens-industry.com/contents/view_Content-microsite/2020-04-17/berry-increases-us-meltblown-capacity-for-face-mask-material/
NC State Develops Two Polymer Spunbond for Masks Which Can Be Sewn and is Washable
NC State's Nonwovens Institute (NWI) is using its two research and training pilot production lines to produce face mask materials that will be used to protect medical workers on the front lines of fighting the effects of COVID-19.
Surgical face masks are made with nonwoven materials, says Behnam Pourdeyhimi, executive director of NWI, Wilson College of Textiles associate dean for industry research and extension and William A. Klopman Distinguished Professor.
Because of the current critical need for masks caused by COVID-19, Pourdeyhimi and his NWI team created a new spunbond material that can serve as an effective filter without the need for a meltblown filtration layer. The unique fabric is composed of two different polymer materials that are combined to make a single fiber with significant strength and bulk – and that shows effectiveness in filtration similar to current materials used.
"Because of the COVID-19 crisis, we took the spunbond technology and created a new generation of unique filters that have excellent filtering capability and can potentially be reused after cleaning with peroxide, or potentially alcohol solution," Pourdeyhimi said. "Because these materials are strong, unlike classical meltblown filters, they can also be cut and sewn by traditional techniques."
Typically, one meter of spunbond material provides enough material for about 20 to 25 masks when using the current designs, Pourdeyhimi said. One of the NWI's production lines started producing 2,000 meters of spunbond material per hour, with the potential to create some 20,000 meters of spunbond material in a day. NWI currently has an agreement to provide large amounts of spunbond nonwoven material to Brooks Brothers, which will make masks at its manufacturing facilities.
NWI's other production line is a state-of-the-art meltblowing pilot line that will make the classical meltblown material for N95 masks and surgical masks.
"We created a recipe for the production of classical N95 respirator materials and will ship those materials out for industrial partners to convert these into respirators," Pourdeyhimi said.
The meltblown material takes a bit more time to produce; Pourdeyhimi estimates that his production line can make about 12,000 meters of material in one work shift.
Thanks to support from across the university, Pourdeyhimi says that NC State has ordered machines that will allow the NWI to make surgical masks in its Centennial Campus facilities. Those machines should arrive in the next month.
https://news.ncsu.edu/2020/04/a-necessary-filter/
Hospital Using MSA Respirators with Replaceable Cartridge
Health care workers in the Allegheny Health Network have started using protective gear that is expected to replace thousands of N95 masks.
AHN has partnered with Pittsburgh-based company MSA Safety to secure a shipment of P100 industrial-grade respirators, the health network announced Thursday.
The masks are reusable and can be disinfected. When the coronavirus subsides, the masks can be stored and used again if needed, officials said.
They will be used by intensive care unit and emergency department staff, as well as caregivers working with patients who are confirmed or suspected to have the coronavirus, throughout the AHN system.
The MSA Advantage 200 LS Respirator style was selected by AHN staff for its fit and comfort, said Dr. Sri Chalikonda, AHN's chief medical operations officer.
Employees who are currently using multiple N95 masks per day will be prioritized, he said.
The initial shipment includes 4,000 masks.
<![if !vml]>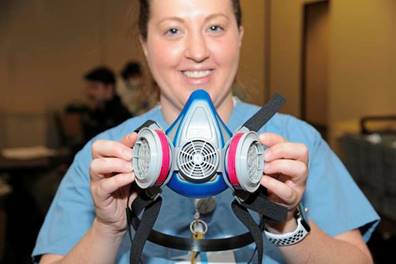 <![endif]>
The P100 masks, which are not typically used in health care settings but are approved for industrial use by the National Institute for Occupational Safety and Health (NIOSH), cover a person's nose and mouth, and are equipped with two removable filter cartridges.
They will be sterilized between uses. "MSA recognizes that fighting the spread of COVID-19 requires an all-hands-on-deck approach," said Steve Blanco, President of MSA's Americas business segment. "We are pleased to be working alongside AHN and other leading health care providers to explore and deliver PPE solutions that are helping communities better respond to this unprecedented challenge."
The U.S. Food and Drug Administration and the Centers for Disease Control and Prevention approved the use of such respirators in health care settings during the coronavirus pandemic in early March.
https://triblive.com/local/pittsburgh-allegheny/allegheny-health-network-supplements-n95-masks-with-reusable-respirators-for-coronavirus-patients/
MSA Has a Range of Respirator Designs Available to Protect Hospital Personnel
The CDC has specified that reusable National Institute for Occupational Safety and Health (NIOSH)-approved elastomeric respirators are a viable option for use by healthcare workers and the first responder community. This document outlines MSA Safety's NIOSH approved respirators and filter configurations that meet CDC's guidance. Two key considerations when selecting an air-purifying respirator (APR) for protection against COVID-19 are respirator type and protection level. While there are many types of respiratory protection, CDC recommends NIOSH-approved masks with a protection factor of N95 or higher for certain healthcare workers who may be exposed to COVID-19. In the link MSA provides a comparison of respirator types, including supplied-air respirators; filter classifications regulated by NIOSH that meet CDC recommendations;
https://s7d9.scene7.com/is/content/minesafetyappliances/1000-90-MC_APR-Types_Protection-Levels_COVID-19
Sindat Now Producing Efficient Masks with Replaceable Membrane

This major Czech company has developed a comfortable cotton mask with a replaceable membrane with high virus capture efficiency. The mask is washable. A package consists of a mask and 10 membrane inserts at a price around 10 Euros. It is recommended that the membranes be worn only once but McIlvaine contacted company officials who agreed that with a day of limited use the membrane could be used a second day. The cost per wearing could therefore be well below 1 euro.
http://www.mcilvainecompany.com/Decision_Tree/subscriber/Masks/Face_mask_with_nanofiber_membrane_rev1_of_9-4-2020.pdf
Cummins and Dupont are Working Together to Help Address the Current Shortage of N95 Masks

The need for masks has skyrocketed in recent weeks due to the global pandemic, and Cummins will use its NanoNet® Media to help answer that need.
According to Amy Davis, Vice President of Cummins Filtration, with many of the world's leading mask manufacturers in need of the critical materials to assemble the masks and struggling to meet demand, Cummins will use pre-existing filter technology in partnership with DuPont to help fill the supply void.
"Cummins is re-evaluating our supply base and manufacturing capabilities to identify how we can support our healthcare professionals who rely on critical personal protective equipment to do their jobs," Davis said. "Our NanoNet® Media can fill a key supply void and help address the mask shortage facing the United States and other countries around the world."
The project also aims to provide open source instructions that other healthcare systems and groups can use to create their own respirator masks.
Cummins' NanoNet® and NanoForce® Media technology, which uses DuPont's Hybrid Membrane Technology (HMT), can typically be found in air, fuel and lube filtration products used in heavy-duty diesel engines to prevent long-term engine wear, but also can be used in the N95 respirator masks worn by healthcare professionals to filter harmful airborne particles that can spread COVID-19.
The N95 designation means the respirator can block at least 95 percent of particles from entering the wearer's nose and mouth. When Cummins' NanoNet® Media was tested using an industry standard testing method, it exceeded the performance requirements for N95 designation. Cummins' manufacturing facilities have since provided media samples to mask manufacturers across the globe to test its effectiveness.
<![if !vml]>

<![endif]>
Stock of Cummins Filtration NanoNet® and NanoForce® Media technology winding.
While products featuring Cummins' media will need to be vetted and approved by the National Institute for Occupational Safety and Health (NIOSH), the company is preparing to do its part to help relieve the burden facing the healthcare industry.
"We're working as quickly as possible with healthcare regulators and other partners to help certify products with our materials, and prepare our manufacturing facilities to meet demand," added Davis.
The first mask prototypes using Cummins' donated media were assembled by University of Minnesota teams in March as part of an initiative to provide masks to M Health Fairview and other Minneapolis-based healthcare systems. As the COVID-19 outbreak escalated, the University of Minnesota realized their supply of N95 masks to protect healthcare workers would potentially run out in a matter of weeks.
<![if !vml]>
<![endif]>
To address this challenge, a team of designers, engineers, chemists, surgeons, anesthesiologist and apparel and clothing experts from the University of Minnesota's Institute for Engineering in Medicine; Medical School; College of Design; College of Science and Engineering; and Center for Filtration Research Consortium (CFR) came together to address this projected shortage of critical personal protective equipment.
Advanced, high-performance media for N95 respirator manufacturing.
"The first thing we recognized from our experts in the Center for Filtration Research, who work directly with Cummins, is that not all filtration materials are created equal and that the Cummins material is an excellent alternative," said Jakub Tolar, Campus Health Officer and Medical School Dean at the University of Minnesota.
"We are tremendously grateful for the generous donation from Cummins of their filtration materials toward our mask effort. Since the arrival of the filtration media, we have been able to make rapid progress, and we now believe we have several viable mask options, including both a disposable and re-usable option. These designs show real promise in keeping our healthcare workers safe should standard medical supplies of N95 masks no longer be available," continued Tolar.
While DuPont's innovative and unique Hybrid Membrane Technology (HMT) is typically integrated with Cummins' synthetic fibers to protect sensitive engine components, it has multiple other applications that can include filtration media used in N95 respirator masks.
DuPont's Hybrid Membrane Technology goes beyond the limits of traditional semi-porous or nonwoven membranes for air and liquid filtration. Made using a proprietary spinning process, the hybrid technology materials are comprised of continuous sub-micron fibers. The end result is a "membrane-like" sheet structure that balances breathability and high filtration efficiency of particulates.
<![if !supportLineBreakNewLine]>
<![endif]>
"We are proud to make our advanced technology available to help protect more caregivers on the front lines of this global health crisis," said HP Nanda, Global Vice President & General Manager, DuPont Water Solutions.
"We thank our partner Cummins for transitioning the use of its production line to help address the global shortage of N95 mask materials, and we thank the experts at the University of Minnesota for their leadership in testing and designing several mask options for the benefit of many healthcare systems," Nanda added. "By working together—and innovating new applications of existing technologies and materials—we hope to slow the spread of this terrible virus."
U.S Army Research on Face Mask Media will be Helpful
The U.S. Army Edgewood Chemical Biological Center (ECBC) Respiratory Protection Branch members investigated novel aerosol filtration materials for inclusion in the next generation respirator. Commercial particulate filtration technologies with high-efficiency and low-pressure drop have the potential to provide improved protection to the Warfighter while decreasing breathing resistance and thus reducing physiological burden.
A pressure drop of ≤5 mmH2O was selected as the goal for the development of next generation lower burden filters.
The aerosol filtration penetration requirement for the M61 filter is ≤0.01% (i.e., 99.99% efficiency) when measured at a constant flow rate of 25 L/min (equivalent to 50 L/min through the pair of filters). Each filter has an effective airflow area of approximately 60 cm2 , which results in a face velocity of approximately 7 cm/s when measured at 25 L/min. The particulate filter element of the M61 filter consists of pleated HEPA media and is roughly 6 mm thick. The market survey was limited to media with the potential of achieving efficiencies ≥99.97% (HEPA quality).
While this target is below the JSGPM requirement, efficiencies of 99.99% can be achieved through pleating the media, which reduces the face velocity and increases the collection efficiency of the filter. This reduction in face velocity increases the collection efficiency of the filter. In the case of flat sheet electrets (nonwoven electrostatic charged media), the thickness can be increased to meet HEPA requirements. Efficiency can be improved by other means to maximize the effective surface area, for example, by using larger and more efficient filter designs similar to those being considered for future integrated respirator/helmet systems.
To avoid eliminating promising media, the market survey did not take into consideration the thickness of the media; however, a total effective surface area of 250 cm2 was used as the basis for the 5 mmH2O pressure-drop goal to take into account the increased surface area realized by the emerging advanced filter designs. Taking these goals into consideration, a market survey was conducted to identify new HEPA quality filtration media with equivalent or greater capture efficiency and lower pressure drop than the particulate media currently used in military air-purifying respirator filters. Only commercial manufacturers were considered. Here are the conclusions.
<![if !vml]>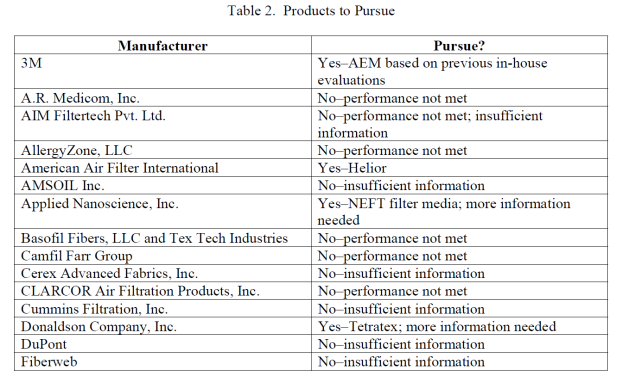 <![endif]>
<![if !vml]>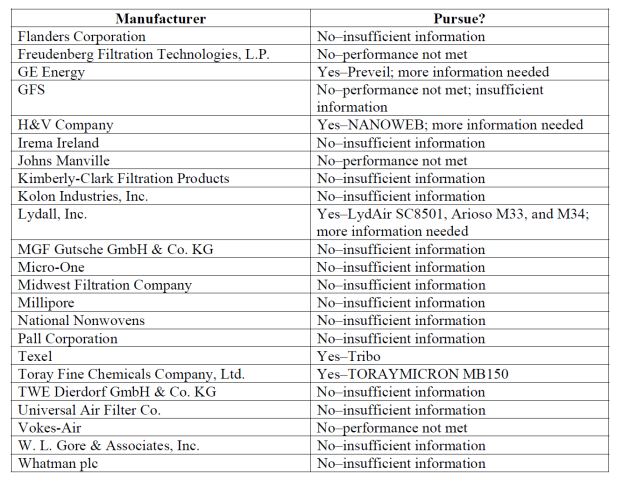 <![endif]>
Fibertex Non Wovens has New HEPA Filter Media for Filters and Respirators
Fibertex Nonwovens has introduced a new fully synthetic non charged HEPA 13 filter media based purely on mechanical filtration by nanofibers and with near to half the pressure drop of glass media. Designed for use in various applications, including vacuum cleaners, air purifiers, HVAC systems and respirators, Pleatex 80AH13NP6 is made from durable non-shredding nonwovens, which can replace hazardous glass fibres that are a risk when processing or when replacing filters in HVAC systems. Fibertex Pleatex 80AH13NP6 is easy to process on all types of pleating machines, including rotary pleaters, knife and blade pleaters. Advantages of this 100% synthetic material over commercially available glass fibre products include faster pleating, a low pressure drop and long-term efficiency. This material also adheres to the lowest energy consumption standards in ventilation systems.

Fibertex Pleatex 80AH13NP6 is based purely on mechanical filtration by nanofibres which are non-charged and is most commonly available as an 80 gsm HEPA 13 pleatable filter media. The benefit is that Fibertex Pleatex 80AH13NP6 works efficiently in all conditions and has a longer shelf life compared to charged melt-blown media,
Fibertex Nonwovens using in-house state-of-the-art nano technology to produce its new highly efficient filter media and is manufactured to the highest quality in Aalborg, Denmark. The company has introduced a new fully synthetic non charged HEPA 13 filter media based purely on mechanical filtration by nanofibres and with near to half the pressure drop of glass media.
Designed for use in various applications, including vacuum cleaners, air purifiers, HVAC systems and respirators. Fibertex Pleatex 80AH13NP6 is easy to process on all types of pleating machines, including rotary pleaters, knife and blade pleaters. Advantages of this 100% synthetic material over commercially available glass fibre products include faster pleating, a low pressure drop and long-term efficiency. This material also adheres to the lowest energy consumption standards in ventilation systems.

The media is based purely on mechanical filtration by nanofibres which are non-charged and is most commonly available as an 80 gsm HEPA 13 pleatable filter media. The benefit is that Fibertex Pleatex 80AH13NP6 works efficiently in all conditions and has a longer shelf life compared to charged melt-blown media,
Fibertex Nonwovens using in-house state-of-the-art nano technology to produce its new highly efficient filter media and is manufactured to the highest quality in Aalborg, Denmark.
We see a huge potential in the filtration market, and our ambition is to become a leading global player capable of manufacturing filters with a wide range of different properties. In addition, we have the facilities to produce these products under fully controlled and certified production conditions ensuring environmentally-responsible and sustainable production," said CEO, Jørgen Bech Madsen
"By utilizing premium, high-efficiency Fibertex nanofibre layers in the production of protective face masks, end-users can expect to reach N95 and FFP2 level of protection," says Per Holst Rasmussen of Fibertex Nonwovens. "The main benefit of Fibertex nanofibre layers, compared to electret meltblowns currently used in masks, is guaranteed efficiency of the filtration layer during the lifetime of the mask. Fibertex nanofibre layers are based purely on mechanical filtration, unlike electret meltblown materials, which tend to become discharged during usage and substantially lose filtration efficiency, especially in conditions of over 80 % relative humidity.
"Another important benefit of this advanced technology, is durability of the nanofibre layer, which enables extended storage time of masks, making them suitable for use as disaster and epidemic relief safety stocks."

<![if !supportLineBreakNewLine]>
<![endif]>
Alternative coverstock media from Ahlstrom-Munskjo
 
"The medical business unit's average coverstock fabric production contributes to an estimated 50-60 million finished face masks per month.  As a result of the increased demand from the COVID-19 pandemic, that number has nearly tripled.  Ahlstrom-Munksjö is now producing the coverstock fabric being used to make over 150 million face masks per month," commented Bonte. 

Ahlstrom-Munksjö's common business platform provides global resources, which has a positive impact on supporting customer demand in the healthcare industry. For example, the Brignoud plant in France, part of the Ahlstrom-Munksjö's Nonwovens business, has offered an alternative outer coverstock fabric to help meet local requests in Europe. The company also brings additional production capacity to the market at the Turin, Italy plant which is part of the Filtration business. There, they have started production for face mask materials with a machine usually used for industrial filtration materials.  
 
As a global company, Ahlstrom-Munksjö is expanding the Medical business' reach and staying connected on a national and international level based on official updates provided by local government and institutions as well as international organizations.  Across the world, individuals and corporations are doing the best to identify innovative solutions to address the critical needs for protective apparel.  Subject matter experts at Ahlstrom-Munksjö's Medical business team are also providing support and guidance wherever and whenever possible.   
For decades the medical business has been making fabrics used to construct surgical gowns and drapes, pleated surgical face masks, protective apparel and sterile barrier systems. These high performing medical fabrics are used around the world in operating rooms and clinical environments to protect health care workers and patients against viruses, bacteria and fluids.
Not all medical nonwovens created equal
Not all medical nonwovens are created the same way; they have different levels of protection and properties for breathability and comfort. Some fabrics are highly breathable, which helps to keep the wearer cool and comfortable but have limited barrier protection. Some offer a high level of barrier protection but are not breathable. Having a technology that offers both protection and comfort is difficult to achieve.

Ahlstrom-Munksjö's next generation breathable viral barrier (BVB) fabric offers both protection and comfort. Its tri-laminate fabric is constructed to be impervious, breathable and comfortable. The outer layer is fluid repellent and durable. The barrier layer has a reformulated monolithic film membrane making it impervious to liquids, viruses and bacteria, while the chemical composition of the film itself allows moisture vapor to pass through it, keeping the surgical staff cool and dry. The darker inner layer is designed to reduce shadowing and is soft to the touch, which makes it comfortable to wear for long periods of time.

Ahlstrom-Munksjö's Medical business employs around 700 people with sales of approximately EUR 90 million in 2019. It has a global sales network and operates two plants and two converting lines.
In the Medical business, Ahlstrom-Munksjö continues to expand and enhance its medical product portfolio with personal protective apparel fabrics and grow market share in surgical drapes and gowns.​ In sterilization wraps, the company strives to strengthen its leading position in Europe and grow as a solutions provider through an enhanced service offering.​
Social Distancing Alternative with Low Risk and Modest Cost for Coronavirus Mitigation
Social distancing needs to be redefined as staying six feet apart of other individuals or the space they have occupied in the last 60 seconds. This expanded definition creates great barriers to normal life. The safety of social distancing can be alternatively provided with a program which will have comfort and social acceptance along with affordability. This is now possible because of new filtration media, testing, decontamination and other technology innovations.
It starts with the fact that a washable highly efficient mask can be provided.
<![if !vml]>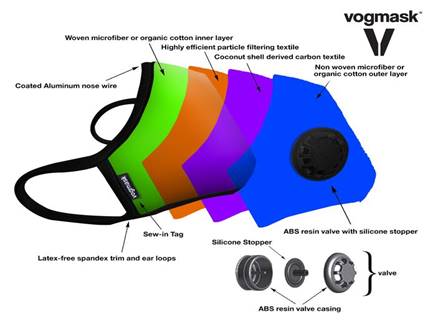 <![endif]>
There are retail stores in China which sell nothing but these masks with many fashionable varieties. With the valve they are both comfortable and stylish. They are also washable. These are $30 masks which if worn 60 times would cost $.50 per wearing. There are less expensive designs available as well. Chinese companies are also producing washable N95 masks with and without the valve feature. Over the last few months the production has expanded to several million per day. Since they are washable the cost per wearing is as low as 10 cents.
The valve feature makes the wearer comfortable but since breath is discharged unfiltered it should only be used by people without symptoms.
The Mask Market Could Soar From a Few Billion Per Year to Hundreds of Billions
At a choir practice in a Washington State Church in February precautions including sanitizing everything and social distancing were taken during the two hours when 60 people assembled. Yet 45 of them contracted the coronavirus. The conclusion was that the act of singing created an air transmission route which was deadly. Hundreds of Diamond Princess passengers were not infected until they spent weeks in their cabins breathing the air from a common HVAC system.
When the air transmission of droplets smaller than 5 microns is accompanied by interaction of individuals who may not show symptoms you create a situation where masks become very important. It is not surprising that the Chinese death toll per capita is very small compared to Italy. For Chinese efficient masks have been purchased for years.
Vogmask opened its first retail store in China in 2013. This U.S. based company had all the needed testing on efficiency and resistance done by Nelson laboratories.
<![if !vml]>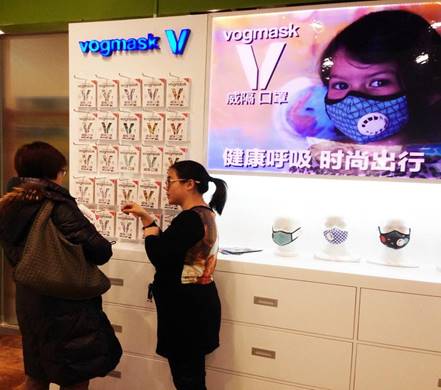 <![endif]>
These stores have the aura of a sportswear store elsewhere in the world. The masks sell for $33 but can be washed 20 or more times.
<![if !vml]>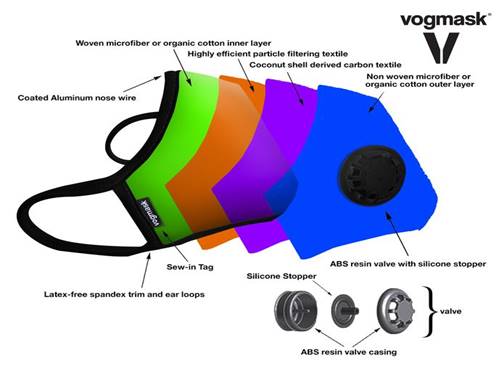 <![endif]>
If just ten percent of the world's population wore these masks that would be 800 million wearers With 20 wearings the cost per wearing would be $1.50. This alone would create a $1.2 billion per day market or $438 billion per year.
But the poorer people could also be wearing effective masks. China is making N95 quality masks with a nanofiber laminate on a cotton backing. The masks can be washed at least 20 times at a cost per day of just 15 cents.
<![if !vml]>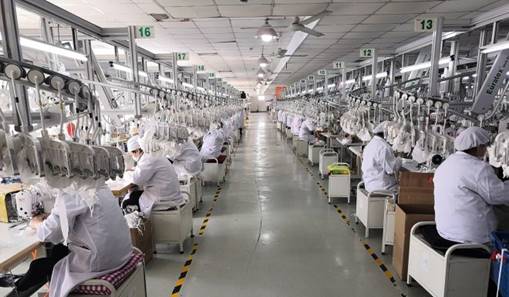 <![endif]>
If 2 billion people were wearing these masks the cost would be $300 million per day. Or $109 billion per year. This would create a market of over $500 billion per year for mask makers. Based on the cost of a life lost at $50 million this expense can be justified if just 10,000 lives are saved per year.
The question for media and mask makers is how long will this boom last? The answer is very likely 36 months and very possibly permanently. It is expected that the southern hemisphere will experience an epidemic during the northern summer. Then infected individuals will travel North and there will be a spike in the winter of 2020-21.
The practice of wearing masks is likely to be permanent for the following reasons
Fear of another pandemic with a new virus

Realization that there are millions of cases of flu each year and some can be prevented

The emotional phenomena

which could cause an exaggerated view of the risk similar to fear of being eaten by a shark if swimming in the ocean.

Demonstration of compassion – not wanting to infect anyone with anything
The nanofiber laminates create all sorts of possibilities. There are also new designs available which provide a permanent mask with replaceable media. At least one Chinese company is offering this design. Exxon Mobil just announced a design which provides improved coverage of the nose and mouth in a structure which can withstand repeated sterilization. A replaceable cartridge with N95 efficiency is utilized.
Exxon Mobil is waiting for FDA approval and then hopes to produce 40,000 masks and cartridges per hour.
<![if !vml]>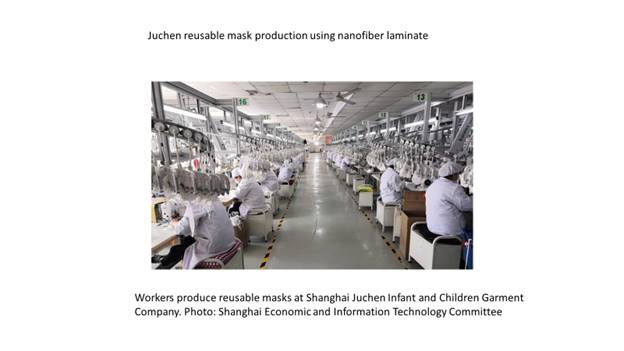 <![endif]>
Superior Felt and Filtration has Both Meltblown and Needle Punched Media for Masks
Superior Felt & Filtration supplies a wide array of nonwoven synthetic fabrics for the manufacturing of safety & personal protection filters. It is among the top nonwoven synthetic filter media suppliers for medical and emergency response textiles, such as respirators and masks. It is one of the largest manufacturers of micron and sub-micron filter media for respirator and medical applications in the U.S.
The company offers non wovens that can be utilized in masks, air purifiers, medical equipment, personal safety apparel and cleanrooms that are highly efficient against 0.1 micron particles. The electrostatically charged high alpha perm melt blown and needle punched products can be easily molded into masks, pleated and die cut to offer protection over 99.9% against 0.1 micron particles which are considered to be the most penetrating particle sizes (MPPS). The electrostatic media offers low air flow resistance for more breathable masks or devices that help reduce fatigue & improve comfort levels.
Technostat® can also be utilized with breathable laminates, activated carbon and other materials for combined dust and gas filtration. For these reasons, Technostat® is ideal for nonwoven synthetic filter media for respiratory applications. In addition to Technostat® filter media, the company also offers Technostat® Plus – a triboelectric media of needle-punched felt that offers 20% improvement in filtration efficiency over standard electrostatic filter media. This nonwoven synthetic fabric produces its triboelectric properties when 2 dissimilar fibers used during the manufacturing process create a charge that enhances filtration capabilities.
Superior Felt & Filtration also provides electrostatic filter media rolls (electrostatically-charged synthetic needle punch fibers) and melt blown fibers. These nonwoven synthetic fabrics aid in producing some of the highest levels of filtration for health care providers and emergency responders.

<![if !supportLineBreakNewLine]>
<![endif]>
SWM supplies Melt Blown Media and Film for Surface Layer
SWM International says it stands ready to supply converters and manufacturers of face masks with advanced nonwoven materials necessary to meet the global challenge presented by the coronavirus outbreak.
"SWM has a long history of supplying high-quality media integral to the construction and performance of face masks used in the dental and surgical sectors as well as the industrial sector," said Bart Sistrunk, SWM's Commercial Director – Filtration. "Our DelporeTM meltblown media is widely used in face masks because it provides excellent breathability without sacrificing Bacterial Filtration Efficiency (BFE) and its lightweight nature allows for comfortable wear."
A leading producer of meltblown media, SWM also offers DelnetTM apertured film, a lightweight nonwoven that is extruded, oriented, and uniquely embossed for use as a flexible surface layer for medical facemasks or as a comfort barrier in finger bandages.
"SWM is prepared to prioritize production of Delpore meltblown media and Delnet apertured film for customers who need materials for face mask production," said Sistrunk. "We are committed to continued support during the current world health emergency."