<![if !supportLists]> · <![endif]> Will modular cleanroom design accelerate therapy and vaccine production to fight COVID
<![if !supportLists]> · <![endif]> Stringent environmental controls needed in vaccine manufacturing
<![if !supportLists]> · <![endif]> Do Moderna executives have faith in their product?
<![if !supportLists]> · <![endif]> Fauci defends comments relative to a vaccine within 18 months
<![if !supportLists]> · <![endif]> Challenge to prioritize COVID over other clinical trials
<![if !supportLists]> · <![endif]> "May be effective" is not the criterion for widespread vaccine use
<![if !supportLists]> · <![endif]> Pfizer says vaccine likely available by end of October
____________________________________________________________
Coronavirus vaccine would create a market of up to $ 40 billion/yr
The global vaccine market has been growing rapidly and thus has been attracting interest and new players. The World Health Organization (WHO) has reported that from 2000 to 2013, the vaccine market grew from 4 billion US dollars (USD) to 24 billion USD (Table 1).Prior to the coronavirus market trends suggested that by 2028, the value of the vaccine market was estimated to be about 100 billion USD, growing at a compound annual growth rate (CAGR) of 11.02%. And, more than 120 new products are in development, 60 of which are of special importance for developing countries.
<![if !vml]>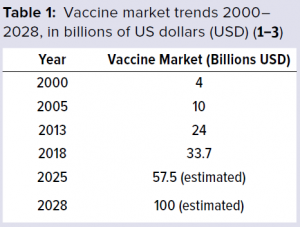 <![endif]>
Assuming a reliable COVID vaccine is developed for sale in 2021. Initial sales could be $40 billion dropping to $ 30 billion by 2028.
<![if !vml]>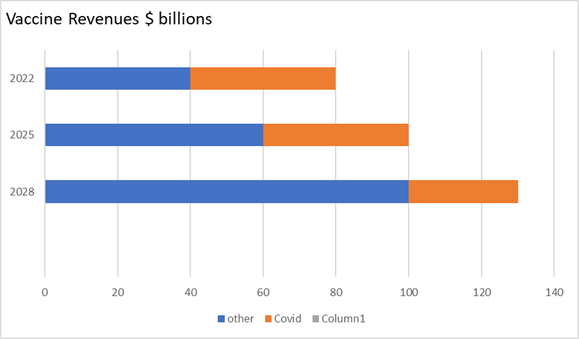 <![endif]>
The suppliers of cleanrooms, bioreactors, centrifuges, and other process equipment will be challenged to provide the products and construction services needed to meet the requirements. What role will closed systems, single use systems, modular rooms, pods, RABS, isolators, biosafety cabinet and other approaches play? Will some be faster track options?
The mobile trailer or Pod approach offers the fastest track but has disadvantages compared to modular and stick built cleanrooms. It is the most costly approach. It is less adaptable to change mid project. With the variations and uncertainties relative to COVID, this would be a problem. There may be a need for process design changes.
| | | | |
| --- | --- | --- | --- |
| | Stick built | Modular | trailer |
| Less space | A | A | C |
| Shortest time | C | B | A |
| Least cost | A | A | C |
| guarantee | C | A | A |
| Adaptable | A | A | C |
| Late change | A | B | C |
| Quality | C | A | A |
| Predictability | C | A | A |
| Compliance | C | A | A |
| Durability | C | A | A |
<![if !supportLists]> · <![endif]> A most favorable B in between<![if !supportLists]><![endif]>A most favorable B in between
<![if !supportLists]> · <![endif]> C least favorable
The markets for diagnostics and therapeutics could be even bigger than for the vaccines. How will this impact the availability of products and services?
Single use closed systems can shorten the timeline to a successful COVID vaccine.
The vaccine industry is challenged to develop high-quality products at decreased cost and within shortened timelines. The need to reach the market first highlights the importance for fast process development strategies and techniques. Such pressures have driven the vaccine industry to embrace innovative technologies. In return, shortening process development times will accelerate overall vaccine product development timelines and rapidly deliver safe and high-quality products to a global market.
Some vaccine manufacturers face additional difficulties. These include the need to work with small batch sizes and varied product portfolios.
Pandemic outbreaks that require rapid responses from vaccine developers and use of highly potent ingredients place large demands on cleaning processes. Given such pressures, single-use fill–finish assemblies can be an attractive option for vaccine manufacturing facilities.
The biologics industry has been using single-use technologies for over 10 years to the point at which it can be considered mainstream in bioprocessing, including in vaccine development and manufacturing. Key advancements include single-use bioreactors to disposable products for final formulation and filling. A number of vendors provide single-use bioreactors, centrifuges, depth filters, column chromatography systems, and bags for media preparation and final formulation
Sanofi has New Closed System with Single-Use Technologies:
Some single-use systems have been established in process development and are making their way into manufacturing. For example: Sanofi has developed a closed, single-use process system (from bench top to 100-L scale process) for a serum-free, live viral vaccine product, with close collaboration between suppliers and the vaccine industry. In addition, staff found the operations of the closed system much easier to manage than the previous system. Because it produces higher yields, the new system required fewer production runs. And the use of disposable technologies ensures that sterility is maintained throughout the process.
The net result was an overall reduction in development time and manufacturing costs. Facility turnover was easier and faster with this than with the previous system, and validation of fixed assets such as stainless- steel fermenters, tanks, and centrifuges was no longer necessary.
Application of single-use technologies provided opportunities to reduce fixed costs, amount of equipment, and cleaning validation, while increasing facility and process flexibility and accelerating process development time. Disposables play a key role in addressing the industrial challenges associated with developing high quality processes while driving down operational costs.
https://bioprocessintl.com/manufacturing/vaccines/advances-and-challenges-in-vaccine-development-and-manufacture/
In house manufacturing helping speedy progression of mRNA COVID vaccine, says Moderna
Moderna Therapeutics believes its Norwood, Massachusetts manufacturing plant is a "competitive strategic advantage" in the race to develop and scale-up a vaccine against COVID-19.
Moderna released data from a small Phase I study of its candidate mRNA-1273 last week. The trial, conducted by the National Institute of Allergy and Infectious Diseases, showed signs that the candidate elicits antibodies at levels comparable to those found in the blood of dozens of patients who have recovered from COVID-19, caused by the novel coronavirus (SARS-CoV-2).
Now the firm says a Phase II study enrolling hundreds of patients is expected to begin "shortly," and a Phase III study enrolling thousands is planned to start in July, making it the frontrunner in the race to develop a vaccine against the infectious disease.
According to CEO Stéphane Bancel, Moderna's manufacturing strategy – and specifically its inhouse facility in Norwood, Massachusetts – played a major part in the speed of development and will help expedite the candidate's progression through the clinic and beyond, helping the firm achieve its goal of producing a billion doses a year.
"I believe it is a competitive strategic advantage of a company, having our own manufacturing facility from raw materials to shipping vials to clinical trials," he told stakeholders during a conference call yesterday.
If Moderna had been forced to use contract development and manufacturing organizations (CDMOs), "we could never have been so fast," he continued, adding that while four or five companies could make the mRNA for the firm, there would have been delays in waiting for empty slots and tech transfers, as well as losing on Moderna's own determination to expedite this project.
"Being in Norwood, with our own team on equipment, on facility, allows us to tell the team this is very important; this one needs to move through the system much faster than usual, and people knew the importance of this as virus was spreading, all determination just grew stronger with the day."
The 200,000 square-foot Norwood site, which opened in July 2018, has capacity to develop materials for preclinical toxicology studies, Phase I and II clinical development programs, and the ability to manufacture, test and run fill/finish operations for its mRNA development candidates.
Thus to scale-up mRNA-1273, Moderna has also inked a deal with Lonza with initial manufacturing planned to take place at the CDMO's site in Portsmouth, New Hampshire, with a second phase planned at its site in Visp, Switzerland.
"The partnership with Lonza helps to be able, assuming a 50-microgram dose, to potentially get to one billion dose per year," said Bancel. The deal will increase capacity ten-fold for the COVID candidate, though Bancel suggested the firm would have preferred to have done all the production inhouse if it had the option.
Deciding on spare production capacity is difficult
David Dodds of Dodds and Associates has weighed in on the wisdom of in-house production.
Any in-house production facility is an advantage – of course. It is obvious – and has been throughout history – that any degree of vertical integration on an immediately local, physical basis provides a large benefit – when it is valued in hindsight, during a crisis.
But there is no good method for assigning a dollar-value to the intangible benefit of having that facility immediately available (and so empty and waiting at all other times – possibly for years when there is no need for it), or to the equally intangible liabilities of delay and inconvenience of dealing with a third-party, especially one several time zones distant. This is completely missing from current methods of cost-assessment and IRR or ROI calculations.
Dodds says we need a method of valuing high advantage/low use assets and the avoidance of crisis, as well as the disadvantage of constant-but-trivial inconvenience and delay in day-to-day operations. At present, we seem to be unable to do this.
The intangible value of contingency, flexibility, redundancy, and robustness have been the casualties of the last few decades of cost-savings
Will modular cleanroom design accelerate therapy and vaccine production to fight COVID
This subject was addressed by Mitchell Gonzales of AES Clean Technology in Cell & Gene
<![if !vml]>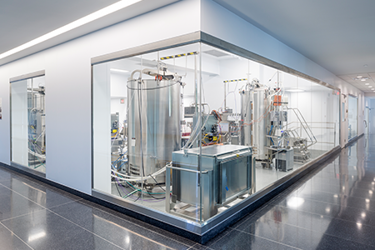 <![endif]>
Nowhere in the product development timeline does speed to market matter more to patients' needs, or to the investors who make these treatments possible than when life-altering medicines, therapies, and devices reach the end phase of clinical trials.
For example, existing and new cell and gene therapies are verging on "curative" treatments, making speed to patients' imperative for human conditions inducing severe and irreparable consequences in the absence of available treatments. Initial cell and gene therapy commercial products (e.g., Luxturna, Zolgensma, Yescarta) have elevated the impact and success of these treatments.
The article documents why modular cleanroom systems are being increasingly chosen over a conventional construction approach due to their accelerated design and installation schedule advantages, as well as their reduced job-site safety risk during installation.
Stringent environmental controls needed in vaccine manufacturing
Aseptic processing is principally what is employed to ensure assurance of sterility, because some vaccines are not filterable or cannot be sterilized by heat, gas or radiation.² Axenic products (sterile except for the organism of choice in the vaccine) must use aseptic processing as well as environmental controls/monitoring, in-situ cleaning/sterilization of tanks and other equipment, closed systems where possible and even disposable single use systems.¹
Control measures of the environment include differential pressures, air changes, unidirectional air, closed manufacturing processes wherever possible, qualification of processes such as gowning, performance of media fills, and control of environmental bioburden. HEPA air filters should be qualified every six months and smoke studies should be performed for the highest controlled areas (Grade A) every three years.
Material and personnel flows must be well defined with traffic starting in Grade D areas, into Grade C, then B and finally Grade A with gowned personnel. Specific PPE for C and D includes masks and gloves and usually something like bulk-sterilized jumpsuits. There must be limits to the numbers of people allowed in the Aseptic Processing Area (APA) at any one time, how long they may stay in the APA and control of interventions (inherent/routine and corrective).
Gowning performance must be qualified before personnel are allowed into the APA and they must show adequate aseptic technique during media fills prior to being allowed to fill aseptic batches of product.
Bioburden of air, people, water, and gases must be controlled. Samples sites, types of sampling and sampling frequency should be defined in Standard Operating Procedures (SOPs). Levels/limits must be defined in SOPs along with steps to be taken if levels are exceeded (e.g., performance of investigations) or trends are detected.
Disinfectants may be qualified by outside contract labs using coupon surfaces present in the facility or by in-situ testing. Approved disinfectants, their use-dilution and appropriate dwell (contact) time must be listed in SOPs.8
https://www.americanpharmaceuticalreview.com/Featured-Articles/361846-Environmental-Monitoring-Program-for-Aseptic-Vaccine-Products/
Do Moderna executives have faith in their product?
Moderna executives sold stock as shares peaked with positive announcements.
The timing of the transactions -- coupled with concerns from some medical experts that Moderna overstated the significance of its Phase 1 vaccine trial -- should be investigated by authorities, former SEC officials told CNN Business.
"The confluence creates an appearance, which may be inaccurate, that people were in a rush to take advantage of an early positive trial in what is often a long and tortured development of a new drug," Harvey Pitt, the former chairman of the Securities and Exchange Commission, said in an interview.
Pitt, who led the SEC from 2001 to 2003, called the timing of the share sales by Moderna and its leading shareholder "highly problematic." He suggested authorities issue subpoenas for emails, memos and other documents that can shed light on the share sales.
Fauci defends comments relative to a vaccine within 18 months
Dr Anthony Fauci is optimistic about developing a vaccine in the next 12 to 18 months but is concerned how effective the vaccine may be. He addressed his thoughts on this in an interview with STAT.
"The general trend on the part of the pharmaceutical companies, because of the enormous investment that goes into the development of a vaccine, is that you don't go to the next step until you're fairly certain that the step you're in is going to be successful. The other thing is you don't start manufacturing anything until you have a pretty good idea that you have a successful efficacy signal. That protracts out the time frame. But what we're doing is something that's called developing "at risk.
What it means is that at the same time you're finishing your Phase 1 trial, you're preparing your Phase 3 trial sites, which is very expensive, and then you're starting to manufacture the vaccine even before you know it works. All that cuts months off.
We're now completing the Phase 1 [with the Moderna vaccine]. The initial data look very promising from the neutralizing antibody standpoint. And so, they're planning to start the Phase 3 in the first week or so of July. Not only with the Moderna vaccine, but also very likely with the AstraZeneca vaccine. And then as we get later into the summer, we'll get the Johnson & Johnson in clinical trials.
You need a few months at least of having vaccinated individuals getting exposed. So, let's say it's July, August, September, October. By November, you should have an efficacy signal.
If you do and you're already manufacturing doses, by December and January, if you're lucky and if in fact it is effective, you can have a significant number of doses available by the end of the year, the beginning of 2021. So, I think it's aspirational, but it's certainly doable.
The only thing that's the big unknown to me is that, is it going to be effective? I think we could do it within the time frame that I've outlined. But there's no guarantee that it's going to be effective."
Challenge to prioritize COVID over other clinical trials
How much impact will COVID have both near term and long term on clinical trials for other products? This question was addressed in Cell & Gene by Angela De Martini, Dean Lockhead, Leandra Plappert, and Elizabeth Rountree, of Charles River Associates (CRA).
As companies learn to adapt and consider implementing new strategies to keep clinical trials on track, in many cases the only option is to temporarily pause or delay development programs. For example, Provention Bio recently paused a Phase 3 trial in type 1 diabetes and Iveric Bio temporarily stopped a pivotal trial in geographic atrophy.3,4 But these decisions are not limited to smaller companies. Eli Lilly, Bristol-Myers Squibb, and Pfizer have announced pauses or delays in multiple development programs.5,6
While consensus is that the impact of COVID-19 on clinical trials will be far-reaching, our analysis suggests that the level and duration of this impact will be especially severe in studies that have the following characteristics:
<![if !supportLists]> · <![endif]> Enrolled vulnerable populations, including the elderly, the immunocompromised, and patients with pulmonary conditions (e.g., COPD)
<![if !supportLists]> · <![endif]> Have primary or secondary endpoints that require in-person visits or hospital infrastructure and equipment (e.g., CT and PET scans) for assessment
<![if !supportLists]> · <![endif]> Involve indications with minor safety or quality of life implications for patients (e.g., "lifestyle drugs") and indications where a patient's environment has a significant impact on therapeutic success (e.g., psychiatric, and neurological indications)
<![if !supportLists]> · <![endif]> Are currently in the patient recruitment stage or are in Phase 1 with healthy volunteers
<![if !supportLists]> · <![endif]> Have trial sites located within hospitals or tertiary academic centers and in areas with high COVID-19 case density, potentially reducing the availability of staff to perform required activities and increasing the risk of adverse events and patient loss
<![if !supportLists]> · <![endif]> Are evaluating immunosuppressive therapies or therapies that require complex and prolonged hospital visits (e.g., CAR-T cell and gene therapies)
<![if !supportLists]> · <![endif]> Involve smaller patient populations where there are minimal margins of statistical power or people living with rare diseases (because patient accrual is already difficult, and the pandemic increases the risk for patient loss)
While most regulatory agencies have stated an intention to be flexible during these unprecedented times, it is critical that drug developers continue to monitor their risk diligently and develop contingency plans to adapt and respond to factors that affect their clinical development programs. Sponsors will need to balance patient safety, trial integrity, and statistical power considerations against funding and revenue issues on a trial-by-trial basis. In addition to reevaluating clinical development plans, companies may need to reassess their assumptions around pricing and revenue as well as the competitive landscape for both their pipeline and in-line products.
There will not be a one-size-fits-all solution for the many short- and long-term challenges caused by COVID-19, but companies that are willing and able to rapidly adapt are likely to have the strongest chances for success.
https://www.cellandgene.com/doc/covid-clinical-trials-understanding-the-long-term-impact-0001
"May be effective" is not the criterion for widespread vaccine use
Steven Joffe and Holly Fernandez Lynch of the University of Pennsylvania Perelman School of Medicine addressed the wisdom of accelerated vaccine use in a Washington post editorial.
The potential benefits of emergency authorization for a therapeutic drug are clear: seriously ill patients get access to a therapy that might help them. But there are downsides. The drug might be unsafe or ineffective. Availability of the drug also might divert patients from trying more promising alternatives or participating in clinical trials needed to demonstrate what actually works.
The trade-offs are very different when considering emergency authorization for products intended to prevent rather than treat disease. The FDA has used this pathway for a vaccine only once, in 2005, allowing a decades-old vaccine to be used to prevent anthrax in a bioweapon attack. When the agency authorized emergency use of other preventive drugs, as it did for anthrax in 2008 and H1N1 influenza in 2009, the drugs were already FDA-approved. Emergency authorization of a new vaccine for the novel coronavirus would be unprecedented.
Emergency treatments may be given to thousands, or tens of thousands, of very sick patients. But a vaccine could reach millions — even tens of millions or hundreds of millions — of healthy people. Because vaccine recipients are not sick, their potential to benefit stands to be much less than that of seriously ill patients given a drug, especially in light of the effectiveness of alternatives such as physical distancing and good hygiene. If data ultimately shows that vaccine effectiveness is limited while the risks are substantial, harms to millions of uninfected individuals could be enormous. False reassurance from a flawed vaccine might also worsen the epidemic, setting back progress.
Public trust in vaccines is another critical consideration. Already, the anti-vaccine movement has begun to sow doubt about a coronavirus vaccine. Even if an option ultimately proves to be safe and effective, it won't do much good if many people refuse it. And if a covid-19 vaccine causes harm, efforts to counter other vaccine-preventable diseases may be set back as well.
For all these reasons, the FDA must apply rigorous standards when considering whether to authorize a coronavirus vaccine. The agency must wait until data from a well-controlled trial demonstrates that a vaccine is able to prevent covid-19 and that it is safe enough to give to millions of people.
There is acute need for a vaccine that will change the course of this pandemic and allow normal economic and social activity to resume. Experience suggests that the FDA will be under intense pressure to authorize emergency use of the first plausible candidate, even if data supporting its benefits are thin. But when it comes to vaccines, "may be effective" is not good enough.
https://www.washingtonpost.com/opinions/2020/06/02/fda-should-not-rush-covid-19-vaccine/
Pfizer says vaccine likely available by end of October
Pfizer CEO, Albert Bourla, believes they will have a COVID-19 vaccine ready by the end of October. The company is currently in the clinical trial stage of development, crafting their vaccine alongside Germany's BioNtech. The companies, whose project relies on messenger RNA technology never used in an approved vaccine, dosed the first humans in Germany earlier on in May, and hope to begin a US trial soon, pending regulators' blessing.
If things go well, and the stars are aligned, we will have enough evidence of safety and efficacy so that we can... have a vaccine around the end of October," said Bourla, according to AFP.
Pfizer, BioNtech and other companies are racing to develop a vaccine, since there are currently no approved treatments and only mixed results of medicines under study against the virus.
Pfizer aims to make 10-20 million doses of the coronavirus vaccine by the end of 2020 for emergency use should it pass tests, the US drug maker's head of vaccines announced in May.